The top timber frame cabins for every kind of retreat.
You've probably seen a popular meme on social media, complete with a rustic cabin in the woods with the quote, "All I want is a cabin in the woods with Wi-Fi." Hundreds of websites have posted content with variations on this theme, along with images of cozy cabins that look like something out of a fairytale.
However, in light of recent pandemic events and with social distancing now being an ethical and legal requirement, the sentiment behind that meme may be quickly shifting from a once wistful daydream into a must-do.
So, if you're ready to trade in city life for a slice of cabin bliss, here are five inspiring Woodhouse timber frame cabins to get the wheels turning.
1. The Classic Vacation Lodge: The Sylvan Cottage
Want to be welcomed home to your cabin with a hearth burning brightly through an indoor-outdoor fireplace visible from the porch? Then the Sylvan Cottage is right for you. This timber frame cabin kit features 1,192 square-foot of living space, including a kitchen, great room, master bedroom and bathroom, and open loft. Inspired by classic 20th-century vacation lodges, the Sylvan Cottage features exposed timber frame on the exterior of the porch and entryway, and throughout the interior, giving it an irresistible old-world charm. The covered porch area is the perfect spot to sip a hot toddy or hot chocolate while taking in the great outdoors.
2. The Adirondack Retreat: The Tellico
This timber frame cabin kit has a French-inspired hip roof design with multiple roof planes and a generous covered deck area. With an Adirondack-like feel, the Tellico is the perfect design for single-level living on a sloped lot. Bonus: You can double the design's 1,857 square feet living space with a walk-out basement. The stylish front door leads to a spacious great room, dining and gourmet kitchen with a walk-in pantry. The large master bedroom and adjacent bathroom provide the perfect owner's suite tucked away from the main living areas. Just off from the large living room, a covered porch with fireplace provide the perfect excuse to linger outdoors on those cool autumn evenings. For homeowners planning a lifestyle that accommodates aging-in-place, this sophisticated single-floor cabin is the perfect solution.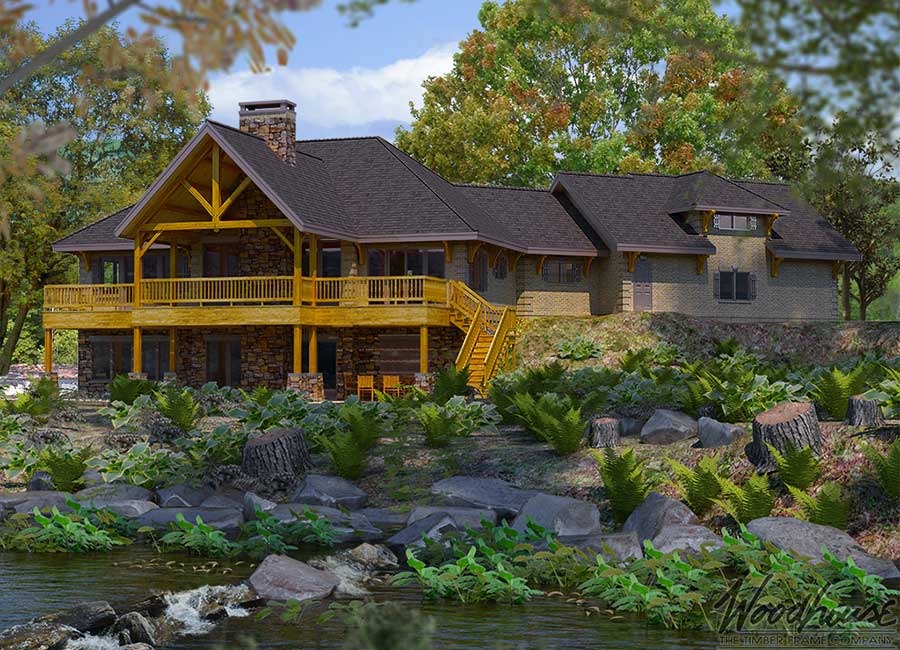 3. The Colorado Homestead: The AspenRidge
If you're looking for a timber frame cabin design that personifies rugged elegance, then the AspenRidge is perfect for you and your family. With its brawny timber frame exterior, stone detailing, and generous eaves, the AspenRidge offers the classic look of a log home without all the hassle of maintaining one. The design features 2,122 square-foot of living space, including three bedrooms, and two and a half bathrooms, and two lofts. This modest mountain home is a modernized version of an Adirondack cottage, with enough space for the whole family.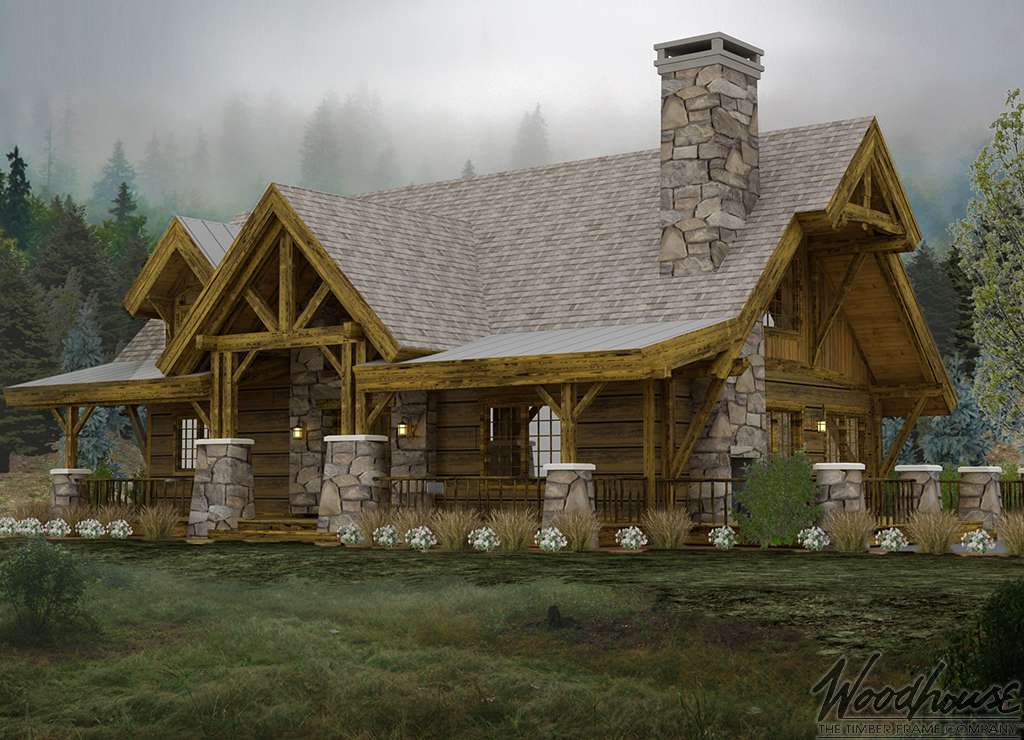 4. Modern Escape: The Ketchum
The Ketchum timber frame cabin kit is a contemporary take on a traditional rustic design thanks to the cabin's steep gabled roofs and unique scissor truss in the front. The Ketchum floor plan offers plenty of public socializing spaces for the extroverts in the family, with private spaces for the introverts to rest and recharge. This design features 3,109 square feet of living space, with three bedrooms and two bathrooms connected by breezeways. With abundant outdoor living space, this Ketchum is a perfect retreat for nature lovers.
5. Intentionally Rugged: The Forest Path
Fans of the Appalachian-style log cabins of yesteryear will love the ForestPath cabin and its steep gabled roofline. The 1,777-square-foot floor plan features a master bedroom and 1.5 bathrooms, a dining room, great room, and kitchen. The simplistic design, which pays tribute to generations of homesteaders, is well suited for sloped building sites. Homeowners can double the square footage with a walkout basement, making this simple design both flexible in space and building costs.
Contact a Woodhouse representative today to be in your new timber frame cabin by this time next year. The longtime experts at Woodhouse can help you through the whole process, from visiting your building site, to helping you establish a budget, selecting a design, and choosing a builder to craft your new cabin. And don't forget: Each Woodhouse design can easily be customized to your lifestyle. Learn more about our custom design process here.