Timber frame mountain homes are amongst the top design choices for today's new home buyers. Maybe it's the traditional spirit that's communicated through the bold architecture of deeply pitched roofs and dramatic overhangs, or perhaps it's the brave use of warm natural materials that give these homes such a comforting feel?
For many custom home buyers, the top trending look and feel of Mountain Modern is also a hot design topic. With a 'fusion cocktail' of rustic meets modern meets industrial, these five homes are perfect candidates for this on-trend look.
Whatever your personal style, Mountain Home design aesthetics continue to get top marks with new home buyers.
Our Favorite Timber Frame Mountain Homes
Our top 5 timber frame Mountain Homes are sure to tick every box on your list of timber frame favorites.

MistyMountain
With a 2,951 square-foot layout, this dramatic timber frame mountain home is sure to appeal as a main home or private getaway. With a large ensuite master bedroom and two additional bedrooms and bathrooms, MistyMountain is perfect for living large or small. Boasting natural materials throughout, the impressive great room with a stone fireplace is rustic and inviting. The open floor plan includes a stylish kitchen and spacious dining room. Wherever it's built, this mountain home is your ticket to mile high living.

EaglePeak
A breathtaking home that takes everything mountain and transforms it into a 3,096 square-foot marvel. With a generous use of timbers and natural materials like stone and shake, the EaglePeak brings a bit of contemporary style to classic mountain home traditions. The generous great room, custom kitchen, dining room and private master bedroom suite on the first floor, plus two more bedrooms, bathrooms and loft upstairs, make this a very open and beautiful interpretation of mountain architecture.
Download the EaglePeak floor plan.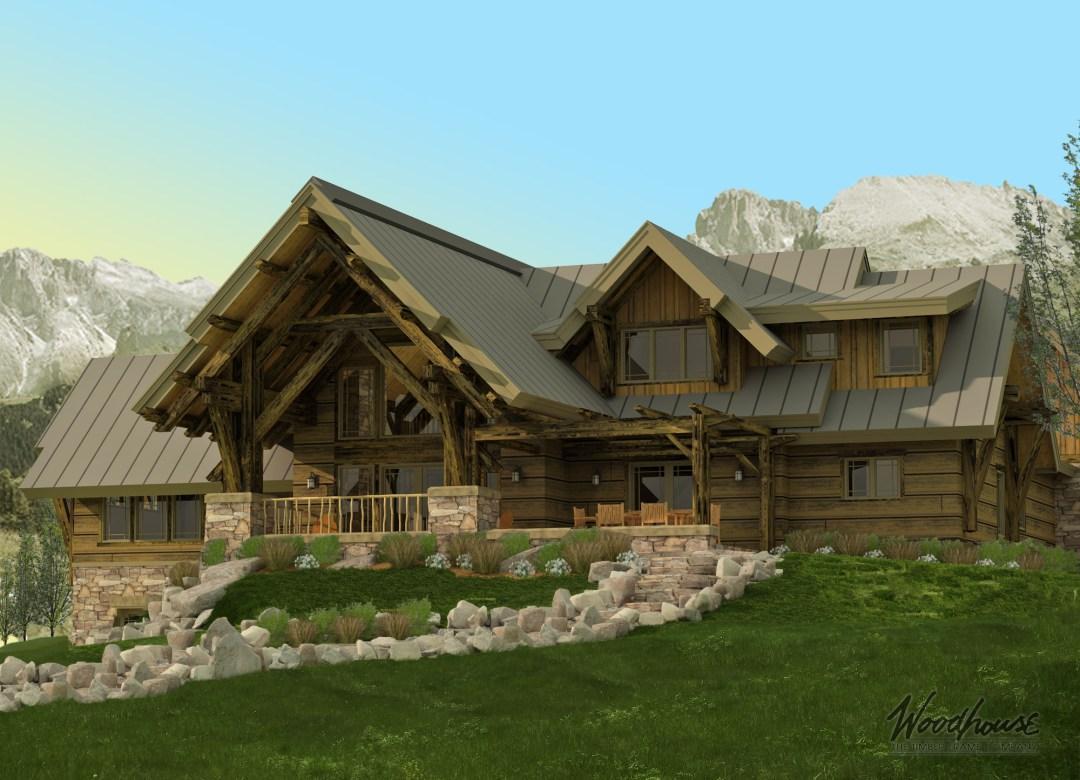 GrizzlyPeak
With the thoughtfully designed use of rustic timbers and beams on the front elevation and exterior, the 2,683 square-foot GrizzlyPeak design has a classic mountain elegance that you'll fall in love with. The welcoming front porch is a warm invitation to an interior that provides a dramatic open space with great room, dining area and kitchen plus 4 bedrooms and bathrooms. This home redefines mountain home style as being comfortably indulgent.
Download the GrizzlyPeak floor plan.

TimberRidge
Standing proudly, the 2,678 square-foot Timber Ridge demands center stage in any location. Inspired by the classic mountain retreats of days gone by, this beautiful home takes rustic design and gives it a dramatic twist. Both relaxed and imposing, this interpretation provides dramatic open spaces and soaring windows on the main floor with great room, kitchen and dining as well as an ensuite master bedroom. Upstairs, there is a loft and an optional studio space for family or guests. Outside, this home pays further homage to the Adirondack style with two inviting timber decks.
Download the TimberRidge floor plan.

Tumalo
This 1,981 square foot home epitomizes the Mountain Modern style. With a dynamic and bold design profile, the Tumalo reaches out to the landscape via the daring facade of windows that embrace the panoramic view throughout the seasons. This timber frame home allows the outdoor vista to flow gently into the open interior, providing a welcoming space that subtly defines zones without a need for walls. The great room reaches from the front to the back elevation as does the adjoining kitchen and dining space. A generous master bedroom with large closet and full bathroom is your private oasis. The full-width deck becomes a gathering space for summer days and a private observatory for starry nights. The Tumalo is a brave contemporary home that defines the spirit of Mountain Modern design.
Download the Tumalo floor plan.
If your dream is to design your own custom-built mountain home, this article on timber frame homes in sunny Colorado offers some great inspiration and creative ideas.
All Woodhouse timber frame homes provide creative opportunities to truly customize any floor plan with your own ideas and finishing touches to make it as unique as you. In many floor plans, additional living space can be added with optional lower level walkouts.
We're Here to Help
We understand that defining your dreams and desires for your home is no easy task. Whether you are just window shopping, or are ready to start planning your home with our design team, our Woodhouse Regional Project Managers are here to guide you and answer any of your questions. Contact us to speak with someone on our team today.