The Woodhouse Design Phase as Part of your Package
Do you feel overwhelmed thinking about designing your dream home? It's not every day you get to design the home you've always dreamed of. Whether you are purchasing your timber frame building system directly from Woodhouse or through your Independent Builder Dealer (IBD), it will include design services. The home design phase normally begins with a site visit, followed by conceptual sketches and culminating in construction drawings.
At Woodhouse, our design and drawing services have evolved from over 35 years of experience building our clients' dream homes. The sequence of drawings and number of revisions will meet the needs of the vast majority of our clients.
How long will it take to complete your design? Woodhouse will require approximately three to six months to design your home depending upon your modifications and the timing of revisions. Beginning with one of our predesigned home plans can eliminate a significant amount of that time. It is important to allow enough time in your planning to accommodate the design process.
The Architectural Interview
Your Regional Project Manager (RPM) and/or your Independent Selling Partner (ISP) will ask you to complete an Architectural Interview before beginning the design phase. The interview has been developed over the course of many years to best help us understand our clients' needs. It includes a multitude of information that will aid your home designer in reaching your dream home's design in an expeditious manner. This information, along with any designs, floor plans, and tear-sheet information will significantly help in the design process.
The client interview document is very important in the design process – good input equals good output. The more our design team knows about your home and how you envision living in your home, the easier it will be to reach your goals in an expeditious manner. Live and learn. We also want to make sure that we are including features you love, whether from your existing home or from a home you have walked through. We also want insight into areas of a home that aren't a must-have, this will be also be key information for your home designer.
Conceptual Sketches
Included in your design is a conceptual sketch. In most instances, a sketch either of the basic floor plan layout and elevation massing on a custom design or the requested alterations on a predesigned plan, will be generated by either your ISP or RPM, a member of the Woodhouse design team, or a Woodhouse staff architect. You will be able to review, change, and approve the conceptual sketches before they are finished.
You will also receive two preliminary sketches. After your approval of the Conceptual Sketches, the first of two preliminary sketches will be CAD (computer-aided-drafting) generated. These sketches will include floor plans and primary elevations. You will receive up to two revisions of these 1/8" scale drawings for approval.
To see your first sketch set (known as an SK-1), you will be directed to Woodhouse's Google Drive.  There, you will find a set of PDF drawings of all floor plans, the building square footage, and all elevations for your home's frame. These drawings are monochromatic except for the timber frame, which we have highlighted and rendered to stand out. We want you to see the frame and ensure the massing meets the architectural style you like.
3D Fly-through Video
You will also receive a 3D fly-through of the house during the conceptual sketch phase, which highlights the main items (a full lap around the exterior to see the house from all sides, and then it goes into the interior through the front door as if you are entering your home.  You will finally see what your home looks like in a 3D model based on the planned drawings.  Still images from the fly-through are also included on the Google Drive). Find more examples of 3D fly-throughs here.
Construction Drawings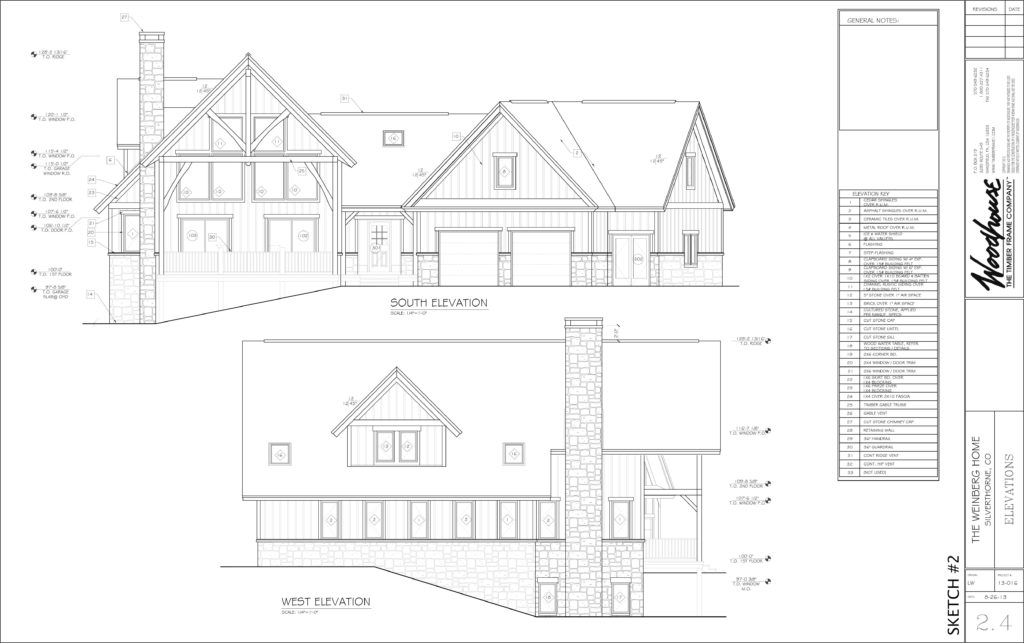 Next are the quarter-scale drawings. After finishing your Preliminary Sketches, the next step in designing your dream home will be large format 1⁄4" scale CAD drawings including all floor plans and elevations. You'll have the opportunity to make minor changes to these plans; these changes to the plans must not affect the frame of the house.
Note of Caution: Changes to your floor plans and elevations after quarter scale drawings have been completed will be expensive and time consuming because of the need to alter all drawings affected by the changes. There is a high likelihood that the construction drawings are in process or already completed.
Construction drawings will also be provided after all changes to the 1⁄4" scale drawings have been completed. Your construction drawings will provide you and your builder with the details necessary to enable a complete pricing and bid preparation for your home and start building.
In order to begin construction drawings, Woodhouse will need the following items:
1) A 10% or more deposit on your Woodhouse package.
2) A signed Woodhouse Package Purchase Agreement.
3) A copy of the last 1⁄4" scale drawings signed by you as approved and returned to Woodhouse.
4) A signed Window & Door schedule.
Additional Design Services
In addition to the basic drafting services, Woodhouse offers a variety of design services to prospective homebuilders.
Architect Site Visit
In addition to the basic drafting services, Woodhouse offers a variety of design services to prospective homebuilders. One of these services is the architect site visit. For an additional fee, you may request our Design Director, Diana Allen, visit your building site and meet with you for the day to personally begin the design process.
Architect's Stamp
Depending on your home's neighborhood, you might be required to have a registered Architect's stamp on drawings being submitted for building permits. Consult either your RPM or IBD to obtain the fee for this option. You may also be required to have a Professional Engineer's seal, review, and structural analysis on all or part of your drawings.
Woodhouse is dedicated to helping every homebuilder we work with create the legacy home they've always wanted. Building your timber frame home has never been easier, and we are excited to help you begin this exciting process. This is your year to build—let's get started. Contact us today to start designing your dream home.