Begin visualizing your ultimate timber frame cabin design with Woodhouse.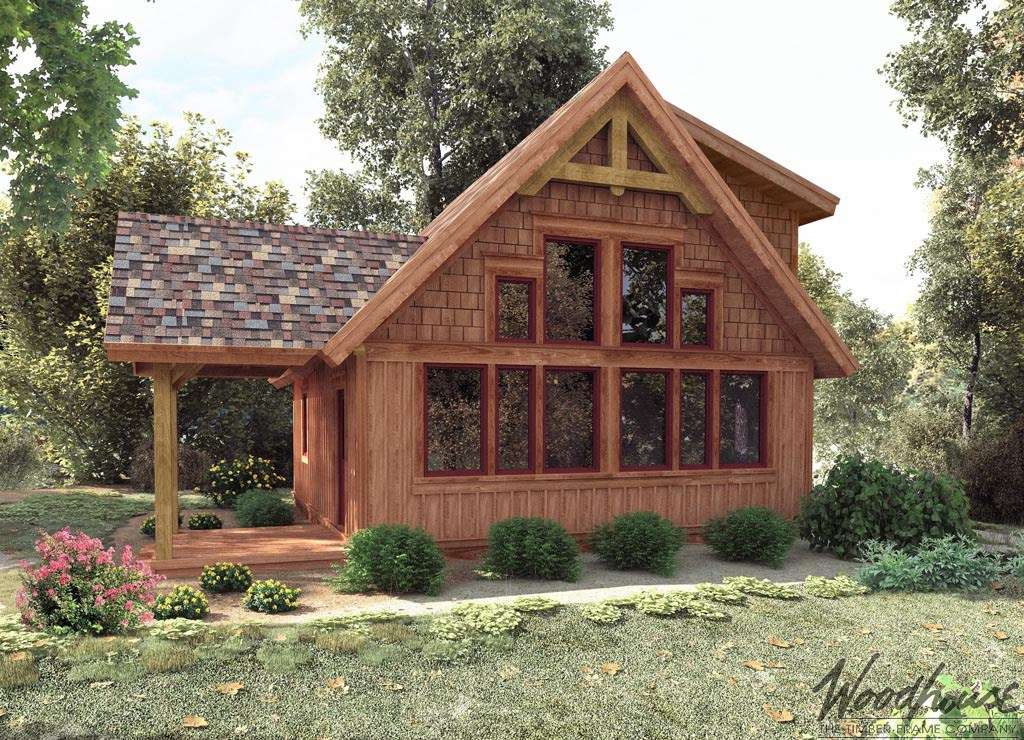 A timber frame cabin is more than just a structure. For some people, it's a quaint countryside bungalow, while for others, it's a charming cottage on the shore. Meanwhile, many picture their escape in the form of a mountain lodge or woodland abode, replete with decks and gear closets for year-round adventures.
Whatever vision the word "cabin" conjures up in your mind, it should cater to your unique lifestyle and win your heart every time you see it. Let's explore various Woodhouse timber frame cabin designs and get you closer to achieving your dream getaway.
Timber Frame Cabin Basics
A textbook timber frame cabin is identified by its simple, single-story construction that usually incorporates a loft and an open living area. Timber frame cabin designs are especially suited for customization because the structural integrity comes from the timbers, not the walls. You have unmatched flexibility to decide how many (or few) walls you want in the interior layout. Even the loft can range from being fully enclosed with multiple rooms to a single, expansive space overlooking the great room below. It's not just the layout. A crafted Woodhouse timber frame cabin is unparalleled in its flexibility of finishes, colors, siding, and selections wrapped with our trademark strength, longevity, and energy efficiency.
Which Timber Frame Cabin Style Speaks to You?
Our lifestyle-enhancing cabins fit in everywhere, from breezy shorelines to the expansive beauty of the desert to majestic mountains and wide-open plains. As you peruse the following timber frame cabin designs and styles, allow yourself to imagine what you'd want for your dream retreat. Our personalized, one-of-a-kind timber frame cabin kits meld form and function.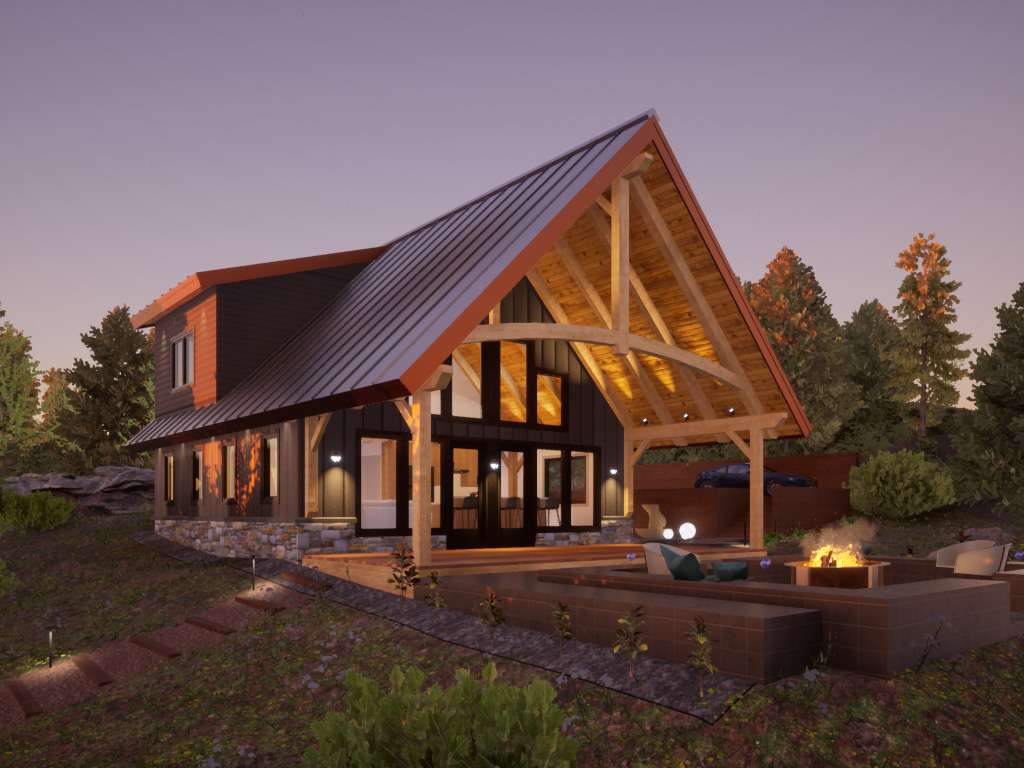 Adaptable and versatile, these timber frame cabins lean towards simplicity and an emphasis on the essentials. Their easy elegance defines their functionality and echoes one's desire to get back to nature. The PineRidge, with its wraparound porch, exemplifies how beauty comes from purpose. Or consider the SpruceHill, a petite treasure whose open-floor layout and timber beams enhance its 883 square feet of living space. Equally cozy is the charming CedarRun, which proves two bedrooms and two bathrooms can be more than comfortable in a compact footprint. The larger StoneRidge, meanwhile, is perfectly scaled for a family. The timeless yet glamourous HemlockRun greets you with a massive, covered porch creating a stunning entry whose soaring timbers radiate strength and style. It's a perfect spot for year-round outdoor relaxation.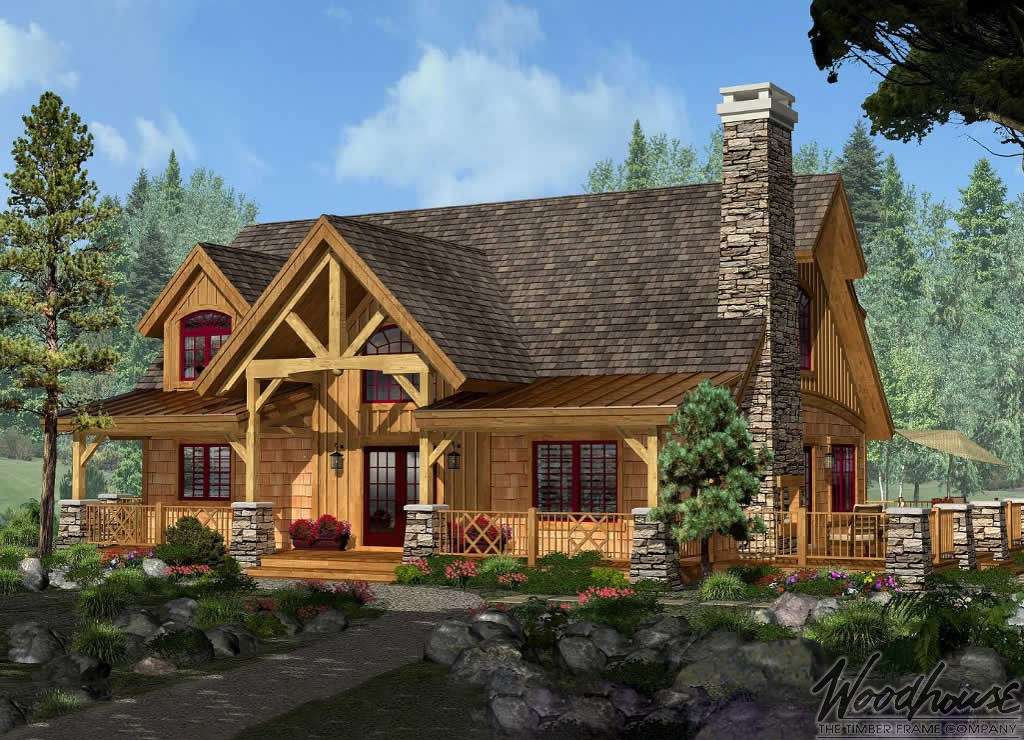 Reminiscent of the turn-of-the-century Adirondack great camps, these cabins are known for their live-edged siding, rugged stone fireplaces, steep gabled rooflines, and covered porches. They're ideal for relaxing on a hot summer day and staying toasty during deep winter. These cabins aren't only meant for New York's Adirondack region. See how Woodhouse customized an Adirondack cabin for a fresh and light oak timber frame cottage in North Carolina.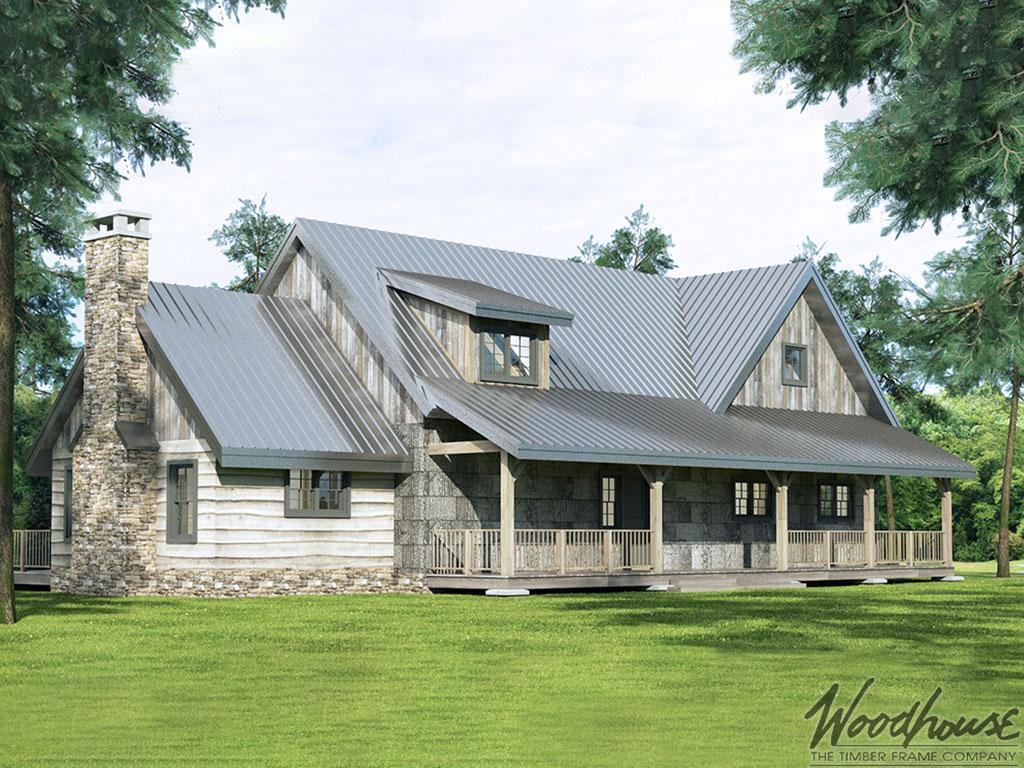 These timber frame cabins honor the settlers and sense of place unique to this lush region. Homes grew as families and needs expanded resulting in spacious, ingenious designs utilizing the region's natural materials. Steeply sloped rooflines, stone chimneys, poplar tree bark siding and combinations of expansive and smaller covered porches are distinct features.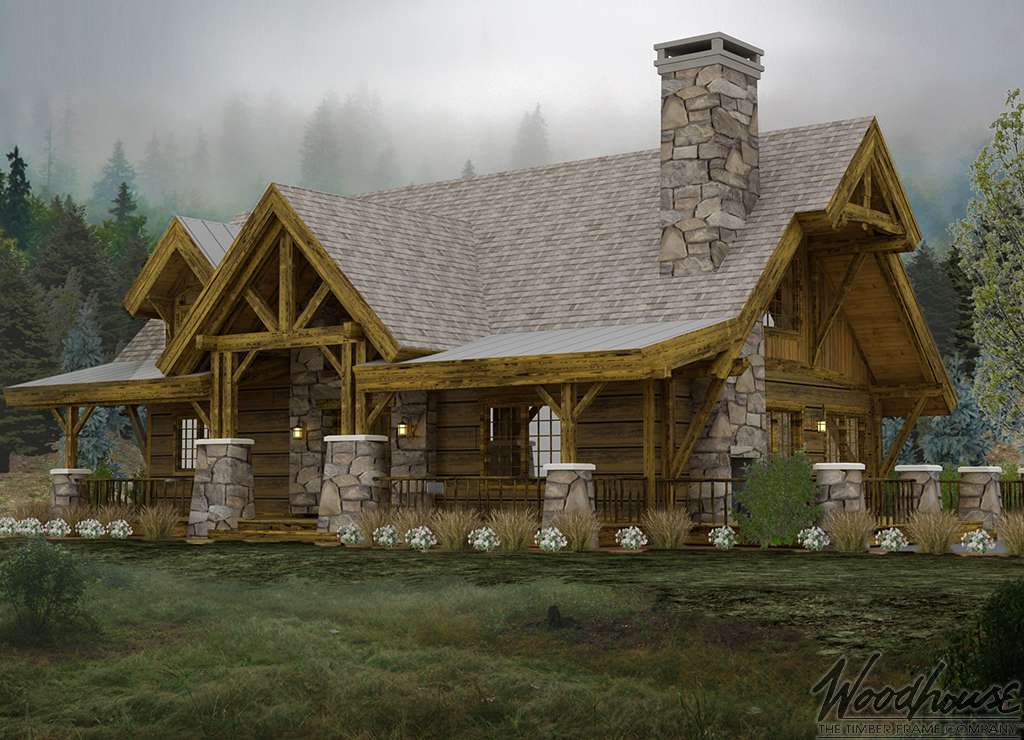 As inspiring as the scenery around them, these rugged cabins and lodges are designed to tuck into steep mountain slopes and naturally accommodate walkout basements. Massive timbers, stone piers and siding, and decks are a seamless connection to the dramatic landscape. This is your base camp for winter snow days and hikes to secret swimming and fishing holes.
With their sleek lines, mono-sloped roofs, and airy interiors that connect views across the great room, modern timber frame cabin kits are contemporary interpretations of other genres. CedarRun V2 is a sophisticated update of CedarRun's fairytale charisma. Don't miss the RockyView timber frame cabin design for a seductive example of a breathtaking mountain modern. Check out this gallery tour to see this fresh style in action in Bend, Oregon.
Anchored with ocean horizons and naturally purified air, these timber frame cabin designs are all about the view. Upper-level decks and cedar shake siding make ocean-style living as breezy as an offshore wind. 
These hybrid timber frame cabin designs are perfect for homeowners who want to do the most with their budgets. Emphasis on exposed interior timbers coupled with porches and fireplaces button up that cozy cabin feeling.
Live the Dream
Elevating your timber frame cabin plans to the status of a dream cabin means customizing it to your tastes, lifestyle, and property (e.g. maximizing sightlines, views, and passive solar energy), all while being built to the highest standards and staying within your financial parameters. Sound impossible? Not for Woodhouse. Get started by exploring our cabin series. Contact us for a conversation about how our timber frame cabin designs and timber frame cabin kits are made just for you.