The "Perfect Timber Frame Design for Your Climate" series is intended to help homeowners maximize the potential of their home. Coasts have always been a favorite for home building, in fact in 2007 the UN predicted 40% of the human population lived within 100km (around 60miles) of a coast. With panoramic windows, open spaces, and impressive covered porches, timer frame designs are popular for taking advantage of the all-important water views. Here's what you need to know about designing a coastal timber frame home.
If you plan to build on the coast or a lake, Craig Johnson, vice president of sales and marketing, recommends homebuyers to do their due diligence before buying land, including understanding if the parcel is in a flood plain. Depending on where your parcel is located, flood insurance could be mandatory. In this area especially, your regional project manager will be invaluable. Building codes in these areas can be especially stringent and these Woodhouse reps with their local expertise will be able to help you navigate the coastal waters.
Often home buyers elect to site the home farther from the water's edge to take advantage of the views, then add an outdoor timber frame structure or boathouse on the water, Johnson says.
For design ideas for your waterfront forever home, check out those in Woodhouse's Coastal Timber Frame Home Plans and the Lake Home Series. All of these are designed to maximize the views of the water, bringing the outside in. Large second-story decks provide homeowners the opportunity to enjoy waterfront living year-round, in total comfort and security.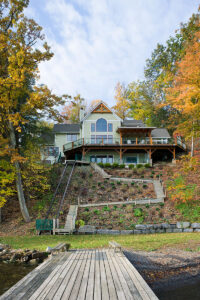 All of these coastal and lake house designs feature a modern open floor plan, framed with massive beams and trusses. These designs are perfect for sloped lots found near the beach or glacial lakes, with walk-out basements.
On the uphill or entry side of these designs, the homes appear quite modest. On the downhill or view side, they expand and open up where they are facing the water. The wraparound decks, screened-in porches, and upstairs lofts, all provide ample opportunity to enjoy Mother Nature's charms while entertaining family and friends. Make the most of your coastal or lakeside lot, with a timber frame home from Woodhouse that will last for generations.
If this isn't possible on your site, not to worry, there are many workarounds.  Woodhouse is proud of their customization capabilities, meaning floor plans are more of a jumping off point than something you have to accommodate. Combined with guidance from your on-the-ground regional project manager, Woodhouse employs computer aided design (CAD) software to customize your home throughout the process and give you a visual of what the end product will look like.
To learn more about designing your own coastal timber frame home, visit our Where We Build page to find the project manager for your specific region.
For a more general conversation, contact a Woodhouse representative here.