Here's how homeowners and architects both benefit from Woodhouse's expertise.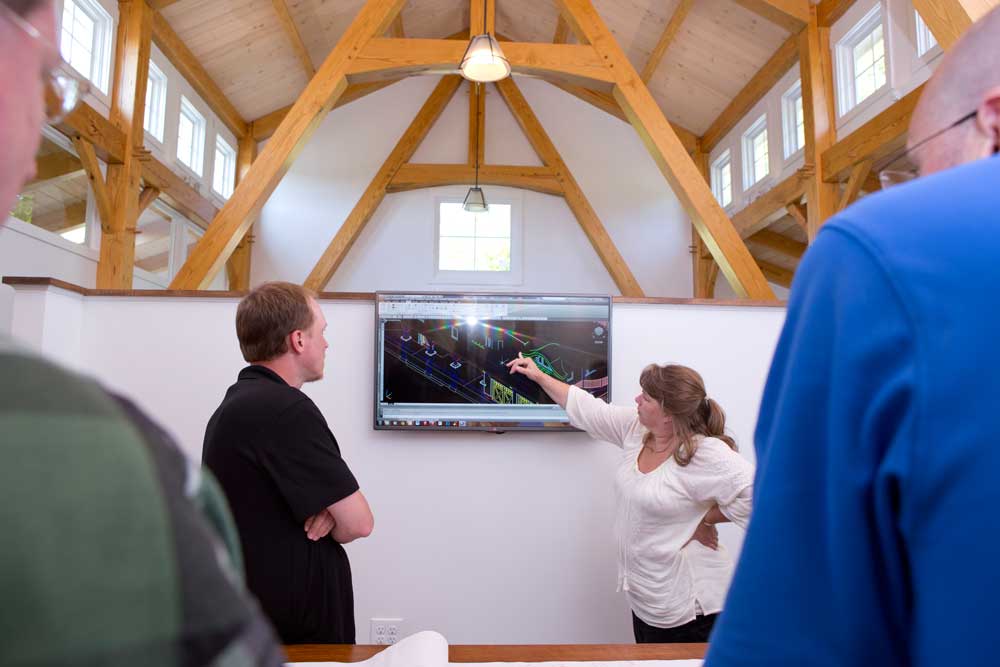 Whether you're a future homeowner working with a private architect to put your dreams to paper or you are an architect planning your next work of art, Woodhouse makes it easy to add timber framing to your dream design. Thanks to our streamlined process, architects don't need an intimate knowledge of timber frame joinery to create stunning timber frame homes and commercial showpieces. Your architect can provide the basic design and vision, and we will provide support, knowledgeable client services, and, of course, the timber framing package.
As an industry leader since 1979, Woodhouse has the expertise needed to make your dream timber frame home a reality. Here's how our decades of experience and state-of-the-art systems empower both homeowners and architects in the timber frame home design process:
Benefits of Working With Woodhouse for the Architect
Design Flexibility – The Woodhouse timber frame system is adaptable to any style and offers a wide variety of floor plans limited only by your imagination.
Make Ordinary Structures Extraordinary – Clients satisfied with their finished timber frame home or commercial space mean more referrals for your firm.
Design Collaboration – You design the structure, and we design the timber frame.
Full Support – From structural and construction drawings to an experienced, on-site timber frame technical rep, we strive to make every aspect of your timber project as seamless as possible.
Benefits of Working With Woodhouse for the Client
Affordable – Often built for the same or even less than some conventionally built structures, our timber frames offer substantial cost savings over time.
Highest Quality – A Woodhouse timber frame is an American product with European craftsmanship that is built to last.
Higher Return on Investment – Less time in construction means greater return on investment.
Pride in Ownership – With your help we create timeless, one-of-a-kind timber frame homes and buildings that are treasured for generations to come.
Read the full story behind a variety of Woodhouse-architect collaborations. Contact us to get started on your dream home design today. To get inspired, check out our gallery to see what's possible with Woodhouse by your side.