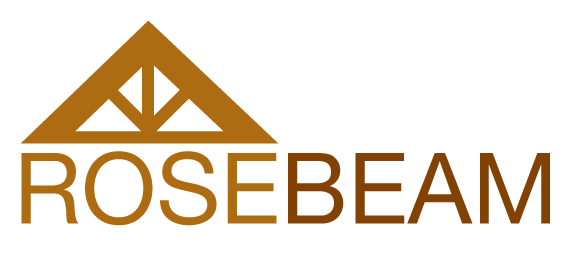 Rosebeam Timber Frame Homes
Northwest Indiana's Top Builder of Timber Frame Homes
Welcome to Rosebeam Timber Frames. We're excited to partner with you to create the work of art that will be your timber frame home. We are pleased to announce that we will be the official representative for Woodhouse for the Northwest Indiana area.
Rosebeam Timber Frames is exceptionally proud of our partnership with Woodhouse®, one of the largest and most prestigious American timber frame manufacturers. Woodhouse leads the industry in environmental responsibility, service, artistry, and craftsmanship. Whether you're looking for a predesigned timber frame home plan, a completely custom timber frame home, or something in between, Woodhouse and Rosebeam Timber Frames will exceed your expectations as we deliver your dream home.
Along with your gorgeous new home, you'll also enjoy peace of mind, thanks to Woodhouse's industry-leading lifetime transferablewarranty. A rarity in the building industry, this warranty is a testimony to the quality of our craftsmanship, the soundness of Woodhouse design, and the devotion of Rosebeam Timber Frames and Woodhouse to providing world-class customer service.
If you're thinking about constructing a timber frame home in The Midwest, now is the time to build! Contact us to learn more and to view some of our custom or predesigned timber frame home plans.
<iframe src="https://www.google.com/maps/embed?pb=!1m18!1m12!1m3!1d2990.01833754618!2d-87.45571598451025!3d41.46051759942118!2m3!1f0!2f0!3f0!3m2!1i1024!2i768!4f13.1!3m3!1m2!1s0x8811e47baba14f0b%3A0x1ed00132d7963add!2sRosebeam+Timber+Frames!5e0!3m2!1sen!2sca!4v1537986228719" width="600" height="300" frameborder="0" style="border:0" allowfullscreen></iframe>
About Us
If you live in Northwest Indiana and want to build a timber frame home, Rosebeam Timber Frames can help you achieve your goals. Contact us today to learn more.
Rosebeam is an authorized dealer of
Popular Floor Plans in this Area
Contact Rosebeam Timber Frames
Mailing Address:
8711 Forest Glen Court
St. John, IN 46373
United States
Contact Info:
About Woodhouse
Although each custom Woodhouse timber frame home is unique, there are certain elements that they all share. These include our unrivalled expertise in joinery, custom home construction, our unmatched design experience, our incredible attention to detail and the completeness of our package, and our lifetime transferable warranty. When you combine all these elements, they add up to make Woodhouse® a unique company, too.  Learn more about Woodhouse.
About Rosebeam Timber Frames
Rosebeam Timber Frames is Northwest Indiana's leading builder of timber frame homes. Whether you desire a predesigned timber frame home plan or a completely custom timber frame home, Rosebeam Timber Frames bring your dreams to life with our quality craftsmanship and exceptionally customer service.
If you live in Northwest Indiana and want to build a timber frame home, Rosebeam Timber Frames can help you achieve your goals. Contact us today to learn more
Construction Office
8711 Forest Glen Court
St. John, IN 46373
United States
Business Hours
Monday-Friday: 9am to 5pm
Saturday: Closed
Sunday: Closed
<script><!-- [et_pb_line_break_holder] -->jQuery(function($){<!-- [et_pb_line_break_holder] -->console.log('hi!');<!-- [et_pb_line_break_holder] -->$(function() {<!-- [et_pb_line_break_holder] --> $("a").not(".nav a").attr('href', function(i, h) {<!-- [et_pb_line_break_holder] --> return h + (h.indexOf('?') != -1 ? "&var=value" : "?CampaignID=rosebeam");<!-- [et_pb_line_break_holder] --> });<!-- [et_pb_line_break_holder] --> });<!-- [et_pb_line_break_holder] -->});<!-- [et_pb_line_break_holder] --></script>