There is no denying that this 4400 sf main floor structure would make an impressive brewery. The large open center area with over 30 foot to the ridge would accommodate the largest of vats and the 1600 sf wrap-around loft area makes viewing the entire operation a truly unique experience.
Designed with a warming kitchen, restrooms and storage areas mean it can function as a large wedding venue that would hold over 200 persons easily. The 1,000 sf covered patio adds to the versatility and means cocktail hours can be held separate from the main hall even if the weather is not quite cooperating. The 6,000 sf total area could handle any size corporate event and there is no doubt that it is right at home as an equestrian center.
Event Center Series
Wedding and other event venues have been an integral part of our business for years.  Responding to the needs of our customers, our designs have evolved from simple barn-style structures into truly elegant and memorable formal destinations. The Woodhouse Event Center Series is intended to provide a fully customizable starting point and inspiration for the venue that you wish to create – whether to host lavish destination weddings, artistic galleries, or as unique spaces to showcase and purvey your brewing or fermenting craft.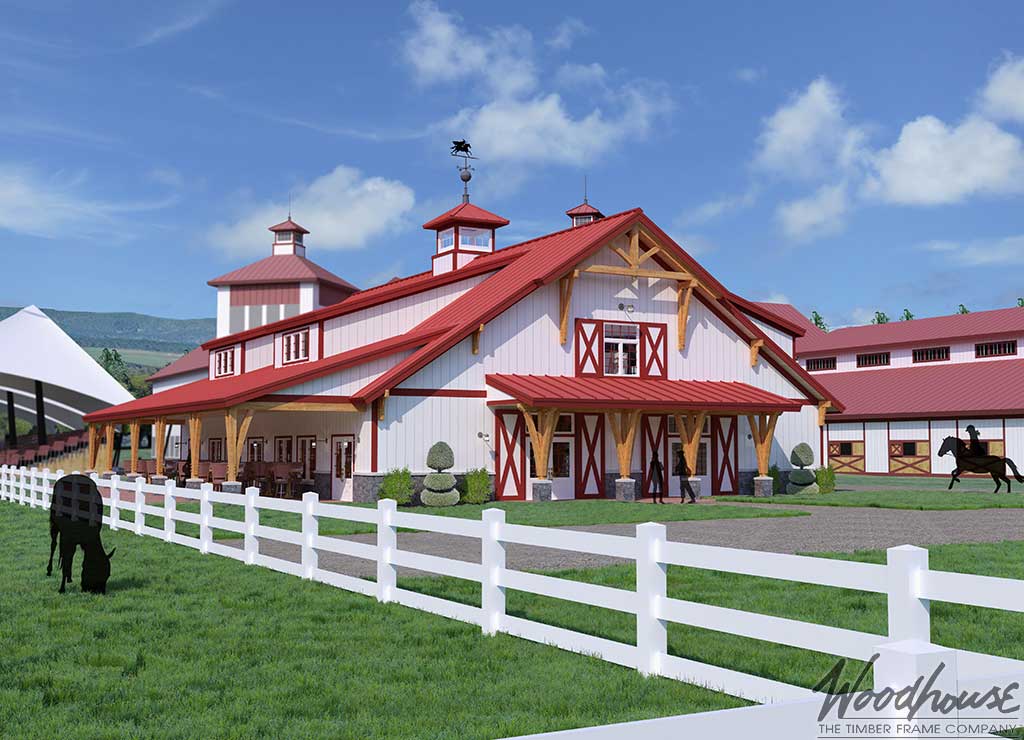 1st Floor – 4423 sq ft
Event Space – 77'1″ x 44'4″
Kitchen – 22'11" x 14'5″
Men's room – 10'5″ x 14'5″
Women's room – 14'2″ x 14'5″
Storage – 18'4″ x 8'2″
Bar
Entry Porch – 9'6″ x 34'5″
Covered Porch – 74'4″ x 14′
Covered Porch – 9'5″ x 34'5″
2nd Floor – 1674 sq ft
Loft – 67'8″ x 15'4″
Loft 2 – 15'10" x 39'9″
Dream Home Budget Calculator
What does a timber frame home cost in your area? Answer 20 simple questions and we'll help you figure out your budget.