This unique "cruck frame" style timber frame echoes back to a time when craftsman took advantage of natural forms to solve the engineering challenges at hand. Utilizing timbers cut from naturally curved tree trunks, "crucks" or "crooks" where cut and mirrored into matching sets, then assembled to form the framing of boat hulls as well as medieval English buildings. If you look close you can see an upside down boat.
Designed with over 1900 sf including a 300 sf warming kitchen or catering area, 2 restrooms and an entry foyer this structure can transform easily for a multitude of events. It makes a great conference venue for a corporation or art gallery. The ceiling vaults to just over 24 foot which would be ideal for any of the craft breweries from beer to whiskey to hard cider.
Event Center Series
Wedding and other event venues have been an integral part of our business for years.  Responding to the needs of our customers, our designs have evolved from simple barn-style structures into truly elegant and memorable formal destinations. The Woodhouse Event Center Series is intended to provide a fully customizable starting point and inspiration for the venue that you wish to create – whether to host lavish destination weddings, artistic galleries, or as unique spaces to showcase and purvey your brewing or fermenting craft.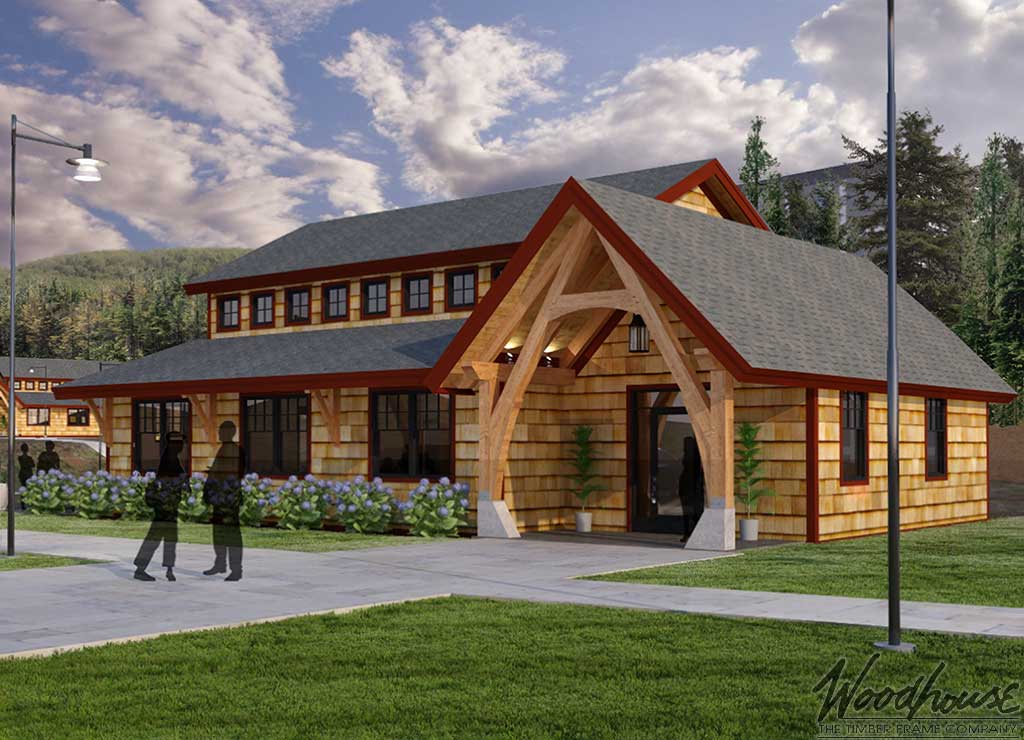 1st Floor – 1944 sq ft
Entrance – 15'6″ x 8'7″
Dining Area – 35′-7″ x 32'1″
Catering Area – 35'7″ x 8'7″
Men's room – 7'4″ x 11'3″
Women's room – 7'2″ x 16'8″
Dream Home Budget Calculator
What does a timber frame home cost in your area? Answer 20 simple questions and we'll help you figure out your budget.