At 2,181 square feet, the KettleCreek is exemplary of the Modern Farmhouse Series, taking the best of traditional farmhouse designs and adding a modern flare through the use of massive panoramic windows and an open concept.
The impressive stone fireplace provides a warm gathering space central to a farmhouse design, but with open access to the nearby kitchen and dining area, where heartwarming meals are prepared and can be enjoyed by all. The adjoining screened porch provides an easy option for enjoying time outside without interfering bugs or critters.
With 3 bedrooms and 2.5 bathrooms this home is designed, like its farmhouse forebears, to house a family. Two of the bedrooms, traditionally for the children, are located in the loft, enjoying the cozy slanted roofs and exposed timbers that color so many fond childhood memories. The master bedroom on the main floor boasts an ensuite balcony, providing the perfect setting for a romantic evening enjoying the stars after the kids go to bed.
Modern Farmhouse Series
The Farmhouse design style has deep roots in America's agricultural history and was widely adopted for being both practical and comfortable. Central to the design style is a warm hearth for the family to gather during cold winters. Heavy timbers supported the entire structure while providing the signature cozy atmosphere that is a staple of farmhouses. The traditional lofted children's bedrooms with slanted roofs and exposed timbers fill the childhood memories of countless American's to this day.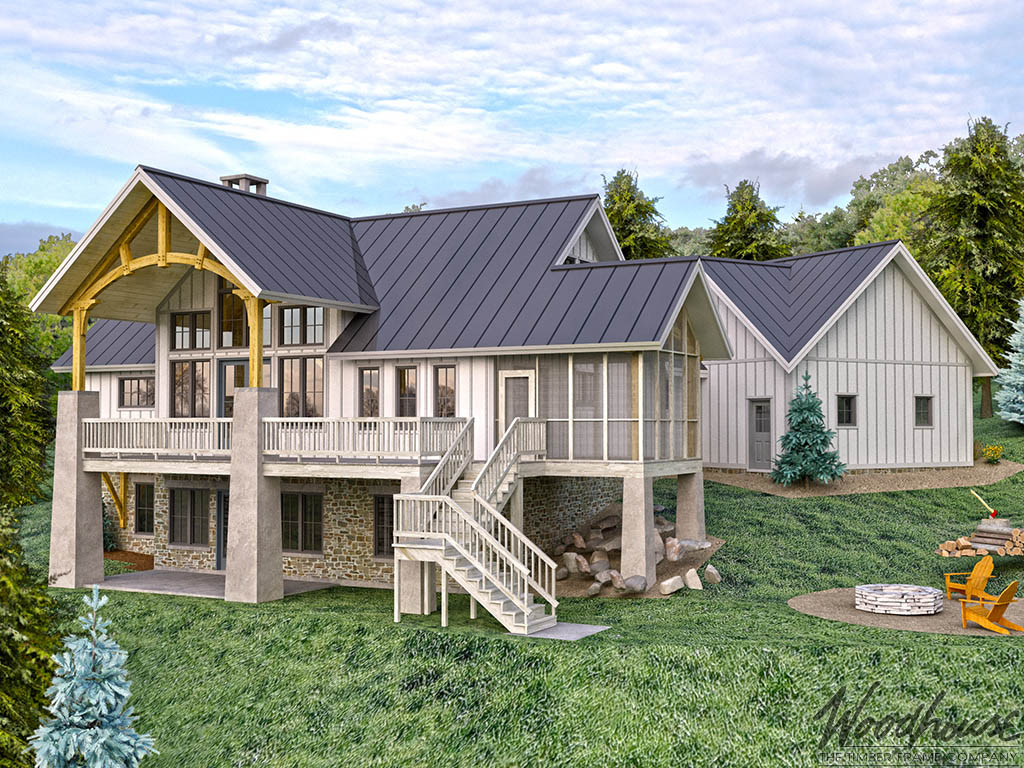 1st Floor – 1556 sq ft
Balc. – 4′-0″ X 11′-0″
Cov'd Deck – 10′-0″ X 20′-0″
Deck – 10′-0″ X 14′-0″
Dining – 9′-7″ X 14′-0″
Entry – 9′-9″ X 9′-10″
Great Room – 21′-3″ X 19′-2″
Kit. – 14′-2″ X 14′-0″
M. Bath – 12′-6″ X 10′-9″
M. Bed – 12′-3″ X 15′-6″
Mud. – 11′-1″ X 9′-2″
Opt. Garage – 27′-11″ X 24′-11″
Pdr. – 6′-0″ X 5′-0″
Porch – 6′-1″ X 14′-1″
Screened-In Porch – 12′-0″ X 12′-0″
W.I.C. – 10′-0″ X 4′-4″
2nd Floor – 625 sq ft
Bath 3 – 9′-5″ X 7′-4″
Bed 2 – 14′-9″ X 13′-11″
Bed 3 – 12′-0″ X 15′-5″
Loft – 5′-7″ X 18′-6″
Dream Home Budget Calculator
What does a timber frame home cost in your area? Answer 20 simple questions and we'll help you figure out your budget.