Timber Frame Homes in Minnesota
Woodhouse timber frame homes in Minnesota are an unparalleled match for a captivating landscape and lifestyle.
Minnesota, the "star of the North," is also known as the land of 10,000 lakes. The state actually has nearly 12,000 lakes among its graceful, contoured land, shoreline rock outcroppings, and miles of mixed hardwood forests. Minnesota is even beautiful overhead. Its northern locale makes the aurora borealis a marquee headline for things to watch in the night sky.
"Life just moves a little differently in Minnesota," says Woodhouse Regional Project Manager (RPM) for the Midwest, Jamie Thompson.
But you should expect that from a state boasting shoreline along Lake Superior (and many others), whose natural features invite fishing, exploring, paddling, canoeing, hiking, Nordic skiing, snowshoeing, and much more. It's a place for those who enjoy a connection with nature…especially in the form of a timber frame home. Let's explore all the state has to offer and how Woodhouse can help you achieve your dream timber frame home in Minnesota.
​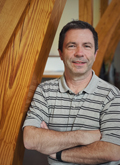 Jamie Thompson
Mid-West Regional Project Manager
Minnesota Timber Frames
Loving Minnesota's outdoor spaces means spending time in them. And for that, homeowners expect nothing less than a home that immerses them in the environments they appreciate so much.
"Living on the water in Minnesota is a big thing," Jamie explains. "Everything is surrounded by lakes. Everything is defined by the presence of water."
A timber frame home in Minnesota must work with the state's natural beauty and water features. Graceful, stalwart timbers and artistic elements establish the traditional and contemporary styles embraced across the state. Structurally, Woodhouse timber frame homes provide the energy efficiency that keep Minnesota homeowners toasty and cozy during the state's notoriously cold winters. These homes are also built with features and amenities that stretch the outdoor season from early spring through late fall. That's because all our homes are fully customizable and built to suit a homeowner's unique property to maximize views as well as passive solar heating.
Top Hot Spots for Minnesota Timber Frames
When it comes to desirable places to build a custom timber frame home in Minnesota, there are abundant options. That being said, three regions stand apart:
1. Lake Superior
As the largest of the Great Lakes, this massive lake is more like an inland, freshwater sea with roughly 150 shoreline miles in Minnesota. It's a special place to live. Summers are filled with relaxed evenings watching fireflies and hosting cookouts after a day of playing on the lake. Wintertime is filled with ice fishing, snowmobiling, and Nordic skiing.
Homes along Lake Superior also afford views of something especially rare, sunrises over the water. Woodhouse timber frame homes are exceptional at taking advantage of this special feature. Walls of windows and our energy-efficient building system let you relax in comfort and greet each morning with views of the first rays of sunlight dancing on the water while you sip your coffee or tea. At night, you might be treated to the Northern lights. Perfection!
Don't Miss This! Be sure to check out any one of the many waterfalls around Lake Superior. This includes Spray Falls located in the Pictured Rocks National Lakeshore. Spray Falls tumbles over a 70-foot drop directly into Lake Superior.
2. Duluth to Grand Marais
This section of Minnesota brings together the best of the state. There is the Lake Superior shoreline to the east. To the west is the Superior National Forest, which is a natural playground for hunting and exploring. Duluth, Minnesota is one of the larger Northern cities and gives homeowners easy access to urban culture.
Throughout this region homeowners are enamored with modern timber frame homes like our WaterRock and RockyView. The Adirondack Cottage style provides a rustic home that belongs in the North Woods. These make perfect home styles for second homes, vacation homes, or rentals.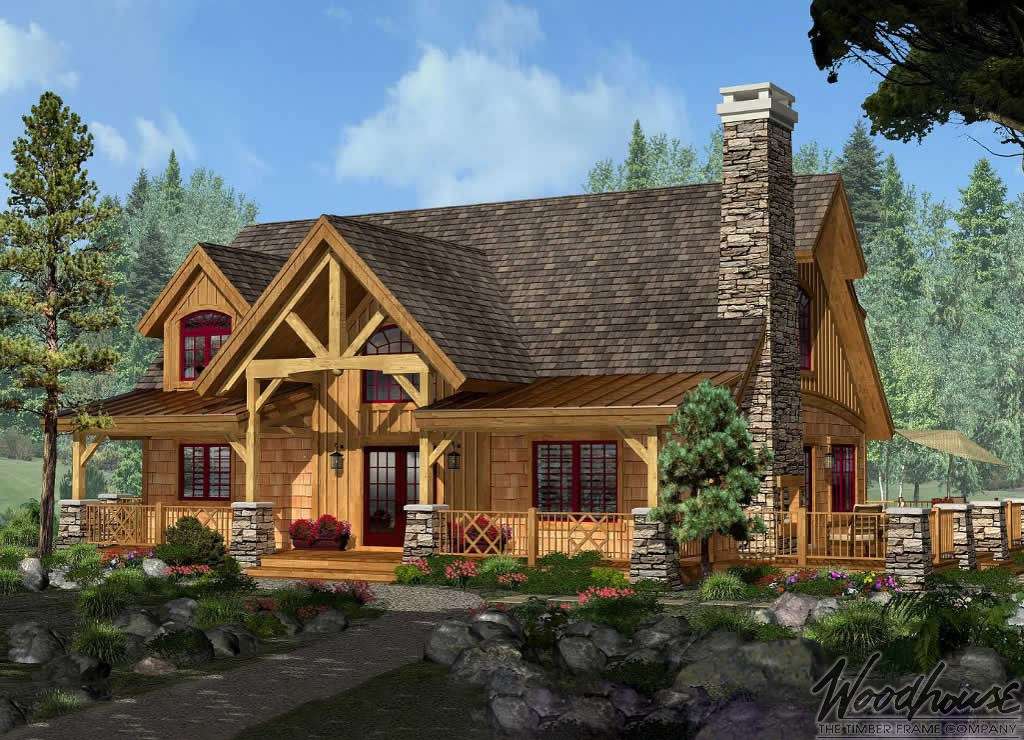 Don't Miss This! Boundary Waters Canoe Area Wilderness is a dream-come-true destination for outdoor adventurers. This network of connected lakes and streams, including those dotted with tiny islands, make for perfect paddling adventures and camping.
3. Brainerd Lakes
Boasting small-town charm with old-fashioned outdoor fun, this area is the ideal destination for the lake lifestyle. Set among the pines, it's a place for family fun, whether that means going out for ice cream, playing golf, or kayaking on the water.
Our KettleCreek design has lots of windows to enjoy the forest and lake views from the great room, plus a screened-in porch for pest-free time outside. Single-floor living with our conventional timber frame ranch styles are perfect for those looking to age in place in Brainerd Lakes.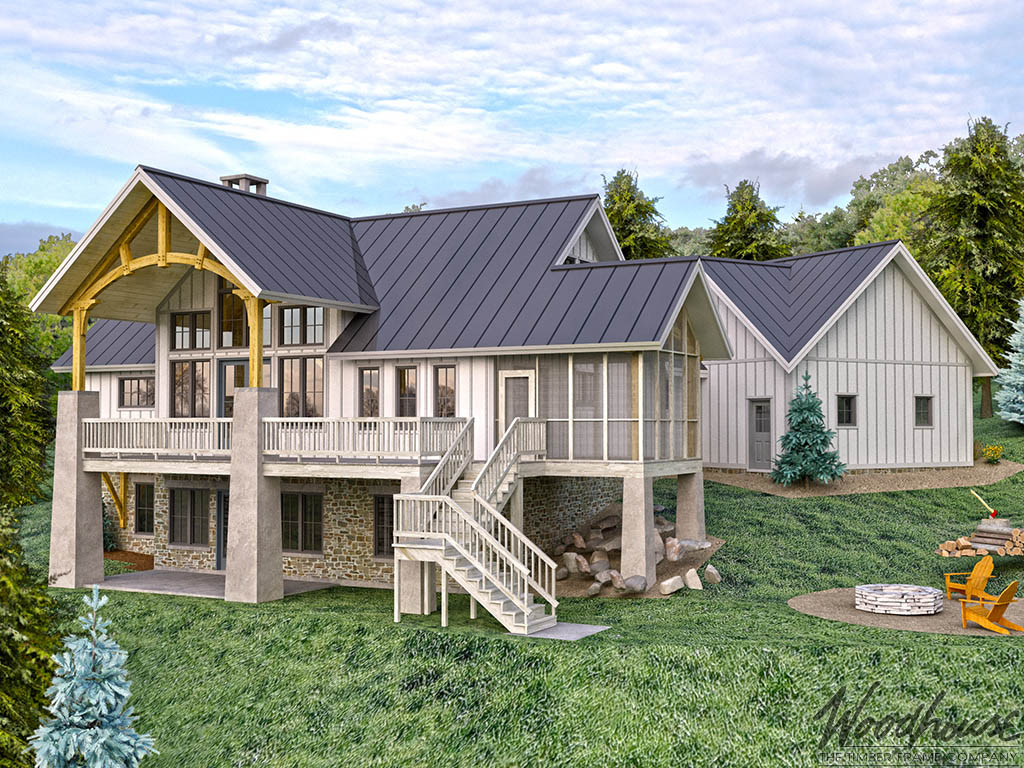 Don't Miss This! Brainerd is the birthplace of Paul Bunyan. Get your kids in the spirit at Paul Bunyan Land where a life-sized, animated statue of Paul Bunyan (remember, he's giant-sized!) will greet you. For the big folks, relax, sip, and nosh at Big Ax Brewing Co. located in the irresistible town of Nisswa.
Popular Timber Frame Trends in Minnesota 
As you can see, Woodhouse has plenty of designs to get your custom timber frame home in Minnesota started. Any one of our timber frame plans can be modified, personalized, and tailored to your tastes. Want more bedrooms? A bigger great room? Unique features? A blend of styles? We can do that.
There are some enduring trends for timber frame homes in Minnesota. Screened-in decks and porches let you enjoy the fresh, outdoor air without being harassed by mosquitos, black flies, and other bugs. Outdoor fireplaces and timber frame pavilions also help stretch the outdoor season. Let us show you more.
Discover Timber Frames for Your Minnesota Home
Make sure to check out the Woodhouse timber frame floor plans that are the most popular in Minnesota: WaterRock, RockyView, KettleCreek, and Adirondack Cottage. For more ideas, check out our gallery. If you have any questions about your timber frame dream home, reach out to Jamie Thompson, the Woodhouse Regional Project Manager for the Midwest. He can talk to you about your home, ideas, and property.
Perfect Floor Plans for Minnesota