How a partnership between Woodhouse and Winsome Construction, a premier timber frame builder in Bend, OR, create an all-star team for performance, design, and efficiency.
It takes a distinct skill set to manage a complex timber build project. Understanding logistics, budgeting, building structure, and materials, all while possessing a creative mindset and eye for design are compulsory. Winsome Construction, a general and specialty contractor building homes since 1990, excels in all that and more.
"I started in the industry as a general contractor," says one of the partners and founders of Winsome Construction, Shan Stassen. "Now we have plenty of years and experience of self-managing our own teams. The guys managing the projects have hands-on, complex carpentry expertise and backgrounds in structural building. We have traveling teams go to build sites, no matter how remote, for a seamless process."
Winsome's craftsmanship knowledge extends to all aspects of the construction process making it the go-to specialty, general, and timber frame builder in Bend, OR. They handle excavation, timber frames, conventional framing, foundations, and have hands-on experience with numerous building systems with mid to high-end construction experience. In fact, it was their expertise with building systems and meticulous attention to detail that connected them to Woodhouse.
Knowing they needed one of the best Central Oregon timber frame builders, Woodhouse sought Winsome Construction for an expansive, cottage-style post and beam timber frame home. With its integration of different building systems and balance of wood and stone, the project demanded a highly skilled team that had the right knowledge to perform the labor. The intricate post and beam work reveals a generous interior space and loft positioned to take full advantage of the mountain views. With their expansive industry knowledge across building systems and styles, Winsome Construction understands how to conjoin different systems for a seamless presentation and efficient construction.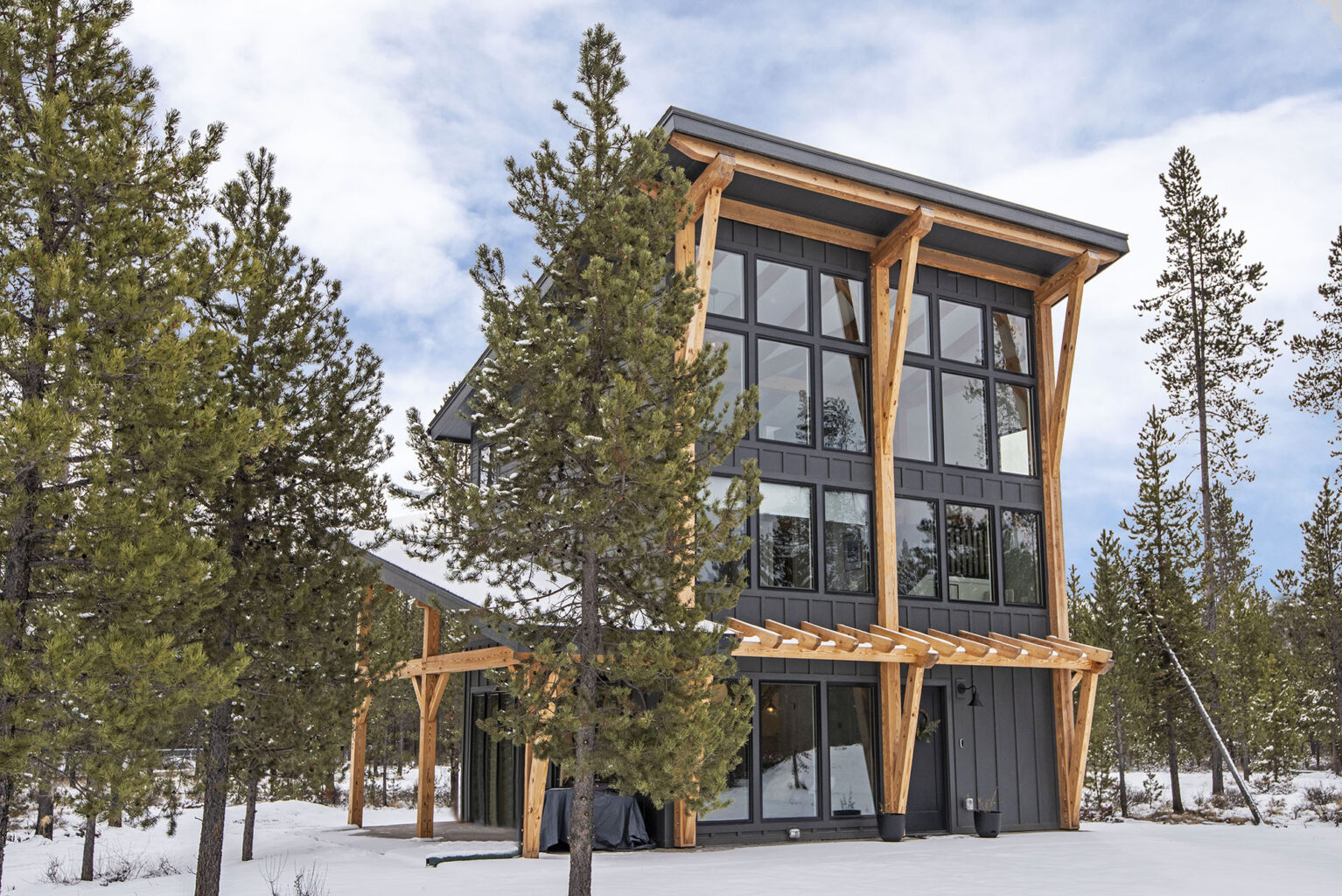 A Modern Timber Frame in Sun River, Oregon
Winsome and Woodhouse have worked together to promote a diversity of timber frame homes in Bend, OR.  "We can translate any architectural vision," Stassens says. "With Woodhouse and the ability to blend different build types with timber means there is an endless selection of options."
One of those options is the RockyView, which Woodhouse designed and Winsome built for use as an Airbnb in Sun River, OR. Designed for 360-degree views, the three-level home with soaring ceilings and a dramatic, single-plane roofline brings modern minimalism to a timber frame. Its smart design defies its 1,093 sq. foot living space. The main level features an open living, dining, and kitchen area, second-level bedrooms, and a flex-space loft. Every room features views of Sun River's scenic beauty.
One of the RockyView's distinct features includes four large exterior posts, accented with knee braces in the front, that soar from the ground level to the roofline. Mirroring these exterior posts are four seamless, interior posts that move from the ground up to the roofline through multiple levels. Between these symmetrically aligned posts are SIPs. Woodhouse and the owners selected southern yellow pine for the RockyView build in Sun River.
Start Here
If you need a timber frame company in Bend, OR, or surrounding areas, Winsome Construction is the local ambassador for Woodhouse. Contact Woodhouse today to get started on your custom timber home.