Like a cake with no frosting or an ice cream sundae without a cherry on top, a timber frame cannot become a real home without interior designing.
At Woodhouse – The Timber Frame Company, we recommend that you start thinking about your home's decorations before the design phase begins. This way, you can work with our architect to incorporate important decor features into your final design.
Here are a few tips to steer you in the right direction:
Let There Be Light!
Lighting is one of the most important elements to consider when designing your home. Not only does it determine the overall mood of your home, but it can also influence your health and lifestyle. Our architect will determine where to orient the different rooms in the home design based on how the sun travels throughout the day. According to Diana Allen, a Woodhouse lead timber frame architect, the sun's orientation plays a key role in the design and layout of a house:
"The sun rises in the east and sets in the west. Typically, you would want your bedrooms to be where the sun rises to allow the natural light to help you wake up in the morning. If you live in a cold climate, you will want to place your living spaces where the sun is hottest in the day to take advantage of natural heating. In the evening, you will want to place the porches in locations that will take advantage of the sunset."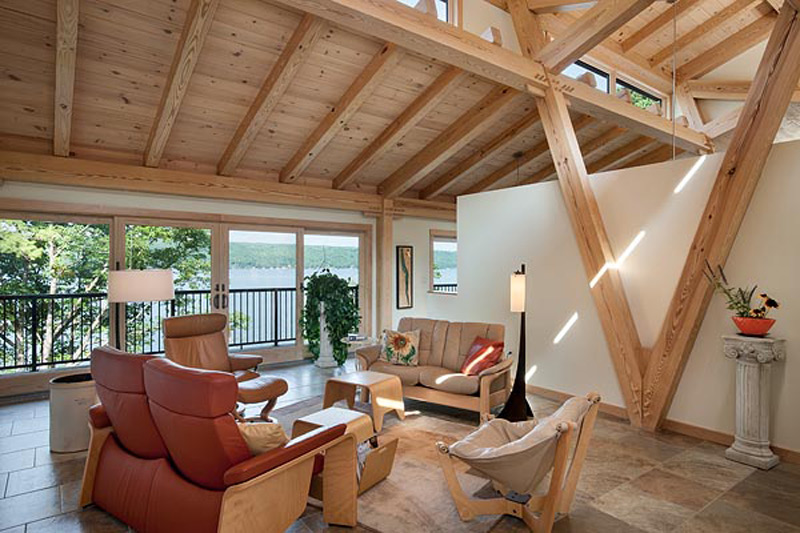 Even though timber frames are designed to take advantage of natural lighting from the sun, in the evening the spaces can become quite dark. When designing your home, it is important to wash (softly light up) the frame with accent lighting; this is typically done by installing up-lighting. Additionally, mood lighting can be created using light fixtures such as floor lamps, hanging lanterns, and tabletop lights.
Fun tip: You can install lighting to better showcase your prized pieces, such as family heirlooms.
The Personal Touch
Every first-time visitor will want a tour of your home, but what they really want to see is you. It's important to use this opportunity to put a little of yourself into the home design. Do you have an important piece of art that has been passed down in your family? What is your favorite view from your property?
Your regional project manager will ask you similar questions to make sure that your home is oriented towards any and all focal points. As one of the first steps when you begin planning with our architect, we will send you a questionnaire to ensure that we discover every detail of your dream design.
Fun Tip: As your custom timber frame home is being designed, begin asking yourself questions such as "What is my favorite color?" and "Do I really love prints?"  These answers will help dictate decorative elements such as wall hangings, rugs, throw blankets, and eventually, the overall design of your home.
Think Global, Decorate Local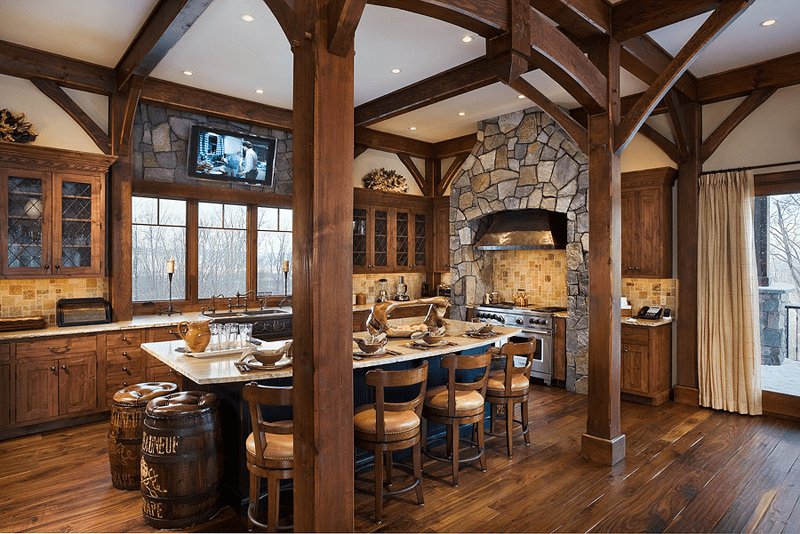 Your new timber frame home shouldn't look like "just another timber frame home." Let it shine with its own identity. Like any art form, the style of a home is heavily influenced by regional geography, historical time periods, and modern design trends. You can select which elements to incorporate into the unique design of your dream home.
When designing your home, it is important to understand that you can modify any style of home to fit in the region that you choose. In other words, it is okay to build an Adirondack Cottage home in the Berkshires with additional elements of a Great Camp home.
Fun Tip: After your home is built, choose your decorations according to your region. Vintage ski equipment adds an air of timelessness to any ski chalet, so go ahead and mirror your surroundings with signs, woods, and art specific to your locality.

Bring the Outside, In
Bring the tranquility of the great outdoors inside your home with plants. They can add a dash of color and breathe life into any surrounding.  When choosing your plants, be sure to go bold and sturdy. You want plants that add aesthetic value without demanding too much of your time.
Fun tip: Want an indoor window garden? Tell our architect so that she can make sure to include a space with maximum window lighting in the design.
Furniture – Functional, But With Style
Some of your most important design decisions will revolve around furniture. Finding the right style and level of comfort without overwhelming your rooms is a tricky tightrope to navigate. When beginning the design process, it is important to tell the architect what sizable furniture you plan to bring so that she can incorporate it into the overall design. For example, if you have an antique chest that will need to go under a window, our architect will need to know the chest's dimensions to make sure the window is high enough from the ground to accommodate it.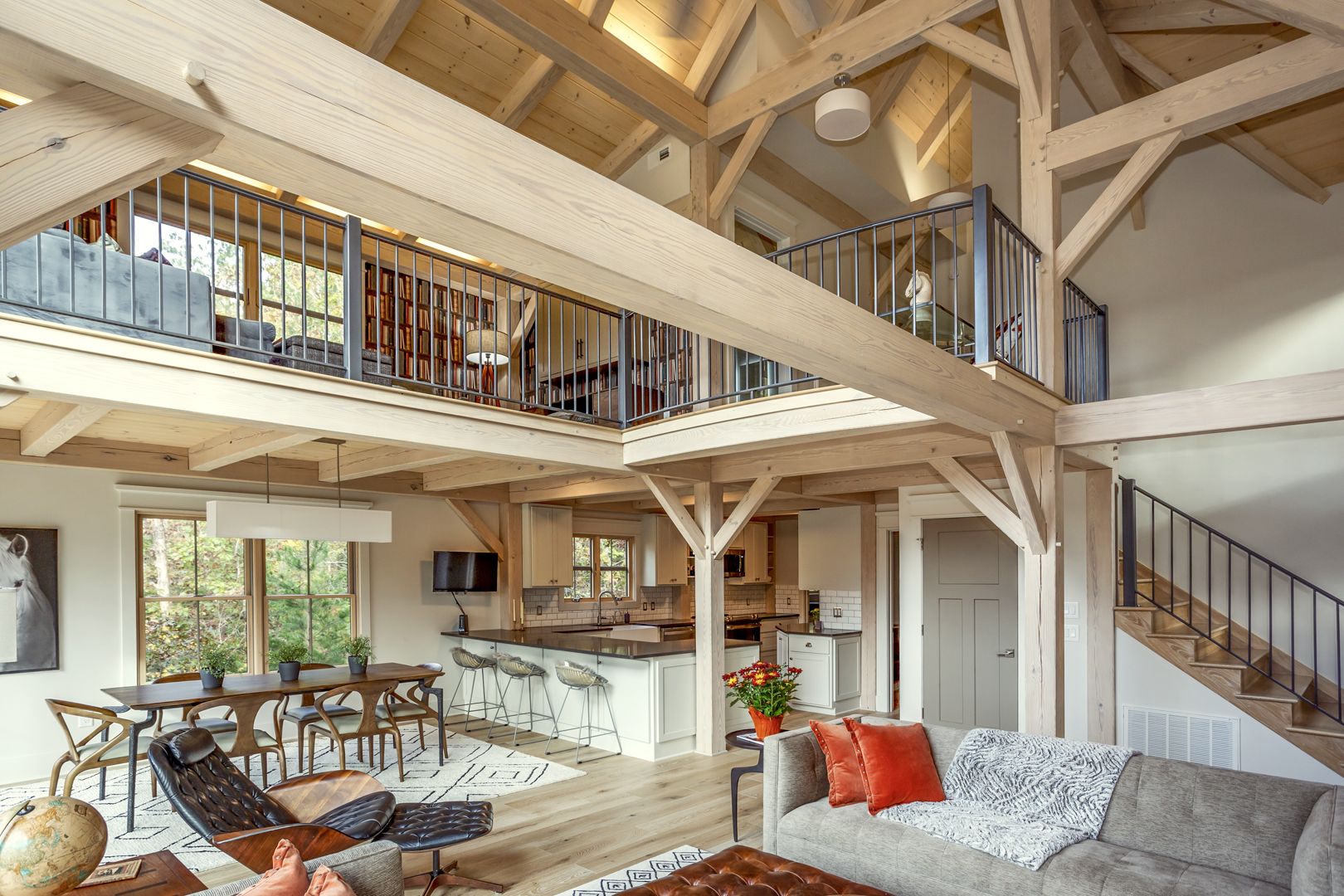 While timber frame homes can be the very best spots for friends and family to gather together, everyone needs a little personal space too. Be sure to select furniture works to bring everyone together naturally, but can also provide a cozy corner to which anyone can retreat.
Fun tip: Did you know that Woodhouse creates furniture custom-fitted to your timber frame home? Contact us to learn about our custom and pre-designed furniture.
Let's Get Started
It is important for us to understand what your dream home looks like. No detail is too big or too small – the more we know, the better we make your dream come to life. We've been building custom timber frame homes for over four decades, so we've heard all the questions and dealt with issues big and small. If you're wondering how much your dream home might cost, check out our budget calculator here.
We understand that a timber frame home is as unique as its owner and we're here to help you bring that one-of-a-kind vision to life. Let's get started – contact us to learn more!