Timber Frame Homes in the Finger Lakes of New York
When it comes to timber frame homes in New York, discover why the Finger Lakes and Woodhouse are the perfect match.  
Created by glaciers, the eleven graceful, elongated lakes that comprise New York state's beloved Finger Lakes region are the glittering gems of a landscape prized for its water, woodlands, and culture. Numerous rivers and streams feed these deep, crystalline bodies of water and have carved out dramatic gorges and glens anchored with waterfalls. Between these primordial waterways, an elegant, rolling countryside covered in equal parts mixed hardwood forests and vineyards provide gorgeous views that fill the soul.
"One thing I've always loved about living here is that there is a natural, active show anytime you look out the window," says Regional Project Manager (RPM) for the Northeast, Jay Hodgson. "Many of our timber frame home designs are built to capture that view."
Timber Frame Homes in New York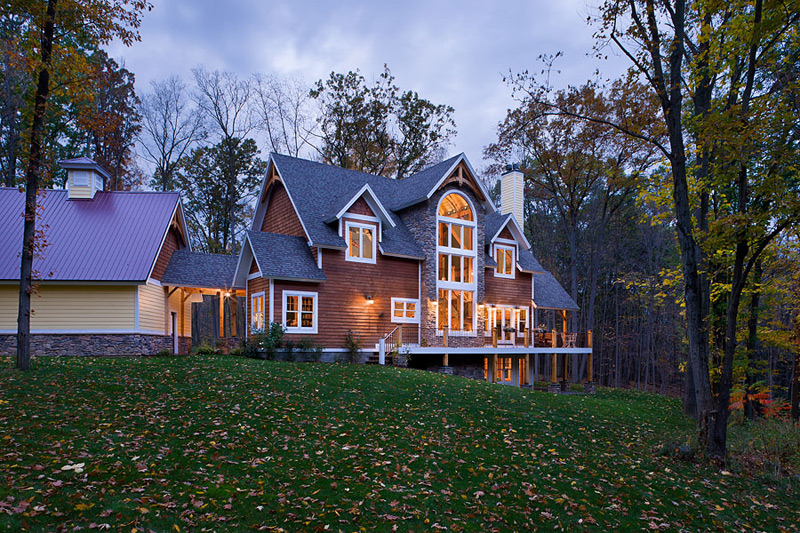 When thinking about timber frame homes in New York, the charismatic Finger Lakes are primed for Woodhouse timber frame homes and lifestyles. Culturally, the Finger Lakes region occupies a crossroads between history and geography. It is where New York's rugged Adirondack mountains meet traditional maritime styles by way of the influential Erie Canal. Today, fresh perspectives and ideas come through the region's multitude of colleges and universities.
"It's a place that embodies so many personalities," says Jay. "It's a lake-filled landscape with wineries and centers of art and education."
Timber Frame Styles in the Finger Lakes
The region's multitude of idyllic qualities are mirrored by our diverse collection of timber frame home styles. Each can be custom designed to fit your Finger Lakes property, whether it's lakeside, streamside, tucked into a forest, or near one of the area's dreamy little towns.
Our timber frame houses let you enjoy an open-concept floor plan with panoramic windows that capture natural light and let you drink in the views. With more than 332 miles of lakeside shoreline plus countless more along pristine waterways, it is no surprise that our LakeView Plan is a popular choice. The expansive back porch living space lets you watch the evening fireflies as you relax after a day of hiking, wine-tasting, leaf-peeping, or paddling. In wintertime, enjoy watching the lake change under snowy skies while you remain snug from chilly winds in our sturdy, energy-efficient homes built for New York's heavy snow loads and extreme weather.
Designed for Finger Lakes Living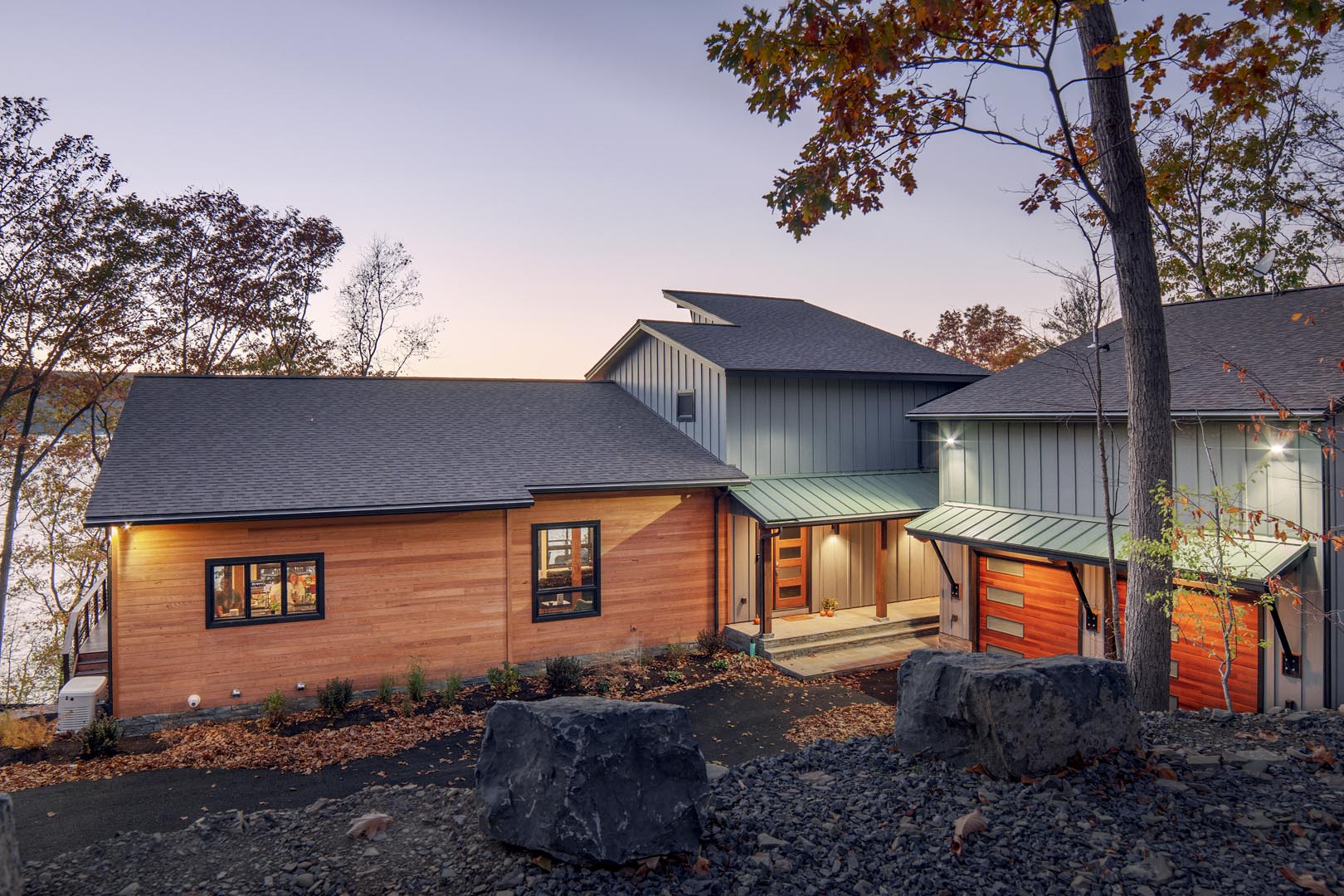 A timber frame home can maximize your Finger Lakes lifestyle. One recent project offers a modern vibe customized for a shoreline setting. Situated atop a hillside on the edge of Seneca Lake, this contemporary industrial timber frame is a showcase of refined, relaxed beauty. It is oriented so every room within its light and airy interior features a captivating lake view, reminding the homeowners and guests of their enchanting setting.
Like many lakefront homes, there is ample space between the deck and lake for outdoor spaces such as patios, timber frame pergolas, and even a timber frame boathouse. This home in particular features an outdoor shower as well as a firepit and an elevated deck for watching the sunset over the lake. In another project, the design team at Woodhouse created the BaliView floor plan for a retirement-age couple with a full-finished basement. Both homes are flooded with natural light.
"There are great views of the lake, and that wide-open feel of the outside connects to the interior," Jay says.
Timber frame homes in the Finger Lakes can easily carry an aesthetic that reflects a natural connection to the region. In addition to wood in the form of sturdy timbers, Jay recommends using rocks and stone. Stone details, such as fireplaces, mantles, siding, hardscaping, and pilon wraps can mirror the stones found in the region's many gorges and glens.
Things to do in the Finger Lakes:
Hike.
The Finger Lakes region is loaded with trails for four-season fun. The
Finger Lakes Trail
(FLT) is 580 miles long with multiple branches and spurs that make excellent day hikes. Mountain biking is another popular activity. On hot days, a creek walk can offer some relief.
Grimes Glen
, located in Naples on the southern end of Canandaigua Lake, is a popular creek-walking destination with a waterfall and swimming hole. Although swimming is not permitted,
Watkins Glen
is known for its spectacular, water-filled beauty. If you're a leaf peeper, the Finger Lakes is your spot.
Letchworth State Park
(known as "the Grand Canyon of the East") is especially glorious, but it can get crowded.
Ski. Bristol Mountain near Canandaigua Lake and Swain ski resort, located south of Conesus Lake, are both independently owned downhill ski resorts. Bristol also offers groomed Nordic skiing plus a ropes course and zipline during the summer. For free groomed Nordic skiing, head to Harriet Hollister Spencer State Recreation Area where you'll be treated to stunning views of Canadice Lake.
Paddleboard or Windsurf. There are 11 official Finger Lakes and a handful of smaller, yet equally enticing lakes in the region making it a prime spot for all water sports. Paddleboard, windsurf, kayak, swim, boat, canoe, waterski, fish — it is a nearly endless list of entertainment. There are a handful of rental shops for the basics.
Food & Drink. Quality craftsmanship is a revered trait in the Finger Lakes. While our homes fit this description, artisanal food and drinks are a star attraction. Visitors enjoy ample choices of cideries, handmade cheeses, farm-to-table restaurants, craft beer and distilleries. Out here, trails aren't just for hiking. Try one of the craft beverage trails, cheese trails, or wine trails.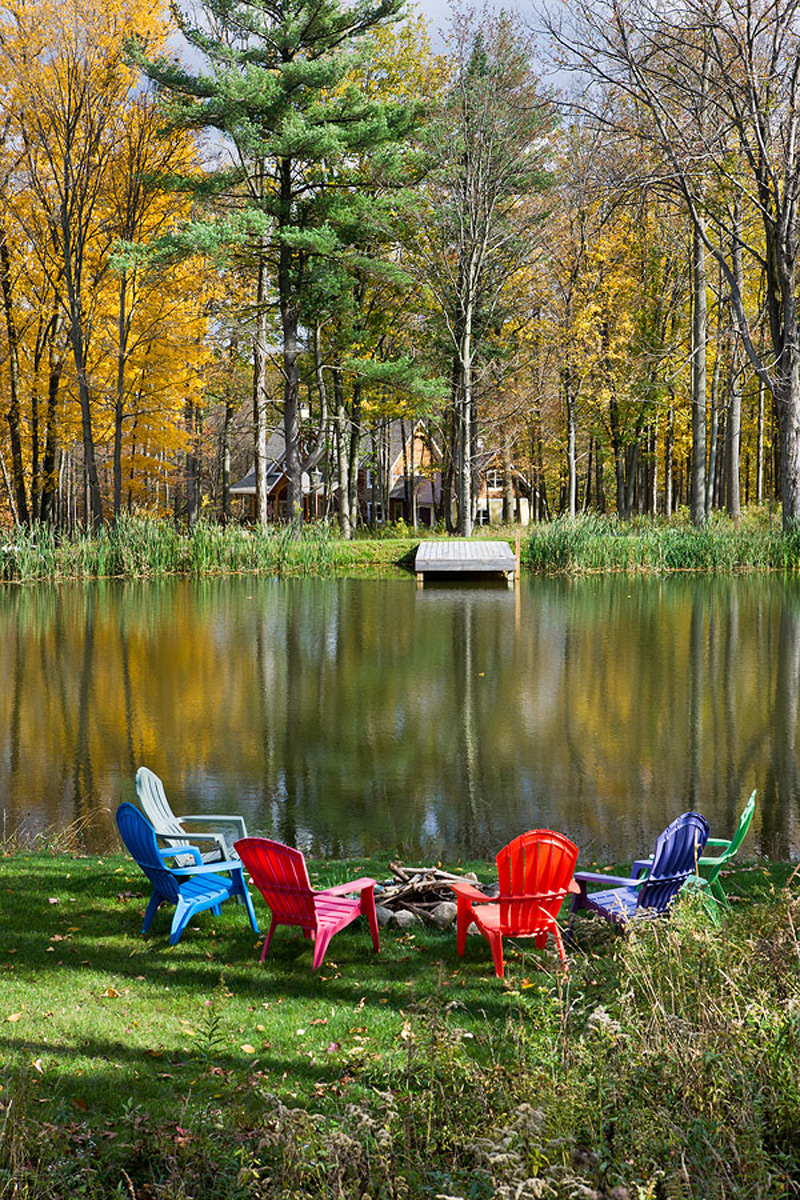 Live the Dream With a Timber Frame Home in New York
Perfect Floor Plans for the Finger Lakes