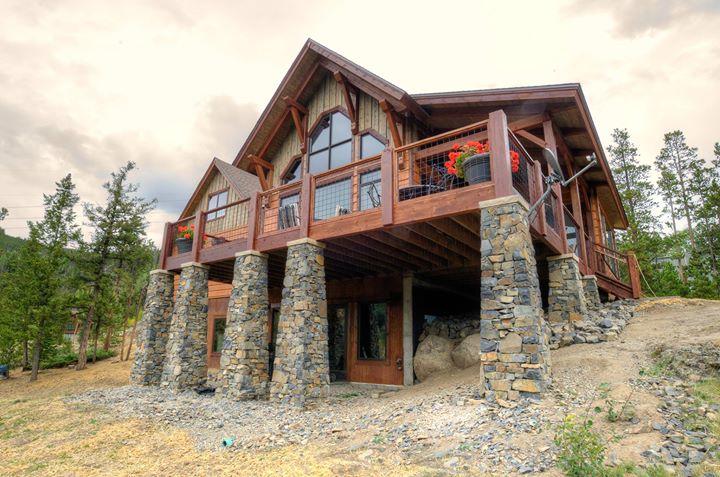 See more photos of this home here
If you're looking for a cozy retreat away from the chaos of everyday life, you can't go wrong with a luxury mountain home in the sunny state of Colorado.
With seemingly endless outdoor activities and plenty of shops, restaurants, and galleries to peruse, there's no shortage of fun things to do in this region. Karen Wray, who represents Mountain Log Homes of Colorado, describes the natural treasures found in the high country outside of Denver, Colorado: "We have multiple ski resorts (Breckenridge, Vail, Steamboat, and Park City – to name a few), we have 58 miles of paved bike paths, we have over 100 miles of hiking and mountain biking trails here, we have a huge reservoir that you can sail and boat." In other words, the people who live in the Colorado Mountains love the outdoors. And their homes reflect that.
You'll find that a typical custom timber frame home in the mountains of Colorado will take full advantage of the surrounding scenery. Rather than focus on home automation and other high-tech gadgetry, the homes here emphasize natural elements for comfort and entertainment. Things like outdoor fireplaces, year-round decks equipped with hot tubs, and luxurious heated walkways abound in this area, allowing residents to enjoy the great outdoors in high style.
Despite the aforementioned luxuries, many of the homes here still retain a casual quality, with expansive open floor plans and dining areas that lend themselves to chatty gatherings after a cold day on the slopes. Chris Koehn, Woodhouse's Western Regional Project Manager, describes it: "I think it's a less formal type of situation. People go to the mountains to relax and they just want to entertain family."
Components of a Colorado Mountain Home
In addition to maximizing outdoor living and communal gatherings, the homes here hold a uniquely mountain-chic quality. Many feature log siding, giving the impression of a cozy cabin in the woods, but also have tall ceilings, large windows, and expansive floor plans that infuse it with a sense of high-end luxury.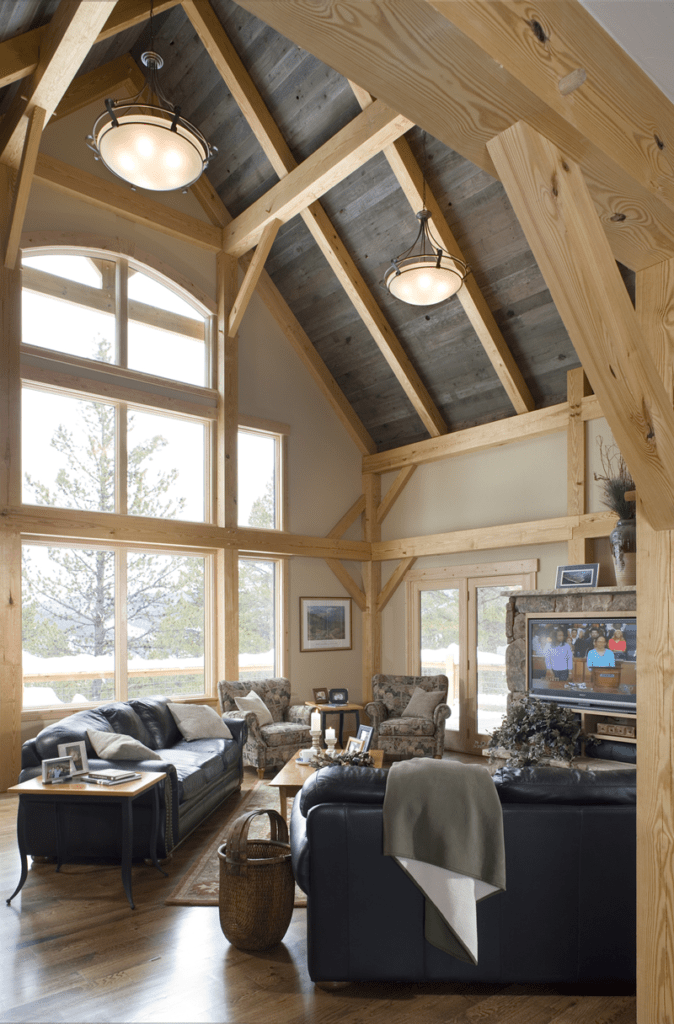 See more photos of this home here
Of course, as with any region, there are some important considerations to make when designing a high country custom home. For starters, you should contact Chris Koehn, who will be your Woodhouse guide through the whole building process. Chris will help you develop a relationship with a trusted Woodhouse Builder Partner like Mountain Log Homes of Colorado, as we want to be sure you choose a Colorado mountain home builder who's familiar with the unique design challenges and advantages of this region. A Colorado builder should understand that snow loads can impact what's possible for timber frame construction and how to work with the surrounding weather rather than against it. Additionally, they will understand that it tends to take longer to build homes in mountainous regions than others due to both wintery conditions and limited access to resources in more remote locations.
From a functional aesthetic standpoint, you'd be remiss not to consider the scenery when developing your home's design. Many Colorado mountain homes are heavily designed with the landscape in mind, featuring siding that blends beautifully with the setting and vast windows that maximize the spectacular views.
Build a Custom Timber Frame Home in Colorado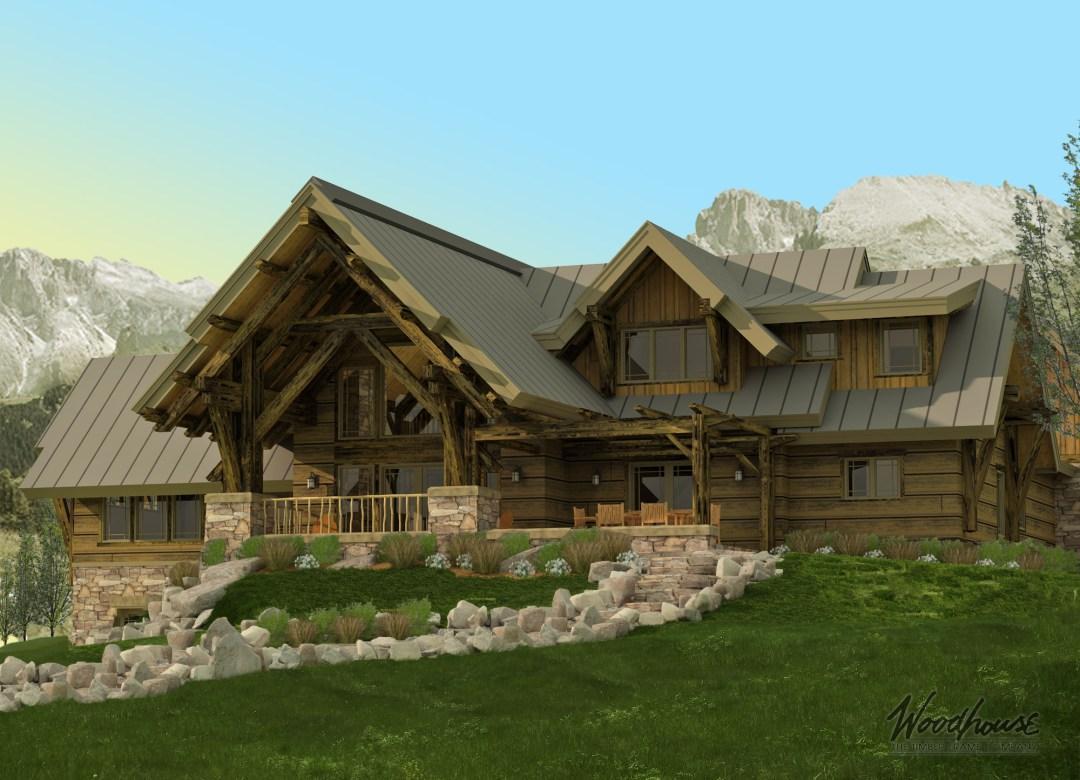 If you're like the many others who are considering a luxurious Colorado mountain retreat, then take a look at Woodhouse's Grizzly Peak floor plan as a start. As with all of our timber frame homes, the floor plan can easily be customized to meet your every desire and whim.
Ready to make that dream mountain home a reality? See how much your home will cost with our Dream Home Budget Calculator.