A Ranch Style Timber Frame Home by Woodhouse is designed for every phase of your life
Woodhouse's Timber frame ranch homes are some of the most popular floor plans offered. This popularity is due, in large part, to baby boomers' desire to age in place. As people remain healthier and live longer, those planning for retirement value functional floor plans that will keep pace with their transitioning needs.
The demands from a home that was once housed a family can quickly change as children leave the nest and parents settle into a less demanding lifestyle. For a growing majority of adults, remaining in a home that they love is vitally important.
Anticipate your needs. Transition in style.
There are many common issues that most adults find challenging as they age. If you are planning to design a new timber frame home floor plan, anticipating accessibility and later-stage life up front can cut down on expenses later on.
For example, timber post and beam structures provide high ceilings and an open living space. This makes it easier to move around, accommodate in-home medical needs, and rearrange furniture as needed.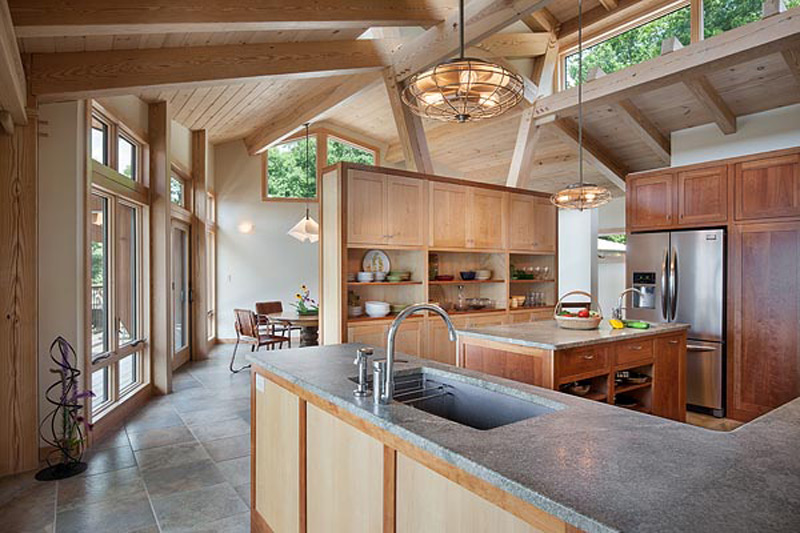 Tips for designing a home for "Aging in Place"
Floor Plan
Access is important regardless of age. By incorporating "Aging in Place" design standards on porches, garages, hallways, and 3-foot-wide internal and external doorways, you can pre-empt many aging challenges, such as wheelchair mobility, without compromising design.
A study or guest room with an ensuite bathroom on the first floor can later serve as a master bedroom as you age. If you do opt to add a second floor to a ranch style timber frame home, upstairs bedrooms can host visiting adult children and grandkids.
Kitchen Design
Kitchens should be designed with ease of access and reachability in mind. Rather than upper wall cupboards, focus your storage needs on base units. Pantry-style cupboards are similarly useful and easy to access.
Drawers and pullout shelves in kitchens are a more sensible option than deep cupboards, which require kneeling and reaching. Less hassle removing heavy items such as platters means less risk of injury.
Appliances
Small appliances like mixers and food processors can be placed on custom pull-out shelves designed to act as a dedicated work surface.
Many appliances such as dishwashers and coolers, are available in pull-out drawer designs, which are more practical especially as one ages.
In laundry areas, bathrooms and even kitchens, raise the appliances and counter surfaces to the recommended heights and ensure that safety rails and accessibility factors are considered.
Hardware
Door and drawer hardware are aspects of aging in place that are often overlooked. Lever and pull handles will always be easier to use than traditional knobs. Even mild arthritis makes it more challenging to grip and turn a standard rounded knob.
You can learn more about aging in place guidelines through AARP, your local CAPS (Certified Aging in Place Specialists) or by consulting the ADA guidelines (Americans with Disability Act) online.
Get Started With Woodhouse
If you're interested in a custom timber frame ranch home that incorporates an "Aging In Place" design, the architects and designers at Woodhouse have over four decades of experience creating beautiful home floor plans that allow you to live in the present, while keeping an eye on the future. They would be happy to share their expertise if you contact us.
Check out some of our favorite Timber Frame Ranch Home Floor plans here:
Our Favorite Timber Frame Ranch Homes