Our Top 5 Timber Frame Ranch Homes Made for Single-Story Living
The Woodhouse Ranch Series is intended to have long-term appeal for people from all walks of life; these designs are particularly suitable for the changing lifestyles of current and soon-to-be retirees. These single-story, open timber frame floor plans are the perfect customizable canvas for anyone seeking to build a dream home that will match their present and future lifestyle needs. For instance, you can choose to integrate any type of roof, with gable and hip roofs being the most common, and you can easily install a lower level to expand upon the already-abundant living space. The Woodhouse design process includes 3D imaging software that allows you to fly through your home, allowing you to experience every change you make before construction begins.
Check out some of our favorite timber frame ranch homes to learn how these elegant designs appeal to all ages and walks of life.
WedgeWood Timber Frame Ranch Home
At 1,981 square feet, the 3-bedroom, 2.5-bath WedgeWood offers ample, comfortable living space. With a casual open floor plan that includes spacious living and dining rooms, a generously-sized kitchen, and separate office space, this timber frame ranch is perfect for (soon-to-be) empty-nesters or as a down-the-road retirement lake home. See the WedgeWood floor plan.
Goldenbrook Timber Frame Ranch Home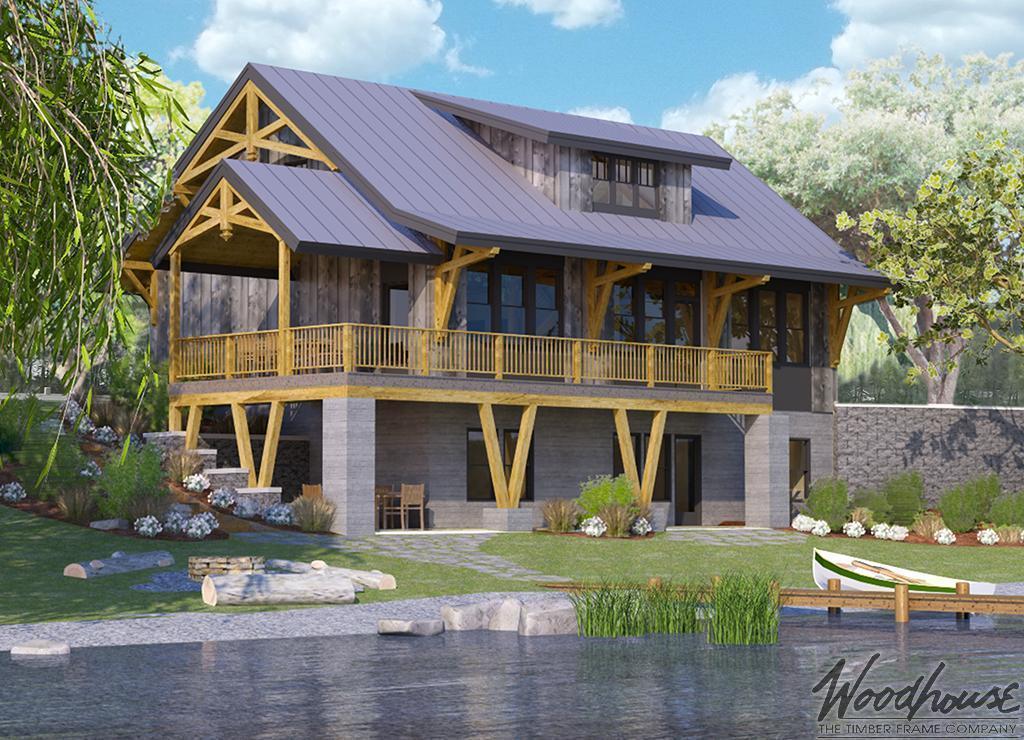 The stunning Goldenbrook is a 2,229 square foot Craftsman timber frame bungalow with a touch of classic Cape Cod aesthetic. With 1 large bedroom and 1.5 bathrooms, it is the perfect retirement home. Inside and out, the dramatic hand-hewn post and beam construction exhibits exquisite craftsmanship. With a master bedroom and ensuite bathroom on the main floor, plus an additional loft space, this is a house that will adapt to your needs for years to come. Find out more about the Goldenbrook floor plan.
Baliview Timber Frame Ranch Home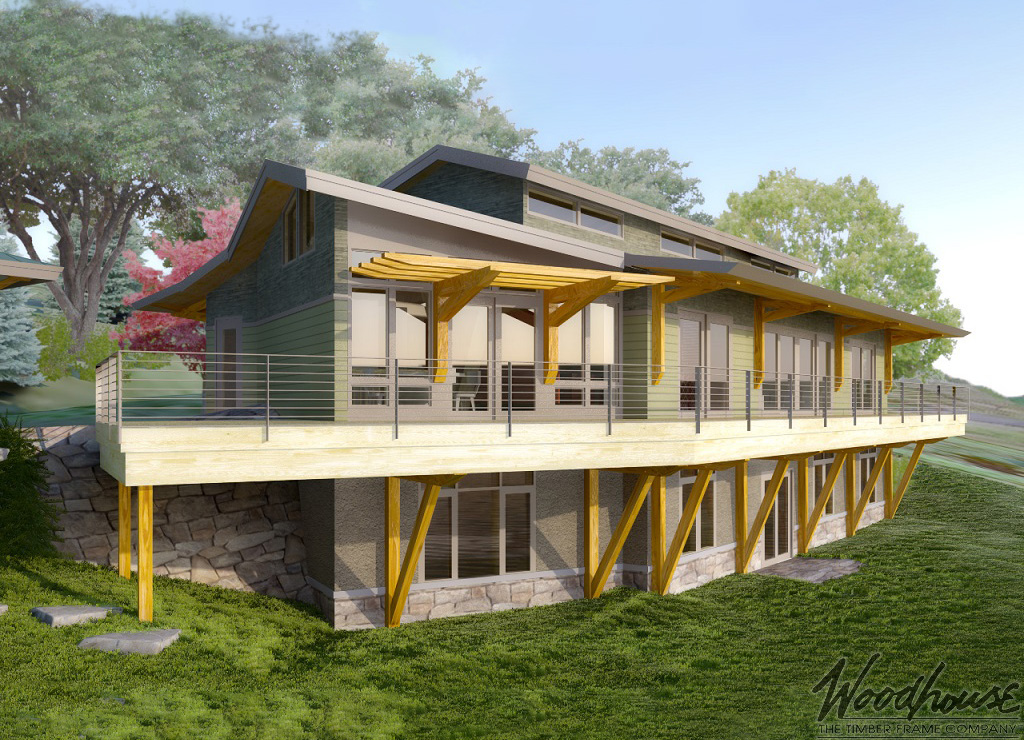 At 1,741 square feet, Baliview is Woodhouse's compact marvel of contemporary timber frame design. With 1 bedroom and 1.5 bathrooms, this beauty owes its inspiration to mid-century style. The stunning expanse of high-profile windows provides an abundance of light to a living space that demands a beautiful view. The open floor plan offers flexible living options within this single-level design. Although modest, the Baliview includes a large master bedroom with a full bath, spacious great room, and dining room as well as an office space that could serve double duty as a guest room. Learn more about the Baliview floor plan and indulge your passion for contemporary design. See photos and take a virtual reality tour of a finished Baliview in Burdett, NY.
PineHill Timber Frame Ranch Home
The PineHill is one of our more popular timber frame ranch homes. The 3-bedroom 2-bathroom design has 'classic bungalow' written all over it. The open floor plan and cozy layout embraces the 'Aging in Place' philosophy with verve. Within the 1,960 square feet of open living space, the architects at Woodhouse have thoughtfully included a large master bedroom with a full bathroom, two further bedrooms, and a second bathroom. Nothing has been wasted with space being masterfully used, leaving ample square footage for a large great room, generous dining area, and a wide chef's kitchen with a 27-foot-long island. This is a flexible home able to chaperone the owners to comfortable retirement while always being ready to accommodate family and friends. See the PineHill floor plan.
HighPlains Timber Frame Ranch Home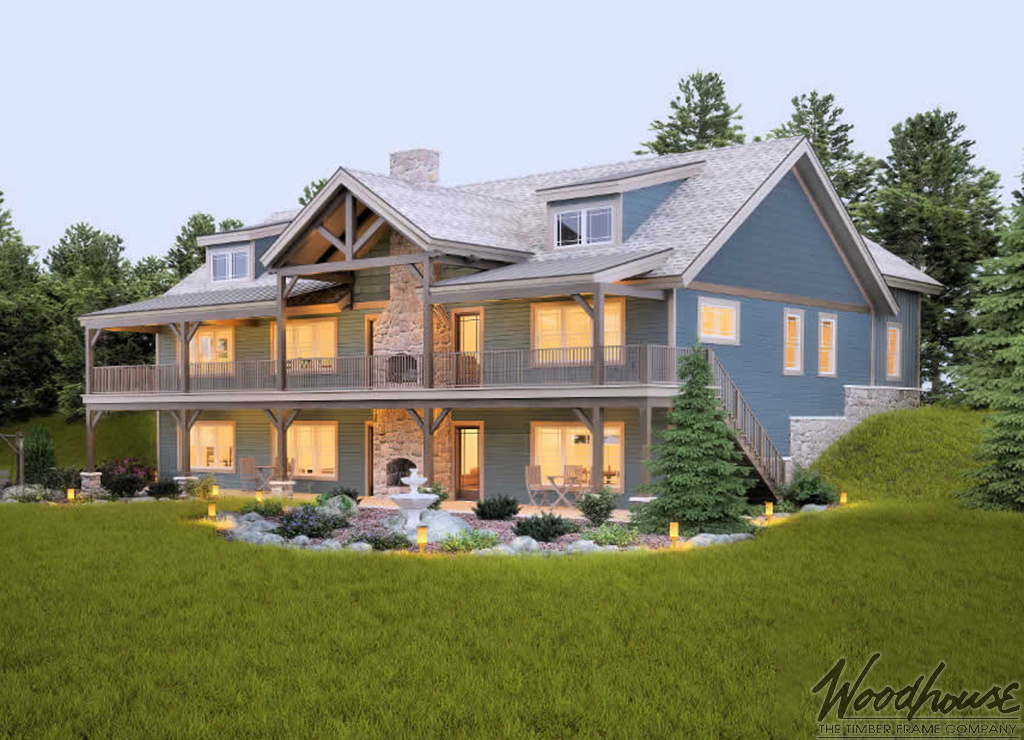 At 2,698 square feet, the HighPlains timber frame ranch home is one of our larger floor plans. This 4-bedroom, 2.5-bathroom design is the perfect choice for a family in transition. Maybe you're a family with one or two kids away at college, another approaching their last couple of years at high school, or perhaps you have a senior parent who needs a bit of extra attention. The four-bedroom HighPlains provides ample living space with its large open great room, dining room, and kitchen areas. The master bedroom with an ensuite bathroom is set privately to one side while the three remaining bedrooms occupy an area on the opposite side of the home. This home provides versatile options to accommodate the fluctuating dynamics of today's modern families. Learn more about the HighPlains floor plan.
Like most Woodhouse floor plans, you have the option to customize your home to meet your personal vision and needs. Explore the rest of our timber frame ranch home floor plans.
Explore our Timber Frame Ranch Homes
We're here to help
Woodhouse has been helping homeowners customize their timber frame dreams for over 40 years and, in that time, they've seen it all. Whether you are just exploring possibilities or are ready to start planning your home with our design team, our Woodhouse Regional Project Managers are here to guide you and answer any of your questions. Check out our Where We Build page to see Woodhouse projects in your area. Contact us to speak with someone on our team today.