Your Guide to a Timber Frame Home Kit
Learn more about these sophisticated building systems and how they save time and money. 
As you begin learning about the possibilities of a timber frame home or building, one of the first terms you are likely to stumble across is "timber frame home kit". In this handy guide, we'll explore exactly what a timber frame home kit is, how Woodhouse uses advanced technology and strategies to create the best building systems for our clients, and what you can expect from the planning and building process when using a timber frame kit.
What is a Timber Frame Home Kit?
A timber frame kit is also known as a building system or, more commonly, a timber frame home package. The kit is the system that will be delivered to your site, assembled, and transformed into your very own dream home or commercial structure. While "kit" may sound simplistic, these packages are advanced, custom-crafted building systems that result in elegant, expertly engineered homes. Woodhouse's building system represents an advanced use of technology, experience, and design knowledge. The term stems from the early days of systems-built homes when they were originally referred to as "kits".
What's Included in a Woodhouse Timber Frame Home Kit?
Your Design​
Your Woodhouse home package or timber frame kit starts with the design of your new home. This process begins with an architectural design interview, conducted between you and your regional project manager. This interview process has been refined over many years of client interaction. Once completed, it will aid our designers in creating your dream home design in the fastest time frame possible. If you have a collection of photos you've gathered, this is the time to share them with us.
Your design will include a variety of services and floor plan iterations. Whether you are beginning the process with one of the proven designs from our collection or a fully custom design, your design agreement will spell out what is included in the process. For both our proven designs or fully custom projects, the process culminates with ¼-scale drawings that define the project and set the stage for creation of construction drawings.
Construction Drawings
These construction drawings are created after all changes to the ¼-scale drawings are completed. These drawings will provide you and your builder with all the details necessary to put an exact price on your home, as well as how to put it together on your building site. In contrast to conventional construction where the plans don't explain how to frame the home, our construction drawings show your builder exactly how to put your new home together. Every timber in the frame and all panels to enclose the frame are lettered and numbered to correspond with the construction drawings, so there's no confusion. This speeds up how fast the building goes up onsite, saving our clients money, and ensuring quality construction that will stand the test of time.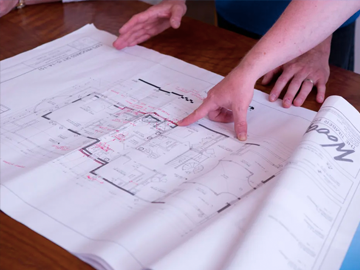 What's Delivered to Your Site
Woodhouse timber frame home kits or packages delivered to your building site consist of the wood frame and the enclosure system around the frame, as well as windows, doors and all specialty fasteners and nailers to enclose the home. Woodhouse uses structural insulated panels (SIPs) to enclose our frames. Your project manager at Woodhouse will arrange for the delivery of the SIPs to arrive at your building site after the timber frame has been raised into place. SIPs are precisely cut with CNC machines (computer numerical control) to fit your frame's exact design.
Panels are numbered to correspond to your home's design with a patented locking system installed on each panel, so your home will go together quickly—usually within a week or two, depending on the size of your home and the number of workers in the building crew. It's a building system that produces minimal waste and creates a home that is extremely energy efficient—so efficient that an air-to-air heat exchanger is needed to ventilate your home after it's complete.
Benefits of Timber Frame Home Kits
Increase Speed and Save Money
Typically, the design phase takes anywhere from three to six months, depending on the number of revisions and modifications. Starting with one of our proven designs in our library that have been built many times before, can speed up this process dramatically.
Woodhouse home plans are designed for efficiency and economical material use. By using one of these proven designs that have been built many times over, you save time that would otherwise be spent on design and engineering a custom plan and you reduce costs by as much as 25% over a custom design.
Our clients are often delighted to learn that timber frame homes are far simpler than conventional homes to build. The entire skeleton of modern timber frame homes can have fewer than 200 individual timbers, compared to thousands of dimensional lumber pieces in a conventional home. The entire frame can be erected in a matter of days, further saving time and money. This simplicity is part of its appeal. Less is more. Consider this when evaluating timber frame home prices.
Open Floor Plans Come Standard
If you visit Woodhouse's extensive library of designs, you will discover that today's timber frame home plans invariably are designed with open floor plans. Interior load-bearing walls are not necessary because the massive frame does all the structural work. Our library includes a variety of square footage sizes to meet different budgets. Take these popular plans for example: 
The 844-square-foot Brookside features an open floor plan with two bathrooms, one bedroom downstairs and one sleeping loft upstairs. The one-pitch roof and a sleek exterior create a contemporary feel. This design is perfect for a weekend retreat.
At 1,314 square feet in size, the CedarSprings features an open floor plan with the great room, dining room, kitchen, mudroom and master suite all on the main floor. Upstairs you'll find another bedroom, flexible loft space, and a full bath. If you're seeking a somewhere to age in place with Cape Cod-style design, the CedarSprings checks every box.
The 3,109-square-foot Ketchum is a unique design with three different sections of the home connected by breezeways. The open floor plan with three bedrooms and two full baths makes this design perfect if you are building on a site with great views.
The Timeline: Designing and Building a Timber Frame Home Kit
Now that you understand the basics and benefits of a timber frame home kit, let's take a look at how it all comes together. Here are the key steps to transforming a timber frame kit into a dream home:
Review your budget
Establish general timelines
Discuss design vision and needs
Visit your building site
Assign a project manager to your project
Craft the perfect design
Select a contractor to turnkey your home
Finalize construction schedule with contractor
Get construction ready
Finalize land purchase
Meet with lender and finalize budget
Create final construction drawings
Create mechanical systems specifications
Contractor obtains building permits
Contractor starts site improvements
Woodhouse fabricates timber frame & SIP enclosure system
Contractor excavates and installs foundation and utilities
Project manager coordinates delivery of timber frame and SIPs to your building site
Installation of timber frame & SIP enclosure system
Contractor completes turnkey finishes
You move in!
Ready to Get Started?
Buying and building your dream home is exciting. We understand this is one of the largest investments of your life, and our project managers will walk you through the process and help you make wise decisions. Contact Woodhouse to get started on your dream home.