There is a reason that Woodhouse uses Structural Insulated Panels (SIPs) combined with timber frames, instead of traditional stick building (which is now mostly 2x6s in most regions due to building codes and in some 2x4s), as the insulation and structural wall component for their homes. Together, timber frames and SIPs make the ultimate building system and create a strong, energy efficient home that is built to last.
SIPs are kind of like a "building sandwich": there are two rigid, oriented strand boards (OSB) skins holding together an inner layer of polystyrene or polyurethane.
Like sandwiches, SIPs are made in a variety of thicknesses and cuts. Woodhouse's architects will determine which SIPs to use based on the type of home you are building and local building codes.  For example, a craftsman style home in the south may require thinner SIPs for the roof, while a ski chalet would require thicker SIPs to support a load of heavy snow. Each type of SIP is built according to owner preference and local building codes.
Want to learn more? Watch SIPs being installed during this construction video of a timber frame home in the Finger Lakes Region of New York.

Why are SIPs so highly acclaimed?
The technology behind SIPs increases a home's structural strength, makes the home more energy efficient, and ultimately reduces construction time. But these are not the only reasons why Woodhouse uses SIPs as a standard building component in each of their houses…
SIPs Save Time – Using SIPs saves time during the key building phase, which is critical for achieving a weather-tight shell. This also allows builders more time to concentrate on other aspects of construction once the home is "in the dry" and out of the elements.  SIPs tie well into Woodhouse's streamilned building process since the materials arrive at the building site pre-fabricated and pre-cut for window and door openings.  The installation is efficient and quick. SIPs also provide higher standards for straight, square and plum walls, and flat roofs, which ultimately  brings accuracy, predictability and efficiency to the jobsite, and saves you time and money.
SIPs Save Energy – Energy bills will be lower too. It all makes sense when you think about it. The big SIP panels allow less gaps or points of connection in the walls of the home, so there are fewer spots for heat to escape. Pre-cut window and door openings allow for a more precise computer aided cut versus being cut at the job site. The biggest reason that the SIP panel is so energy efficient? A consistent thickness and level of insulation across every square inch of the roof and walls. Not to knock our "pink" insulation friends, but inconsistent installation and a tendency for the traditional fiberglass insulation to 'sag', results in inconsistent insulation values and a loss of energy efficiency.  As an added bonus, dust and pollutants are less likely to slip in. Those with allergies or health issues related to breathing will certainly benefit from a 'tighter' home. Healthy air combined with an energy efficient home (and a lower energy bill). With the price of electricity rising every year, everybody likes to see a lower energy bill.
SIPs Help Allergies – With SIPs, a timber frame home will feel warmer since the home will be tighter and better insulated. According to Stewart Elliott, former Woodhouse employee and author of "The Timber Framing Book", it will also be healthier for the owners. "A tight home controls the environment to a higher degree. Because you control the environment, you control the air and take out all of the negatives: dust, disease, pollutants. Therefore, it is a healthier house because you have to force the fresh air that you need in the house rather than relying on open windows or air that leaks in through." Have allergies? A home made out of SIPs is your dream come true!
 "What If…"
Accidents happen. That old saying about "hoping for the best but preparing for the worst" seems tailor-made for SIPs. They are built to withstand strong winds and natural disasters. "SIPs, by nature, braces the frame in any horizontal wind condition," explains Stewart.
SIPs will also stand the test of fire! Homes made with SIPs are rated as Class 1 in fire performance, meaning that fire will spread slower than other building materials. Fire performance ratings are evaluated by comparing flame spread and heat release rates.  Additionally, SIPs don't burn, they melt! In the event of an emergency, this will help slow down a destructive fire.
Woodhouse designs and engineers SIPs with internal posts to carry point loads from the attached timber frame beams, joists or rafters.  The combination of these two components creates a uniquely strong building. The ability to absorb the gravity loads of weight and the sheer loads of wind pressure means that the building will not only pass the strict standards of today's building codes, but will also last for generations to come.
Let's Talk More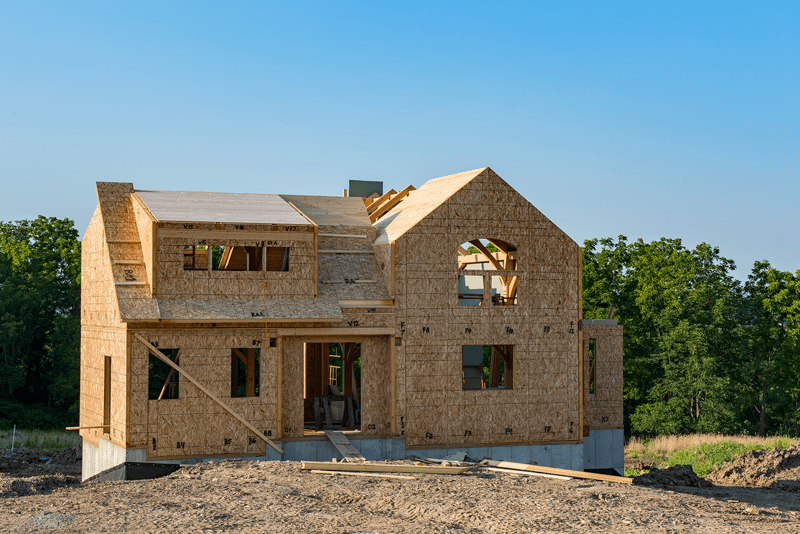 We began using SIPs from carefully vetted providers to help homeowners reduce energy bills and to improve the overall quality of Woodhouse homes. With all of the additional benefits that SIPs provide, we will continue to use them as a standard feature of Woodhouse designs. Wondering how much your timber frame and SIP home will cost? Check out our dream home budget calculator here!
Contact us today to learn how you can create your very own Woodhouse home with SIPs and timber frame.