In Woodhouse timber frame homes, blissful bathrooms are dreamy, personal spaces for health and wellness.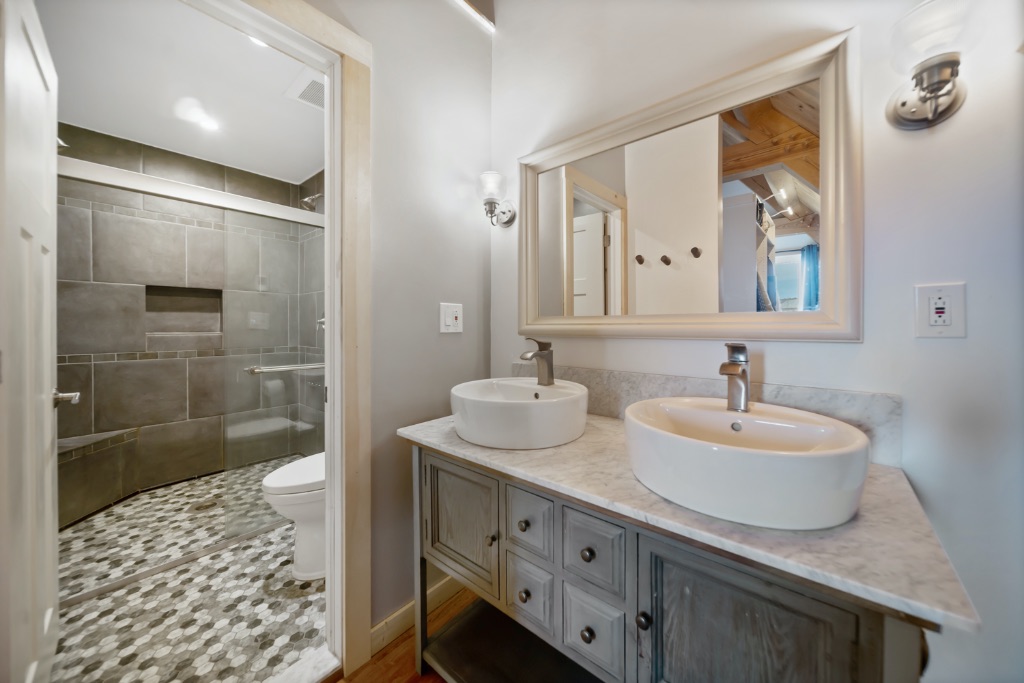 A spa-like bathroom is the ultimate retreat for self-care. Luckily, in Woodhouse custom timber frame homes, bathrooms are inherently luxe. These quiet, private enclaves can be designed with special indulgences to optimize your whole-body health and well-being. Discover the latest and greatest elements of a spa-like bathroom and how a Woodhouse timber frame can elevate what's possible with this guide: 
What Makes a Timber Frame Bathroom So Luxurious?
A timber frame is not your typical, conventional house. In timber frame homes, dramatic timbers balance strength and longevity while expressing distinct styles and personalities. Mountain lodges, forest cabins, coastal cottages, barn homes, modern retreats — Woodhouse timber frame homes can do it all and more. This results in exceptional flexibility for your bathroom sanctuary as well. Homeowners can take advantage of natural materials and stunning exposed posts and beams to anchor a warm and inviting space in their preferred style and genre.
There are other ways a timber frame bathroom is inherently luxurious. Because the timbers serve as the home's frame, a homeowner can personalize the layout to suit their specific needs. Bathroom footprints can be massive or cozy, and the frame allows for large window walls resulting in abundant natural light. When those windows look out upon the natural, serene settings of a timber frame's locale, this sense of calm brings nature's peaceful and rejuvenating qualities into the bathroom.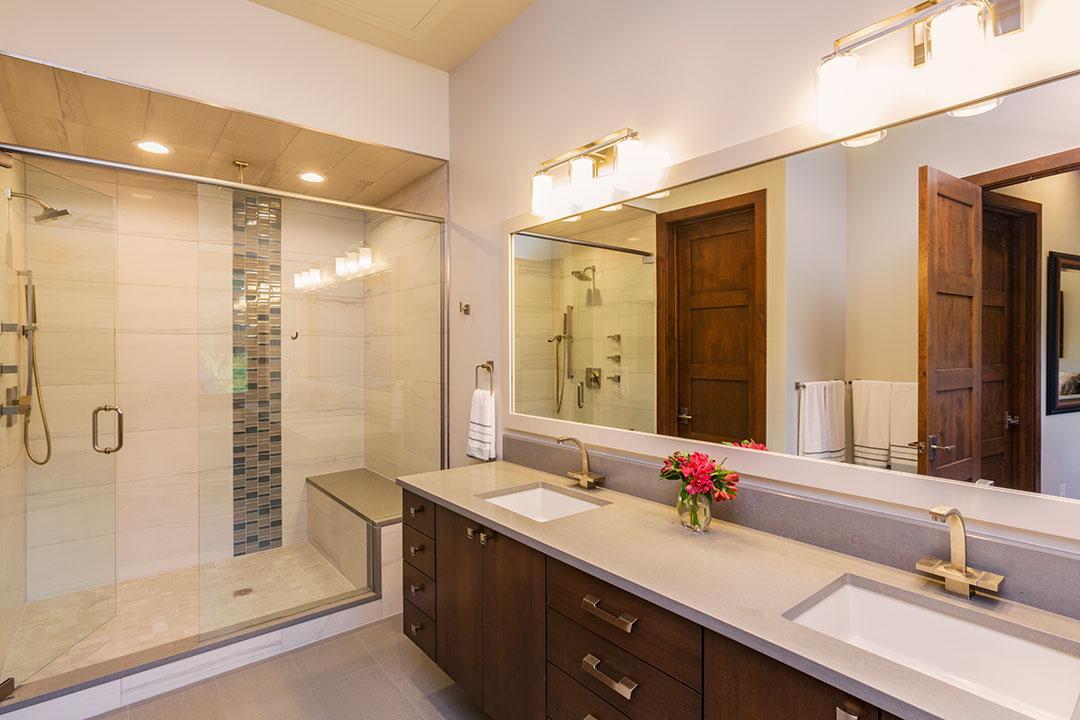 What's Trending in Luxury Bathrooms?
A blissful bathroom is the perfect place to take advantage of the high levels of customization Woodhouse provides so you can have a bathroom that reflects the latest innovation and most-desired amenities. People want bathrooms that feel clean and restorative. Natural light, greenery, and dimmable lights are some of the most desired ways to bring tranquility to this space. 
Homeowners are also gravitating to more wood. In conventional homes, they are opting for wood vanities and veneers, but in a timber frame, exposed wood beams are a gorgeous built-in feature. Larger showers and flat-bottom tubs, both of which demand more space, are popular choices. Finally, luxurious upgrades and features such as rainfall shower heads, double vanity sinks, touchless technology, bidet toilets, and steam showers accentuate the spa experience.
Spa-Like Bathrooms Built by Woodhouse
If you want to see bathroom favorites and trends in action, check out some of the inspiring timber frame luxury bathrooms that we've built.
Modern Wood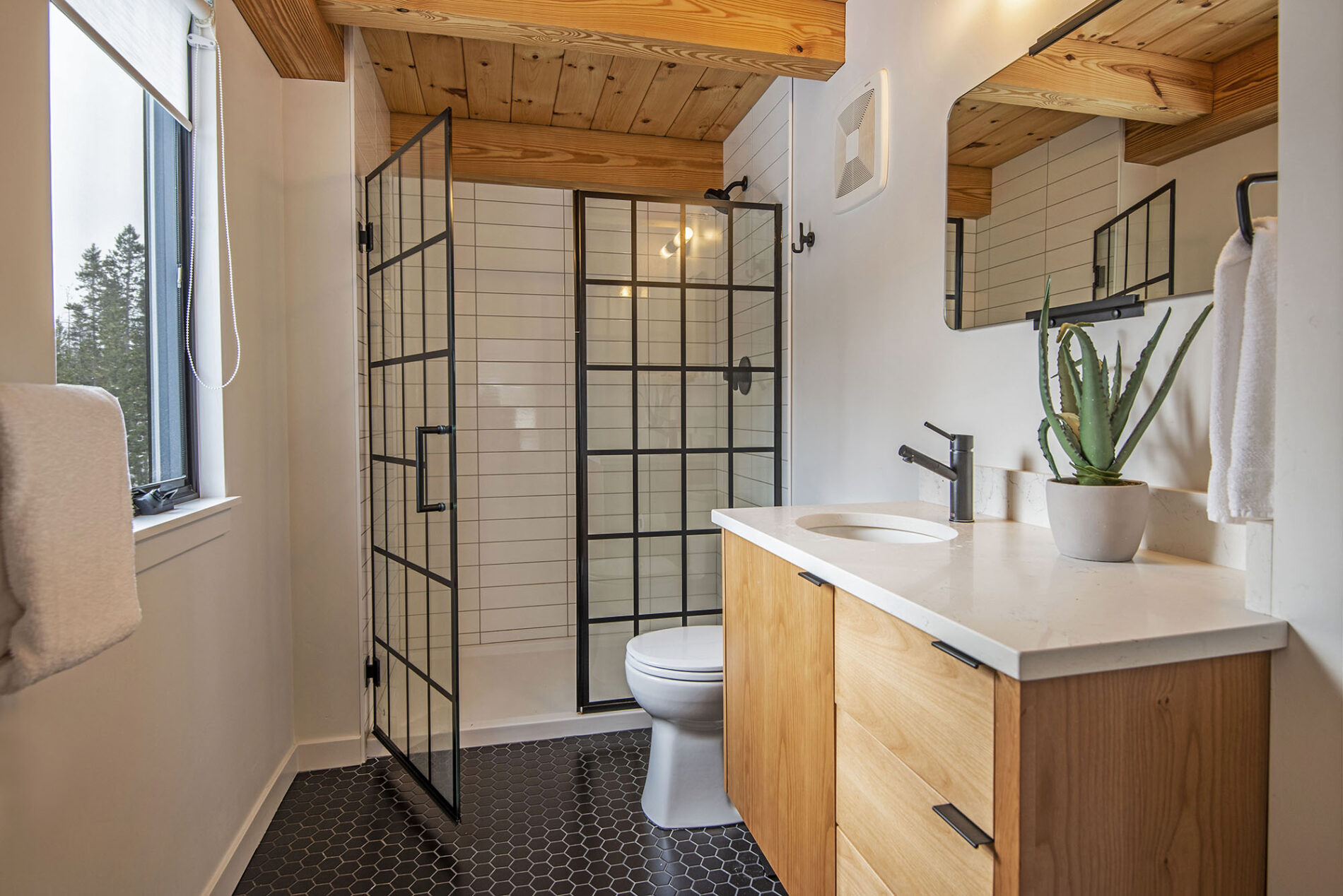 A mountain-modern timber frame calls for a mountain-modern bathroom. Clean, contemporary style and wood accents makes this RockyView bathroom feel simultaneously fresh and tranquil. A sleek geometric shower door adds a fashion-forward touch in the spirit of RockyView's modern genre. Located in Bend, Oregon, the bathroom view treats you to gorgeous vistas and pine trees.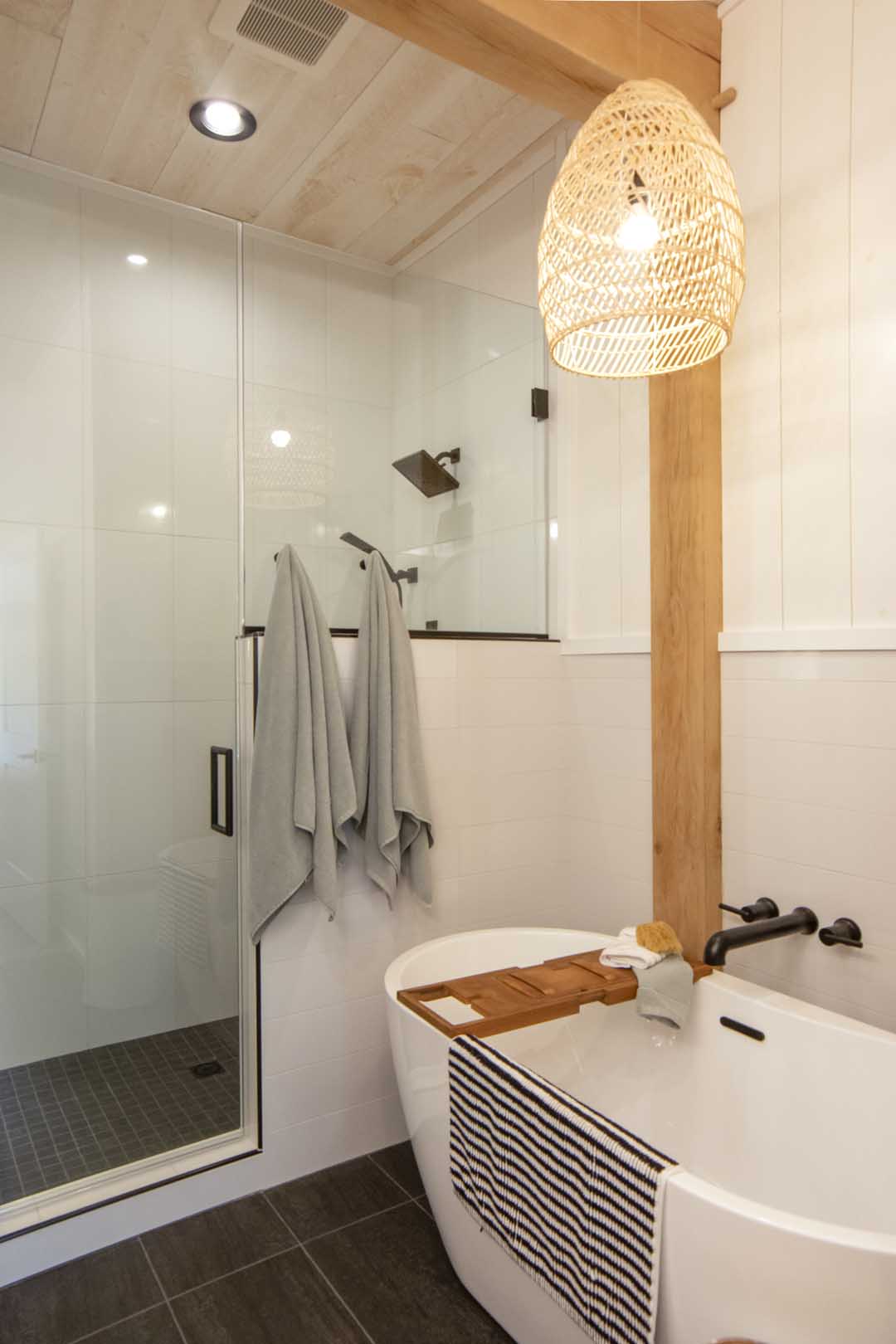 In another modern timber frame bathroom, inky black floor tiles and white elements for the shower and tub create a dramatic contrast. Incorporating the timber frame's structural beam into the design, coupled with a whitewashed wood ceiling, provides just the right amount of organic warmth.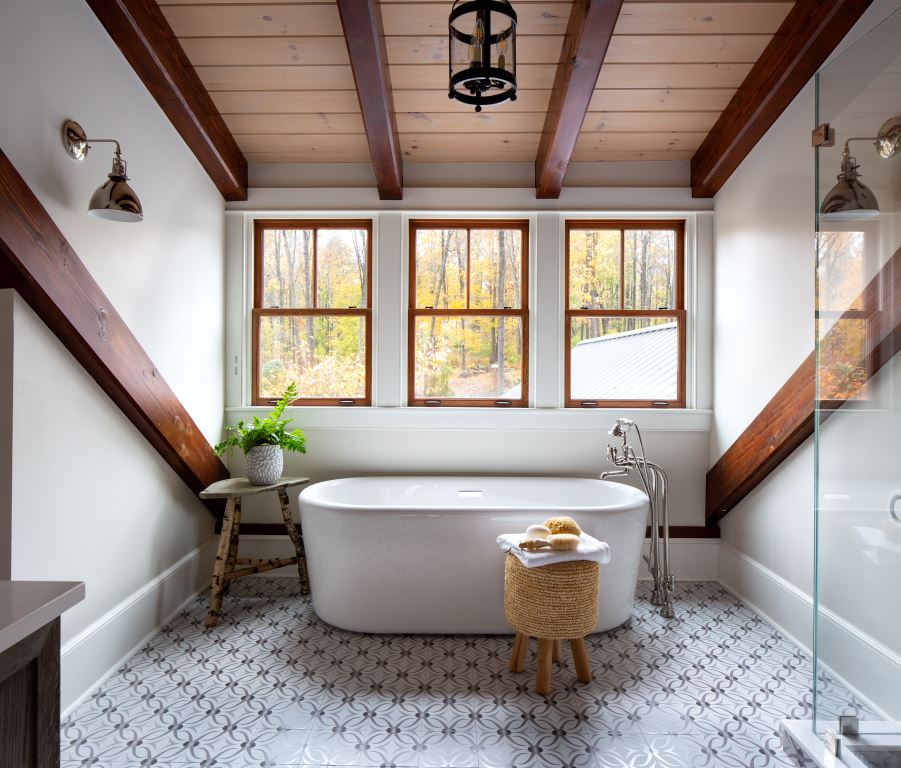 In a creative and unexpected design, this bathroom angles the beams to emphasize a classic, unadorned tub with clean lines and retro, chrome fixtures. It takes advantage of the woodland setting with three simple yet beautiful windows that connect you to the outdoors.
Blissful Tubs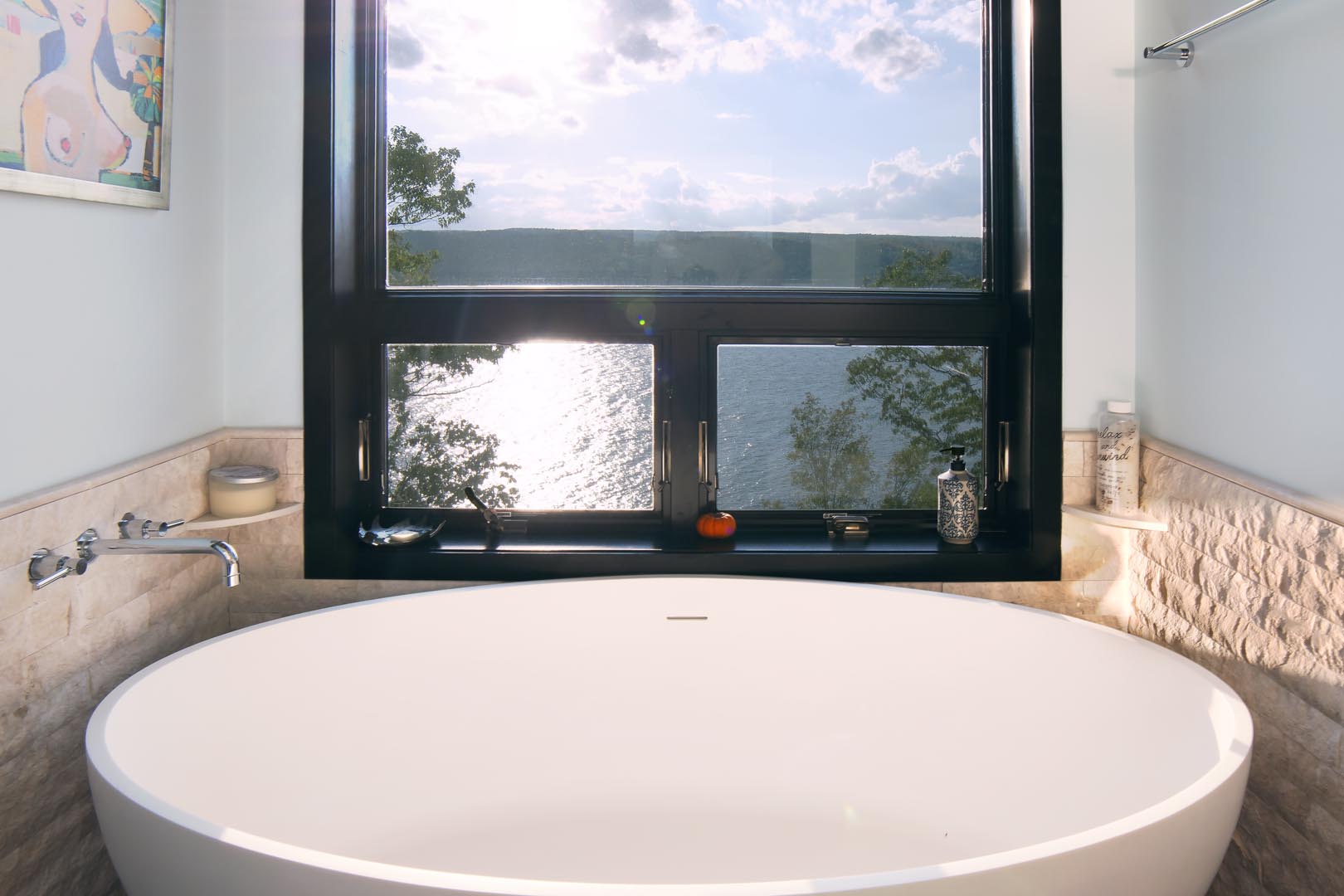 Perched on a bluff overlooking a lake, this timber frame uses modern and industrial details for a timeless design. An oversized tub is positioned near a massive window filled with picturesque views of the lake. Time in the tub feels like you're immersed in a spectacular infinity pool and being able to take in the lake's many moods and hues makes every bath a restorative, spa experience.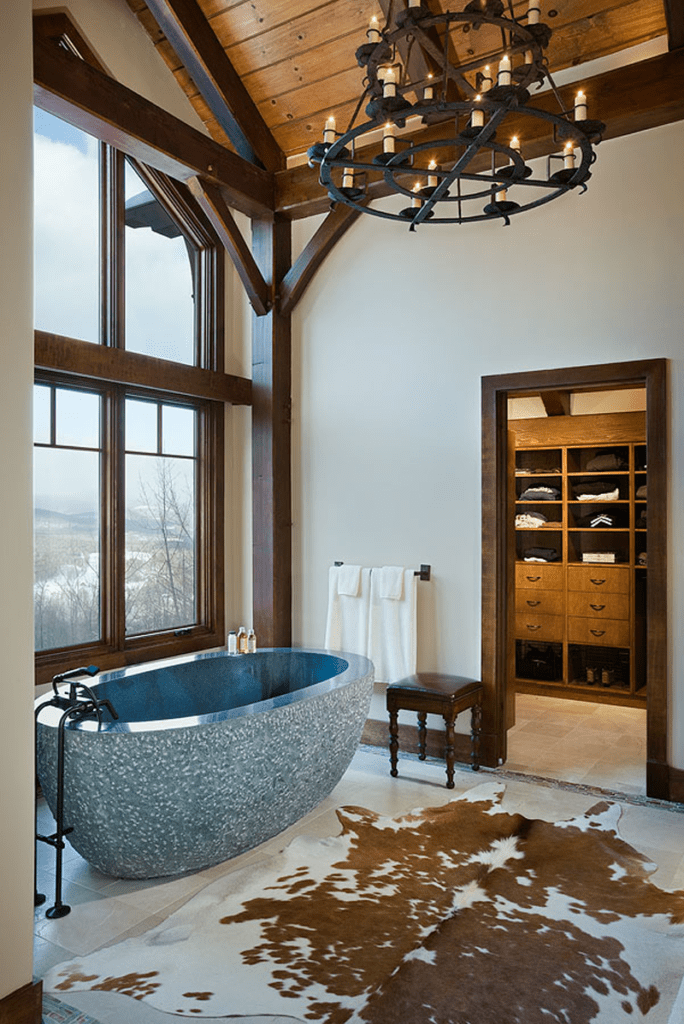 This vaulted bathroom carries the home's rugged elegance with an oversized, iron chandelier with candle-like lighting that softens the ambiance. Underfoot, a cowhide carpet is on point with the trends. The bathroom's showstopper is its thick, stone tub and window wall. Imagine soaking in this natural element filled with visions of mountains and hardwood forests. It's as close as you can be with nature, while in the comfort of your home.
Natural Tranquility
With an address in Steamboat, Colorado you know the views are extraordinary. This unique, specially-designed timber frame home takes advantage of a timber frame's structural ability to accommodate massive interior spaces. The bathroom's enormous footprint is treated with a simple color palette of white and natural wood. The defining feature and color is a verdant green, which comes from the scenic, mountainside pine trees that fill up the views of the adjoining corner windows.
Get Started!
Feeling inspired? Be sure to check out our gallery for even more ideas. Contact us so we can talk about your vision of your luxury timber frame bathroom, and our exceptional design team will share their creativity so you can have the dreamiest bathroom space ever for your timber frame home.