According to most sources, the oldest example of a timber frame structure in the archeological record is a collection of old well-shafts found in Germany that can be dated back seven thousand years, to the Neolithic Era. With such a deep history and romantic appeal, timber structures have been a springboard for creativity and ingenuity in both concept and practice. For Woodhouse, that ingenuity has developed into a timber frame building system that can work with everything from pre-designed timber frame kits to exquisite custom structures.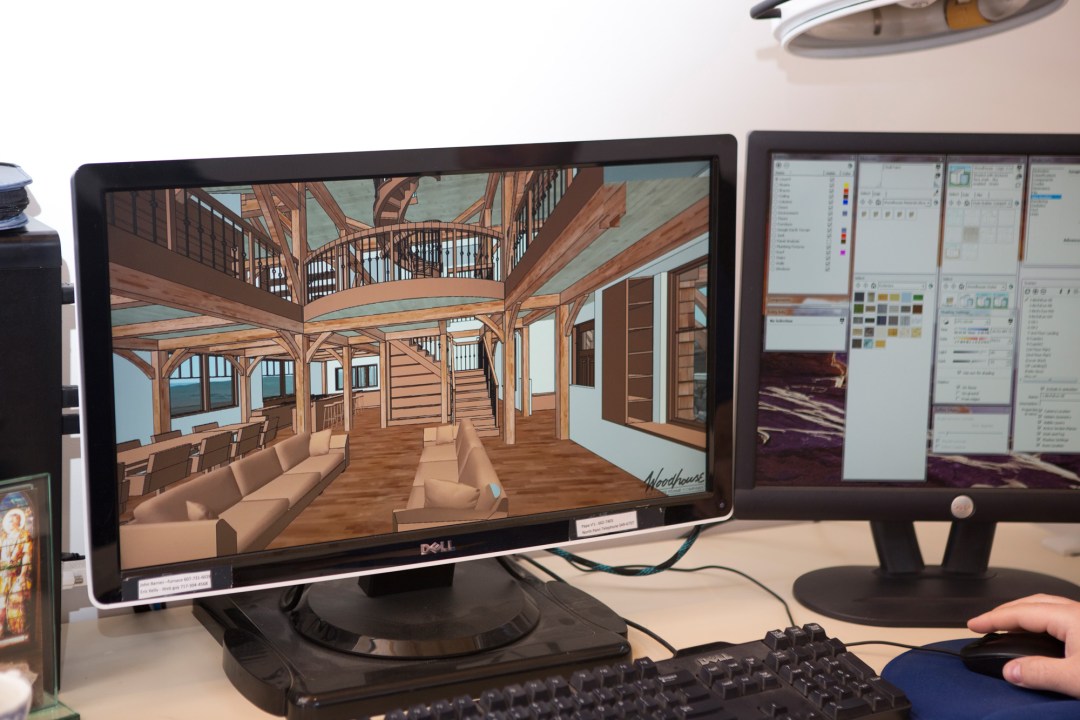 While the framework gives a timber home its heart and style, for some people, the ideal wall is still a question of debate and personal preference. Beyond longevity and natural aesthetics, a quality timber frame home means high energy efficiency, minimum maintenance, and getting the maximum value and longevity from your investment. This is where structural insulated panels, or SIPs, become the timber frame home enclosure of choice for experienced home builders.
Nearly a century of use has proven SIPs to make a home tighter, greener, and quicker to build than competing methods. They also make a home noticeably quieter and remarkably more fire-resistant. For most people, the only negative is the price, but when you factor in energy savings over the life of the home, the recent price increases for traditional building materials, and the reduced labor costs from quicker installation, the difference in cost dwindles significantly.
Yet, there are still some skeptics out there when it comes to using SIPs as a go-to for their timber frame home insulation and wall material. That persuasion, however, is changing. First, we'll learn more about what makes SIPs great, then hear from Doug Monson, a timber frame home builder who went from SIP skeptic to supporter.
Structural Insulated Panels: A Distinct Difference
Though SIPs aren't as ancient as timber frame joinery, the technology has been around for more than 80 years which has given manufacturers ample time to develop a reliable, high-performance product. Known to be strong, cost-effective, and energy-efficient, SIPs are fundamentally constructed of two rigid "skins," usually oriented strand board (OSB), and filled with an insulating material, the most common being expanded polystyrene (EPS). Woodhouse, however, prefers the more advantageous polyurethane (PUR) foam which offers a higher R-value per inch, improved fire safety, superior moisture absorption, and reduces installation labor by up to 50% compared to EPS. EPS is old technology; it's the same foam that protects the corners of a TV when shipped in a cardboard box. Today, there are hundreds of SIPs manufacturers using different solutions.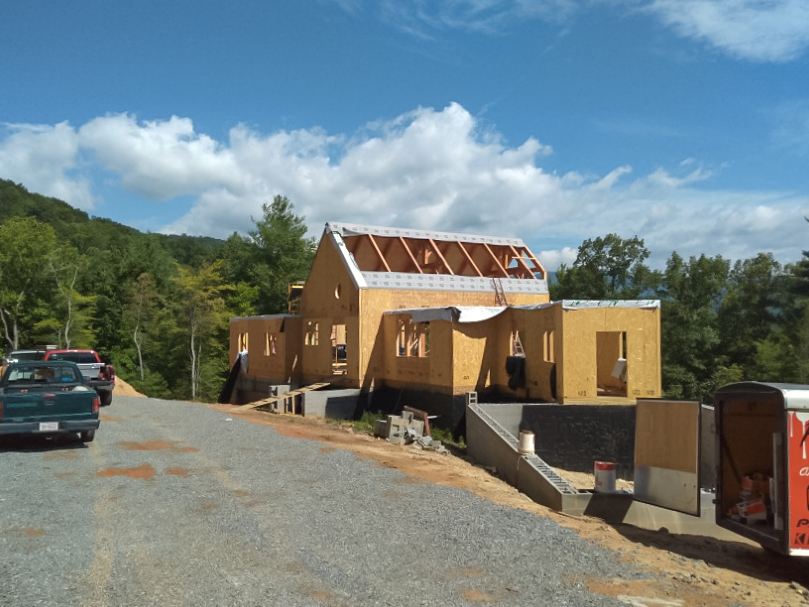 From Doubter to Devotee
Despite the known advantages SIPs bring to a structure, not every timber frame builder has eagerly embraced their use. Owner of Monson, Inc. Construction, Doug Monson, had years of experience in mass home production for developments before migrating to custom builds around 2015. His experience with developments habituated him and his team with different, more mainstream construction and insulation systems.
"Before I was looking at SIPs, we were referred on a 9,000 square-foot under roof job," Monson recalls. "The home integrated five different systems: Insulated concrete forms, SIP panel walls and roof, about 30% log home, timber, and conventional framing. That was our first experience with SIPs."
Recognizing a good product and business model, Monson began using SIPs more, but mostly for his clients who specifically wanted a green home with high energy efficiency. Monson considers himself Central Oregon's premier custom home builder. As such, he seeks perfection for his clients, both in terms of home quality and keeping construction headaches to a minimum.
"As we started coming across SIP products, we found it's a far superior system from the perspective of efficiencies," Monson says. "Plus, as current building material costs have increased, SIPs are less expensive than conventional systems that offer a similar performance to SIP panels."
Boasting about Benefits
Monson appreciates how SIPs elevate the quality of his home builds. He discovered there are numerous benefits to building with SIPs. With a Class 1 fire performance rating, they are highly fire-resistant, making them particularly valuable in environments where wildfires are a concern.
"You get a Class 1 fire-rated wall in every panel!" Monson exclaims.
"You get a Class 1 fire-rated wall in every panel!"
As for timber frame home insulation, the energy efficiency of SIPs cannot be beaten. Not only are structural insulated panels more air-tight than conventional walls and blown insulation, but they are efficient to install as well. That means less money spent on labor costs. Then there's the acoustical advantage; the panels' dense interiors block out exterior noise. Homeowners who choose SIPs live in a peaceful retreat.
Partnered for Perfection
When a Woodhouse builder recommended Monson as a general contractor, Monson's respect for SIPs went to new heights. The Woodhouse SIP product coupled with how Woodhouse manages their SIP building system was distinct from any others that Monson had previously encountered.
"The SIPs supplied by Woodhouse are far better than many products that are considered the best in the world," observes Monson. He pointed to specifics. SIPs supplied by Woodhouse always:
Integrate electrical conduits into the panels, saving thousands of dollars on electrician costs.
Provide panels with a unique locking system which, according to Monson, fosters an installation process that is three times faster than other SIPs.
Arrive at the building site pre-fabricated and pre-cut for windows and doors.
Arrive organized and packaged on the delivery trucks so builders can quickly find what they need without having to hunt through piles of panels to construct a wall.
Use polyurethane (PUR) for a higher density timber frame home insulation, which not only eliminates the risk of delamination but tolerates a higher temperature for improved fire protection and resists melting by absorbing more heat.
"I estimate that SIPs from Woodhouse are ultimately five times more efficient to install when I factor in everything Woodhouse does to make their product superior," says Monson.
With Monson convinced SIPs are an exceptional product, he appreciates that Woodhouse can accommodate any design, including hybrids. That means if a homeowner wants both SIPs and a log wall, a timber home builder like Monson can seamlessly fasten the two systems together.
Have More Questions?
To explore if SIPs are right for your timber frame dream home, contact your Woodhouse representative.
Or, to learn about SIPs, start here:
Stronger, Faster, Better – the Inside Story of Structural Insulated Panels (SIPs)
All About Structural Insulated Panels (SIPs)
Structural Insulated Panels – An Explanation
The Energy Efficiency Benefits of the Woodhouse Building System