While one might surmise that ranch-style design evolved on the open range of the American West, the rise of this popular style can be traced to Southern California in the 1930s. A self-taught Architect by the name of Clifford May built the first ranch design in San Diego in 1931.
"I rebelled against the boxy houses being built then," May said at the time. "The ranch house was everything a California house should be. It had cross ventilation, the floor was level with the ground, and with its courtyard and the exterior corridor, it was about sunshine and informal outdoor living."
Ranch homes offer a versatile, timeless style perfect for single-floor timber frames. With everything you need on one floor, it's a popular design for all generations, but especially so for those approaching retirement and searching for an age-in-place and ADA friendly timber frame home.
We asked Don Downs, Southeastern Regional Project Manager, and Diana Allen, Architect and Director of Design at Woodhouse, to shine a light on the top five ranch designs in the company's extensive catalog of designs and why they have remained popular with homebuyers for decades.
BaliView
1,741 square feet with one master bedroom and 1.5 baths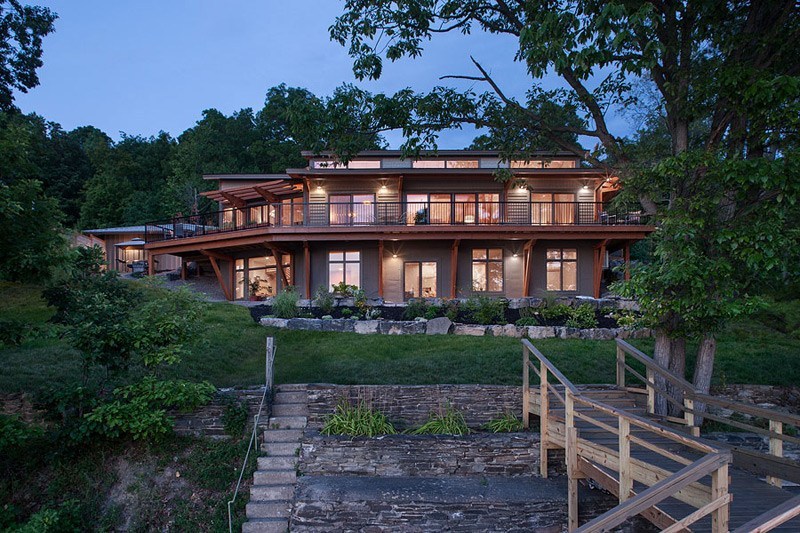 Inspired by 19th Century railroad stations accented with Japanese overtones, the BaliView offers a non-traditional timber frame design that feels completely custom.
"This is an awesome little house with a modern vibe that incorporates a sexy 'V' support post system, and monitor roof with clerestory windows that let in daylight without tons of glare," says Allen. "This design is perfect for art collectors, artists, or anyone who wants a living space that brings the outdoors in. If built on a sloped site, one can add a lower level walk-out basement to accommodate more bedrooms and more storage space. The wrap-around deck increases the square feet of the house with large expanses of glass that allow small spaces to feel larger."
Downs says homebuyers are drawn to its uniqueness. "A lot of ranch designs follow a familiar pattern, with a 100 different variations," Downs says. "But the BaliView is completely unconventional, light, and airy. It's a beautiful home, which is why it continues to be one of our most popular designs."
HighPlains

2,693 square feet, four bedrooms, 2.5 baths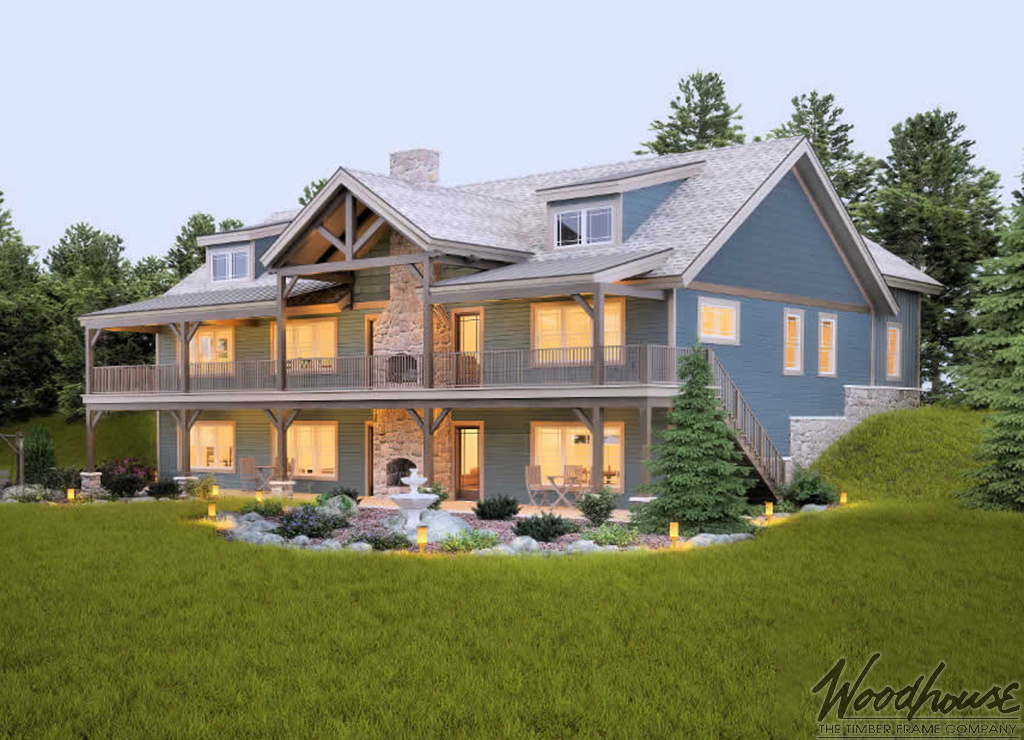 The HighPlains is for a sloped site and can be customized to provide an additional walk-out lower level. The centered front porch on this design opens to a large entryway, leading to the open floor plan with a great room, dining room, and eat-in kitchen. The openness draws eyes upwards to the cathedral ceiling with its massive beams and rafters.
"This home boasts four bedrooms in a very compact footprint, the covered porch with exterior fireplace helps to increase the home's feel of living larger than it is," Allen says.
"In a single-story configuration, the HighPlains design is perfect for aging in place,"  Downs says. "It's also a really good design if you're struggling with the budget. It's a straight forward design that is also affordable."
HighLand

1,632 square feet, two bedrooms, 2.5 baths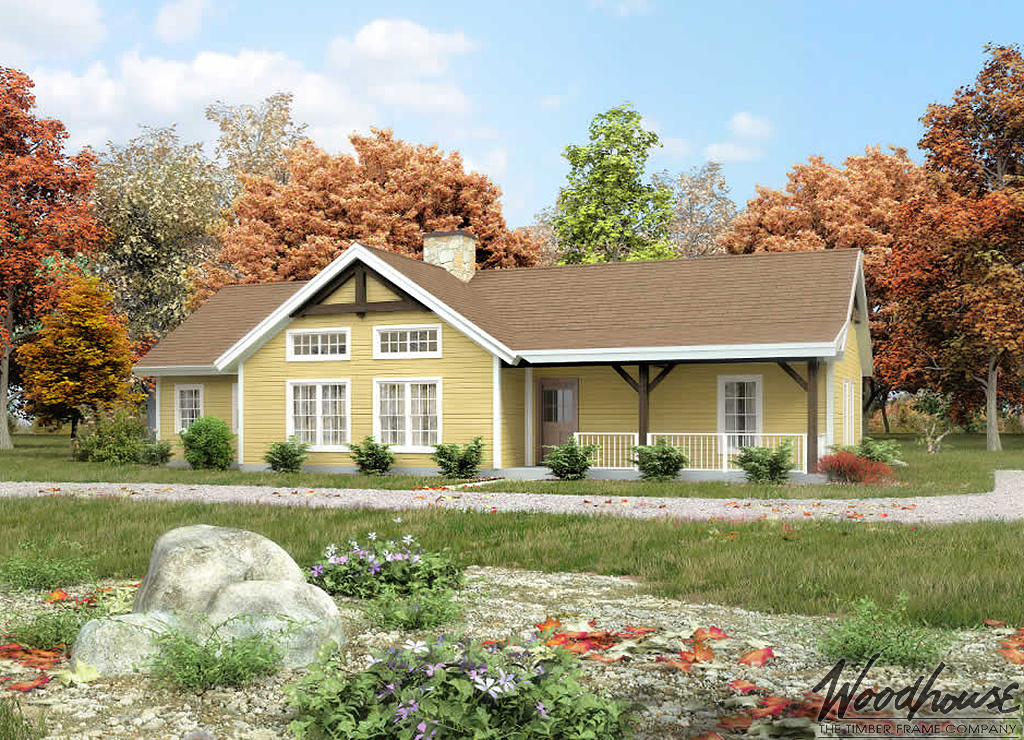 The HighLand takes advantage of a modern open floor plan by seamlessly connecting the great room, dining room, and kitchen. This design features an outdoor deck that's accessible from the master suite or the dining room, with a centered fireplace in the great room.
"This little gem offers two ensuite bedrooms, so it offers essentially two master bedrooms in a compact footprint," Allen says. "It can easily adapt to the modern farmhouse style that is so popular right now by incorporating whiteboard and baton siding, shed roof awnings over the front windows, and selecting black frame windows."
Downs says for all its square feet of space, the HighLand is surprisingly affordable. "This is a very well organized, compact, well thought out design. It's great for a client on a budget, while still offering a big, open space feeling in its layout. One can add even more square footage by building on a sloped lot with a walkout basement. Or one can add a large game room, additional bedrooms, or in-law suite over the garage."
PineHill

1,960 square feet, three bedrooms, 2 baths
The PineHill is the quintessential ranch design, with a recessed entryway that leads to an open floor plan. The covered porch just off the great room and side deck is perfect for outdoor entertaining. A centered fireplace in the great room creates a cozy space to gather on chilly winter nights, adding both style and function to that space.
"This is, to me, a 'Mid-Century Modern' style home that will appeal to those looking for that 'Mad Men' tv show throwback style from the 1960's with clean lines and low pitched roof," says Allen.
"This is a nice comfortable design, perfect for families or retirees, and it would fit into any neighborhood," Downs says. "You have a lot of flexibility with this design as well. Because of the timber frame, none of the walls on the interior are load-bearing, so modifying the interior design is extremely easy."
WedgeWood

1,981 square feet, 3 bedrooms, 2.5 baths
Whether building on a lakeside, in a mountain meadow, or on the coast, the WedgeWood ranch design offers timeless elegance with a smooth indoor-outdoor connection as well as dramatic beams and rafters overhead.
"The central fireplace with a view from two sides along with the 'kids' wing that is separate from the master suite, along with the screened-in porch that can easily become a three-season room, make this an ideal home for all climates," Allen says.
"The deep overhangs of the eaves and the decorative timbers on the exterior really flair to this design. The separation of the master suite from the guest area translates into 'everyone gets their privacy.' It makes for very easy living." says Downs.
Easily Customizable

All five of these homes are easily customizable. One can, for example, integrate any type of roof, with gable and hip roofs being the most common choice. Or you can add a finished basement to expand your square footage.
If you have questions about any of these five ranch designs or need advice on what type of design is best for your particular building site, reach out to any of the regional project managers at Woodhouse for advice or to arrange a site visit.