Timber Frame Homes in Columbus, OH
Ohio may not be the first place that comes to mind when you think of timber frame home building, but the reliability and energy efficiency of a post and beam structure is as good a decision in Columbus or Dayton or Cincinnati as it is anywhere else.
"Southern Ohio has a lot of potential for people building retreat cabins, vacation homes, that sort of thing," says Steve Young, Woodhouse's Independent sales representative in Ohio. As far as timber frame homes in Columbus, they're appearing more and more as a unique option that packs tons of beauty into its square footage. Since Columbus is the sort of region where Thanksgiving is just as likely to feature snow as it is suitable golfing weather, a versatile timber frame structure with a tight thermal envelope is advantageous no matter the forecast.
For Woodhouse floor plans that would work well in Columbus, OH, Steve recommends classic  packages like the SummitView which, at 3,120 square feet, offers plenty of design elements that capitalize on outdoor living space. "The expanded porch adds curb appeal, and it gives a stately impression to the house itself," says Steve. "I've always been drawn to them myself."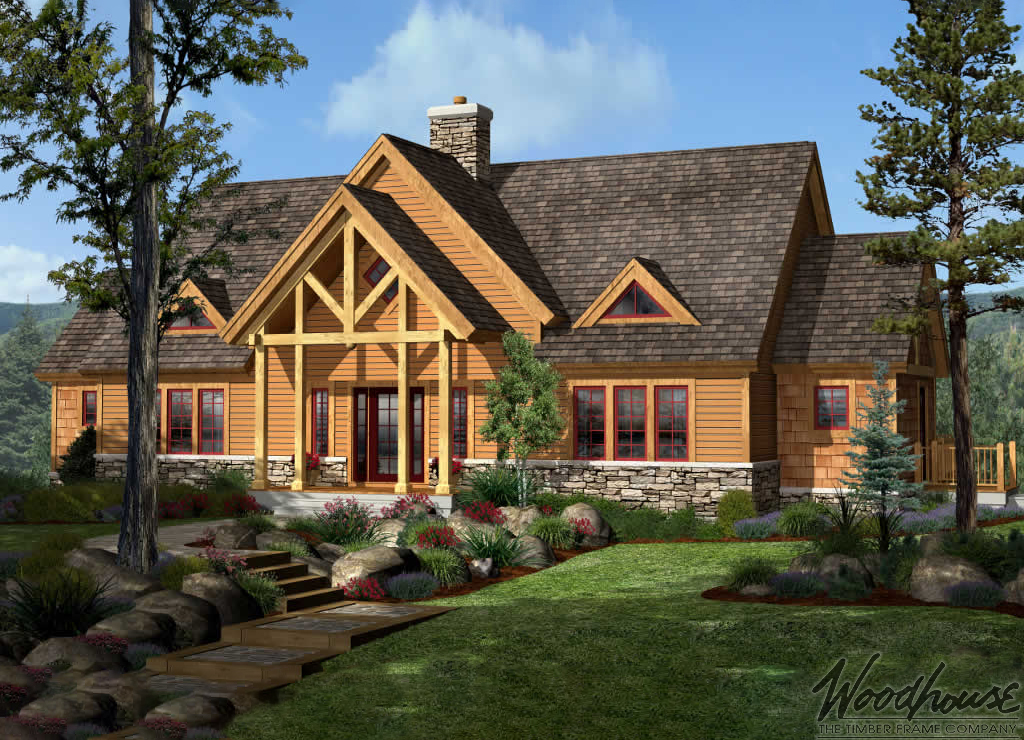 For something that blends both traditional and contemporary styles, the EaglePeak plan fits perfectly in Ohio's various landscapes. Whether up north on the shores of Lake Erie or in Central Ohio looking out across vast plains, timber frame home plans such as the Sagamore and MistyMountain are sturdy, spacious, and, like all of Woodhouse's timber frame designs, fully customizable to meet a homeowner's specific needs.
"I think people are drawn to these timber frame styles because of their rustic nature," says Steve. "And I do think a timber frame home is a better structure than a log home. It's not that I dislike log homes, but I do feel the timber frames are more energy efficient and just a sturdier structure."
As a builder of timber frame homes in Columbus, OH, Steve has seen firsthand rustic's growing popularity in the region. While many homes are trying to copy the design elements that set a timber frame apart – the big porch, the exposed beams, the inclusion of other natural building materials like stone – nothing compares to the real thing. "Woodhouse is an excellent company," says Steve. "Quality. That's the word I'd use to describe their product."
Top Floor Plans in Ohio