Adirondack-style homes from Woodhouse connect you to the beloved mountains of upstate New York, wherever you call home.
A New York state of mind may refer to New York City, but those in-the-know, know about the magic of the Adirondacks. With 46 high peaks, 3,000 lakes and ponds, plus 30,000 miles of rivers and streams, the Adirondack region, affectionately known as the ADK, is a treasure. Swathed in stunning hardwood forests, the region boasts a mountain culture with its own rich heritage that has imprinted on its distinct  architectural style.
It's easy to see why people develop a strong affection for the Adirondacks' natural history and unique culture. We understand the inherent qualities that define this and use that knowledge to design custom timber frame cabins to fit the same spirit.
Discover the ADK and how Woodhouse can bring the Adirondack style to your house, no matter where you call home.
Deep History
The history of the Adirondacks is unfathomably deep. The region's foundational rocks are some of the oldest on the planet, around one billion years old. It's a rugged, remote territory defined by four distinct seasons and ample natural resources. The region is the ancestral home to numerous Native American tribes of whose members continue to call the Adirondack region home today and who carry an unmatched connection to the area.
Camp Life
Lured by its extreme beauty and resources, wealthy turn-of-the-century East Coast families purchased thousands of acres in the Adirondacks and built lavish family compounds where they could hunt, fish, relax and entertain in private, luxurious versions of wilderness. They modeled these family compounds after alpine Swiss chalets. These destinations became collectively known as the "Great Camps."
Adirondack Timber Frame Cabin Design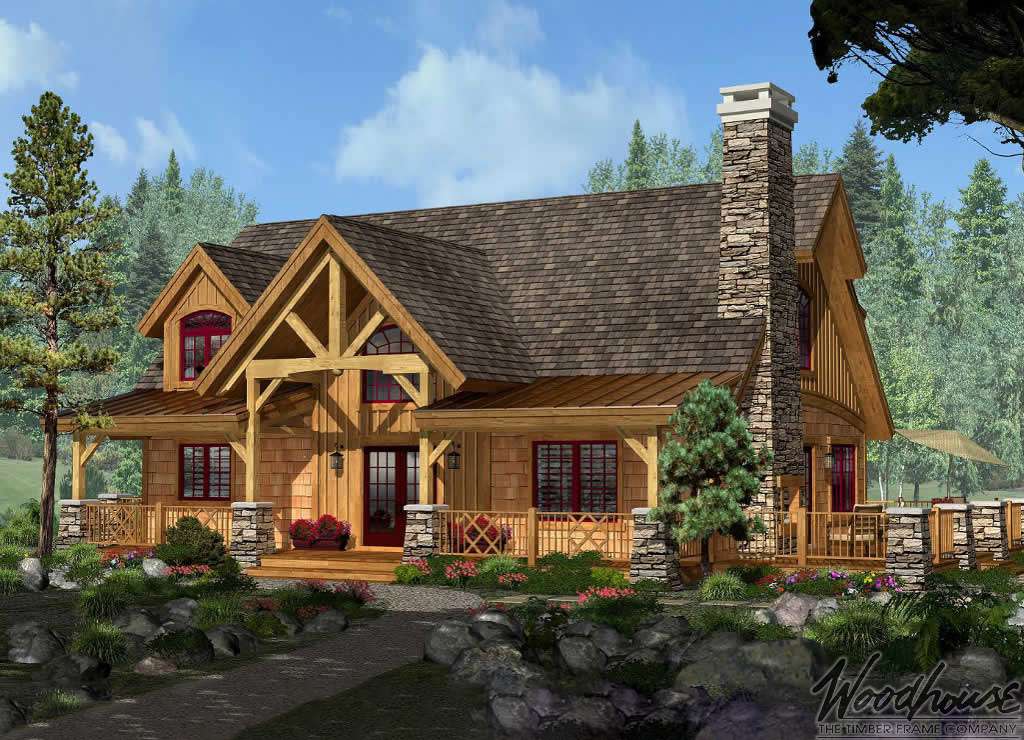 Today, Adirondack-style homes are an amalgamation of rugged, local materials and Great Camp style. Recognizable by their natural wood shingles or live-edged siding, these materials make a direct connection to the hardwood forests. Even during the warm summer months, the steep gabled roofs and stone fireplaces remind you that this four-season paradise comes with massive snowfall during winter. Wraparound porches protect the home from the elements and offer homeowners a place to relax, watch the fireflies and listen to the bullfrogs and loons, all while sheltered from the rains. Our large timbers impart a sense of longevity worthy of this historic environment.
Spacious open floor plans let you scale your Adirondack timber frame cabin to be a cozy cabin retreat or a grand space that accommodates one or more families in elegant, rugged style worthy of a Great Camp. Large fireplaces are another staple to Adirondack style homes. You can see how we brought these elements together for a timber frame home in Lake George, New York based on our Adirondack Cottage design.
Adirondack Décor
Adirondack style homes are emblematic of the region itself. Red window trim was a trend favored by the Great Camps and has become an Adirondack architectural tradition. Interior selections bring the wilderness inside. Furniture wrapped in paper birch bark and décor inspired by local flora and fauna — antlers, moose, and sugar maple leaves — are constant reminders of the stunning wilderness just outside.
The original dugout canoes invented by Native Americans eventually gave way to updated versions utilized by hardy Adirondack guides. Paddle sports are still part of the ADK lifestyle, and it's not unusual to see Adirondack timber frame cabins decorated with wooden paddles on the walls or even a vintage canoe hanging from the ceiling. Adirondack pack baskets used by these guides are another decorative classic.
The Adirondack Experience
Try on the Adirondack lifestyle at the aptly named Adirondack Experience, The Museum at Blue Lake, or check out Up Yonda Farm Environmental Education Center, in Bolton Landing, or The Wild Center near Tupper Lake. Lake Placid hosted the 1932 and 1980 Olympics and is still a mecca for elite athletes training for their Olympic moment. You can even ride the bobsled track or slide the toboggan chute. Of course, abundant hiking, fishing, swimming, paddling, camping, skiing, snowshoeing and all forms of four-season fun is always available.
Your Adirondack Timber Frame Cabin
We can take any of our timber frame floor plans and achieve the Adirondack vernacular. Conversely, our Adirondack home designs make for stunning structures with fresh, modern styles that complement any region. Compare how our Adirondack Cottage design takes on a rustic cabin aesthetic in Lake George, NY but is also interpreted as a modern, European design in Mill Spring, NC.
Our Adirondack floor plans come with infinite opportunities for customizations. Similar to the Great Camps, we can cater your Adirondack cabin to your exact taste to make your place feel extra special. Take a moment and check out our Adirondack timber frame cabin plans. When you're ready to explore the idea of a Woodhouse Adirondack style home of your own, don't hesitate to reach out.