U.S. Paralympic Dressage Team and timber frame company, Woodhouse, earn top marks from Chef D'Equipe and Woodhouse homeowner, Michel Assouline.
In 2017, newly-named Chef D'Equipe of the U.S. Para Dressage Team, Michel Assouline, had his hands full. Not only was he responsible for helping the U.S. team realize their competitive potential on a world stage, but he also needed a home.
Dressage is a sport of grace, precision, and seamless communication. A rider must manage a massive and potentially explosive package of energy and strength while making it appear effortless. Para-dressage and dressage are the exact same thing with one key difference; riders perform with a physical disability. Assouline's measurement of success?  Be the best in the world.
"I worked for the British team for 13 years," Assouline says. "When I got head-hunted for the U.S. team I knew it would be a challenge, but it was my dream to achieve something like that for my life."
Home Base
For both home and work, Mill Spring in North Carolina was the ideal location. The natural landscape captured Assouline's heart. The proximity of the Tryon International Equestrian Center made it practical. After a six-month search, Assouline found a gated community (a necessity given his travel schedule) with one remaining lot near a lake with an opportunity for a fantastic panoramic mountain view.
A Dressage Plan for Success
With the para-dressage team, Assouline realized early success when one of his athletes earned an individual bronze at the 2018 FEI World Equestrian Games. Going into the Tokyo 2020 Paralympic Games, Assouline felt his team was ready.
"We were leading the world ranking, but leading on paper is one thing," Assouline says. "Winning the Olympics is something else entirely. The team medal is the most prestigious as it reflects on the standards of the sport in the country."
What followed was a historic performance filled with prestigious, sparkling hardware; two gold medals in the individual events and a team bronze in the coveted team event. It was a first for the U.S. across the board.
A Timber Frame Home Plan for Perfection
Just as Assouline turned a possibility on paper into reality for his dressage team, Woodhouse did the same for his timber frame home plan. In Europe, Assouline lived in a barn conversion with high beams and ceilings. For his life in the States, he and his wife wanted a home with a modern European flair that captured the barn feeling. A smaller, more compact home with high energy efficiency was another priority. In his search for a timber frame company, Woodhouse was the perfect match.
Assouline says, "Europe is very eco-friendly, which is one of the many things I like about Woodhouse. They use high-performance structural insulated panels."
After reviewing more than 90 timber frame home plans, Assouline selected The Adirondack Cottage timber frame home plan knowing Woodhouse would customize it to his liking. Woodhouse Southeastern Regional Project Manager, Don Downs, facilitated conversations with the Woodhouse design team.
The fireplace was moved to a sidewall to open the end for wall-to-wall panoramic windows and expanded the great room by three feet. Fiber cement board-and-batten siding for the exterior; a small, screened porch off the great room; and a large, open deck with cable railings establish a clean, European design. The exterior timbers are white oak.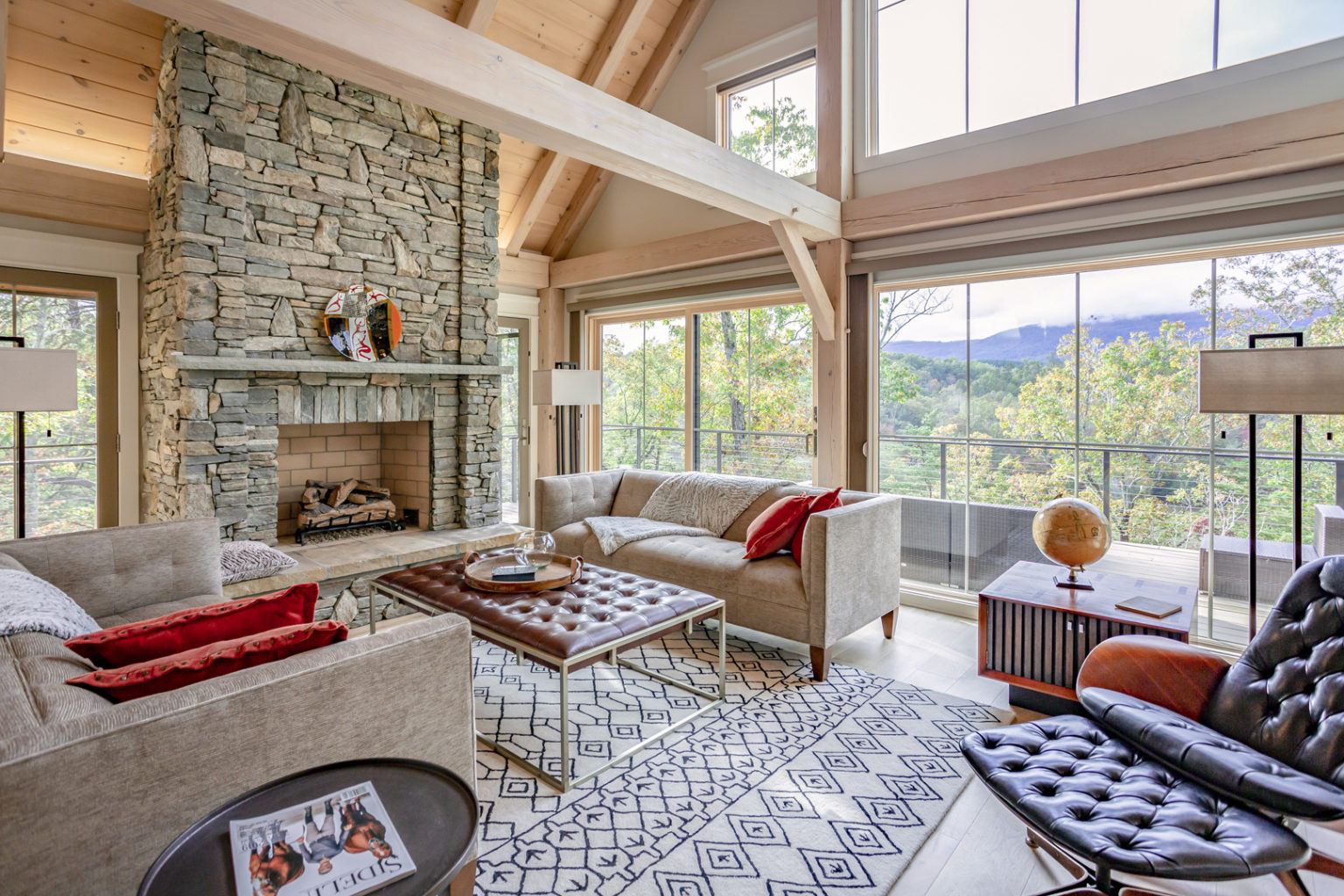 Happily Ever After . . . Again
Not only was Assouline's home built during the height of the pandemic, but Assouline was not in the country for the majority of the process. Between our commitment to helping him realize his dreams and an interior designer who handled all of the interior furnishings from sofas to silverware, he and his wife were thrilled with the outcome. The home was presented on target and on time with its aesthetics, design, performance, and completion.
"The finished home is great!" exclaims Assouline.
In fact, the Assoulines are demonstrating their enthusiasm for Woodhouse with more than words. Michel and his wife are currently planning a second Woodhouse timber frame home, and we are thrilled to go for a first place finish once again.
Your Timber Frame Company
Here at Woodhouse, our client relationships mean the world to us and we are extremely proud of Assouline's accomplishments. Now it's your turn! Come peruse the gallery for Assouline's refreshing take on The Adirondack Cottage timber frame home plan. Stop by our Where We Build page and discover projects in your area or contact us for a more detailed conversation.