Building a timber frame house with Woodhouse comes with a vast array of opportunities for bringing luxury, big and small, to your dream home.
From sumptuous abundance to little amenities that make life easier, the idea of luxury looks and feels entirely different from one individual to another. To get a home that caters to your personal tastes and lifestyle, customization is paramount. With our impressive array of options to tailor your timber frame home, Woodhouse can help you live the best version of your life.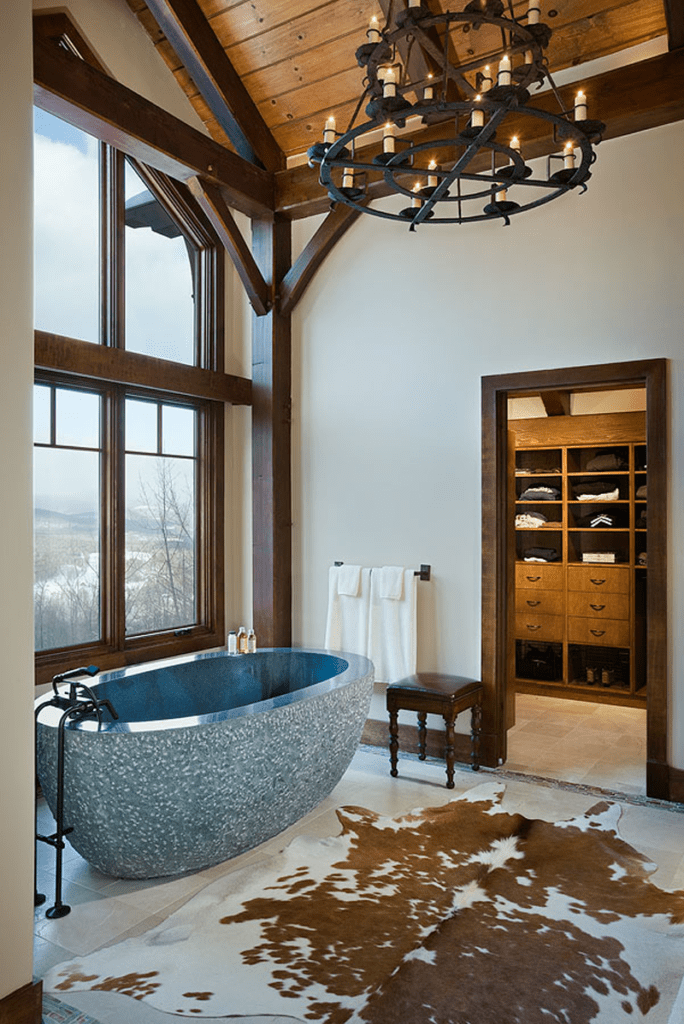 Living the Dream
A home is more than a collection of rooms, it is the intersection of style, functionality, and design. Today, as a result of the pandemic, houses have become central to all kinds of activities — working, cooking, entertaining, exercising, pursuing hobbies, caregiving, and vacationing. In addition to high-performance homes, homeowners want a design that brings health, entertainment, and comfort into their everyday lives.
"The home is a very important part of our lives. It often is a reflection of ourselves, and people want features that reflect their everyday life and values," says Craig Johnson, Woodhouse Vice President of Sales and Marketing.
Key to Customization
Timber frame homes are prime for the customizations that let you, a homeowner, achieve your dream lifestyle. The load-bearing timber frame allows for unlimited opportunities to adjust and modify the interior layout. Exceptional style and high-performance functionality are timber frame superpowers.
The key to unlocking this superpower when building a timber frame house lies in the competency of the design, manufacturing, and building process. Our design team specializes in creating magnificent timber frame homes tailored to your needs and possesses the creativity to deliver luxury concepts of all sizes and budgets.
"I care most about how a client intends to use a space and what they want from it," explains Woodhouse Lead Architect Diana Allen.
More than 95% of Woodhouse homes are custom built, either by modifying one of our timber frame home plans or working with our team to adapt your preexisting plans into a timber frame home. Each plan is a starting point for incorporating many luxury options.
14 Luxury Ideas for Your Woodhouse Timber Frame Home
Spotting an opportunity for luxury takes a keen eye and creative approach. From optimizing overlooked nooks to creating designated spaces for work and play, our designs make it easy for you to do what you love. The following ideas are just a few big-picture concepts showing how we can help our clients live their version of a luxury lifestyle:
Outdoor entertainment areas. Think outdoor kitchens, timber frame pool houses, screened porches, outdoor theaters, covered decks, and other spaces to gather for conversations and to make fond memories. You may want to go all-out and include a timber frame party barn.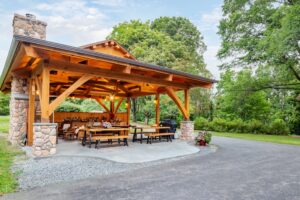 Fireplaces and hearths. Whether indoors or out, a fireplace is prime for a statement-making design.
Water features. Built-in spaces for natural fountains and ponds add a restorative element to daily life.
Media rooms. Home theaters, gathering spots for game night or for playing a game of pool call for special considerations to maximize fun.
Bonus/hobby rooms. Would you like a dedicated space to display collections or practice your craft? Do you paint, sew, or tie your own flyfishing flies? Woodhouse can help you design a space that's just right for your hobby.
Home gyms. Whether it's for yoga, meditation, weight training, spin, or another activity, a designated space makes it easier to show up day after day.
Gear storage and mudrooms. From fishing poles to snowshoes to skis, an active, outdoor lifestyle deserves storage that makes it just as easy to grab and go as it is to come home and clean up.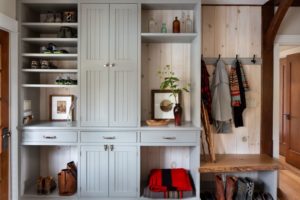 Wine cellars. Whether a compact closet or a sprawling cellar, these dedicated spaces make it easy to showcase your collection and organize your storage.
Garages and carriage houses. A luxury garage or carriage house is prime for customization; create a private space for guests or build a functional workshop for tinkering gearheads.
Spa-like bathrooms. Take time to restore and relax every day with a bathroom that feels like your own personal spa.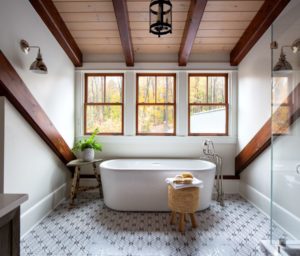 Home offices. More essential than ever, the home office can be designed with privacy and productivity in mind.
Pet spaces. Don't forget furry family members! Upgrade your mudroom with a dog wash, or build in space for crates, litter boxes, and food storage.
Gourmet kitchens. Home chefs will luxuriate in well-designed workspaces, while perfectly planned pantries make storage and cleanup a breeze.
There are many other ways to bring doses of luxury into timber frame homes. Think heated floors, smart home features, panoramic windows, and more. With Woodhouse, no detail is overlooked!
Your Home. Your Way.
See real-life examples of luxurious Woodhouse timber frame homes on our gallery page or contact your area's Woodhouse regional project manager. Finally, discover how our design process ensures transparency and affordability while delivering a dreamy custom timber frame home so you can live your best life.