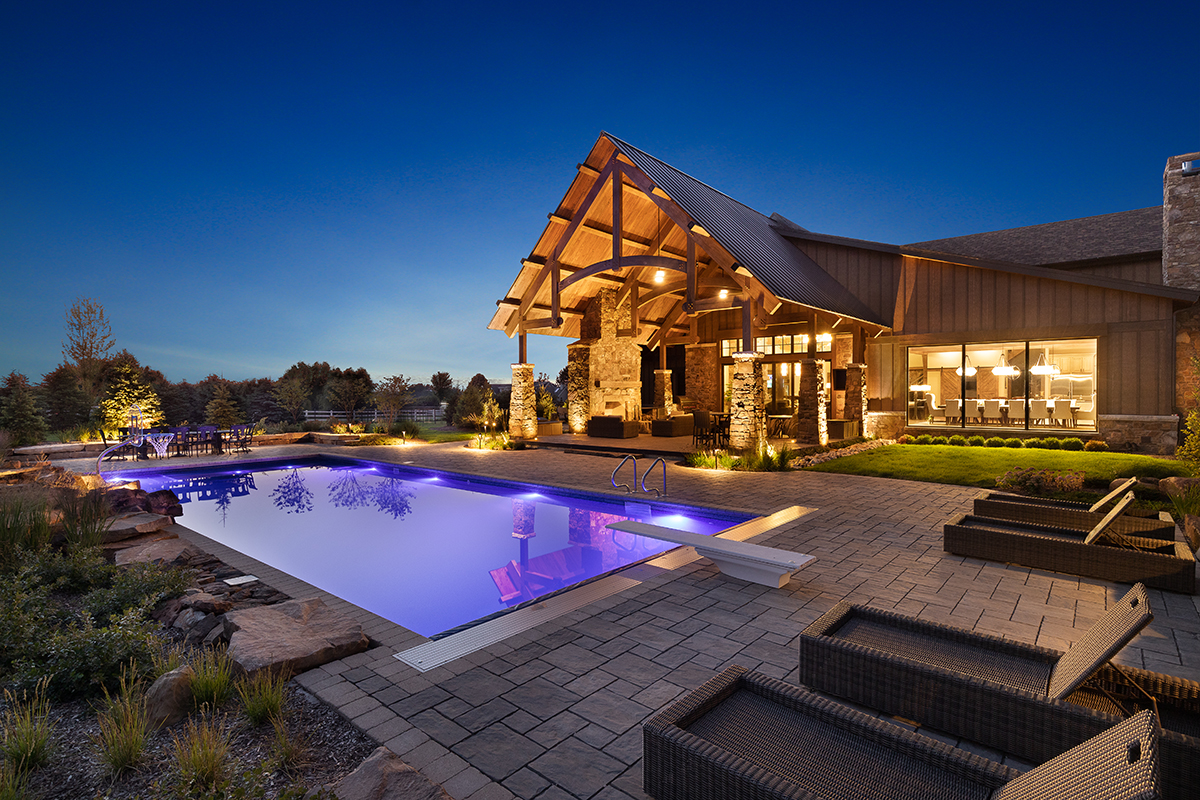 Architecture has always straddled the line between science and art, and between what's beautiful and what's practical. Architects have to oversee the development of the terrain of the site, meet a budget, discover a client's dreams and wishes, meet local building and energy codes, and supervise at least dozens of other major and minor variables in creating and finalizing a one-of-a-kind design.
It's a tough job, but not an insurmountable one. Architects are adopting innovative solutions that are helping to promote and expand their own firm's services while increasing their appeal to a wide variety of clientele.
One of those solutions? Collaborating with Woodhouse—The Timber Frame Company. Architects are partnering with Woodhouse so they can focus on streamlining procurement processes for building materials, simplifying budget management, locking in a firm building schedule, and making ordinary designs extraordinary with timber frame technology.
Here are six stories where architects, with Woodhouse's support, have designed outstanding projects. The result: More referrals, clients, awards, and accolades in the design community.
1. Eaglestone Forest Home By Architect Jeff Wilkinson
A recent client of Architect Jeff Wilkinson wanted a timber frame on a large parcel in upstate New York's Catskills Mountains. The couple's design directives were extremely detailed, Wilkinson recalls. The resulting design for this nearly 6,000-square-feet, two-story home with a two-story great room, features a custom kitchen, four bedrooms, six full baths, two home offices, a study, a lounge, a keeping room (an 18th century Colonial America invention), indoor lap pool and spa, and rooftop observation deck. Learn more about this project here.
2. Contemporary Mountain Home in Steamboat Springs by Architect Mike Olsen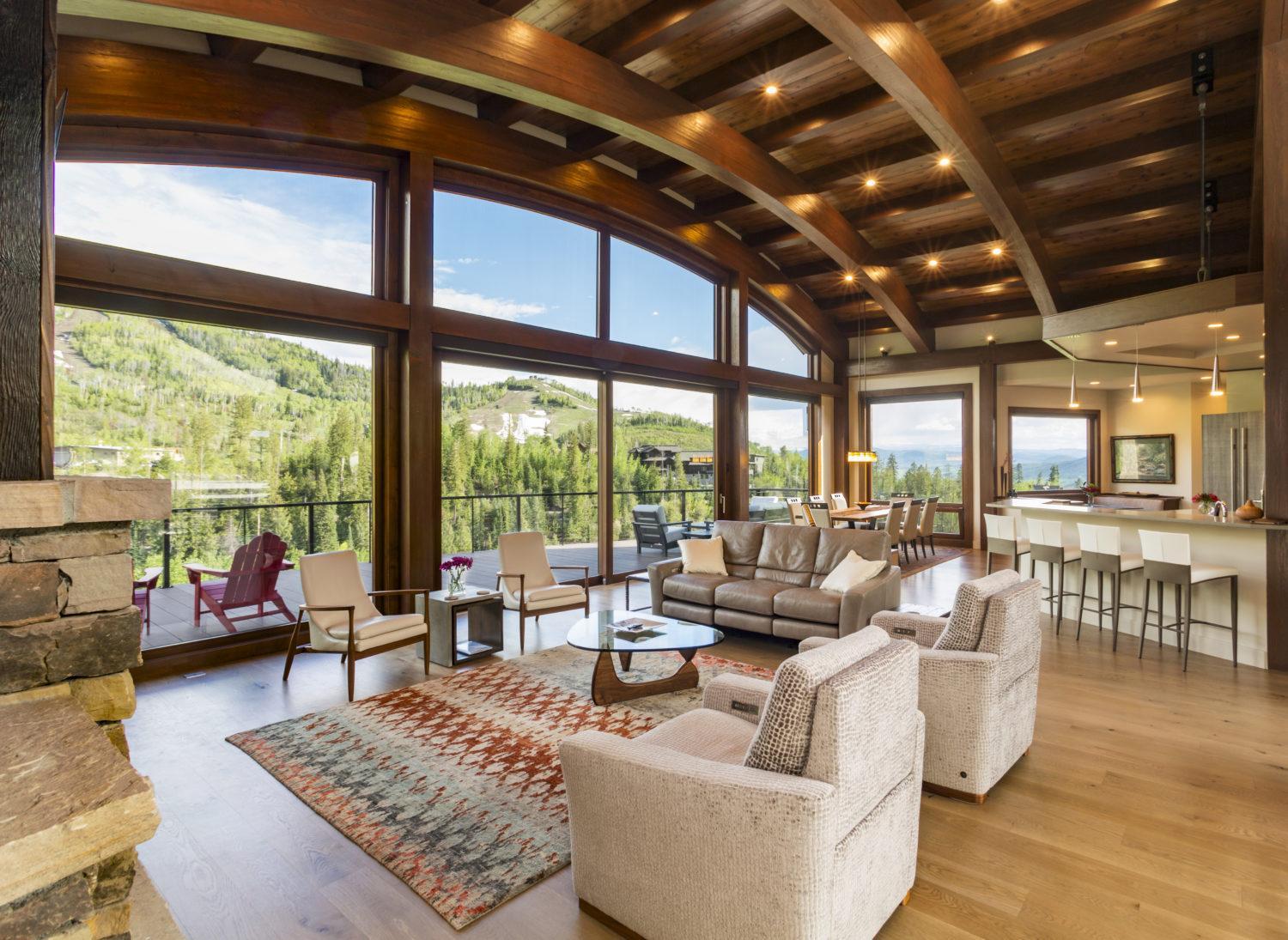 Architect Mike Olsen didn't want to design just another ski chalet when he and two investors obtained a ¾ acre property for a spec home with iconic views of Steamboat Springs Ski Resort. The design for the 5,113-square-foot home features a 60-feet-long arched barrel timber frame ceiling over the great room, as well as four bedrooms, four-and-a-half baths, and a gourmet kitchen. The design was so popular that the project sold long before its completion. Learn more about this project.
3. Firewater Restaurant in Maryland By Designer Doug Storck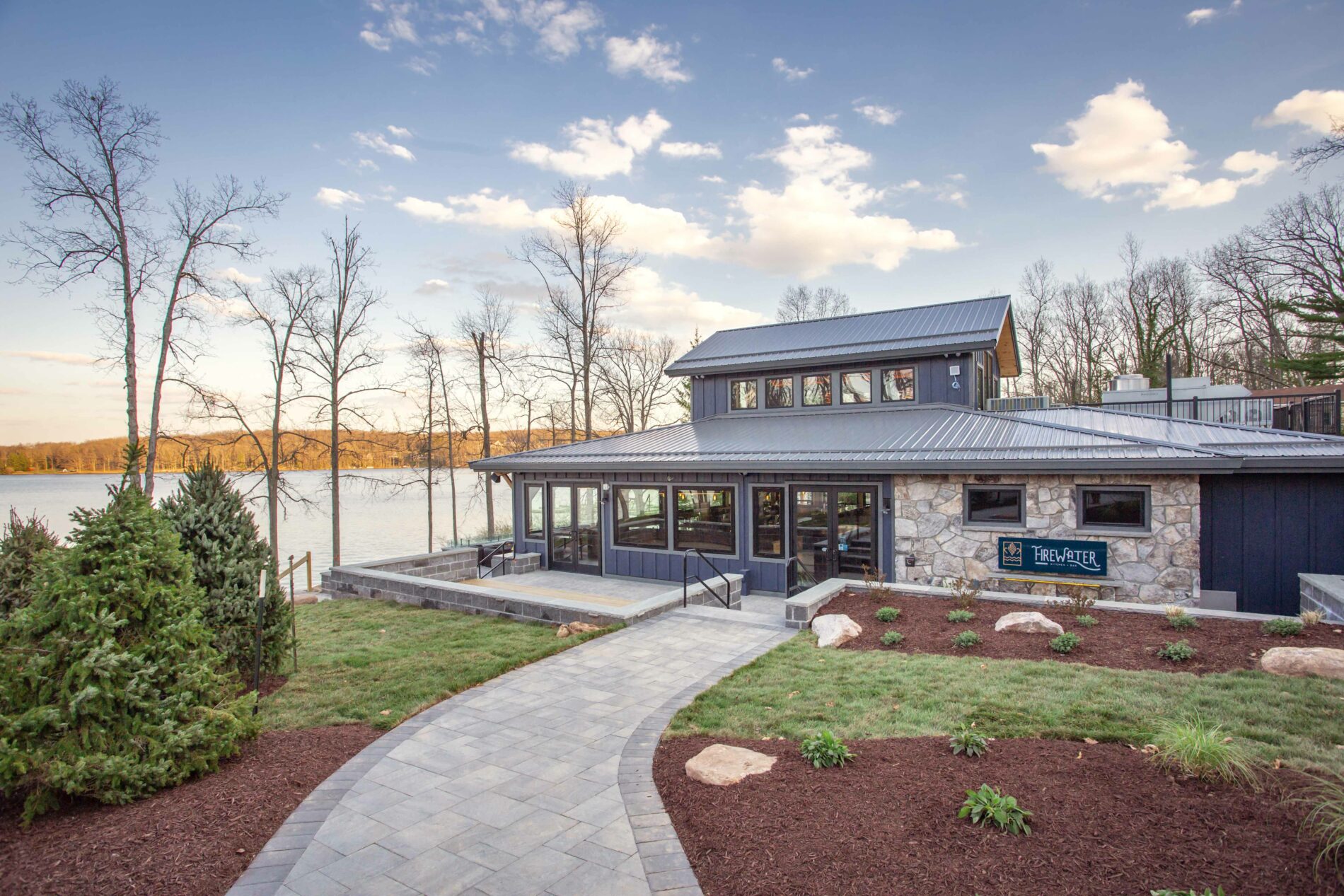 Designer Doug Storck has designed and is now building a 3,000-square-feet southern yellow pine timber frame restaurant on the waterfront in Deep Creek, Maryland, called the Firewater Restaurant and Pub. The timber frame provides the main indoor dining area, with a large clerestory overhead that admits generous daytime lighting. A timber-framed trellis over the bar area helps dissipate noise while adding an intimate atmosphere. Learn more about this project here. 
4. Lakeside Living Timber Frame by Architect Tom Hopkins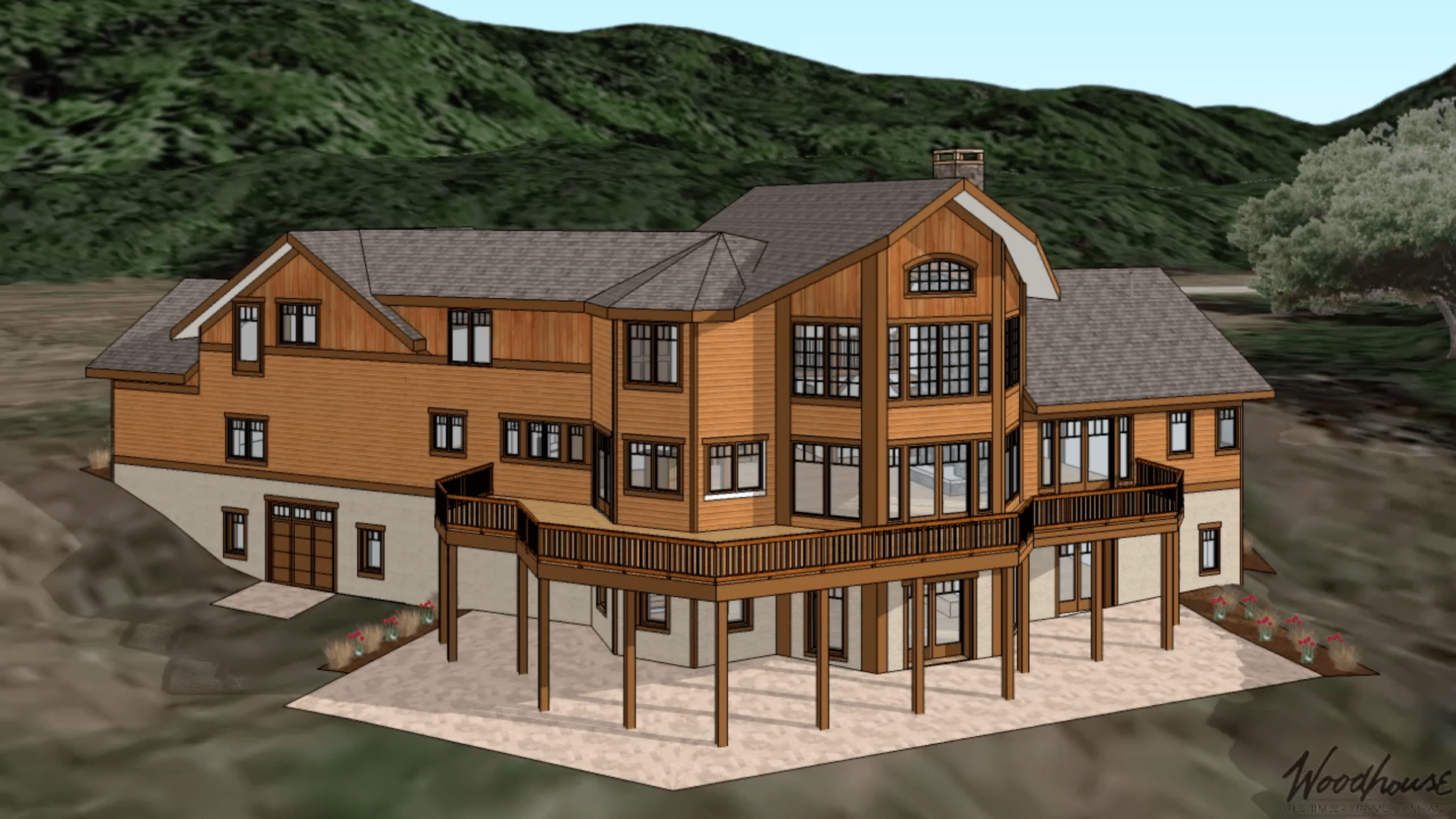 Chicago-based Architect Tom Hopkins had been an in-house architect years ago for Woodhouse. So when Woodhouse referred a client to him seeking to build on a lake in Coal City, Illinois, he knew exactly who to collaborate with. The 4,000-square-foot home Hopkins designed has a master bedroom on the main floor as well, for a total of six bedrooms, four full baths, and additional flex space over the three-car garage. Learn more about this project here.
5. Bespoke Timber Frame on Seneca Lake by Architect Raymond R. Lefebvre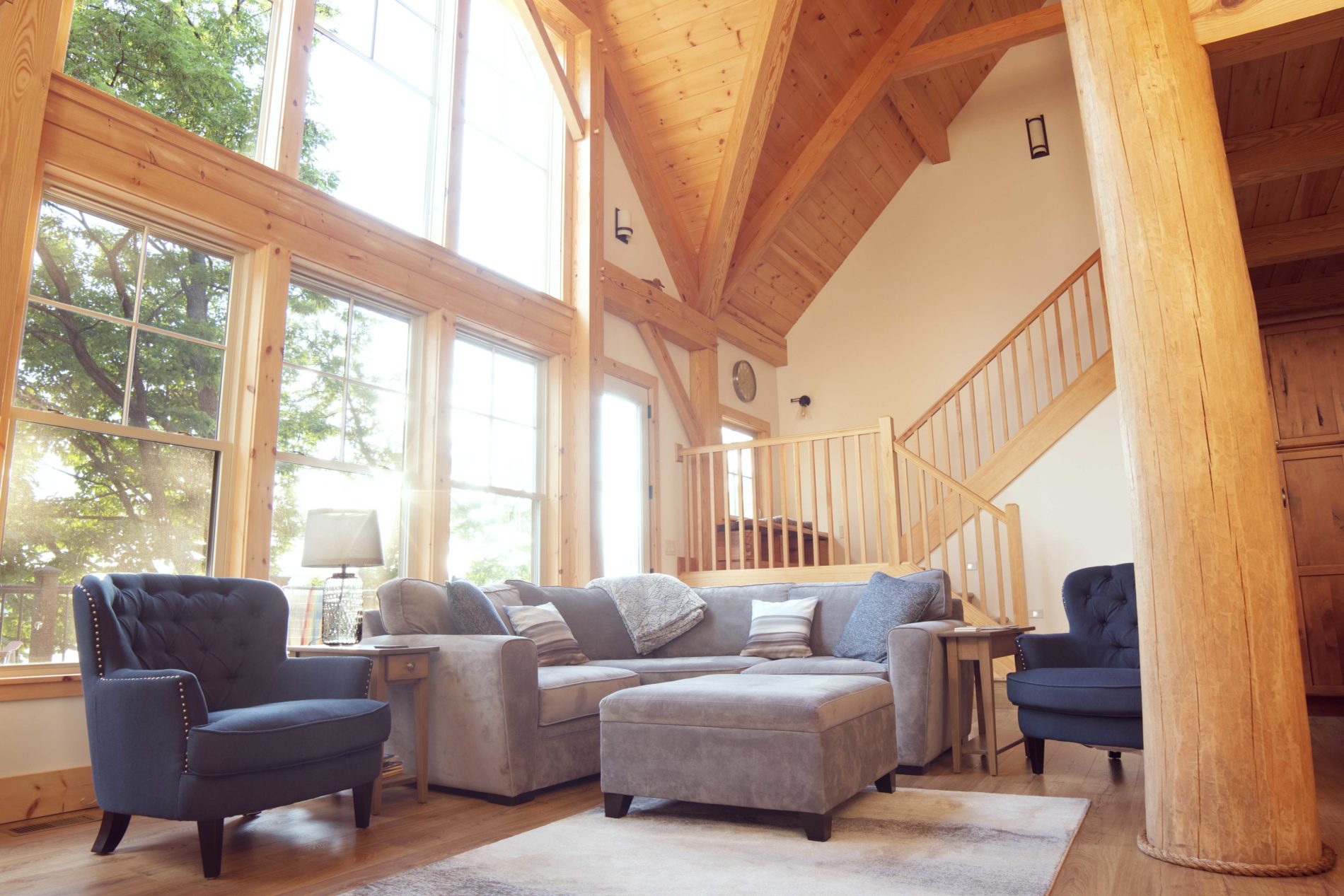 Architect Raymond R. Lefebvre is based in Ithaca, New York, and is another former Woodhouse designer. Recently, Woodhouse referred a client to Lefebvre who wanted a local architect to design a timber frame home on the shores of Seneca Lake. The 2,400-square-feet design featured two bedrooms and two-and-a-half baths on the main level, with another two bedrooms and rec room in the finished basement. Learn more about this project here. 
6. Hybrid Timber Frame in Illinois by Builin Custom Design
Luxury home builder Gander Builders in Frankfort, Illinois recently approached Builin Custom Design for a client that wanted a timber frame home in Frankfurt  Illinois. "It was my first timber frame home," says Architect Rick Bulin. The home's design includes four chandeliers high above the open floor plan that includes the great room, kitchen, and large dining area. Elegant amenities include a loft area, wine cellar, spa, dry sauna, a backyard pool and waterfall.
Reach Out To Woodhouse To Get Started
Succeeding in the world of architecture is not without its challenges. Many architects have collaborated with Woodhouse so they can focus on bringing their creative vision to life. Contact our design department or a regional project manager today to get started. Woodhouse stands at the ready to deploy its depth of talent and experience to your architectural firm—all with no addition to your payroll.
Looking to read more? Find all architect content here.