Since the start of lockdowns and onset of work-from-home, homeowners across the country have been looking out onto their property and thinking, "What can I do with all this?" This summer, folks are searching for a way to add an outdoor space that enables them to forget they are in their own backyards. For a solution that offers grandeur, versatility, and functionality, look no further than a Woodhouse timber frame pavilion.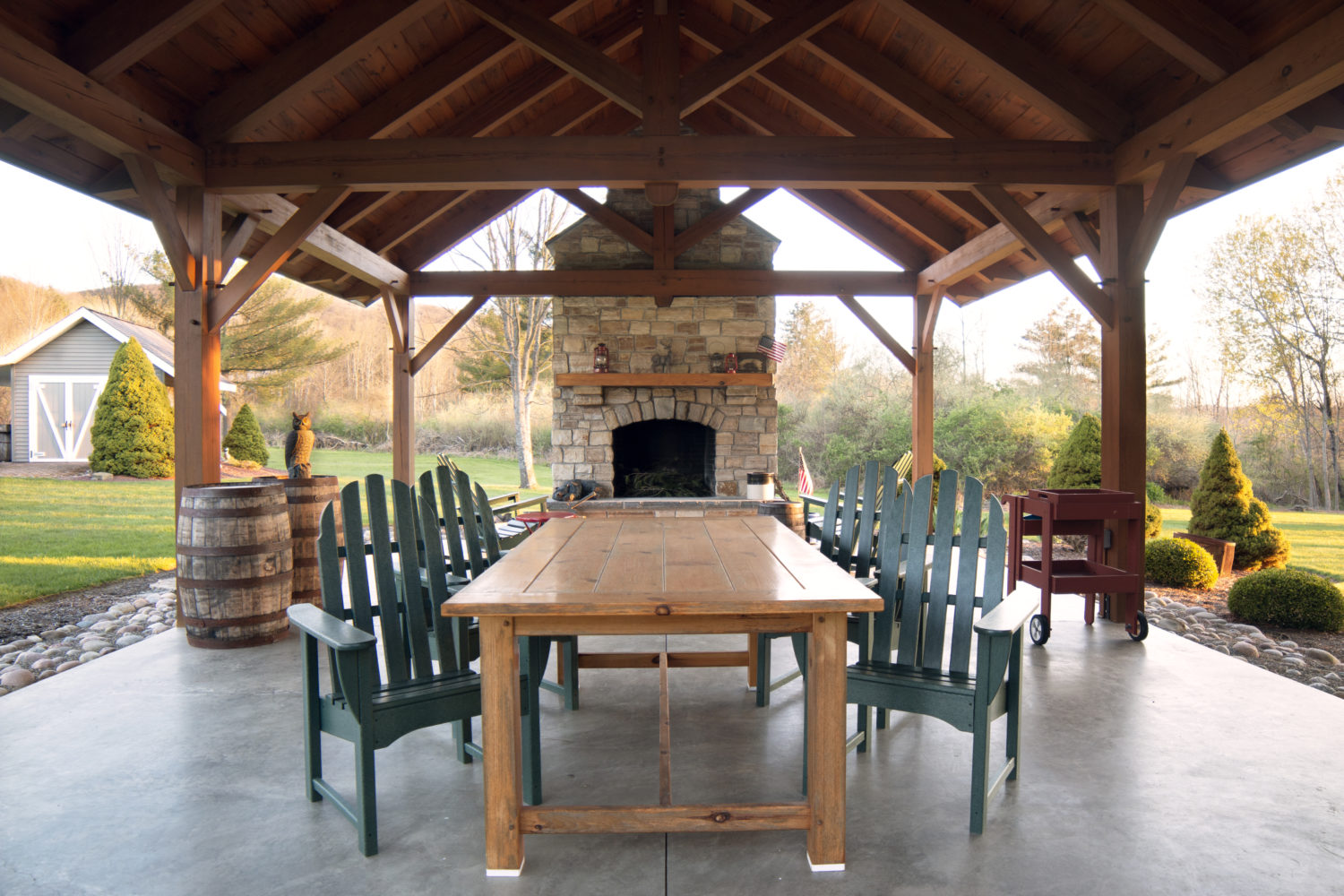 Woodhouse: The Timber Frame company has been crafting timber frame pavilion kits and timber frame pavilion designs for more than four decades. Woodhouse's reputation for precise craftsmanship is well known among both homeowners and timber frame pavilion builders.
"Timber frame pavilions have remained popular for decades," says Craig Johnson, vice president of sales and marketing at Woodhouse. "Heavy timber construction never goes out of style. It is timeless and elegant. Additionally, the inherent longevity of timber frame pavilions means the resale value remains high for generations."
Location and Scope
The first step is to determine what size timber frame pavilion you want and what its ideal usage will be. Whether you're looking for a practical barebones shaded area or a luxurious outdoor room with furniture and electricity, there are tons of fun options that will enhance your yard and home. You can create a cozy outdoor fireplace, an all-season covered outdoor hot tub area, or even an outdoor kitchen, perfect for sunny family gatherings or hosting larger events.
Woodhouse encourages homeowners to do some research before the initial design consultation so that they know what they like and what they want. Then, all that's left is determining how to make it real.
For some inspiration, check out Woodhouse's Pinterest page.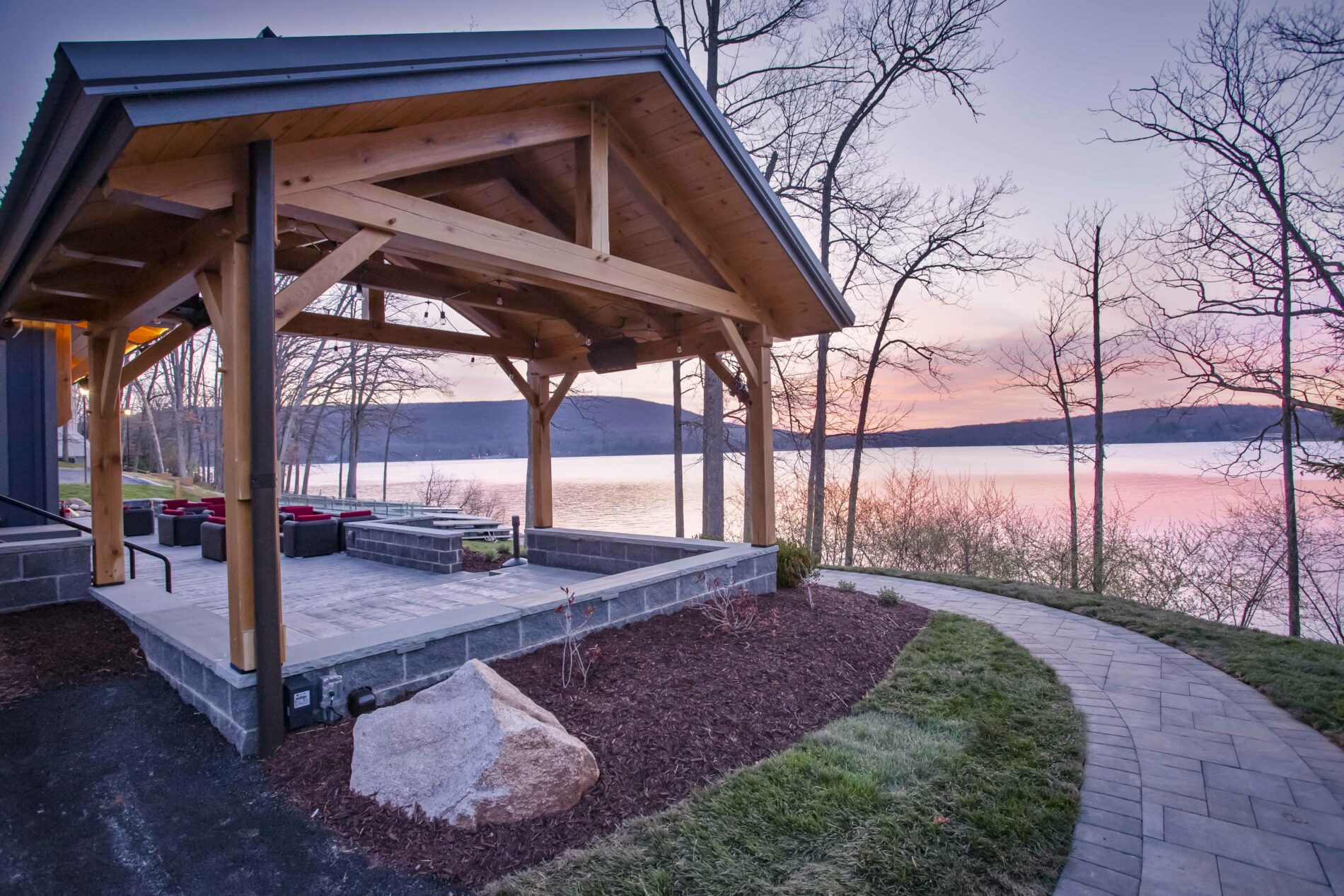 Designing Your Timber Frame Pavilion
Once you've decided on the sizing and placement of the pavilion, the next step is design. The three most popular timber frame pavilion kits are the King Post Square Pavilion, The King Post Long Pavilion, and the Hammerbeam Pavilion. All pavilions from Woodhouse are constructed using traditional mortise and tenon joinery, a reliable and time-tested method of framing that dates back thousands of years.
"With truss design, people usually come with what they like, ideas in hand," says Johnson, "otherwise we'll show them examples of what we've done in the past and give them some ideas. Some trusses are better for larger spans, but most pavilions aren't big enough to worry about that. It's the same process as our home design: understand the owner's wants and needs, understand the land and how much space they have, then start it from there."
Say you want to use your timber frame pavilion as an outdoor kitchen. Well, that means different things to different people. Some may just want a place to put a grill while others may want a full stove, oven, sink, prep area, fridge, wine bar… it all depends on what key elements are important to you.
Maybe you want an entertainment pavilion. Somewhere to gather family and friends on a nice night to play music, sample some cold beverages, or roast marshmallows. When designing your timber frame pavilion, Woodhouse can help to incorporate lighting or TVs that will be protected from the elements. A fire pit or even a full outdoor fireplace is perfect for a pavilion and helps make the space the centerpiece of any yard.
If your property has a pool, a timber frame pavilion could function as a pool house. You could design for additional storage, a changing room, or even a closed section on the back end of the pavilion to house the pool's mechanicals.
Extension by Pavilion
If you are interested in designing an addition to your home, a timber frame pavilion is a solid way to add to your roofline and extend it over your patio, porch, or basement walkout.
This type of pavilion is great for an outdoor hot tub shelter. Some homeowners enclose the pavilion with drapery or mounted curtains that roll down for enhanced privacy. There is also the option to add screens to enclose the porch from bugs and critters. A covered timber frame addition is a great way to add more outdoor living space to your routine and grow the square footage of your home, increasing its value.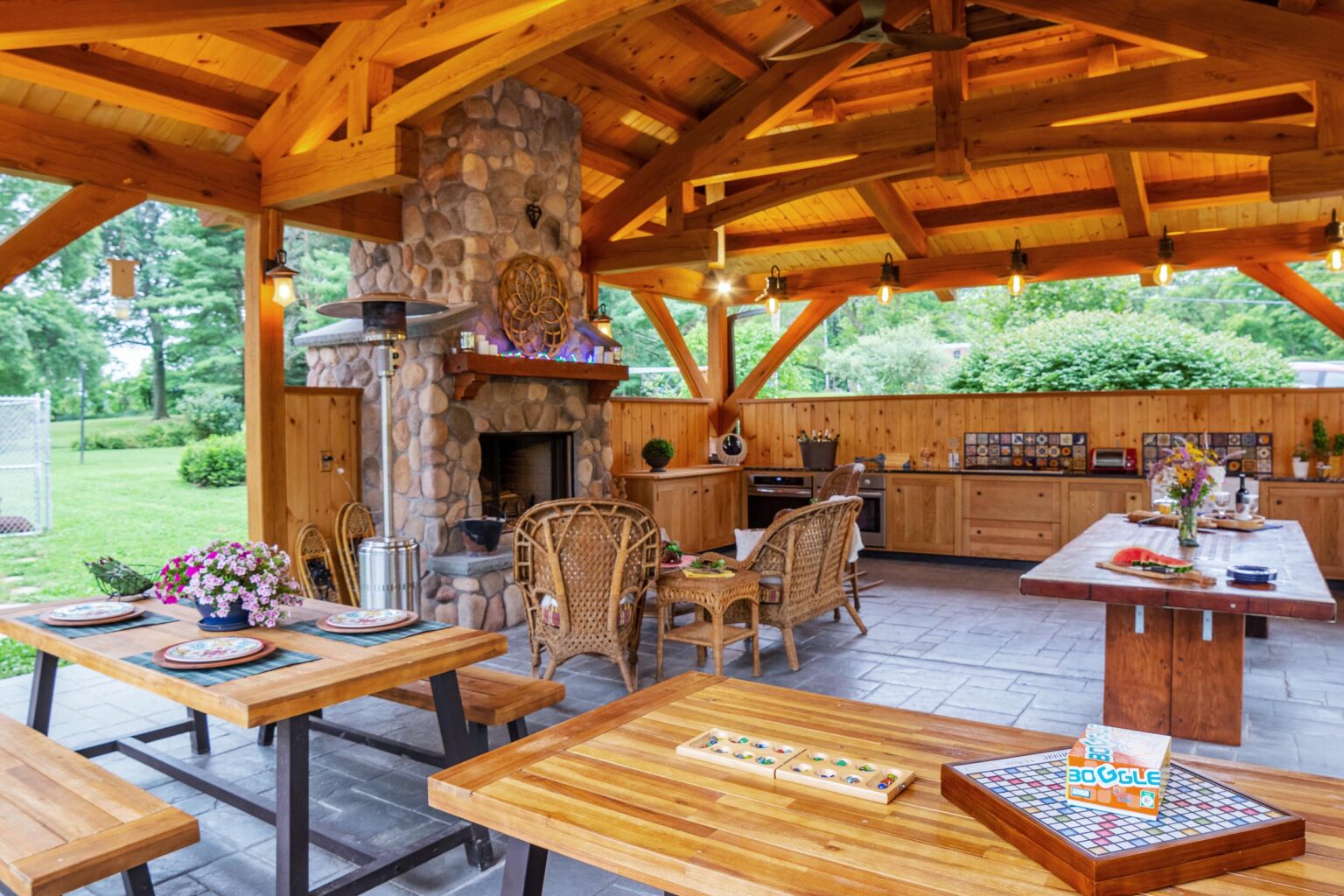 Getting Started

Turn your dream timber frame pavilion into a reality by contacting the Regional Project Managers at Woodhouse. Their design team can create a 3-D graphic illustration so you can visualize exactly how the pavilion will look and function alongside your home.