If you're looking to turn your backyard into an oasis, an elegant space for creating memories with family and friends, then look no further than the timber frame pavilion kits from Woodhouse: The Timber Frame Company.
The variety of timber frame pavilion designs offered by Woodhouse will enable you to add style, function, and fashionable longevity to your home. The massive timbers and mortice and tenon joinery in these frames will inspire awe and comfort to those gathering at your home, with an open-air sensation that is sure to delight.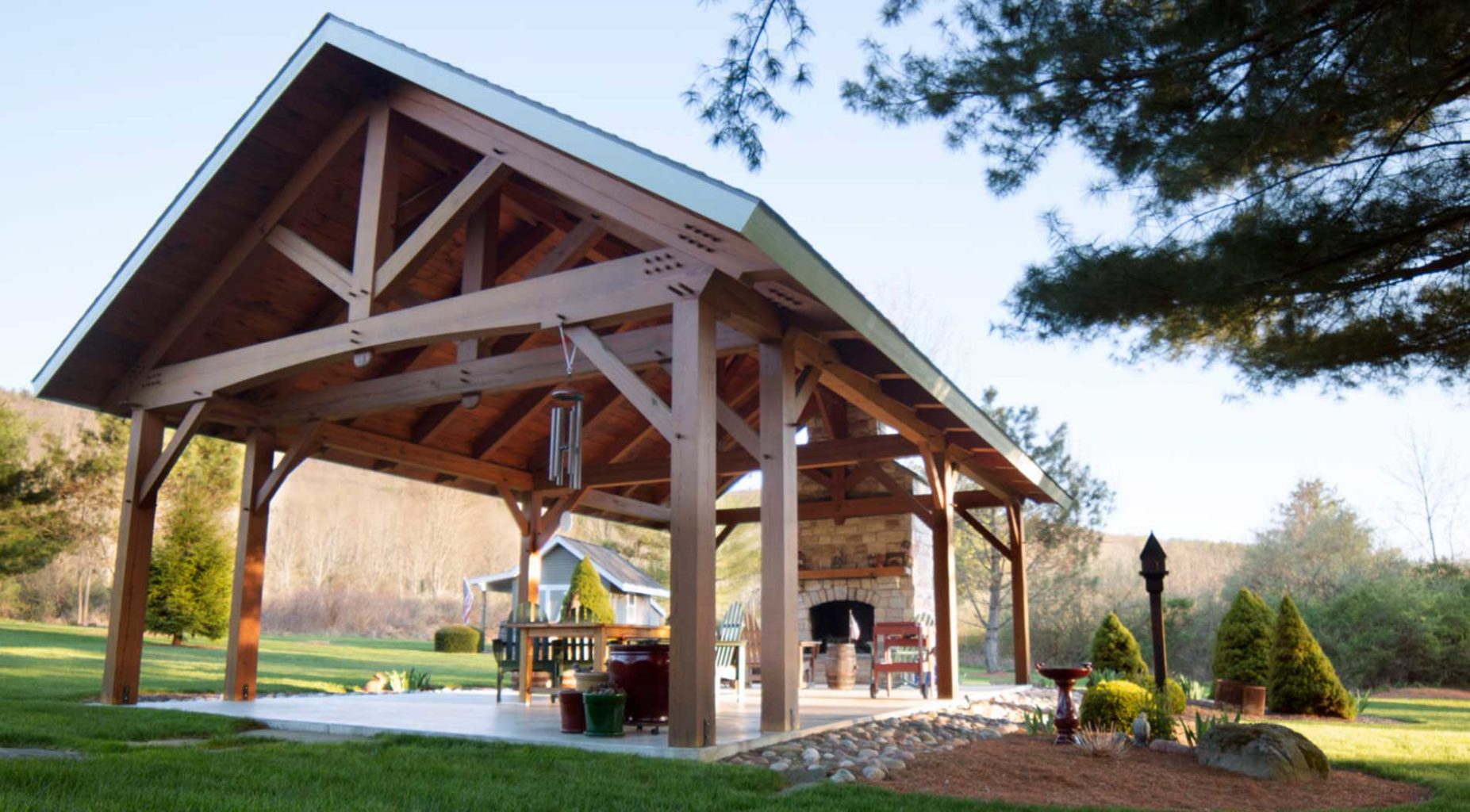 Whether you are looking to add an outdoor gourmet kitchen, pool house, fireplace gathering spot, dining area, party space, or all of the above, Woodhouse's extensive series of timber frame pavilion designs can meet all your needs.
Customization of any of these designs is encouraged, using the in-house design team at Woodhouse. Once the design is finalized, Woodhouse's state-of-the-art CNC technology can fabricate your new pavilion quite quickly. Then timber frame pavilion builders can raise the frame and trusses, and add the roof decking, to make your luxurious outdoor entertaining space conveniently located mere steps away in all weathers.
"Of course, our homes have always been central to our lives," says Craig Johnson, vice president of sales and marketing at Woodhouse. "But with current events such as they are, I think we all have rediscovered how important our homes are in our daily lives. It is the one place where we have control. It is our sanctuary. This realization is what is fueling the interest in our timber frame pavilion kits. Homeowners want to maximize and improve their home lives. So instead of a trip to Europe, they are investing in a beautiful outdoor space where they can spend time with their family and friends in the comfort of their backyard. A timber frame pavilion from Woodhouse is a structure that will last for generations."
Here are the top three most popular timber frame pavilions at Woodhouse.
King Post Square Pavilion 22'x20'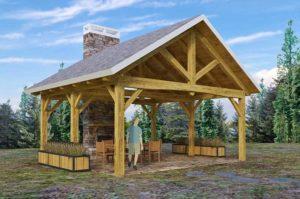 A classic timber frame configuration, featuring two heavy timber vertical king post trusses at each end of the pavilion, this design provides plenty of space for a family gathering in front of a cozy hearth, pool house, or outdoor kitchen. Each piece of the frame is cut precisely with CNC technology, which will make this pavilion go together quickly, either as a DIY project or installed by professional contractors. Add a fireplace, a TV for the big game, and lighting and you will be ready to make memories that will last a lifetime. Some homeowners customize them still further by adding drapes, barn doors, and gutters and downspouts, Johnson says. "One is only limited by their imagination and their budget. But since these pavilions are so versatile and affordable, one can really make their outdoor space their own," Johnson says.
King Post Long Pavilion 16'x28'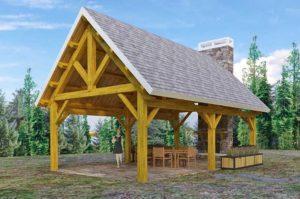 If you need to grow your existing home or expand your outdoor living space, then the king post long pavilion is your solution with luxurious flair to boot. Not only will this large pavilion add a sumptuous space for entertaining, but its intricate beam work will also provide comfort and joy for generations to come. "Happiness and delightful relaxation come standard with this pavilion," Johnson says. With its ample space and steeply peaked roof, homeowners can use this pavilion for multiple uses, including an outdoor kitchen, a gas or wood-fired hearth area for cool evenings, a gaming space, an outdoor dining setting, or a hot tub spa.
Some homeowners decorate their pavilion with colorful hanging flowers, wind chimes, ceiling fans, lighting, and music. "This majestic pavilion adds a whole new dimension to your home," Johnson says. "It's a sanctuary and retreat for your whole family."
Hammer Beam Pavilion 16'x28'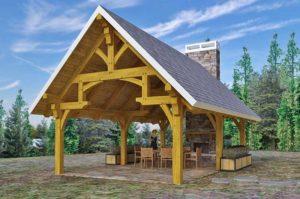 If you are looking to make an architectural statement in your outdoor structure or addition to your existing home, then the Hammer Beam Pavilion from Woodhouse: The Timber Frame Company fulfills that mission with ease. Graced with two opulent hammer-beam trusses at either end, the large scale of this pavilion will make entertaining large crowds both comfortable and fashionable. With its large brawny beams and Douglas fir tongue-in-groove decking overhead, this pavilion will provide the perfect atmosphere for outdoor events, game nights, or joyful laughter under the stars after a delicious meal. Many homeowners accent this pavilion with lighting that illuminates and dramatizes the brawny truss work, Johnson says.
All pavilions from Woodhouse are constructed using traditional mortise and tenon joinery, a centuries-old method of framing that dates back thousands of years.
If you're planning on adding a pavilion to your home in 2021, note that permitting and earning engineering approval can take six to eight weeks, Johnson says. Adding a foundation for the structure can add some time as well. "If you are wanting to add a pavilion to your home, reach out to the team at Woodhouse as soon as possible. We have the ability to add photo-realistic renderings of your pavilion on your property, so you will understand how it will live," Johnson says.
There is one sentiment that all timber frame pavilion customers of Woodhouse share. "Invariably they all wished they had done it sooner," Johnson says. "They enjoy and value them that much."
Visit Woodhouse's outdoor living page to learn more and contact the team at Woodhouse when you ready to get started.