In the search for the perfect home, it is common to encounter some myths about timber frame or post and beam homes, so we are doing a bit of myth-busting to set the record straight.
While considering the pros and cons of a conventional home vs. timber frame vs. log home, false assumptions about timber frame homes can mislead a potential homeowner away from what could be their ultimate dream house.
Don't let that happen to you! It's time to dispel some common myths surrounding timber frame homes. Discover the truth about these gorgeous and timeless structures, and why they are exactly what you are looking for in a house.
Myth #1: Timber Frames Aren't Fire Resistant
A lot of people envision the wood associated with post and beam or timber frame designs and immediately believe these beams would make easy tinder for a fire. What many people forget is that conventional homes are built with a lot of wood between the interior and exterior walls.
"In a 2×4-inch or 2×6-inch built home, there is a small piece of wood every 16 inches that is encapsulated with nothing more than drywall, insulation, and air," says Woodhouse Vice President of Sales and Marketing, Craig Johnson. "Once a fire gets into the wall cavity of a conventional home, you can't stop it, it's like a chimney in there, with the studs acting as tinder."
Timbers, in contrast, are massive pieces of wood with an extremely slow burn rate. Fire-resistant treatments can also be applied for extra protection. This is valuable for homes in wildfire-prone areas.
Fire resistance in timber homes goes beyond the timbers. Woodhouse homes are built with structural insulated panels (SIPs) for the walls. SIPs have a Class 1 fire performance rating, which is the best fire rating of materials that can be achieved. Moreover, Woodhouse uses specially constructed SIPs with polyurethane insulation, which replaces the air gaps found in the walls of conventional buildings with a highly fire-resistant material, depriving the fire of both oxygen and combustible material in the walls.

Myth #2: Timber is Unsuitable for Harsh Weather Conditions
Of all the misperceptions about timber frames, the idea that wood is unsuitable for harsh weather conditions, challenging climates, or extreme events, is puzzling. Healthy trees, which are made of wood, are capable of surviving hundreds, if not thousands of years. In this span of time, these trees are certainly subjected to violent winds, rain, snow, drought, and even earthquakes. Wood has evolved to be resilient.
Combine wood's natural durability with Woodhouse engineering know-how and the result is a home that is both gorgeous and tough. Timber's flexible and pliable properties make it resilient to earthquakes. Resistance to seismic events can be strengthened even more by how timbers are joined and connected throughout the structure.
Timbers are also stoic against heavy snow loads and wind shear. In fact, they can meet and exceed the stressors of Category 5 hurricane winds, which are 157 miles per hour or greater. At Woodhouse, we ensure timbers are right-sized to meet codes and can build these into the design of timber frame home plans.
"Most people don't see that detail whereas an expert will notice the reinforcements in the timbers and structures," Johnson explains.
Conventional home builders will often marry 4-6 different materials to create a reinforced post designed to replicate the strength inherent to a large timber. For instance, a porch post may be several 2×4-inch boards wrapped with decorative material. If you're concerned about harsh weather conditions or earthquakes, a timber frame can give you peace of mind.
Myth #3: All Timber Frame Homes Look Alike
For too long timber frame homes have been pigeonholed as rustic log structures constructed with limited materials. This is unfortunate because with the right timber frame company, such as Woodhouse, timber homes have unlimited design possibilities.
By blending industrial, traditional, or modern elements into the home, design styles such as contemporary, cottage, farmhouse, craftsman, saltbox, ranch, and more are all possible. Exteriors can be whatever a homeowner desires — clapboard, HardiePlank®, shingles, board and batten, stucco, or logs. You may be surprised to learn that timber frame home plans offer even more design flexibility than conventional ones! Because a timber home does not rely on interior walls for support, the interior can be configured into any floorplan you desire. This feature also makes a timber frame an ideal choice for those who want expansive, open living spaces.
Pre-designed timber frame home plans and post and beam home plans are merely starting points in the design process. They can be fully customized to incorporate your checklist of must-have features while maintaining affordability. Even timber frame cabin designs can be interpreted across an array of architectural styles and designs. From sleek, urban minimalism to classic, mountain chalets to bright, waterside cottages; a Woodhouse timber frame can do it all.
Myth #4: Timber Frames are Prone to Rot and Need a Lot of Maintenance
Trees in a forest are prone to disease and rot so wouldn't timbers in a home be vulnerable to these same issues?
"The problems only develop when the wood is sticking directly into the ground and drawing up moisture then drying out creating a wet-dry cycle," Johnson says. "With technology and construction, no wood is touching the ground in a timber home. Timber homes can last multiple generations. Be sure to ask our team about the different species of timbers and their inherent performance."
As far as maintenance, every home requires some degree of care, and a timber home requires no more than any other. Depending on the material used for the exterior, the home will require occasional stain or paint. There are some species that are better suited for the exterior than others. Johnson advises looking for a timber frame company that is well-versed in multiple species of wood rather than a company with a limited selection. Woodhouse often mixes timber species to maximize performance and aesthetics. For the interior, timbers just age in place and require no additional maintenance. Certain species may darken a bit, which is actually a desired quality for many homeowners.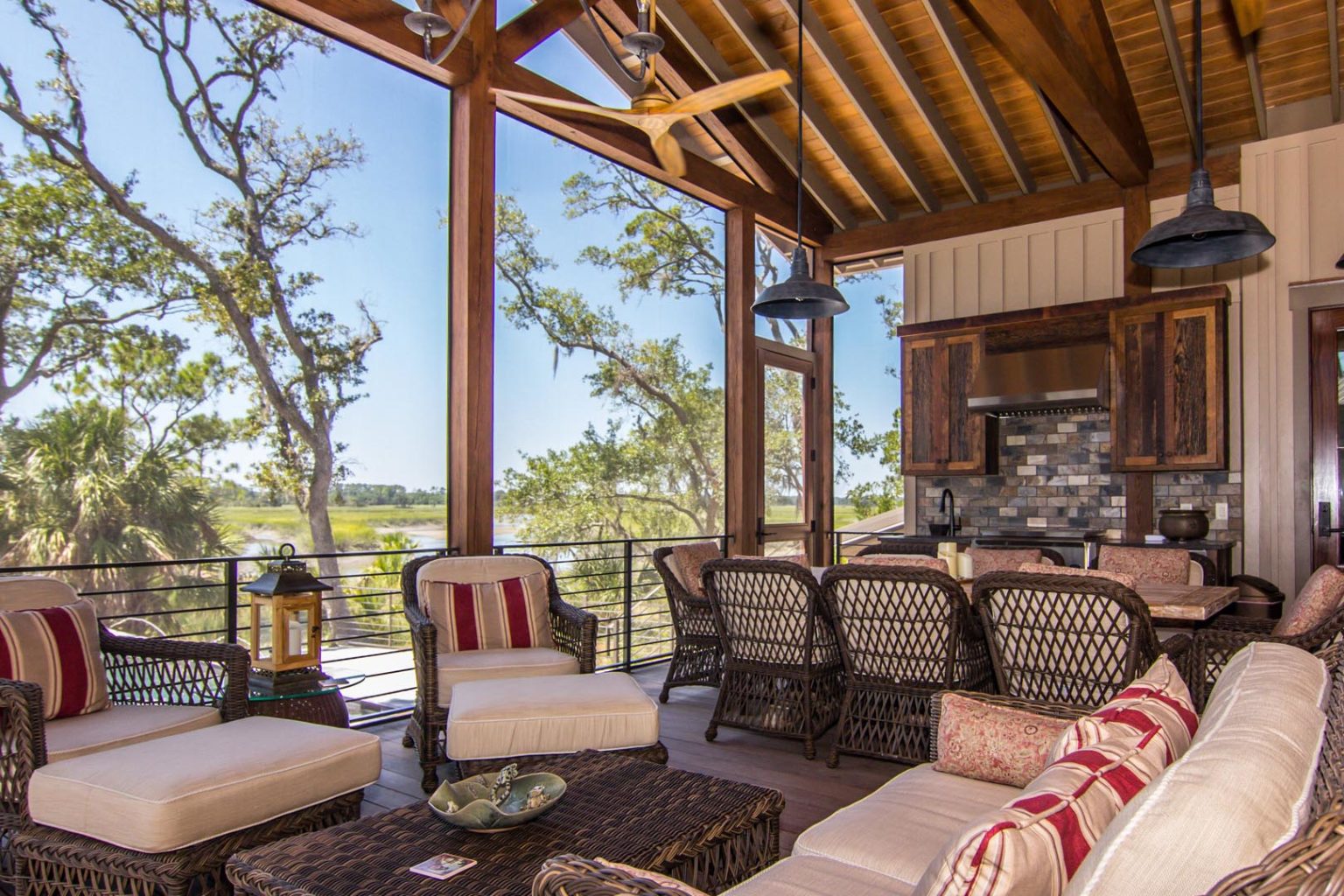 Timber Frame Truth
Once you discover the virtues of timber, you will quickly realize the cost to build a timber frame home is not only a smart financial investment, but one that delivers a high return in enjoyment, peace of mind, and the lifestyle you want. If you're early in your potential timber home journey, now is an ideal time to learn more. Visit our "Where We Build" page to see the diverse Woodhouse projects in your area. Still unsure? Learn more about the or contact us for a more detailed conversation. We are ready and eager to talk to you.