Business is booming for architects nationwide. Spurred by a record-long, seven-year expansion, payroll employment at architectural firms has grown by an average of 7,500 positions over the past six years. The American Institute of Architects (AIA) estimates that 4,599 of those were architects.
Employment of architects is projected to grow by 8% in the next eight years, faster than the average for all occupations, according to the U.S. Bureau of Labor Statistics. With the profession facing a rising tide of retirements as well, architectural schools simply cannot meet the demand for new graduates.
That's why architectural firms across the country are employing innovative strategies to meet demand. One strategy that's working for many? Collaborating with Woodhouse: The Timber Frame Company to help design and engineer bespoke residential and commercial timber frame structures.
A collaboration with Woodhouse comes with an abundance of benefits, according to architects and designers. Whether you are a solo entrepreneur or a 300-member strong architectural firm, here's how the Woodhouse team can help you save time, reach more clients and earn positive word of mouth in your local market.
Design Assistance with Timber Frame Structures

One of the biggest benefits when collaborating with Woodhouse is that you can immediately start offering elegant timber frame structures to your clientele without having to spend time gaining intimate knowledge of the building system involved.
For example, in 2017 a couple sought out designer Rick Bulin, owner of Rick Bulin Custom Design, to create a 7,285-square-foot home in Frankfort, IL. "The client was interested in a mountain-style design with rustic touches," Bulin recalls. "It was my first foray into timber frame construction."
The process was painless. "I came up with the floor plan and the elevations. Then I sent a CAD file off to Woodhouse," Bulin says. "Because of budgetary reasons, we went with a hybrid timber frame design. Woodhouse designers took my drawings and came back with a three-dimensional presentation that illustrated the skeleton of the frame within the layout. Woodhouse designers also recommended timber placements that would work more efficiently. The Woodhouse team was awesome to work with."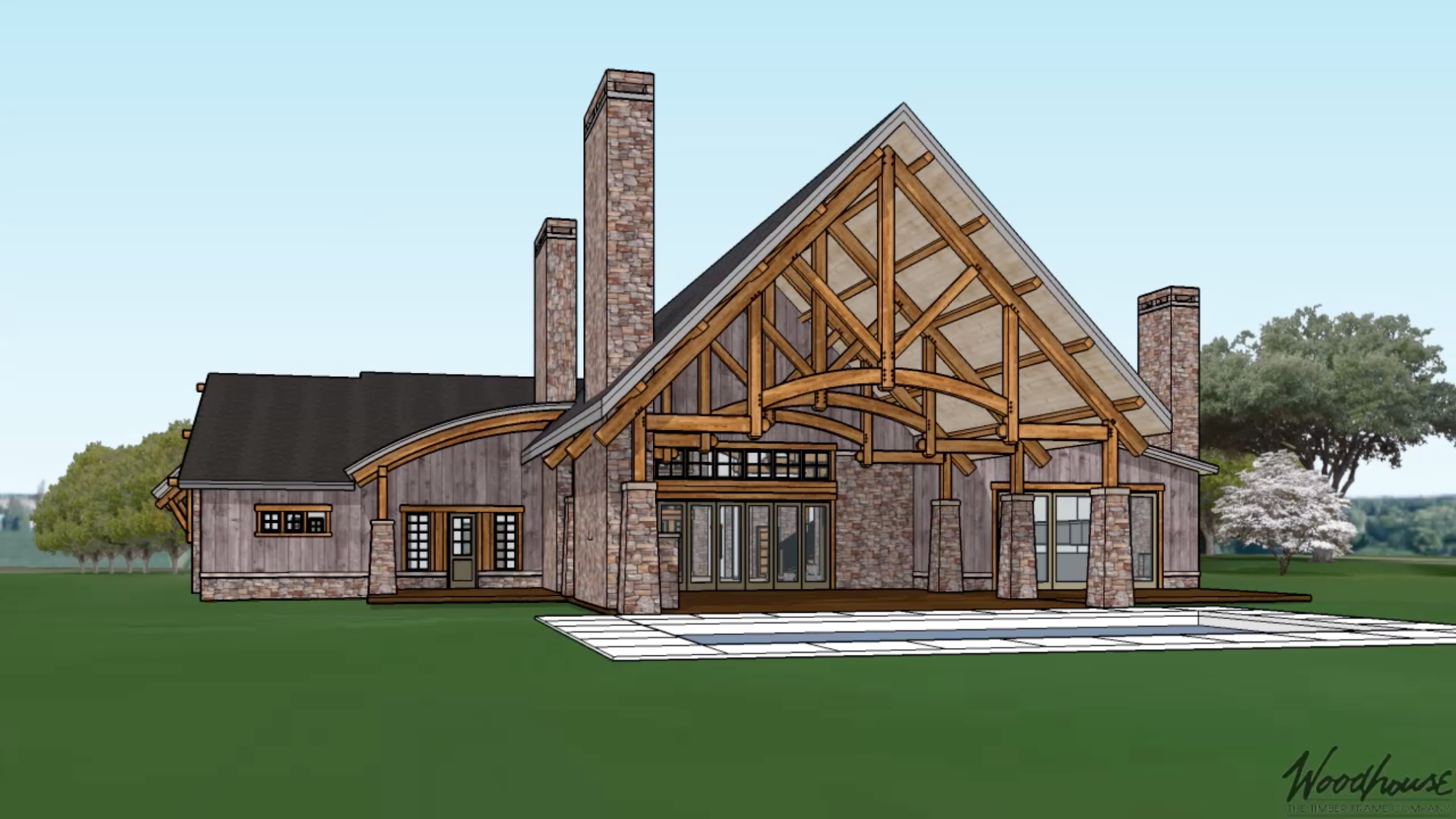 Concentrate On Creativity

Architect Raymond Lefebvre says he enjoys collaborating with Woodhouse because it allows him to concentrate on the creative side of his business. Lefebvre prefers the time-honored tradition of sketching his designs by hand for his clients and then sending these sketches on to the Woodhouse design team to be converted into CAD drawings and ultimately, detailed construction drawings for the general contractor. "That takes a lot of the grunt work out of the whole process and saves me a ton of time, energy, and money," Lefebvre says.
3-D Graphics Speeds Up Communication

Woodhouse's design team earns high marks from designers and architects for having the capability to create photo-realistic, three-dimensional fly-throughs of a design on a specific building site. This speeds up the client approval process, enabling them to see how the home or commercial structure will live on the site. Just ask residential and light commercial designer Doug Storck who was right in the middle of designing and building a 3,000-square-foot timber frame bar and restaurant in Deep Creek Maryland when the pandemic hit.
While Storck says he's designed and built timber frame structures before, he says collaborating with the Woodhouse team was an entirely different experience. "The design team took our two-dimensional preliminary drawings and elevations and created a photo-realistic three-dimensional tour," Storck says. "This was not only helpful for us, but it also pleased our client. She was able to use those visuals and present it to a Maryland business gathering, which helped her secure funding for the project."
Lefebvre says that adding the three-dimensional graphics capability to his business has helped him expand. "Having that capability at no additional cost has really enabled me to earn more business," Lefebvre says.
In-House Engineering Increases Speed of Approval
Woodhouse also provides engineering-stamped plans, which helps architects and designers meet local building codes without spending hours reviewing local regulations.
Storck says the Woodhouse design team provided CAD and engineering assistance that proved invaluable. "We were making almost daily adjustments, such as adding an outdoor kitchen and having to make some adjustments to the foundation," Storck says. "The Woodhouse design team made sure we met all codes and engineering from footings to the roof. That included ADA, fire codes, everything. Having all that provided to us–from design to engineering–just took a lot off our plate that we didn't have to deal with."
Lefebrve says it's a huge advantage to have plans that are fully engineered and stamped. "Eliminating that liability just makes it easier to sleep at night," he says.
Modern Building System Reduces Project Delivery Time
Woodhouse's state-of-the-art CNC and Polyurethane (PUR) SIP building system create perfectly precise cuts and earns the highest energy ratings available, all while reducing build time by up to 30%. You can read the full story behind Woodhouse's acclaimed building system, with more architect testimonials, here.
Budget & Schedule Help

The fact that Woodhouse's building system provides the timber frame and enclosure system around the frame–including windows and doors–simplifies budgeting and scheduling on any given project.
"It takes a lot of guesswork out of the budgeting and scheduling processes," says Architect Jeff Wilkinson, who recently designed an award-winning, two-story timber frame home that's nearly 6,000 square feet in upstate New York's Catskill Mountains. "Because Woodhouse's building system provides the entire envelope for the structure, it adds that certainty when you are developing the budget for the client."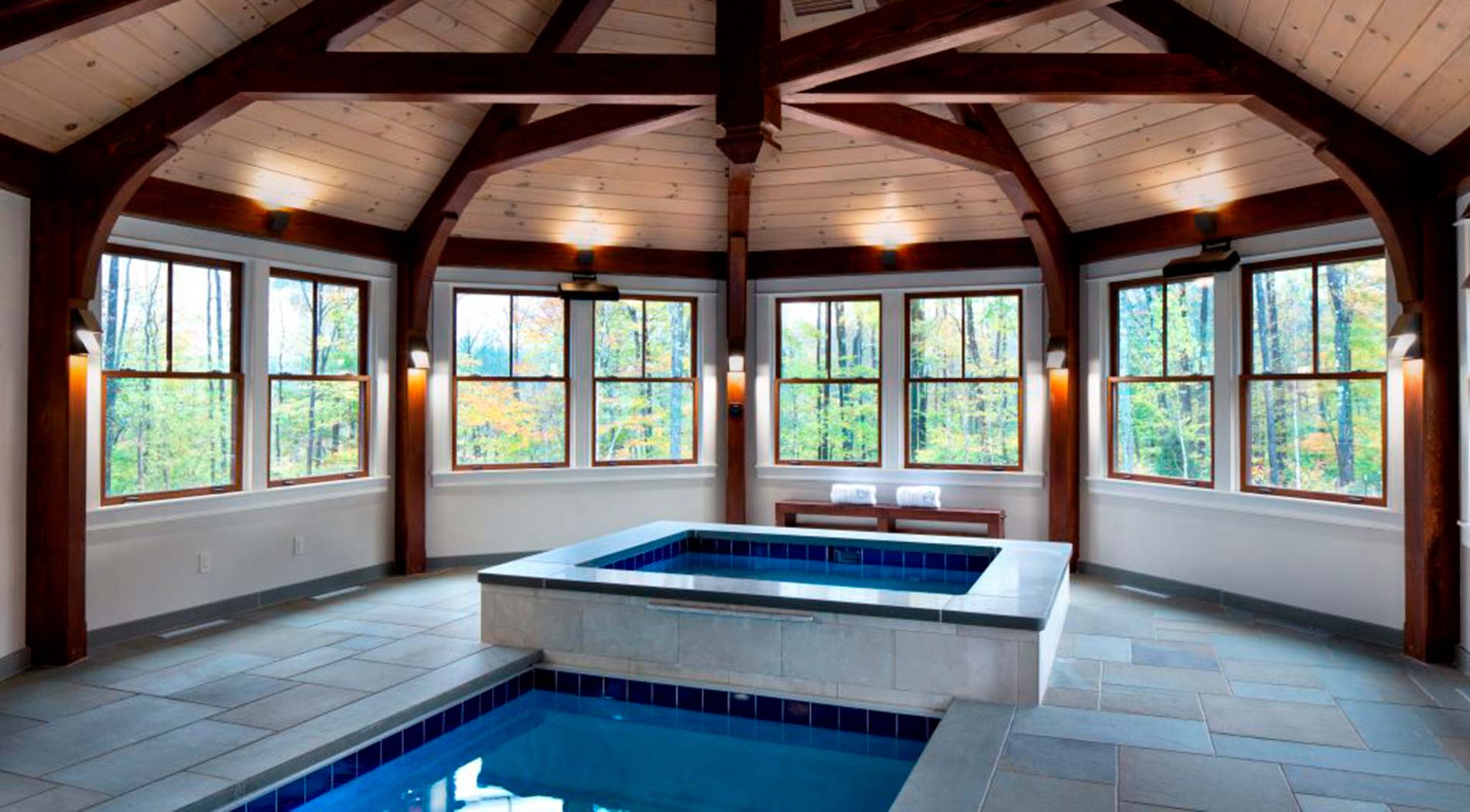 Architect Tom Hopkins has worked with Woodhouse on multiple projects, including a 6000 sq ft home in Coal City, IL, and agrees with Wilkinson. "Once Woodhouse gives you a price on a project, it never changes without reason," he explains. "Having that price locked in along with a delivery date simplifies everything."
Add Depth of Talent to Your Firm

Lefebvre says that the Woodhouse team is extremely knowledgeable, boasting many experts with decades of experience designing and engineering these elegant structures.  "They are total pros. They are so skilled that it adds a lot of confidence and ease of mind to know you are going to be able to make a project go super smoothly and you'll end up delighting your client. What's more, you can add all that talent to your firm's capability with no additional payroll costs," he says.
How To Get Started Collaborating with Woodhouse

If your architectural firm would like to add elegant wood structures that outperform conventional construction by a wide margin, as well as simplify the design and construction of one-of-a-kind homes, reach out to Woodhouse's design team or one of the company's regional managers. Woodhouse's capabilities can help your firm reach a whole new clientele demographic while providing the added confidence of offering the best, time-tested building system on the market.