Here are a few ideas to stack your dream timber frame home with luxury and comfort in the form of a custom kitchen and pantry from Woodhouse.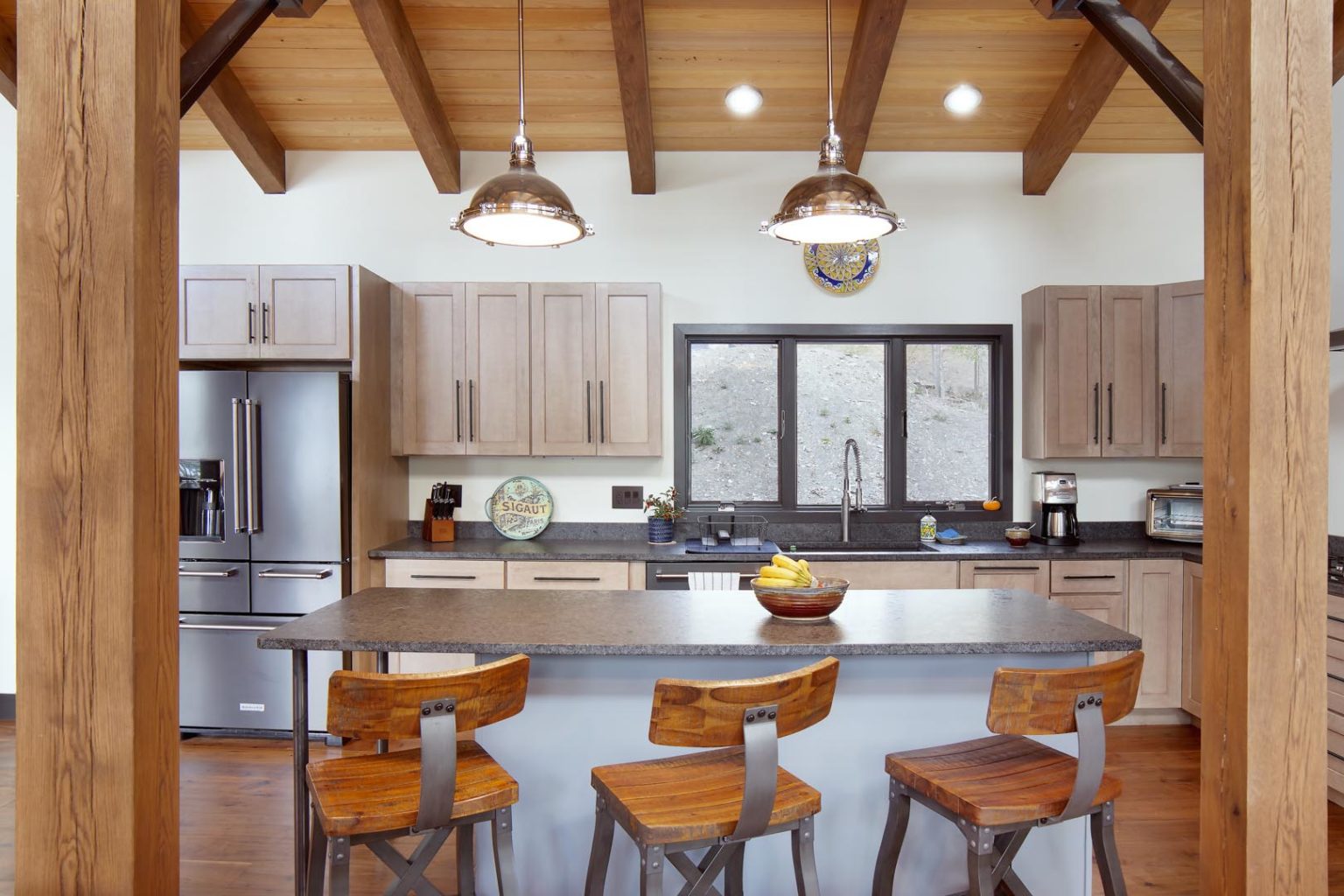 Timber frame homes are known for their especially inviting ambiance. And nowhere in a home is this felt more than in the kitchen…everyone's favorite gathering spot. A beautiful, well-designed kitchen nourishes the body and the soul. It's where food is prepared and, like a magnet, it draws family and guests in; memories are made and traditions are solidified. Whether you want a professional kitchen fit for a chef, the hottest spot on the block for happy hour (or perhaps, both!), these ideas and real-life examples showcase what's possible within a luxury, custom timber frame home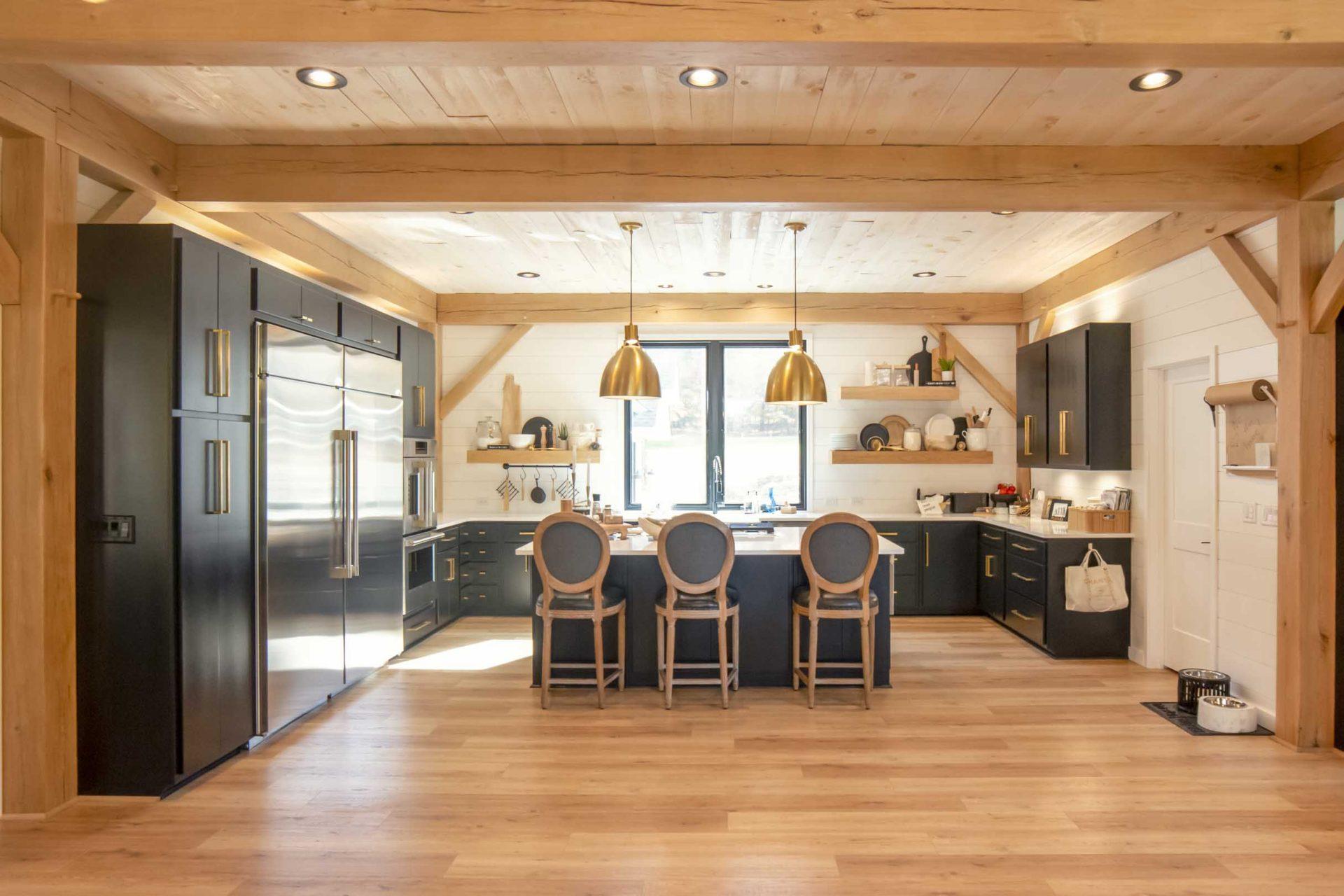 What's So Special About a Timber Frame Kitchen?
Timber frame homes lend themselves to gorgeous kitchens designed to perfection thanks to their flexible layouts and exposed timbers that are both functional and stylish. These unique spaces are prime for customization; the load-bearing timber frame allows for unlimited opportunities to adjust and modify to get exactly what you want.
Timber frame kitchens can also take advantage of their location. Do you dream of morning coffee with views of golden sunrises over the water or pouring an evening drink while bathing in alpenglow light? We'll ensure your kitchen is oriented to maximize your favorite views and time of day. You can even take a visual tour of your own future kitchen to see how it will appear at different hours with our advanced, photo-realistic 3D fly-through technology. With 95% of Woodhouse clients customizing their timber frame kit, that means seeing your unique kitchen before it's even built!
Take Advantage of the Trends
A great kitchen has a personality and flair that makes it stand apart from the rest. These are the kitchens that take a tried-and-true design concept and make it even better. You can outfit your entire kitchen in the latest must-have elements, or treat yourself to one or two carefully selected essentials. No matter your aesthetic, there are certain features that unite particularly luxurious kitchens that you don't want to miss. Here are six ideas to consider for your own dream kitchen: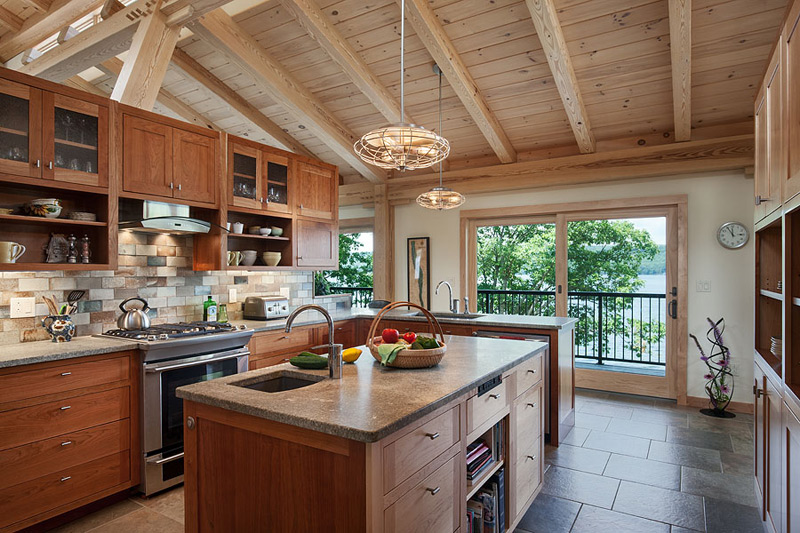 1. Designer Layouts
Going beyond the open-floor concept, kitchens are extending their functional reach to include dining space, mudrooms, pantries, bars, and powder rooms. While some of these may be in their own room, they are still strategically a part of the kitchen territory. Visual and physical connectivity from one space to another impacts the design. Look at this creative re-imagining (above) of an open floor plan that cleverly defines a kitchen space under a shared vaulted ceiling with the great room, meaning the cook space feels wide-open and receives abundant natural light.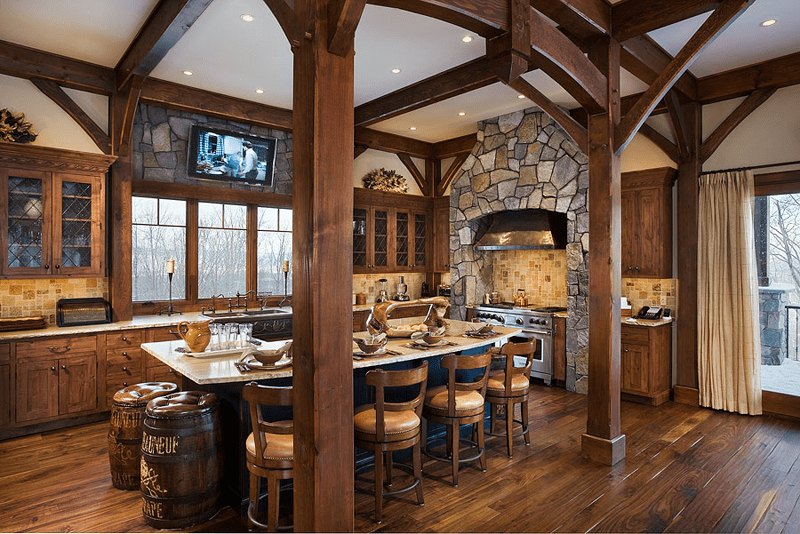 2. Natural and Mixed Materials
It's not unusual for contrasting materials such as rock or brick to make an appearance in a home's foundation, fireplaces, or pillars. Why not bring them into the kitchen for an extra level of panache? Stonework around the stove, like in the home pictured above, creates a spectacular visual echo of the great room's hearth. Or go for glamor with a kitchen that mixes exposed wood with European black cabinetry, fashionable furnishings, and glossy tiles.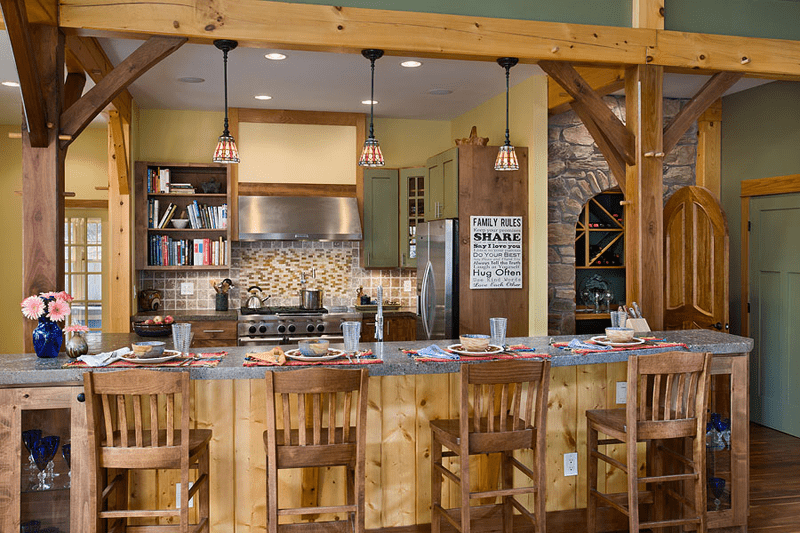 3. Pantry Essentials
Every quality kitchen needs a pantry, but not every pantry needs to be boring. Imagine the possibilities! Consider a pantry built as a classic armoire (a la Narnia) or covered with a stylish barn door. Woodhouse can help you get creative with your beverage storage too. Check out this unforgettable design (pictured above) for a wine cellar with Old-World style.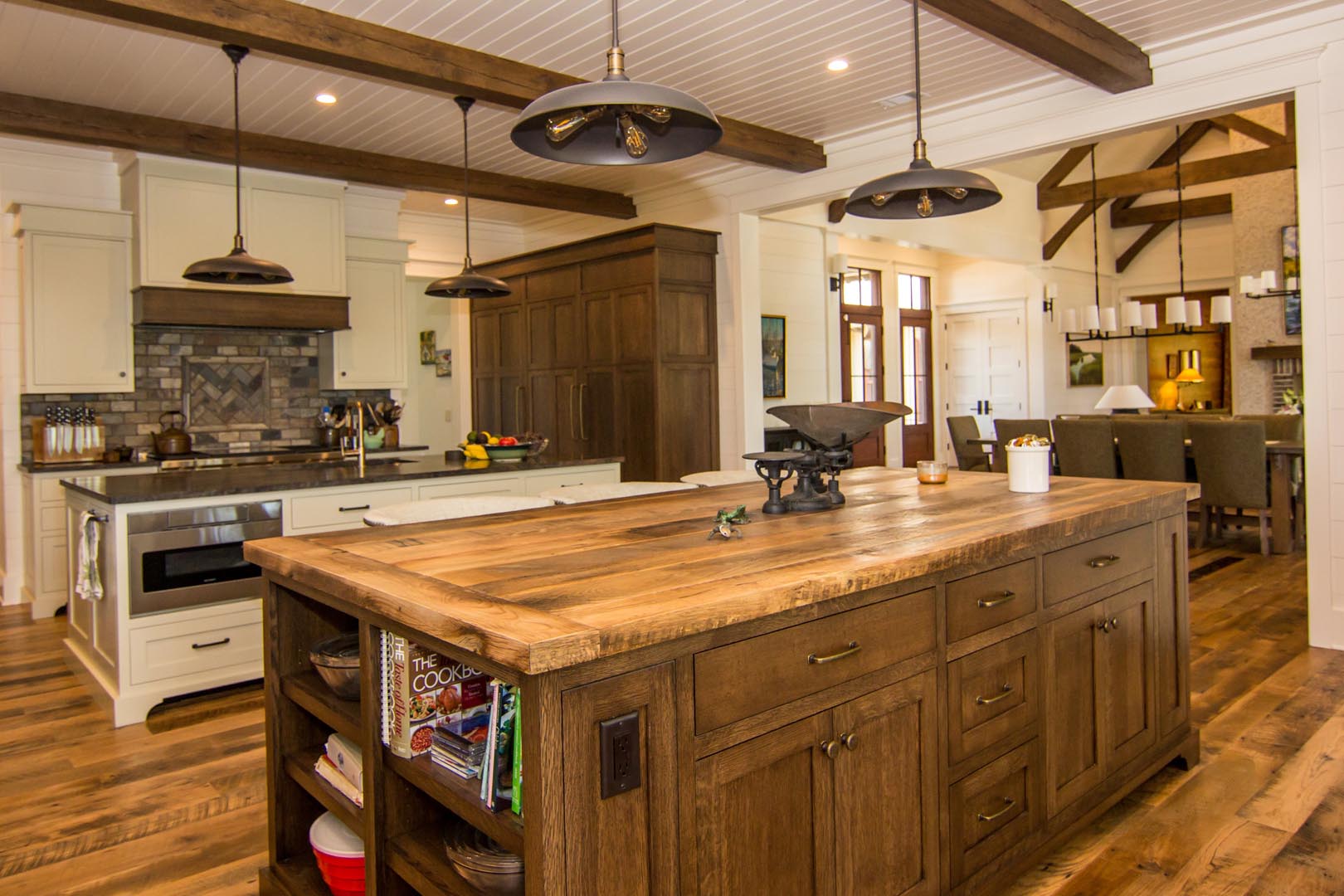 4. Kitchen Furniture
No, we're not talking about tables and chairs. (Though, antique tables certainly can make for stunning islands!) With high-end craftsmanship, kitchen islands can be handcrafted to appear as built-in pieces of furniture. It's a polished design detail that blurs the line between form and function, and elevates the design of the surrounding spaces as well – particularly relevant in open-concept layouts. And don't forget, you can also have more than one island too!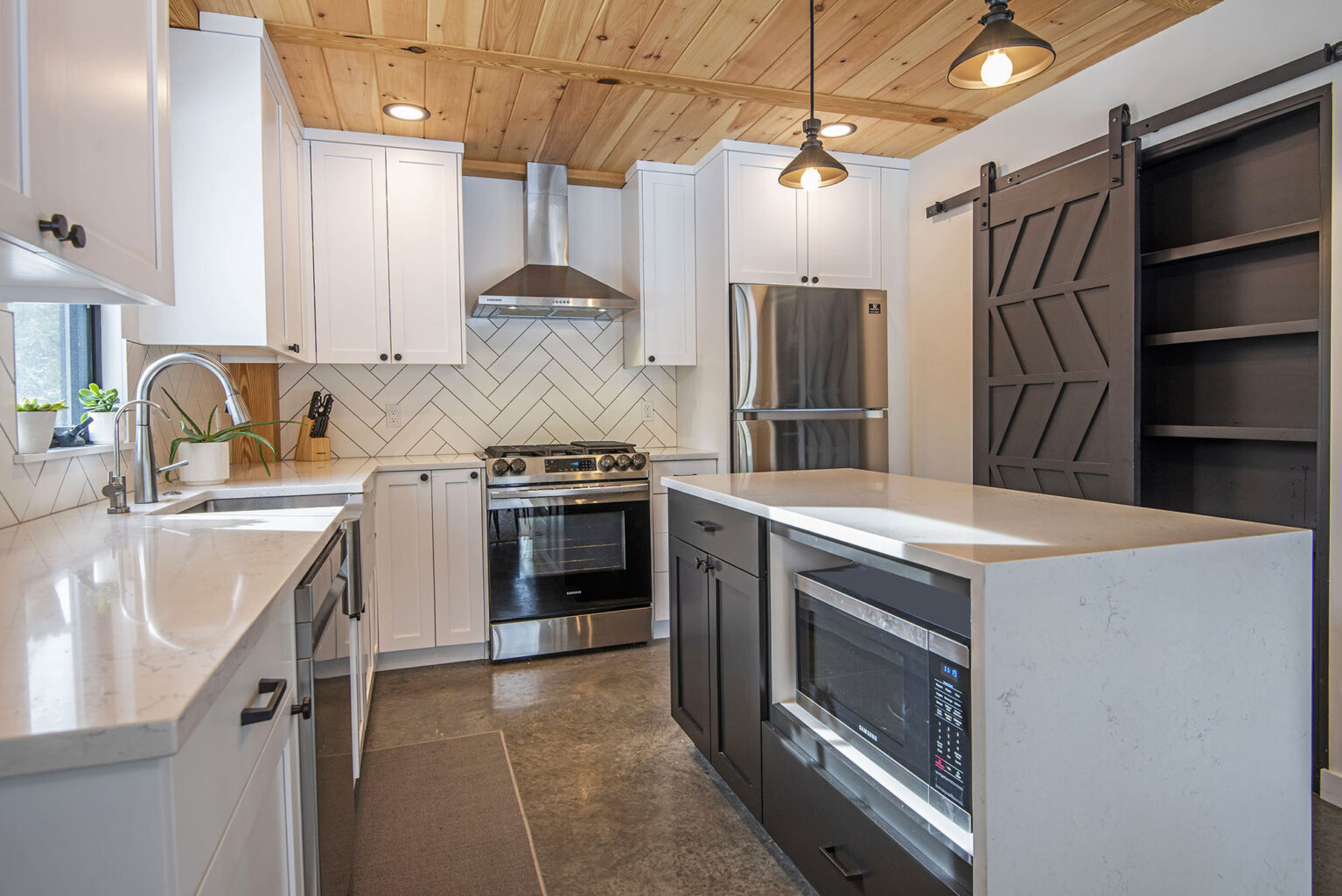 5. Indulgent Details
Incredible kitchens are often defined in the details. This smaller kitchen uses sleek, seamless waterfall counters and an updated barn door for a unique look that's undeniably gorgeous. And look up! A properly outfitted ceiling adds sumptuous luxury to any design. Enjoy this fresh take on a coffered ceiling that's paired with fluted glass cabinets for a look that's equal parts cozy and contemporary. Love lots of exposed wood? Here's a timbered coffered ceiling that pairs with a stone island to bring classic timber frame elements together in your kitchen.
6. Luxury Products
The right kitchen products bring ease and refinement to your daily routine. Timber frame homes tend to feature captivating views. We use high-quality, expansive windows from Renewal by Andersen® to keep you connected to the breathtaking scenery while ensuring maximum energy efficiency. 
Smart home appliances can adjust the lighting and temperatures to keep your kitchen comfortable. You may even want to consider a heated floor for toasty feet on chilly winter days. 
For appliances, high-end refrigerators like Sub-Zero can be paneled to match your cabinets and décor. Bertazzoni, Wolf, or Viking deliver chef-level precision with clean, energy-efficient induction cooktops or go with a gas version for a more conventional feel and experience. 
Finally, your materials selection in countertops and flooring go a long way in making for a beautiful, low-maintenance kitchen or one that pulls out all the stops for a grand showpiece.
Ready to Cook Up Your Dream Kitchen?
If the ideas above have you hungry for more, be sure to check out our gallery. Let's talk! Contact us for a more detailed conversation.