With Log & Timber Home Living magazine on newsstands, a Log and Timber University online course, and with many companies in this industry offering both timber frame and log building systems, it's easy to understand how consumers could conflate the two.
With a full log home, what you see on the outside is what you see on the inside. These homes are made by stacking logs horizontally to form the interior and exterior walls. Logs can be milled or handcrafted into specific profiles and corner styles.
Timber frame homes, in contrast, use vertical posts and horizontal beams connected with centuries-old mortice and tenon joinery to form the interlocking frame of the home, carrying the entire weight of the home, and eliminating the need for interior load-bearing walls. This form of construction also creates open living spaces that delight homebuyers.
Woodhouse's building system uses polyurethane structural insulated panels (SIPs) to enclose the timber frame, a specially designed closed-cell foam that offers several crucial advantages. These advantages include superior strength, unparalleled thermal performance, and a Class 1 fire-resistance rating—the highest rating in building materials.
"The Woodhouse building system offers clear advantages over log cabin kit construction," Craig Johnson, Woodhouse VP of sales and marketing says.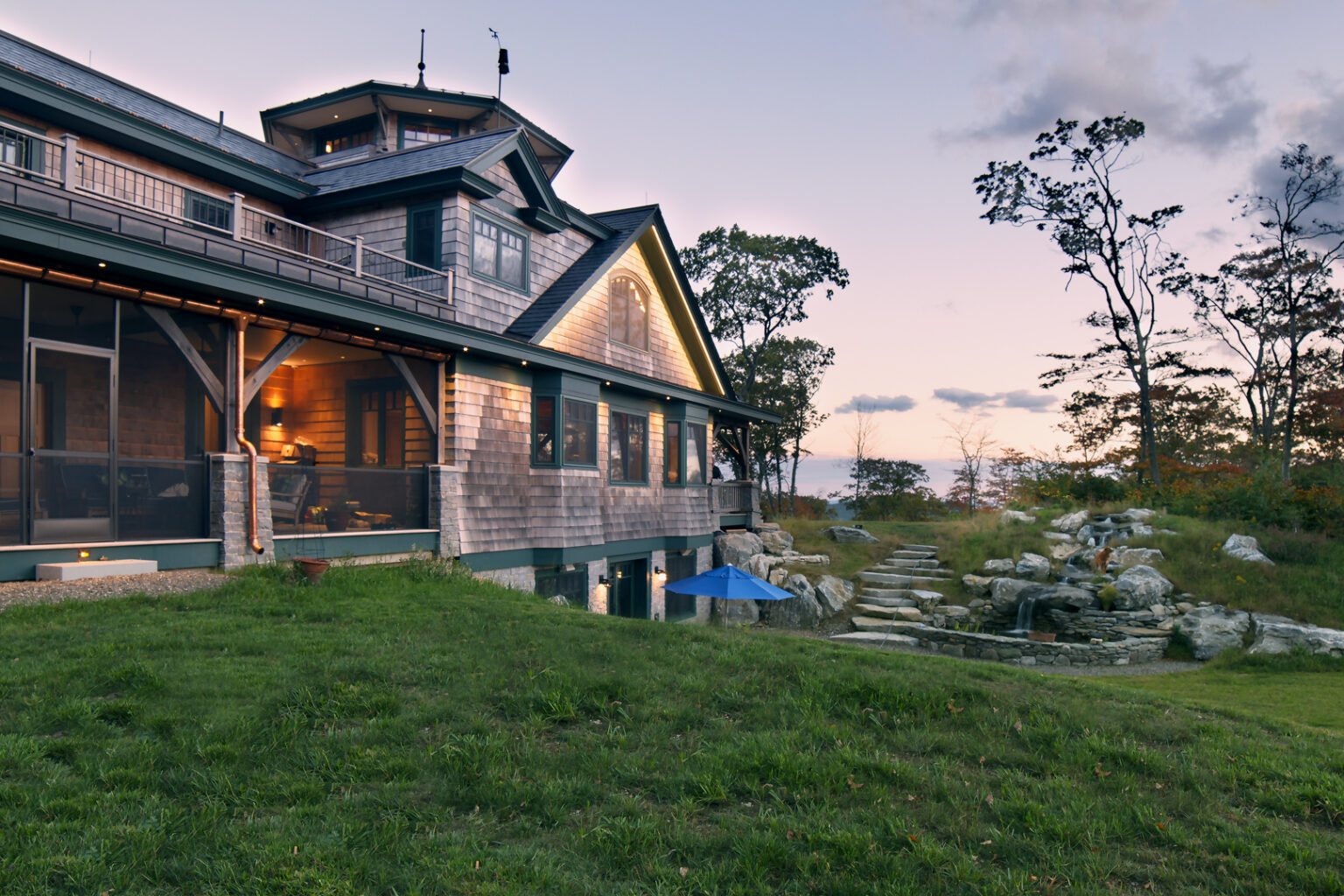 Unlimited Design Options
By using SIPs to enclose the timber frame, the Woodhouse building system offers the most energy-efficient structures on the market. Interior mechanical air-to-air exchangers keep indoor air quality pristine without sacrificing comfort or energy performance.
In contrast to a log home, interior and exterior finishing materials can run the gamut, from contemporary to rustic. "It gives our clients a lot more flexibility in terms of how their home will look and feel," Johnson says.
Faster Construction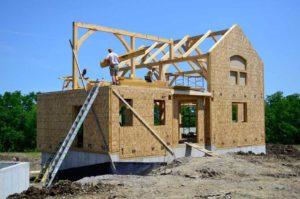 The SIPs Woodhouse specifies have a tongue-in-groove edge molded into each panel, assuring a quick, proper alignment of panel-to-panel connections. The SIPs are connected by a system that saves up to 30% on installation time over other SIPs on the market. This saves on construction time as well as on interest on financing of the construction loan for the homeowner.
No Settlement Issues Need Apply
After harvesting and fabrication, wood shrinks horizontally across the grain rather than vertically along the grain. Using logs as a building material requires a host of strategies to accommodate the loss of height in the log walls, as each course of logs shrinks across the grain. This compression or settlement, from the weight of the walls and the drying of the timber, is inexorable. Some large diameter handcrafted log structures can shrink up to 10 inches in height.
Less Maintenance With Timber Framing
All this movement in log walls translates into more maintenance and having to use products specifically developed for the log building to accommodate this movement. Cracks between log courses can develop and if not routinely repaired, this will lead to moisture penetration, rot, and insect infestation.
Preventing this requires periodic staining and sealing (specialized caulking and chinking) to protect the logs from Mother Nature. Depending on the stain used, the positioning of the home on the building site, its relationship to the path of the sun, and the home's design, this maintenance can be needed every few years or every year. South-facing walls, for example, can require sanding and re-staining every year.
"We had one recent client who came to us for a new timber frame home after owning a log home. He got tired of spending $12,000 on maintenance every two years on his log home," Johnson recalls.
In contrast, your new timber frame home can be sheathed in long-lasting siding materials that will take maintenance chores off your to-do list. In addition to fiber-cement and poly-ash siding products, Johnson notes that there are new acrylic materials that never need painting and come in a variety of colors and styles.
No Appraisal Issues With Timber Frame Homes
During construction, log homes are all too frequently undervalued during the appraisal process, forcing homebuyers to come up with more money to complete construction. This late-in-the-game stumbling block can add stress to what already is an unsettling situation.
Timber frame homes, in contrast, typically enjoy a smooth appraisal process, being compared to other custom home construction, with an emphasis on upscale fixtures, features, amenities, and superior craftsmanship, Johnson says.
Superior Resale & Appreciation with Timber Frame
Since its inception in 1979, clients of Woodhouse report that resale values and appreciation of their timber frame homes commonly out-perform their conventionally built neighbors. "Happily, this is a familiar refrain, especially from clients that have built more than one home with us," Johnson says.
Designs That Can Scratch That Cabin Itch
Woodhouse's extensive catalog of floor plans features dozens that will help you realize the dream of cabin living. Woodhouse's best-selling cabin designs include:
GlenOak: A classic design in the Timber Frame Craftsman Home Series, the GlenOak offers 2,544 square feet, three bedrooms, and 2.5 baths. This modern home adheres to the form follows function philosophy.
PoplarPeak: An innovative design in Woodhouse's Cabin Home Series, the PoplarPeak offers 1,795 square feet, one-bedroom, 2 baths, and optional two additional bedrooms in the loft. The main level features a large great room, open dining, kitchen, master bedroom with en suite bath, a private porch, a study, and a powder room.
PineRidge: If you love the style of a log cabin, but don't want the hassle of maintaining one, then the PineRidge is the timber frame home for you. With 1,309 square feet, this design places the master suite on the first floor and an open loft on the second.
Reach Out To Woodhouse To Get Started
If you're ready to start living your best cabin life, then reach out to the team at Woodhouse to get started. You can use our contact form or simply give us a call to contact one of our regional project managers.