Check in to our complimentary guest suite to immerse yourself in the comfort and wonder of a true timber frame.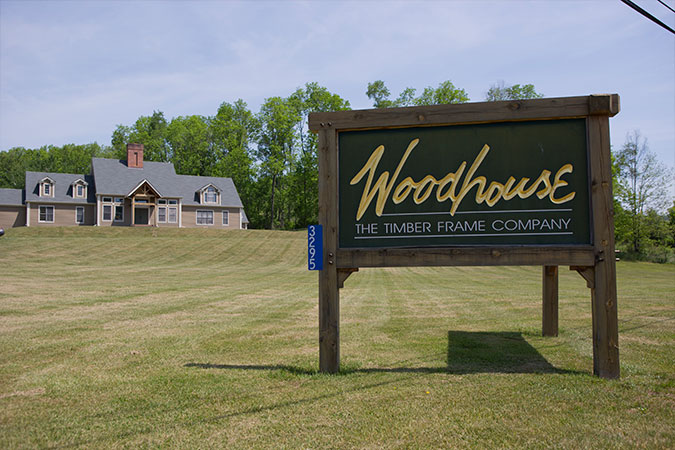 A Woodhouse timber frame home is more than a construction system, it's an experience. We invite you to immerse yourself in the craftsmanship, beauty, and hospitality inherent to our timber frame homes as guests on our Woodhouse campus. Prospective and current Woodhouse clients can visit our headquarters in Mansfield, Pennsylvania and book a stay for a memorable and educational timber frame getaway.
Be Our Guest
Not only is your stay at our campus complimentary, but those who elect for the delivery of a Woodhouse building system will be completely reimbursed for their travel costs. We feel it's valuable to meet who you'll be interacting with, face-to-face. We're proud of our culture, desire to help, and hospitality. All this, plus the knowledge of our long, tenured employees goes into every Woodhouse timber frame and we're eager to share it with you.
Where You'll Stay
Located in "the wilds of Pennsylvania," Mansfield is just south of New York's spectacular Finger Lakes region. Our headquarters consist of seven buildings, five of which are timber frame structures. One of these is our guest suite, whose origins are rooted, literally, in the 1850s with a rugged stone root cellar in the back. We crafted a custom Woodhouse timber frame to incorporate this cellar. Visitors love this cozy, creative space where stone walls complement strong, elegant timbers; the result is a rich, earthy design where texture takes center stage.
"It's a really cool little artsy building," says Pat Seaman, president of Woodhouse. "Guests walk into a slate floor anteroom. Ahead is the authentic 1850s door to the root cellar. You walk into that room and see the timber frame and stone walls. It's completely unique and a wonderful place to spend time and relax.
Timber Frame Itinerary, Woodhouse Style
Typically, guests drive in on Sunday afternoon before spending Monday touring the campus and other timber frame houses in the area. Most people spend one night, but you're more than welcome to spend more.
After your arrival we'll greet you, provide a map of the campus, and direct you to the guest suite. In addition to the guest suite, there are four other timber frame buildings — the administration office, design studio, joinery shop, and a beautiful old barn that came with the property that we use to store inventory. To help you settle into the guest suite, you'll find a welcome package that gives you all the details you'll need (e.g. the Wi-Fi password and directions to restaurants for dinner). The guest suite has a full kitchen, and you are welcomed to cook.
After a restful night of sleep, you can eat breakfast in your suite. We keep the kitchen stocked with breakfast foods for your comfort and convenience. At around 9 a.m. the campus tour begins. This portion of the tour includes the administrative offices, joinery shop, and design studio. In addition to learning about timber frame elements, our design process, and the Woodhouse building system, which is prized for its efficiency, you will be immersed in different styles and types of timber frame designs. This portion of the tour usually goes from about 9 a.m. to 11:30 a.m.
Timber Frame Treat
After the campus tour, you are invited to follow Pat to Trumansburg, New York, about an hour's drive away. The Finger Lakes are a prized region for winemaking and Pat has a one-acre winery where he makes Riesling and cabernet franc. Not only is it a charming locale, but the winery offers another chance to experience a Woodhouse timber frame structure. After the winery, Pat will give you a tour of his house, yet another Woodhouse timber frame but with a very different feel from the winery.
"We want visitors to experience multiple Woodhouse timber frame spaces," Pat says. "Different species of wood, different styles, a different feel."
In the spirit of touring Woodhouse timber frames, Pat will take you over to his dad's house, which is on the shores of Cayuga Lake near the idyllic town of Ithaca, NY.  At this point, you will have toured seven distinct Woodhouse timber frame buildings and may decide you're ready to call it a day. However, the area around Cayuga Lake is filled with Woodhouse homes. If there is anything specific you would like to see, Pat can find a real-life Woodhouse example to show you.
If you want to stay in Ithaca after touring Woodhouse timber frame homes, Pat recommends booking a stay at The Inn at Taughannok Falls.
Best Time to Visit?
When you book a stay at Woodhouse, consider turning it into a Finger Lakes vacation. Every season has its charms.
Winter: This is a good time to kick timber frame home plans and research into high gear so you're ready to go in the spring or summer. Extend your stay and get into the seasonal spirit with a visit to Dickens Christmas and the Victorian Village in Wellsboro, PA. Winter is also perfect for getting cozy and enjoying one of Ithaca's more than 50 restaurants tucked in along its downtown pedestrian mall.
Spring: Spring is maple sugaring season in the Northeast. Many nature centers, including Cayuga Nature Center have maple festivals and sugar shacks where syrup is made. Spring is a nice time to visit the impressive Corning Museum of Glass.
Summer: Consider renting a cottage on one of the Finger Lakes to enjoy the lake life. With so much open space, just grab your bike or hiking shoes and spend time on the hundreds of miles of trails crisscrossing through creeks, glens, forests and vineyards. When you get tired of walking, other trails await. Try one of the craft beverage trails, cheese trails, or wine trails.
Autumn: Between the changing colors and temperatures, there is a certain excitement that is felt during fall. Pennsylvania and New York have their own "Grand Canyons of the East," Pine Creek Gorge and Letchworth State Park, respectively. Autumn is the season for vintage auto racing at Watkins Glen Speedway.
Book a Visit!
Our doors are open and the welcome mat is out. Contact us and book your visit with Woodhouse for the full timber frame experience.