Imagine waking up in a historic timber frame house and drinking coffee on the deck. The smell of fresh wood is in the air and you can hear timbers being cut in the distance. This could be a glorious way to start your day and the perfect base camp for designing your own timber frame home plan.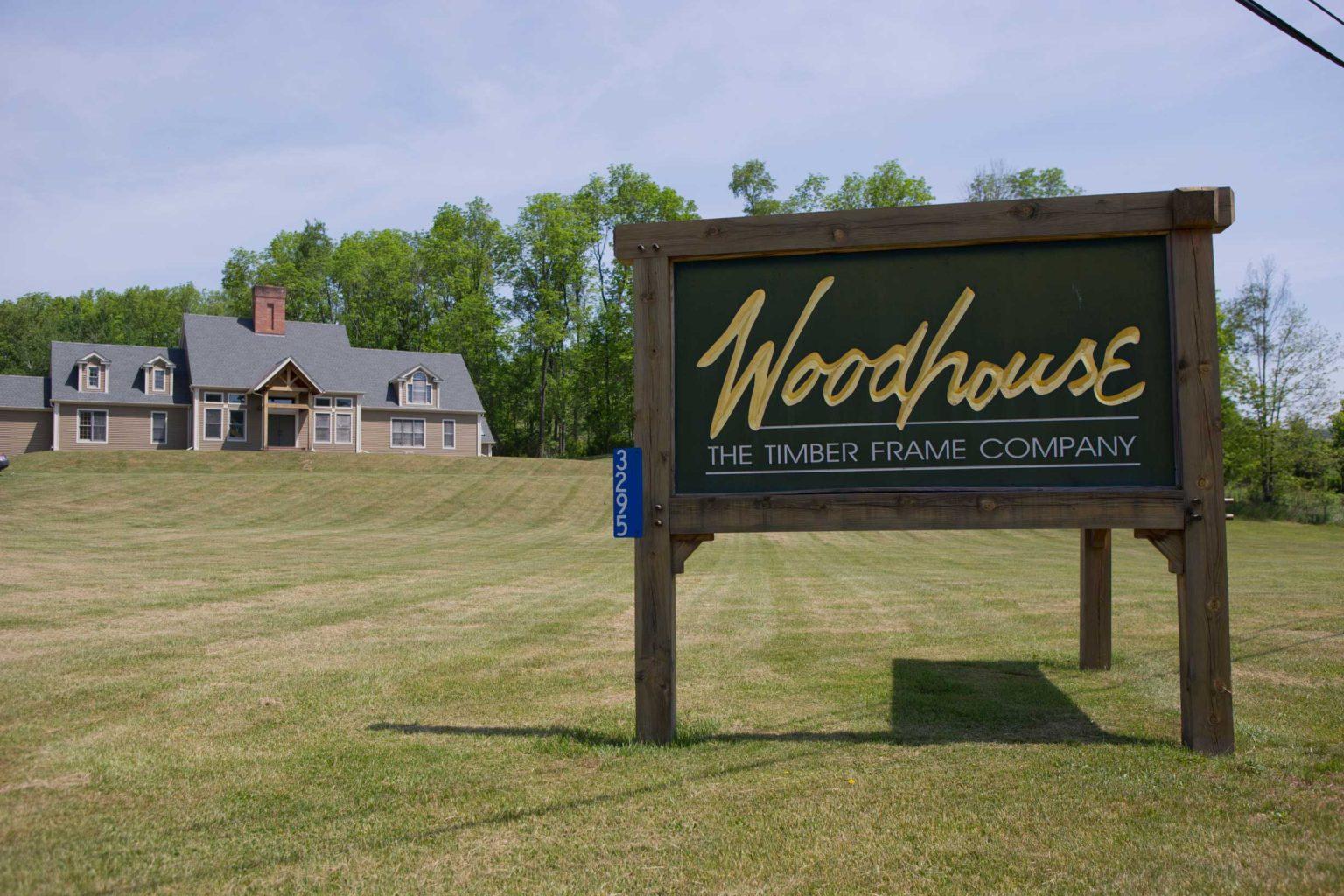 Making a dream come true is a big deal. We get that. You need to have the vision, the will, and the right partners to make it happen. You'll know when you are ready, but how do you know if you're working with the right folks? You'll know through a solid understanding of the timber frame construction process gained by watching experts practice their craft firsthand.
Woodhouse – The Timber Frame Company is unique in our willingness to pull back the curtain and invite current and potential customers to see how we take dreams and build them into real homes.
For access to the behinds-the-scene magic, come visit Woodhouse! We would love to meet and show you our Mansfield, PA headquarters. You'll also have the opportunity to chat with our experts and describe your ideal timber frame floor plan.
Otto Von Bismarck famously said, "Laws are like sausages, it is better to not see them being made." But here at Woodhouse, we think it's just the opposite. We want you to fully experience the process so that you leave not only with a better understanding of how your home will come to life, but hopefully also with some new ideas!  Let's face it: the better informed you are, the bigger you can dream for your Woodhouse timber frame home. Our customers agree: "Being able to be immersed in the process has helped us to better understand how a house will all come together," said a recent visitor to our Woodhouse campus.
Our Guest Suite
A visit to the Woodhouse campus involves more than just walking and talking. We firmly believe the best way to immerse yourself in the experience is with an overnight stay at our Woodhouse Guest Suite. A cozy night in our suite will give you a sense of what living in a timber frame is all about. Remember what you like and take note of what you'd want to do differently.
Our Woodhouse guest suite is conveniently situated right on the Woodhouse campus. This 150-year-old renovated building has a fascinating history. Originally built as a root cellar, it was then converted into a personal pottery studio by the first Woodhouse owner, Steve Keller. Nearly two decades ago, Woodhouse built the guest suite as we know it today by building a small timber frame on top of the existing foundation.
A creative person by nature, Steve used this place to unwind. When Woodhouse took it over, we used it as our design studio. As things got busier and the design studio outgrew the building, we knew it would be perfect as a guest house for clients when visiting the Woodhouse campus. You can feel the sense of history and coziness that Steve originally created from the moment you open those barn doors.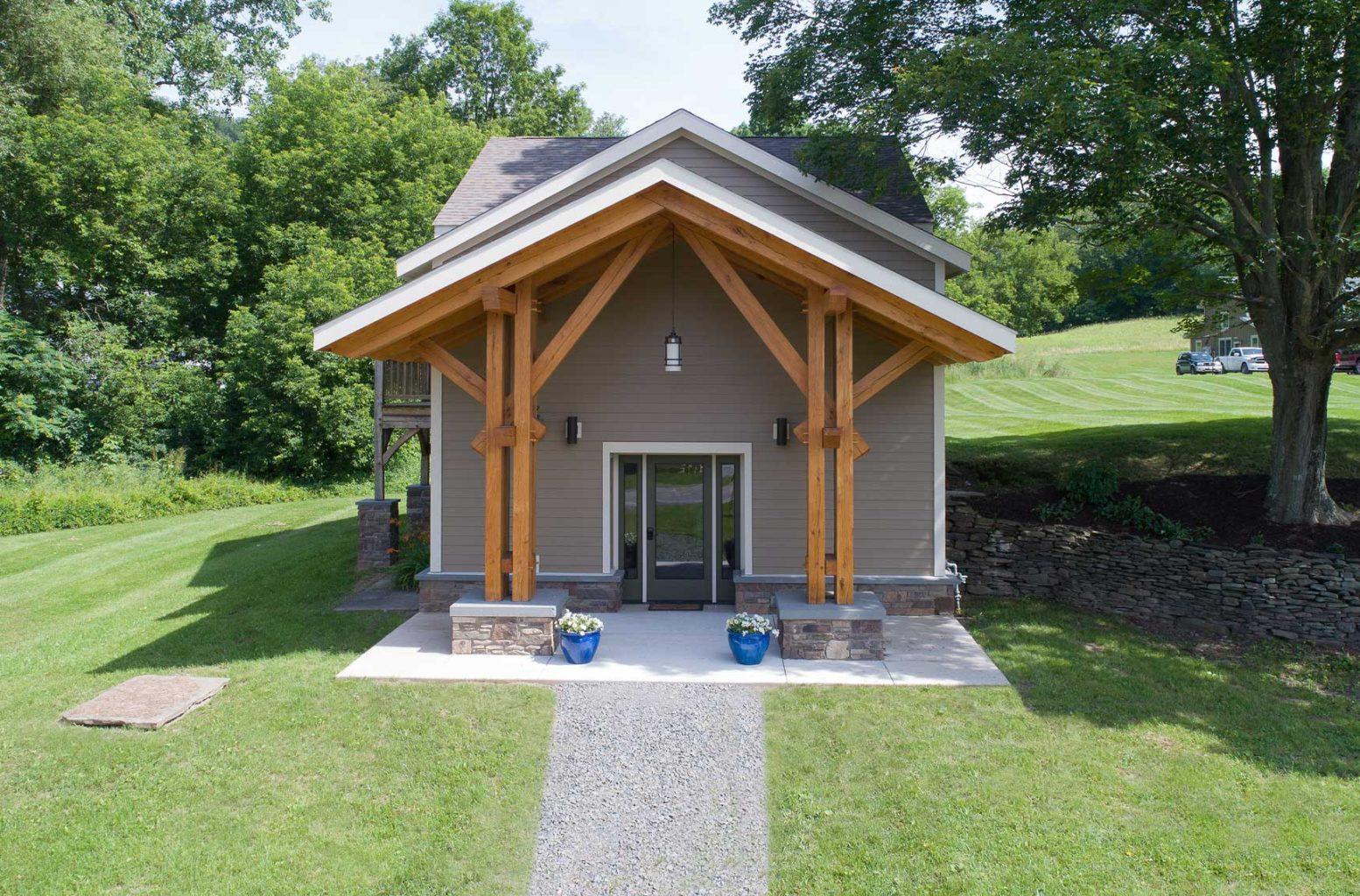 The Woodhouse guest suite comes fully furnished and includes cable, internet, and a fully-equipped kitchen. In the morning enjoy a leisurely coffee on the back deck and, what we think is the best part, free breakfast! We provide OJ, milk, bagels, eggs, and bacon. "Having people care enough to provide food for us, give us the grand tour and give us a special place to stay made our decision easy," said another recent guest.
View more photos of the guest suite and get a 3D Virtual Reality tour here.
Woodhouse – A Timber Frame Company Campus Tour
Nestled in the wilds of Pennsylvania, we'll start our campus tour by inspecting a model home. This gives us the opportunity to review the different wood species and joinery techniques that could be used in your Woodhouse timber frame home.
While our teams enjoy the show-and-tell, what they really love is discussing your own plans and ideas. You will have the chance to meet with our architects, designers, and craftspeople. You have the ideas and they have the experience. We combine the two and come up with the solutions that are right for you. Ultimately, our design team's goals are the same as yours – to make your ideas come to life. Learn about our custom design process here.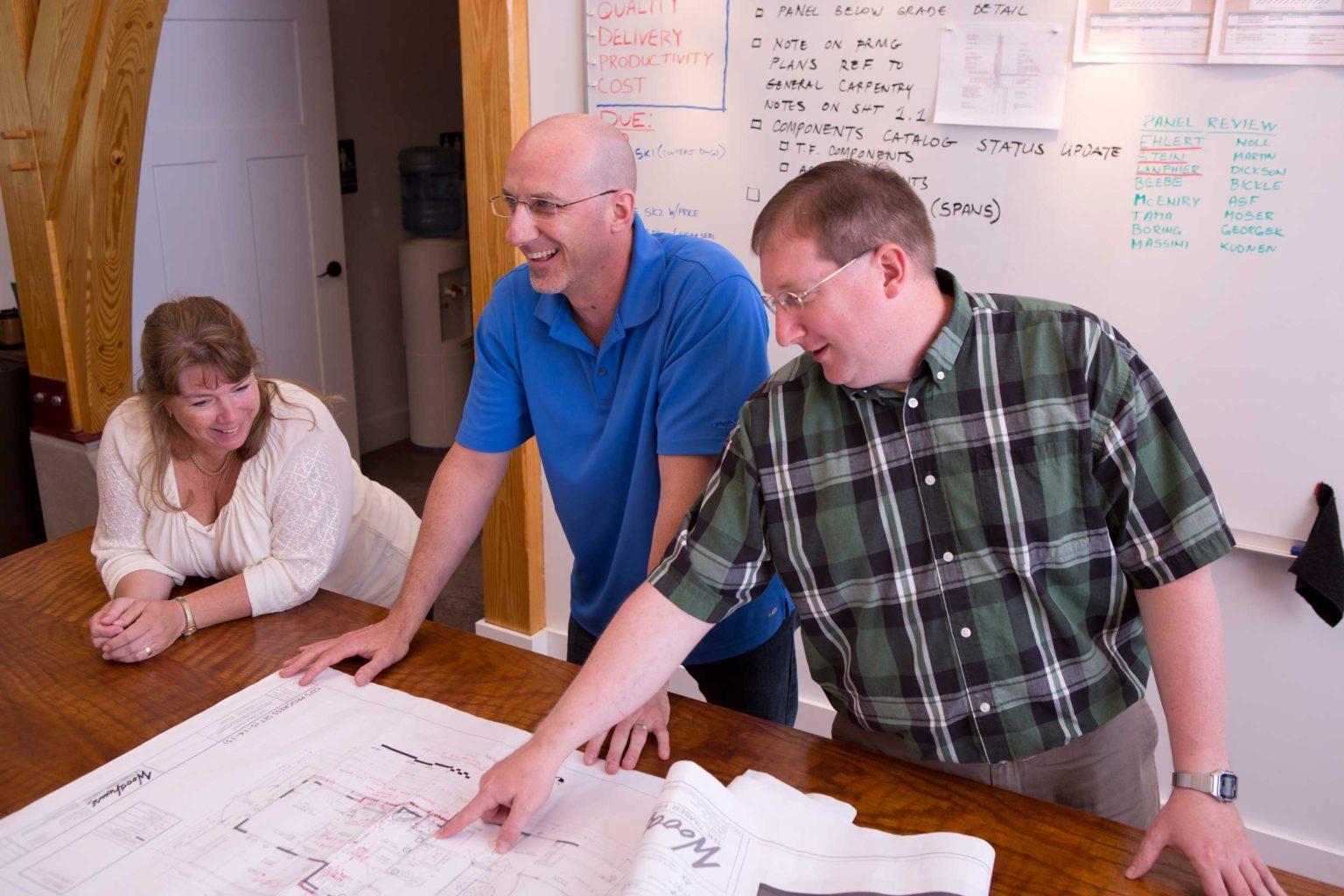 The next stop of the tour is our woodshop where you'll see timbers being cut and assembled by our team of dedicated craftspeople. These are real timber frame kits being shipped to homeowners across the country.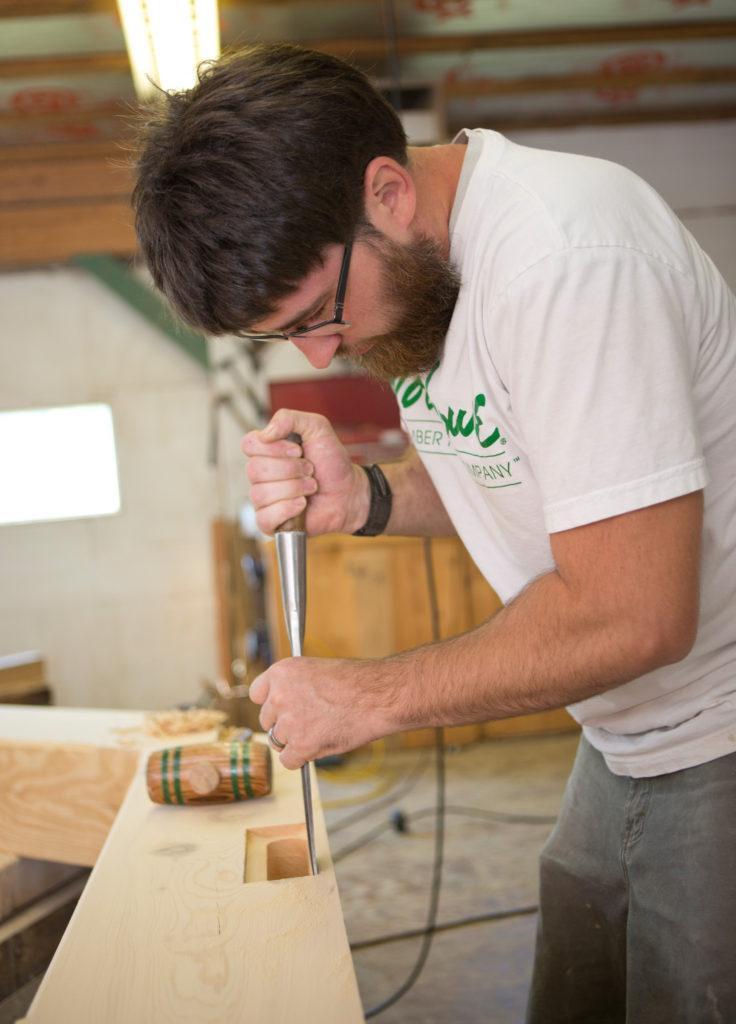 Depending on the time of your visit, you may be able to visit some of the finished Woodhouse timber frame homes in the surrounding area with Woodhouse's CEO, Patrick Seaman. You'll explore two to three homes in different landscapes; timber frame cabins in the woods, lakeside projects, or nearby New York timber frame homes in the Finger Lakes region. This may include non-residential timber frame structures such as breweries and wineries.
If you are interested in visiting these beloved homes, contact us now to set up an appointment.
Let Your Mind (and Feet) Wander
We're located in a gorgeous part of the country, which we encourage you to visit and enjoy during your stay. Plus, you might find some added inspiration from the natural surroundings!
Nature lovers will want to spend time in the Pennsylvania Grand Canyon. This hidden gem is a fantastic place for hiking, walking, or kayaking. The Rail Trail, a converted railroad bed, is one the most popular spots for hiking and biking. For those who like a good vista, Colton Point (on the west) and Leonard Harrison (on the east) each offer spectacular views.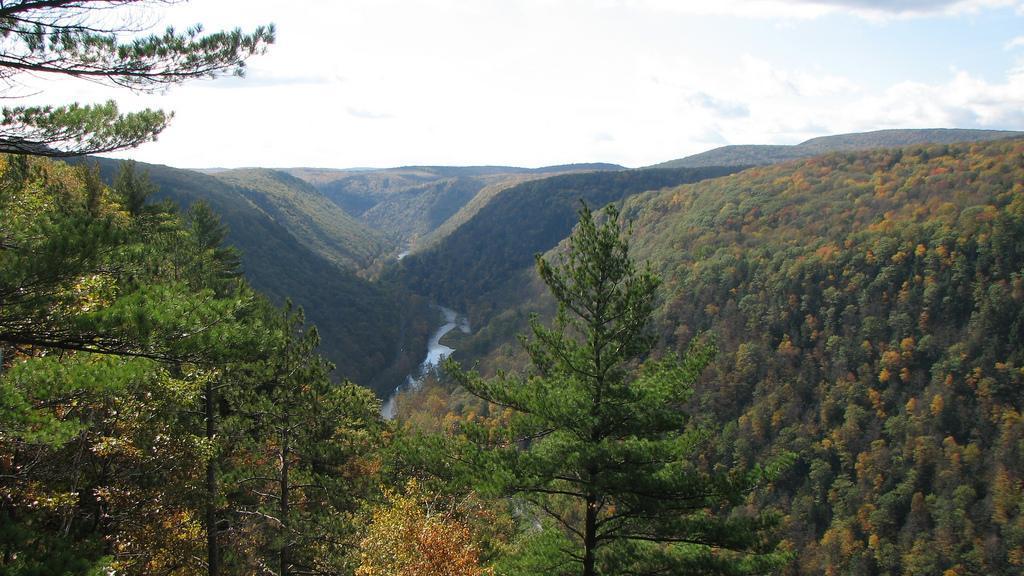 Mansfield, PA is located less than 60 miles south of New York wine country. The Finger Lakes region boasts top-notch wineries, craft breweries, distilleries, and even cideries. Discover a new favorite beverage and bring a bottle back to enjoy in our guest suite. Pop the top and make a toast to your home dreams coming true.
C'mon Out and See Us
A stay at the Woodhouse campus is a great way to combine business with pleasure. Oh, and be sure to ask about our travel expense reimbursement program. Remember to take lots of photos and share them with us on Instagram and Facebook.
To learn more about Woodhouse projects in your region, visit our Where We Build page.
Contact us and book your stay at the Woodhouse Guest Suite today! Availability in the guest suite fills up quickly and we want to ensure that you get to book a time that is convenient for you. We look forward to seeing you soon.