The RockyRidge is a big sibling of the RockyView, expanding the footprint of the home with one more floor and an extra bedroom and bathrooms, totaling 3 bedrooms and 3.5 bathrooms in an efficient 1866 sq ft package. Centered around massive floor-to-ceiling windows that span all three levels, this design offers abundant natural light and easy access to scenic mountain views outside. Whether you are gathering downstairs in the great room to enjoy a warm meal after a day on the slopes or cozied up in bed reading a book, access to panoramic views are always within easy reach. If the outdoors calls with a beautiful day, step out onto the massive wrap-around deck to enjoy nature in all its glory.
Mountain Modern
Departing from traditional timber frame mountain homes, the Mountain Modern series uses the single-slope rooflines and floor-to-ceiling windows common in modern architecture to create designs that can take full advantage of the panoramic views available in the mountains. Another prominent feature taken from modern architecture are the expansive open-design great rooms, which allow the home's key functions to flow into each other and make gatherings easy. 
1st Floor
Cov'd Deck – 12′-0″ X 19′-5″
Deck – 40′-0″ X 11′-11″
Dining – 9′-4″ X 9′-10″
Entry – 4′-6″ X 9′-45
Kit. – 13′-3″ X 13′-3″
Living Area – 13′-3″ X 11′-10″
PDR. – 7′-11″ X 3′-1″
Porch – 20′-6″ X 6′-2″
2nd Floor
Primary Bed – 13′-3″ X 13′-10″
Primary Bath – 13′-4″ X 4′-11″
Loft – 13′-4″ X 10′-2″
Bed 2 – 13′-4″ X 4′-11″
Bath 2 – 13′-4″ X 12′-8″
3rd Floor
Bed 3 – 13′-4″ X 6′-0″
Bath 3 – 13′-4″ X 12′-8″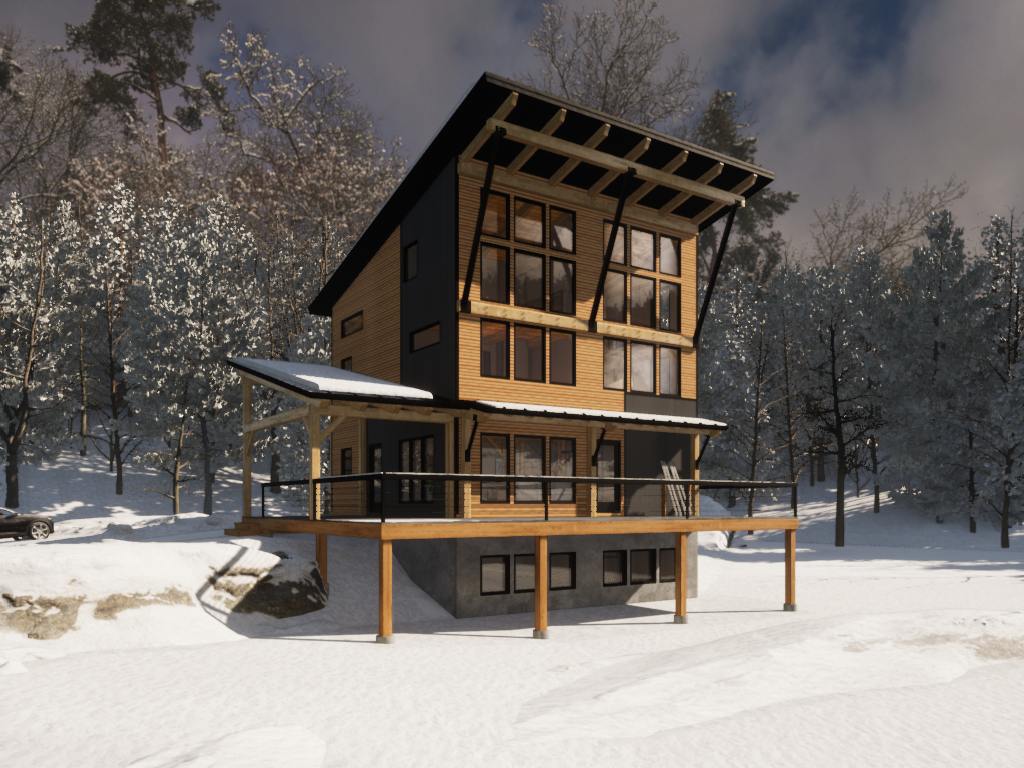 Other Mountain Modern Homes
Dream Home Budget Calculator
What does a timber frame home cost in your area? Answer 20 simple questions and we'll help you figure out your budget.