Our new Woodhouse Cottage Series is our take on timber frame hybrid homes. The home plans in this series are cozy and inviting, featuring central fireplaces and large porches for you to gather around with your loved ones. You can blend a variety of exterior materials in all of the homes of the Cottage Series to allow for endless combinations and personalization, depending on your tastes and geographic location.
Hybrid homes allow us to do more with less material, maximizing the efficiency of the timber frame. The most impressive interior exposed beams are concentrated in the most visible and public living spaces, such as the living room, dining room, and kitchen. In private spaces such as bedrooms and bathrooms, structural insulated panels (SIPs) are used in place of timber beams to reduce material costs. Curious about hybrid homes? Learn about them here.
Now, let's explore the 4 members of the Cottage Series:
The Wedowee
The Wedowee is a 1,632 square-foot ranch home with 2 bedrooms and 2 bathrooms that features a central fireplace as the "heart" of the home. The exposed timbers, quaint rooms, and double-hung windows give the cottage a cozy feel. This single-story plan is ideal for retirees or a growing family, with two master suites located on the ground floor and an optional lower level addition for more bedrooms, mechanicals or storage if your land permits it.
The Saginaw
The Saginaw makes a nice retreat after a long day of skiing, snowshoeing, kayaking or canoeing. It embraces outdoor living with its combined covered porch and wraparound deck, extending your viewing experience. This 1,315 square-foot home with 1 bedroom and 1 bathroom is another great option a retirement home, as it has an open plan with the master suite on the first floor, a loft, and an optional basement with additional bedrooms, or a family room.
The Lanier
The 1,727-square-foot Lanier Cottage is a fan favorite, as it combines all the great features of a quaint country cottage, but with a modern twist. With 3 bedrooms and 2 bathrooms, this home gives you plenty of room to entertain your growing family. But what makes this cottage so special is the sprawling porch – add a few rocking chairs, your favorite beverage, and get ready to enjoy all that nature has to offer.
The CastleRock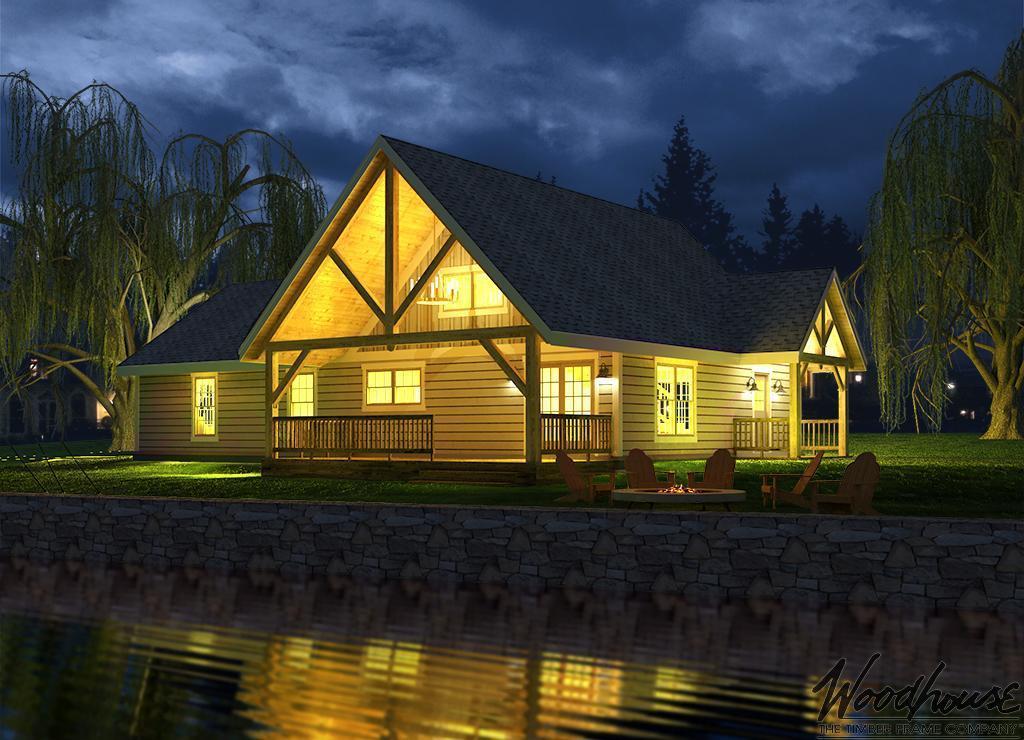 The CastleRock is a cottage that can accommodate an active family while still maintaining a relaxed elegance. This 1,667-square-foot cottage has all 3 bedrooms on the main floor, a sleeping loft, and an optional basement level, which makes it a great home for retirement. Open that bottle of wine from your favorite vineyard, sit back and enjoy the sunset while the fire crackles.
Most Woodhouse homes are customized based on the vision and needs of the homeowner. If you are inspired by the homes of the Cottage Series, the Woodhouse design team will work with you to incorporate all your personal modifications. Contact us to learn more.