Defining a Woodhouse Timber Framed Hybrid Home
Timber frame hybrid homes combine the best load carrying capabilities of a standard timber frame with the uniquely strong insulating qualities of Structural Insulated Panels (SIPs). A Woodhouse timber frame hybrid uses timber framing in select areas of the home, with the addition of SIPs to define the building envelope, or the exterior surface area of a home, including the roof and wall areas. The end result is a SIP home with fewer timbers. For example, while you may have a classic timber frame great room, the rest of the home will be designed with only the necessary timbers to carry the rest of the building loads.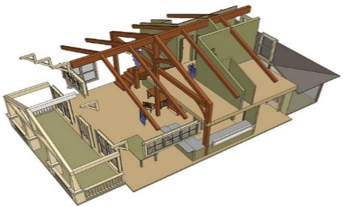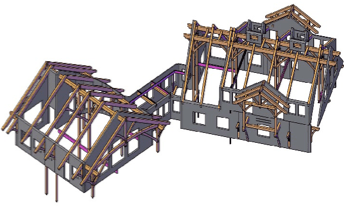 Why We Use Structural Insulated Panels (SIPs) in Hybrid Homes
SIPs are an innovative technology that provides both structural and environmental benefits. Each composite panel is comprised of components that are stronger than a conventionally built 2 x 4 stud wall or roof. In addition to their superior support strength, they are extremely energy efficient and do a superior job of keeping us warm and cool within our homes.
It would be a mistake to think that SIPs are simply a "curtain wall", or a non-structural enclosure system that leaves the timber frames to do all the structural heavy lifting. Nothing could be farther from the truth. SIPs also support windows and doors without becoming deformed or damaged under pressure, resist strong winds without deflection or infiltration, and carry substantial loads including kitchen cabinets, wainscoting, and veneers made of stone, brick, or masonry.
Another oft-overlooked characteristic of SIPs is their ability to support timbers such as rafters, beams, and floor joists. By using SIPs as support in a timber frame hybrid, we reduce the quantity of timbers used and construction "duplication". This makes for a much less complicated and ultimately, a more efficient building system.
Using Less Timbers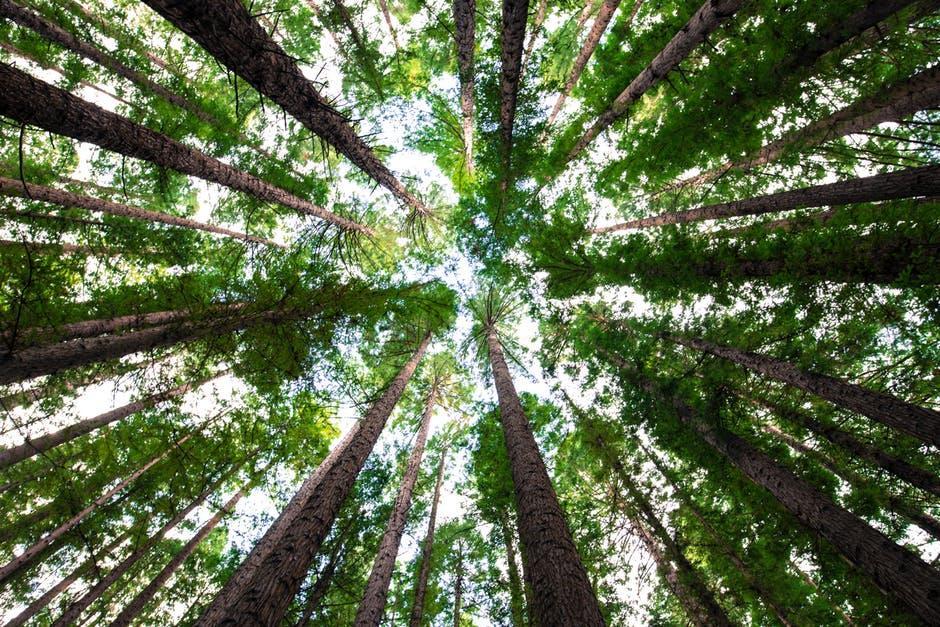 Both timber frames and SIPs are extremely sustainable building systems; they are easily recycled and efficiently utilize one of earth's natural renewable resources – trees. Fast-growing crop wood such as aspen, poplar, pine, and birch are regularly planted and harvested to produce the OSB (oriented strand board) for the "skins" of the SIPs.
A Woodhouse timber frame hybrid enhances the value of timber framing and SIPs by integrating them into a well-balanced building without sacrificing our priorities of beautiful design, clean structure, budget and sustainability. The resulting combination of these two superior building systems is stronger than the sum of its parts; this is a symbiotic building marriage expanding the qualities of each.
In all actuality, the amount of timbers required to carry the building loads of a timber frame home are significantly less than what one would expect. The additional timbers, and eventually costs, of a traditional timber frame are mostly due to the aesthetic justifications of home owners. The hybrid home limits the timber frames to a much smaller area of our homes, putting the timber frame building systems in the focal point of our family and activities, and ultimately using less timber. The trade-off is keeping some of the traditional and natural look of timber framing, while designing the home to be more cost effective.
Benefits of Hybrid Homes
One of the main reasons people choose to build a timber frame hybrid home is that it uses less lumber, and therefore costs less to build. But, there are many additional benefits to choosing a timber frame hybrid building system:
Lower construction costs
Embodiment of the KISS principle – "keep it simple, stupid"
Flexibility of design and finish materials
Improved material resource management and sustainability
Ease of construction
Shorter fabrication time
Reduced on-site construction time and equipment needed
Reduced on-site construction skilled laborers required
Superior energy efficiency
Fewer HVAC equipment systems
Improved costs of ownership and immediate positive cash flow
Increased sustainability
What a Woodhouse Timber Framed Hybrid is NOT
The definition of a timber frame hybrid home varies from company to company. Other companies define a timber frame hybrid home as one built with conventional post and beam timber frame construction in only key elements of the home. We do not use any conventional framing in our hybrids, as we only use SIPs in our home plans. Here is a list of what other things a Woodhouse timber frame hybrid is NOT:
A timber frame enclosed with conventional 2×4 framed walls and roof. Woodhouse Hybrid homes only uses SIPs.
A timber frame partially enclosed with a combination of SIPs and conventional 2×4 walls and roof.
A timber frame enclosed with unconventional panelized systems.
A SIP structure with a few timber embellishments.
An ICF structure with a few timber embellishments and an SIP roof.
A log structure with conventional 2×4 walls and roof, covered inside with T&G paneling and exterior walls with half logs. Many log companies must provide this to meet IBC building codes.
A log structure with a combination of conventional 2×4, timber frame, and SIPs included.
A conventional 2×4 structure with a timber framed room or space and roof SIPs over that timbered space and the rest is conventional 2×4 construction
A less expensive building. If the sole purpose of designing a timber framed hybrid is to save money, you have lost before you even started.
A Woodhouse timber frame hybrid home is an excellent option to consider when deciding which building style best suits your needs. They offer the best of both worlds – cost effective and sustainable, while showcasing the strength and aesthetic beauty synonymous with the Woodhouse name. You can use several of our pre-designed homes as a starting point to turn into a more affordable timber frame home. Contact Woodhouse today to learn more about our hybrid homes!