Personal service for personal designs produces incredible custom timber frame homes in the West.
"Building partners" for Woodhouse Regional Project Manager (RPM) Bob Colby is a double-entendre. He spent years working in hardware and lumberyards. Now he uses those connections to expand his network of strong, reliable referrals within the building industry.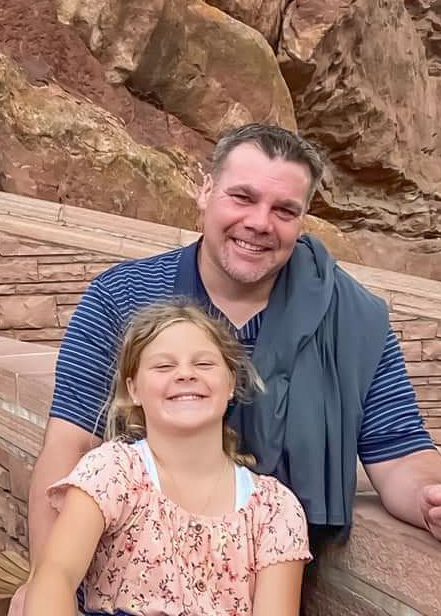 Those referrals help Bob do what he loves most about working with Woodhouse: meeting clients and nurturing relationships. He finds that client relationships with Woodhouse are personal and extend to everyone on our team.
"Everyone at Woodhouse pulls in the same direction," Bob explains. "Even the owner is just a phone call away. I often hear from clients how we just knock it out of the park. Our design team will produce an idea from a rough sketch and clients say, 'This is exactly what I was thinking!'"
Timber Frame Floor Plans
Woodhouse timber frame homes in Montana, Washington, Idaho, and across the entire West typically start from one of our more than 90 timber frame floor plans. We also have 20 stunning home styles so homeowners can find inspiration for anything from a traditional timber frame cabin to modern aesthetics. All our timber frame floor plans can be used as a starting point and then modified for a thoroughly custom design. One of Bob's favorite benefits of working with Woodhouse? Our team's ability to craft a bespoke architectural design from scratch.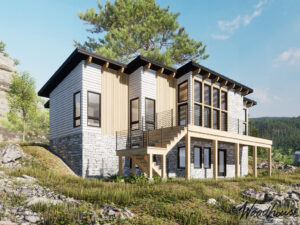 Customized Timber Frame Homes in the West
Timber frame homes in Colorado can be quite varied. For example, one Breckenridge homeowner had space for a 28-foot by 54-foot home on his property.
"The homeowners were blown away when we gave them the first drawing," Bob reports. "They said, 'This is exactly what we envisioned!'"
The homeowner's enthusiasm grew from there. At one point, he asked what the view would be while sitting at the kitchen island. Using our photorealistic, 3D fly-through technology we quickly gave him a custom video tour using the exact Rocky Mountain views he would see from his kitchen. The homeowner also included several luxury components — a garage with a dog wash and racks for eight bikes, a bunk room for the kids, and a guest suite.
Another of Bob's favorites is a timber frame home in Oregon. Attracted to a mix of contemporary and traditional shapes, the clients chose the Ketchum plan because it reminded them of a resort escape.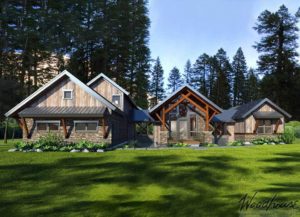 "They're going to do koi ponds and everything," Bob says.
The homeowners loved the freedom to do whatever they wanted, and our design team reworked the entire master suite. Moreover, throughout the design meetings, the clients were traveling to Hawaii. Because our design process accommodates remote meetings and sharing of plans, budgets, and renderings, there were no delays.
"The husband had been a builder for 34 years and he was beyond impressed!" Bob exclaims.
Learn more about our Ketchum timber frame floor plan or create a tailored timber frame custom home from scratch. Contact the Woodhouse RPM in your area for a friendly, transparent, and detailed conversation.