This modified version of the WaterRock takes the sleek modern aesthetic and expands the footprint of the home. The main floor has 3 bedrooms and 2 bathrooms, with designs for an optional walk-out basement featuring another bed and bath, making it perfect for families, with extra room for when guests come to visit.
The patio outside, for enjoying the picturesque mountain views, can be adapted into an elegant double-decked design when a walk-out basement is available. The single-pitch roof has also been lowered to create a more cozy feeling in the great room, where the family and friends can gather to watch snowfall through the floor-to-ceiling windows, next to the woodstove, with a hot cup of cocoa in hand.
Mountain Modern
Departing from traditional timber frame mountain homes, the Mountain Modern series uses the single-slope rooflines and floor-to-ceiling windows common in modern architecture to create designs that can take full advantage of the panoramic views available in the mountains. Another prominent feature taken from modern architecture are the expansive open-design great rooms, which allow the home's key functions to flow into each other and make gatherings easy. 
1st Floor
Bed 2 – 10′-5″ X 11′-11″
Bed 3 – 10′-5″ X 12′-9″
Bath 2 – 10′-6″ X 5′-0″
Deck – 33′-9″ X 12′-0″
Dining – 10′-0″ X 11′-7″
Kit. – 10′-10″ X 17′-4″
Living Area – 11′-3″ X 22′-5″
M. Bath – 10′-7″ X 6′-0″
M. Bed – 10′-5″ X 13′-3″
Porch – 18′-0″ X 4′-0″
W.I.C. – 7′-0″ X 3′-2″
Optional Lower Level
Bed 4 – 10′-3″ X 14′-7″
Bath 3 – 9′-9″ X 9′-4″
L'Dry – 6′-5″ X 9′-3″
Mech – 10′-5″ X 16′-8″
Patio – 33′-9″ X 12′-10″
Rec Room – 21′-6″ X 28′-3″
Stor. – 10′-5″ X 4′-10″
W.I.C. – 9′-9″ X 4′-6″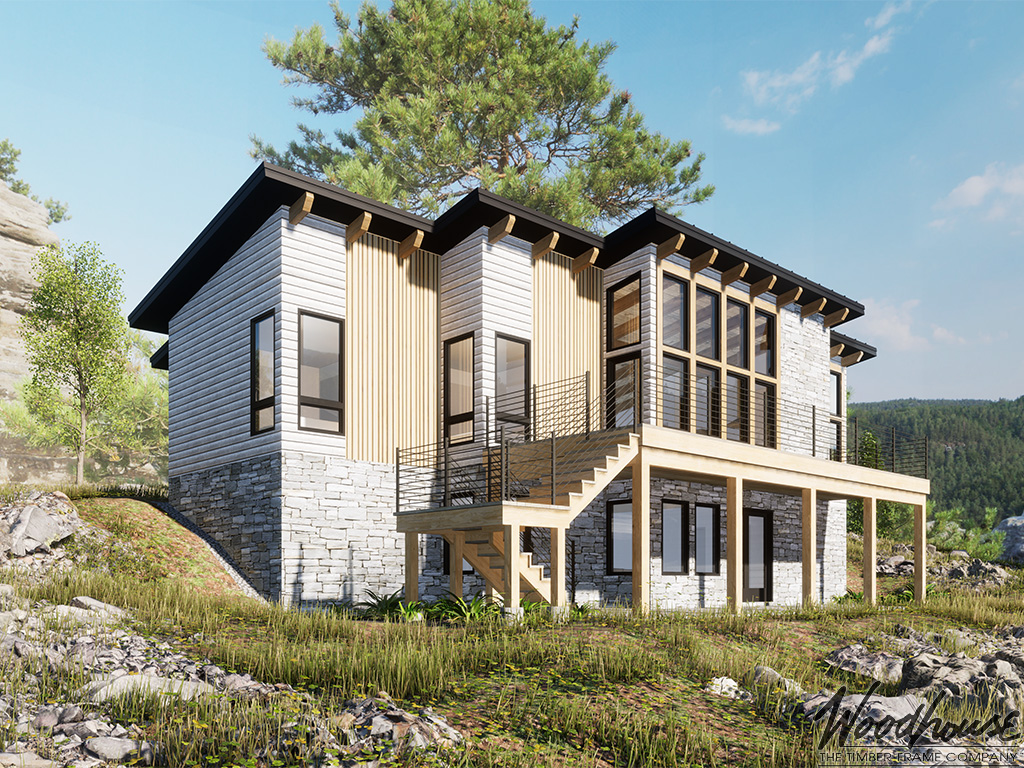 Other Mountain Modern Homes
Dream Home Budget Calculator
What does a timber frame home cost in your area? Answer 20 simple questions and we'll help you figure out your budget.