Get to know the creative powerhouse behind our high-performance design process and celebrated timber frame homes.
Building a home is a significant investment of time, energy, and money. It's true that a timber frame home can provide exactly what you want in a house, but only a timber frame company with an excellent design process can ensure your ideal timber frame plan reaches its full potential. Our design process is intimate and structured to give you peace of mind and complete transparency at every decision point. Meet the people who make that possible.
Diana Allen
Woodhouse Architect
If you find yourself swooning over our timber frame home plans, Diana Allen is responsible. Her proficiencies run deep. Accredited by the National Council of Architectural Registration Boards (NCARB), she is licensed to work in any state. As a result, she brings knowledge and perspective that is broader and stronger than architects who are accredited in only one or two states. Her vast array of timber home designs captures beloved genres from across the country.

Background
An architect for more than 25 years, Diana has designed every type of commercial and residential structure imaginable. The spark for her architectural passion began in a delicious environment. Diana was a pastry chef.
"I discovered that I enjoyed designing the bakery more than the actual baking," she recalls.
Diana has been with Woodhouse since 2017, and her natural affinity for timber structures makes her a perfect fit. She grew up riding horses and spent a lot of time in barns.
Favorite Designs
Given her background, it's no surprise that some of Diana's Woodhouse favorites are her timber frame barn style home plans. She especially enjoyed designing Magnolia Meadow as a party barn for one client. She also loves the newer, modern styles such as Water Rock. She says she'd be remiss to not mention Woodhouse's classic Adirondack Cottage.
"It's such a pretty timber frame house," she says. "It packs a lot into a compact floor plan."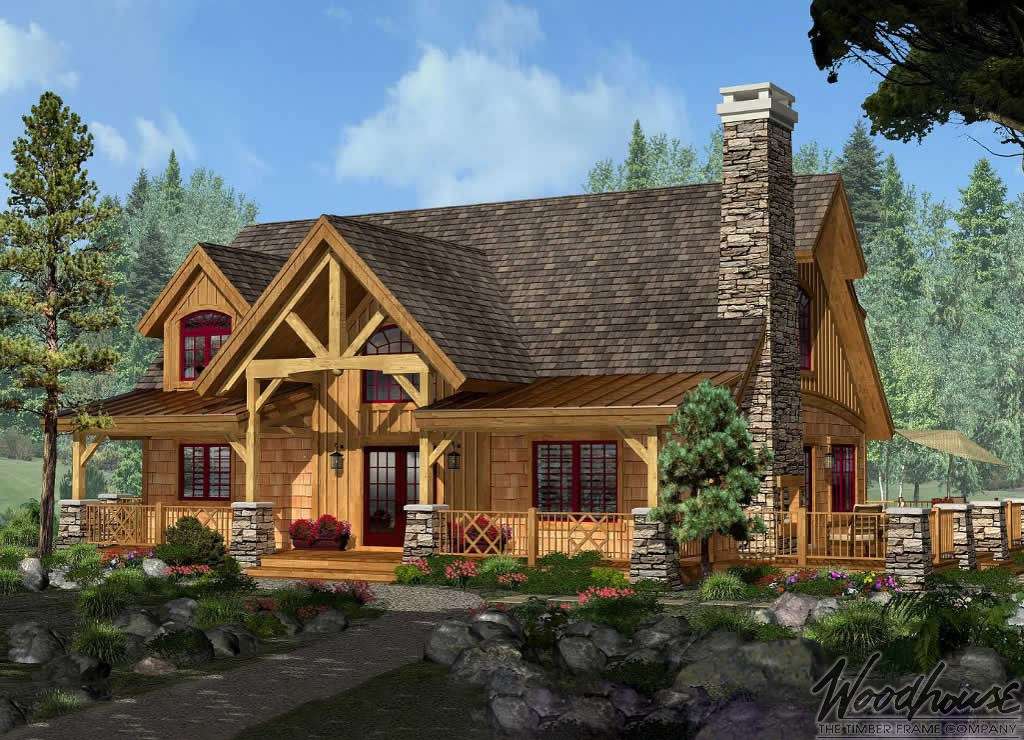 Client Advice
Diana relies heavily on the initial design interview. She wrote it with intentional, in-depth questions and encourages clients to not hold back. She also likes it when a client brings photos of their inspirations and can explain why they like the photo.
Diana explains, "Two people can see different things in the same image. Understanding what a client sees is very important to me."
Because she is involved in the design process for every client, Diana loves the efficiency of Woodhouse's personal client websites. Designs, notes, revisions, photorealistic 3D fly-through video renderings, costs, budgets, delivery schedules, and anything else pertinent to a project are available to a client 24/7. Meetings can be held remotely and design edits can happen in real time, giving a client immediate feedback.
Final Words
"Our team is a talented group of people who love what we do," Diana says. "We work hard. We also have very low turnover and that says something about our team and Woodhouse as a timber frame company. It's also worth noting that I could not provide my services in a private practice for the price Woodhouse charges."
Ultimately, it's your house that keeps Diana motivated and inspired. "I absolutely love converting a dream into a reality," she says.
A Design Process Designed for Your Dream Home
Now that you've met our design team, visit our gallery page to see real examples of Woodhouse homes. Our extraordinary design team is posting new floor plans all the time. In addition to more than 90 timber frame home plans in a wide variety of home styles, we provide full custom home architectural services. Be in the know by signing up for our newsletter (we always respect your privacy) and following us on social media. Want more? Contact us for a conversation.