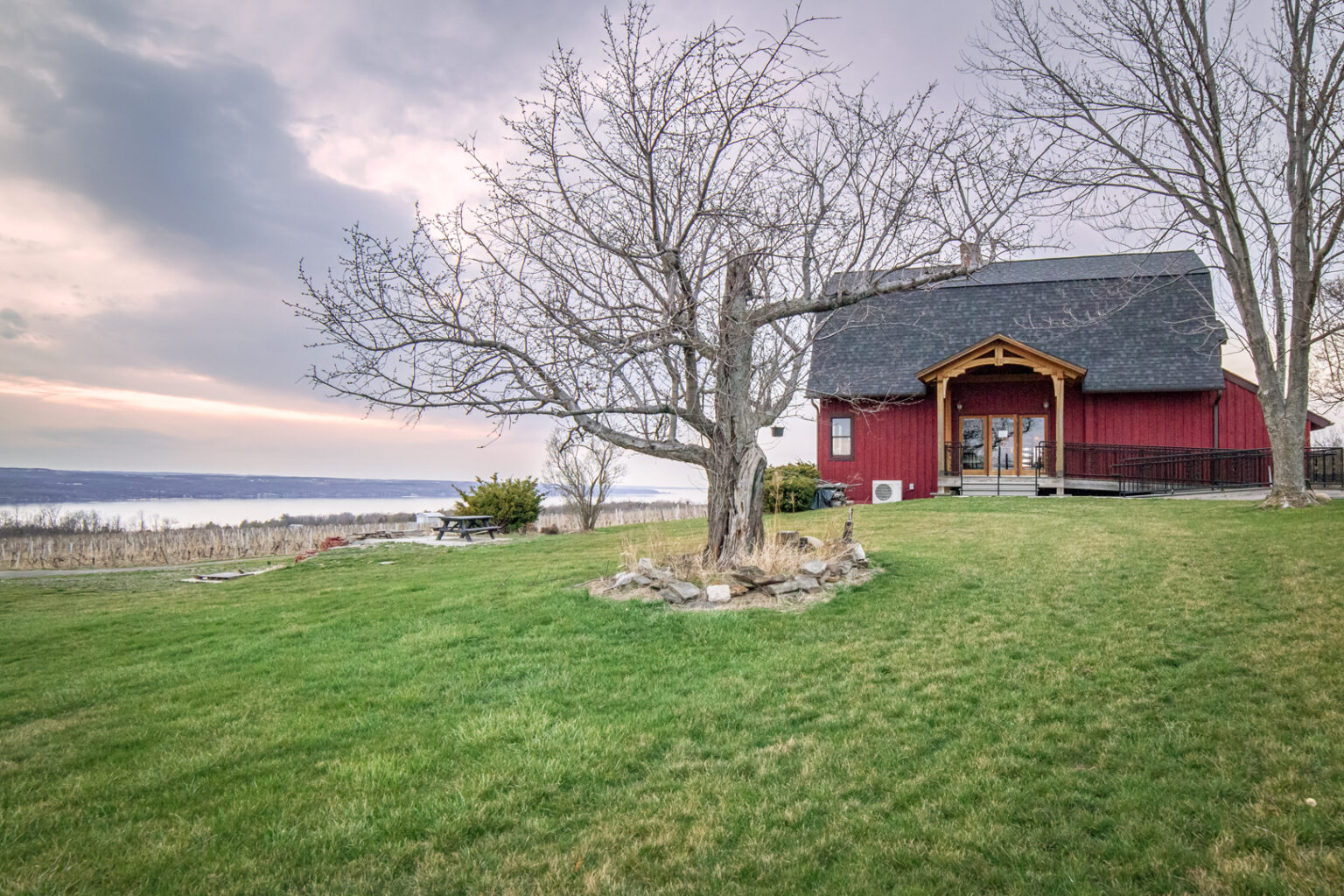 Few architectural styles are as iconic as the American timber frame barn. Whether it stands red and proud in a meadow or tucked away in the woods, its form is both instantly recognizable and deeply nostalgic. Now, more and more homebuyers are embracing this quintessential design for homes and recreational spaces.
"From retail spaces to the hospitality industry to equestrian arenas to wedding venues, timber frame barns add casual elegance and rustic charm to any occasion," says Craig Johnson, vice president of sales and marketing at Woodhouse. "They create an elegant setting where people linger longer, which helps businesses succeed over the long term. Many homeowners discover a hobby barn or party barn is just the right solution as an addition to their home. All Woodhouse timber frames are built with traditional mortise and tenon joinery, using large beams, timbers, and trusses, which is perfectly suited for these traditional buildings."
Residential Timber Frame Barns
The Barn-Style Home
More than an attractive roof and a nod to nostalgia, barn-style homes are having a moment. It makes a lot of sense given recent design trends.
Many modern homes utilize an open floor plan which allows homeowners to get creative when customizing their homes. With a barn, that square footage is multiplied. There's tons of space to play around and people definitely do. Past clients have played with bringing the outside in, often by installing expansive bay doors. Some people make the loft their main living space and use the large lower area to entertain. Others use the space for storage or function or work.
"You're seeing them a lot near cideries, wineries, and breweries," says Johnson. "Barn style homes are a movement, right there with the farmhouse style. The high roofline, the ceiling line, the loft space, the light, it just has a unique look to it. From an aesthetic standpoint, it's an architectural style that's really in demand right now."
If you are interested in a home specifically then you can read more about Woodhouse's residential barn designs in this article.
Timber Frame Barns for Entertainment
The Party Barn
If you are looking to create an intimate space to connect with family and friends, then a backyard party barn could be the perfect solution. The Woodhouse design team can help you take it to the next level with upscale amenities that will make this space an extension of your current home. These can include an outdoor kitchen, loft, game room, bar, stage, fireplace, and more. Reach out to Woodhouse to get this party started.
Timber Frame Barns for Leisure Pursuit
The Hobby Barn
If you have a favorite activity that needs its own space, then a private hobby barn from Woodhouse may be the ideal solution. For collectors, barns provide the perfect space to work on and exhibit their passion, such as vintage cars or artwork. Likewise, if you have a small business, need more work-from-home space, or workshop space, a hobby barn can fulfill all those needs. Amenities can include:
Retail Space
Bathrooms
Kitchen and bar
Living space
Climate controlled interior for year-round use
Loft space
Custom cabinetry
Storage space
Unique workshop requirements
Andersen 400 series Windows and Doors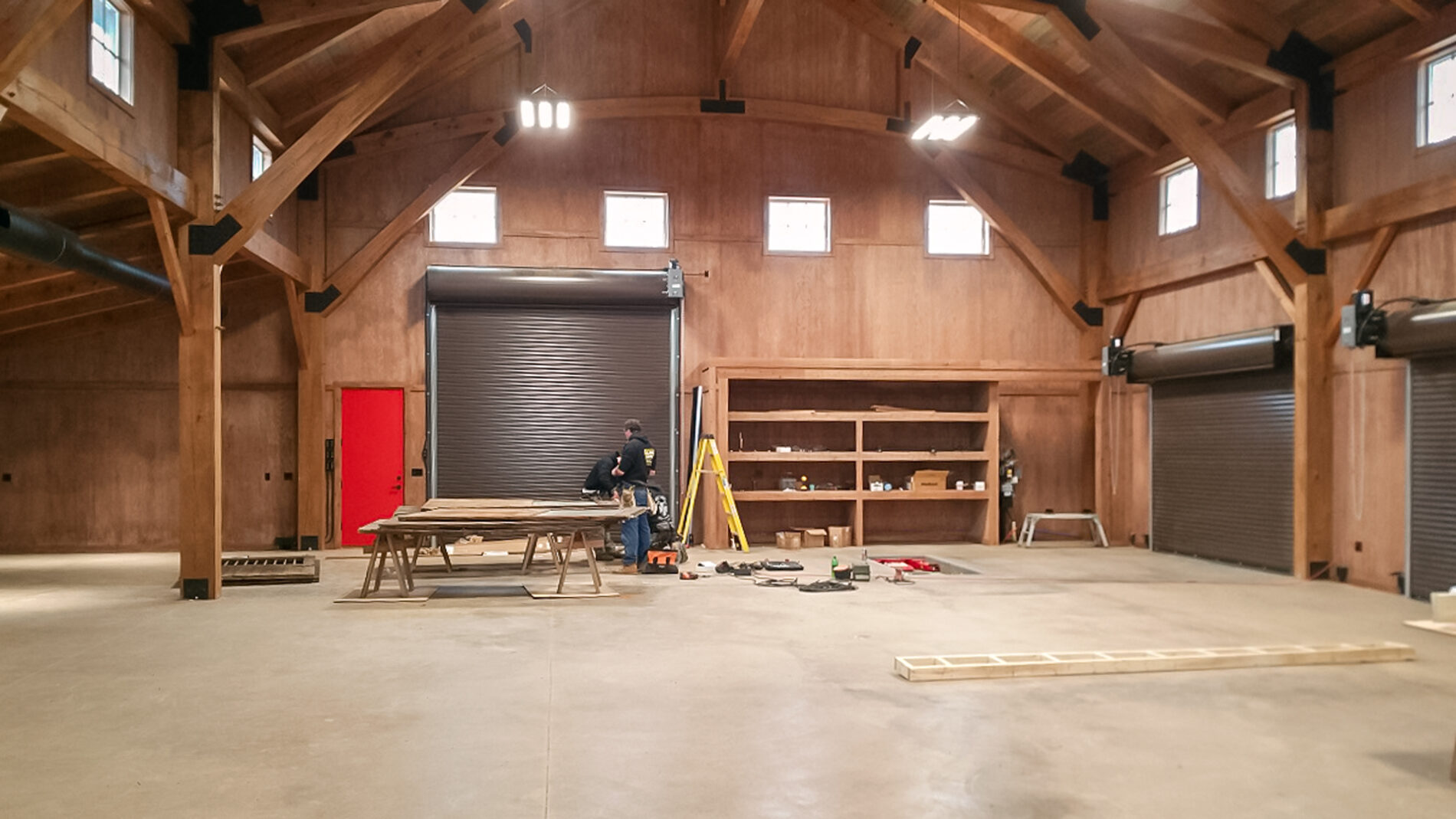 Timber Frame Barn for Equestrians
The Horse Barn
Woodhouse can custom design a timber frame horse barn to suit your family's individual needs. Typically, stables fall into three sizes: small (up to six horse stalls), medium (seven to 15 stalls), and large (16 or more stalls). Whether you want a personal equine training space, or you are building a working farm to serve clients, the Woodhouse team can help you plan, design, and finalize the project from start to finish. We can include tack rooms, washing stalls, grooming stalls, lofts for hay storage, and other amenities to keep the equine members of the family happy and healthy.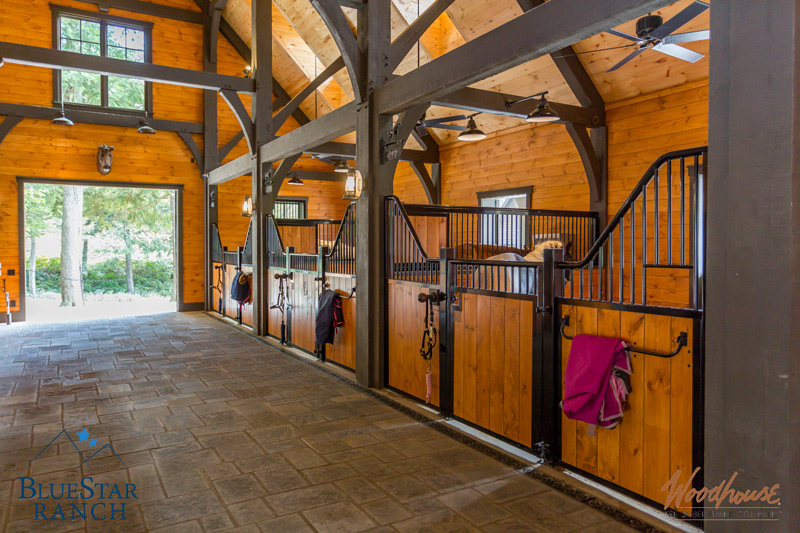 Commercial Equestrian Facilities
Woodhouse has abundant experience designing state-of-the-art facilities for a wide range of equestrian pursuits, from small family barns to large, complex facilities for professional equestrians. All are designed for the safety and comfort of the horses and their riders, with natural light, ventilation, secure stalls, and layouts that maximize function, while minimizing routine maintenance work.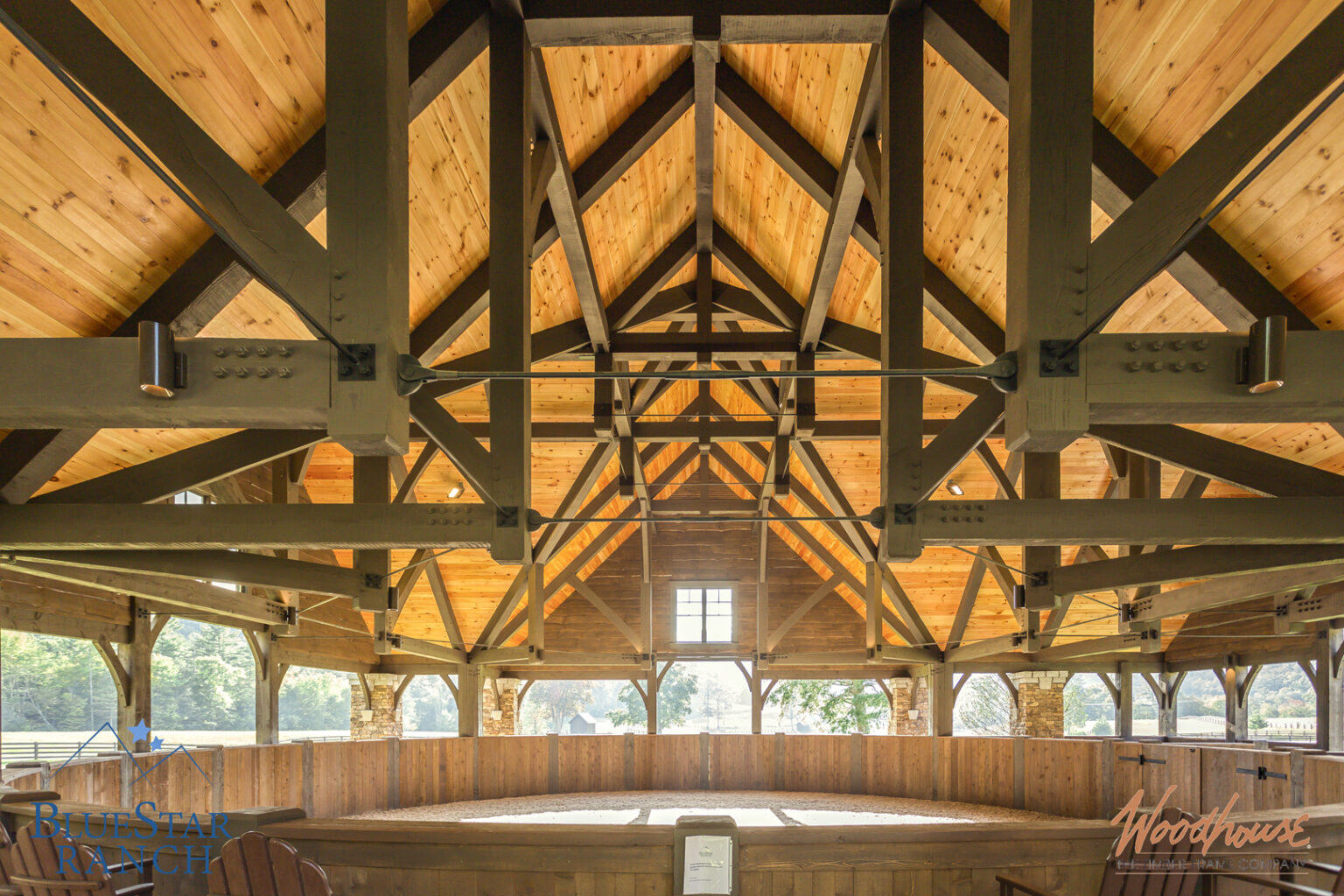 Timber Frame Barns for Weddings and Events
The Event Barn
Many couples these days are looking for rustic timber frame barns for their wedding venues. If you are interested in adding a romantic barn to your property, the Woodhouse team can help guide you from design all the way through to construction. Amenities can include bride and groom changing rooms, bathrooms, main room, full kitchens for catering capabilities, and bars. Enclosing the timber frame barn with doors, windows, and structural insulated panels ensures your timber frame barn can serve as a year-round venue. During slow wedding seasons, these facilities can also be used as general event venues for reunions, private parties, and retreats.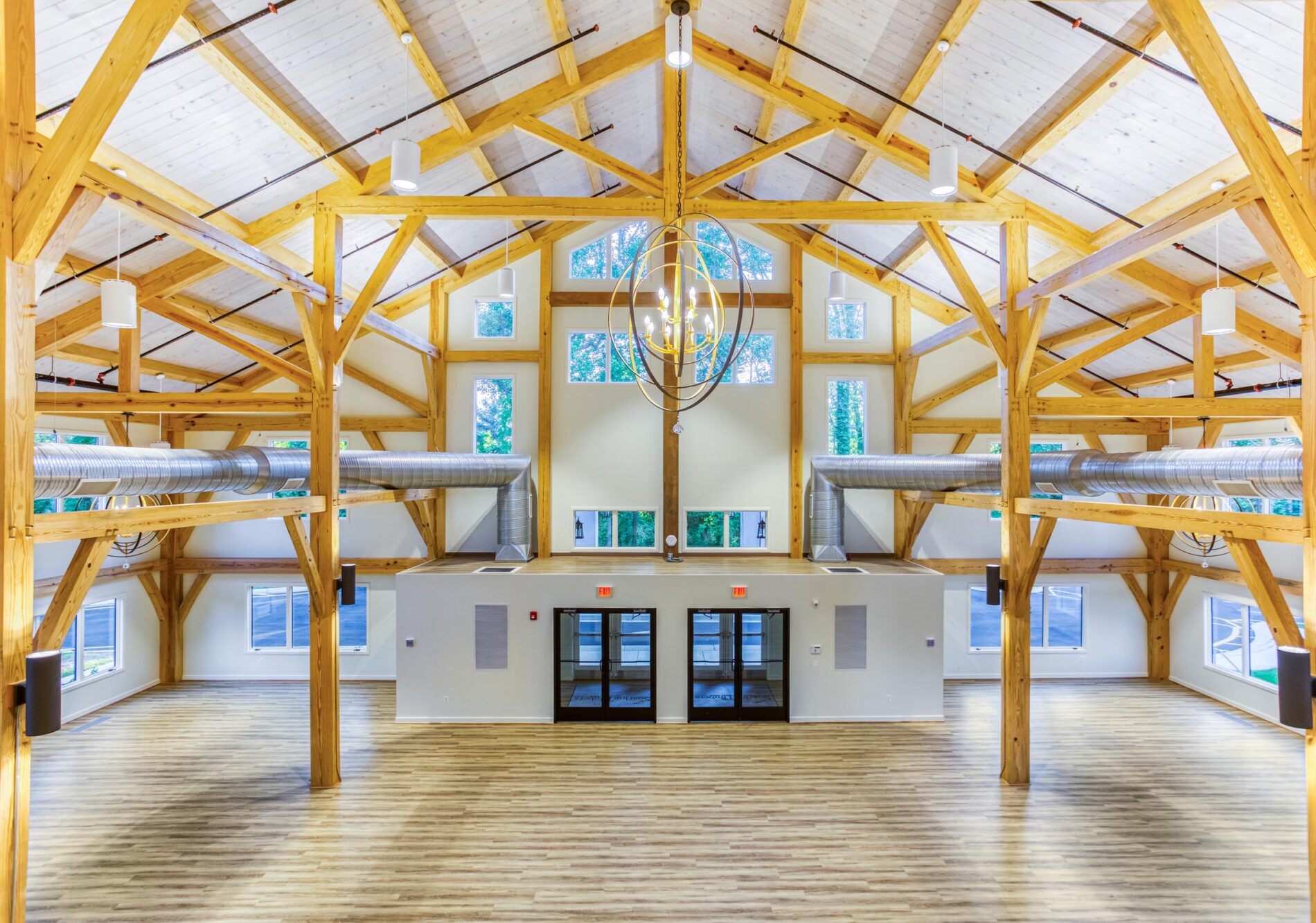 Timber Frame Barns for Breweries, Distilleries & Wineries
The Production & Tasting Room Barn
With their open floor plan and large interior volume, barns make the ideal setting for breweries and wineries to set up their fermentation operation and adjoining tasting room.  With both fermentation and timber framing having traditions that date back millennia, it is only natural that the two practices should be at home together in these modern times. Nothing speaks of longevity and a rich tradition for your brewery, distillery, or winery like a timber frame barn.
Getting Started
If you are ready to add a timber frame barn to your property, then peruse Woodhouse's barn floor plans for homes, or event center floor plans for commercial designs.  You can also use the Dream Home Budget Calculator to determine how much a residential barn would cost in your area. Our non-residential page has more information about popular commercial applications for barns. Contact your Woodhouse regional sales manager or independent builder dealer when you are ready to start the design process on your project.