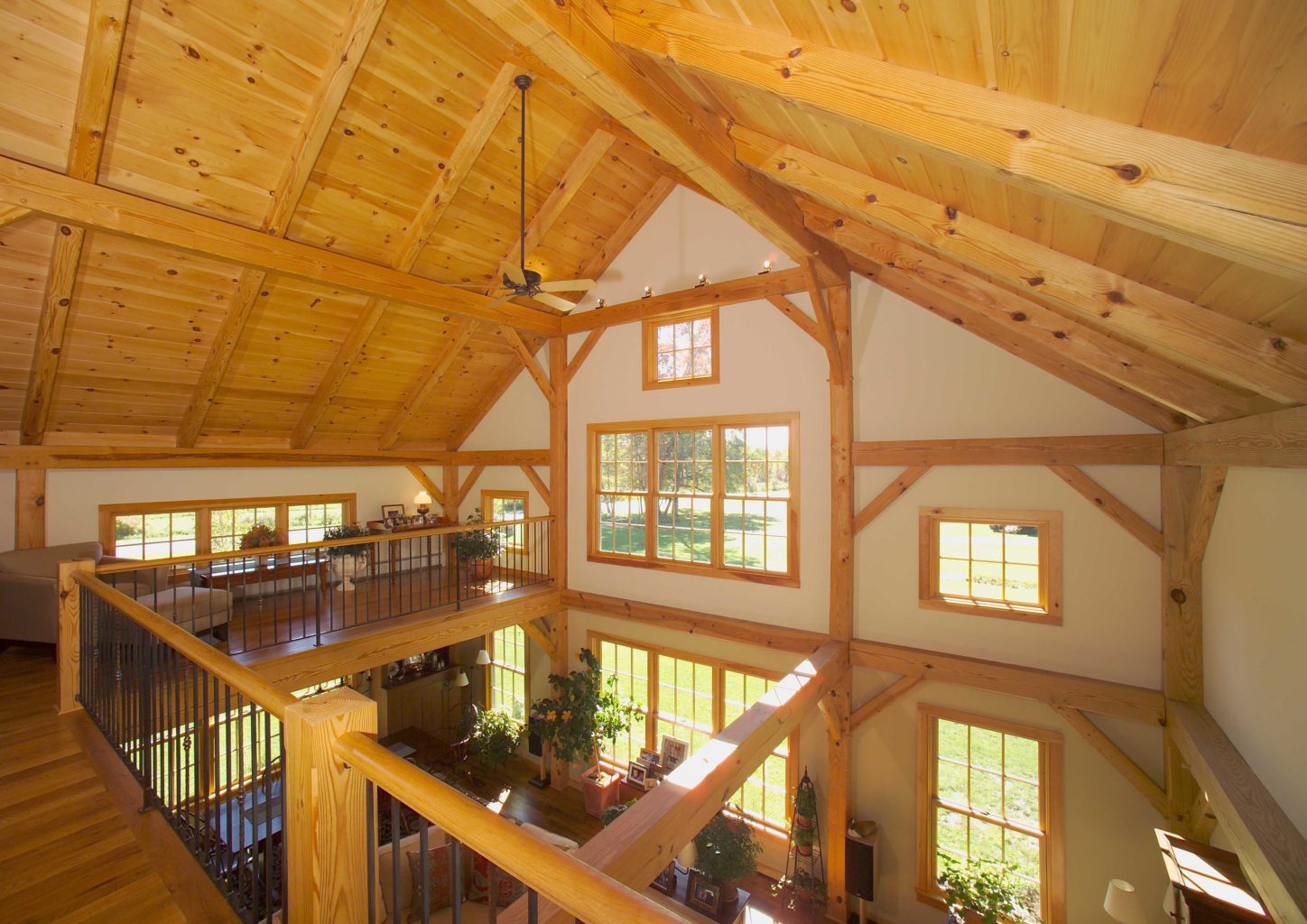 From the earliest days, our nation was reliant on citizen farmers for economic stability and community prosperity. Central to this vital profession was the barn, a timber-frame structure typically built by the farmer, his family, and neighbors at a barn raising. Barns were considered so integral to agricultural success that farmers often built them before building their own homes. Ever since, these structures have evoked a sense of tradition, security, and closeness to the land.
It's little wonder that the style remains popular today. "Whether it's yesteryear's barns or today's modern barn home designs, they offer a powerful connection to the land and the community," says Diana Allen, design director at Woodhouse: The Timber Frame Company. As an architect, barn homes are a bit of a personal passion for Allen. "Walking into these structures, there is an instant feeling of purity, warmth, and connection to history. Barn home designs are simply calming."
Woodhouse has built numerous custom barn home projects, and used that experience to create two pre-designed floor plans for their clients to explore in the Barn Home Series. Equal parts economical and luxurious, these structures are the perfect place for making lasting memories.
PrairieView 
The PrairieView design was inspired by Midwestern barn-style homes, with a clerestory in the loft to naturally cool the home in summer months and provide plenty of daylight in winter months.
"This design offers the ability to orient the home to take advantage of the long axis to the south so that you can have solar heat gain in winter with six expansive windows in the main living area, as well as indirect light in the wintertime through the clerestory in the loft," Allen says. "Those same clerestory windows can help draw heat out of the home in the summer by exhausting warmer air. The same concept that kept livestock comfortable works for us as well."
The PrairieView features a total of 1,609 square feet of space (1,061 on first floor, 548 on the second), with three bedrooms and two full baths.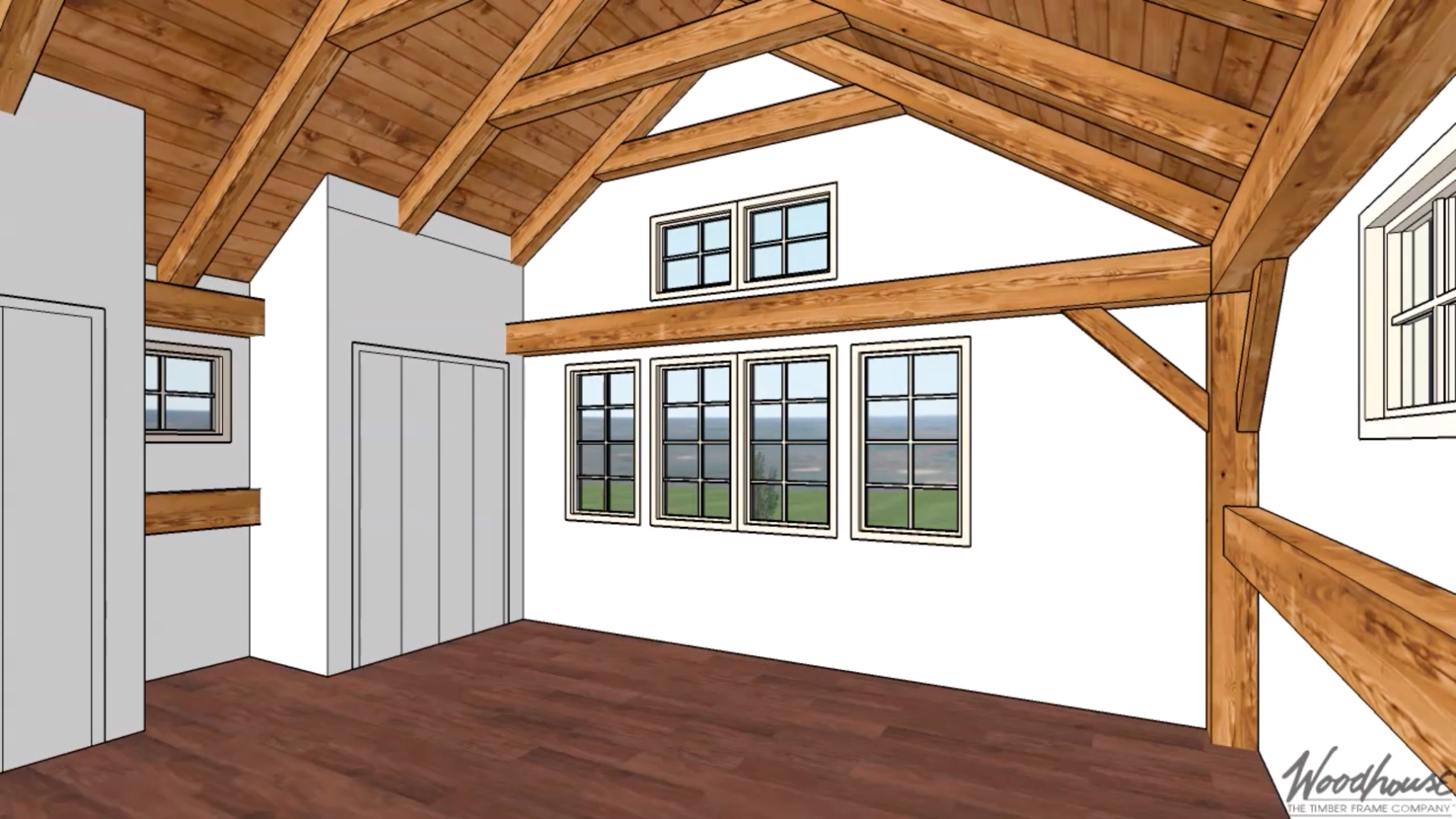 The main living area is an open layout with a vaulted ceiling over the kitchen, adding volume and showcasing the brawny timber frame beams overhead. The kitchen (10'5"x12'11"), dining (10'6"x13'5"), and living area (17'9"x13'5") together create the communal living space, all with elegant timber frame beams overhead. Double glass doors lead to an outdoor deck.
On the opposite side of the home are two spacious bedrooms (both 10'5"x13'4" in size) and a full bath (8'5"x5'11"). The stairway and loft (9'7"x12'11") feature a vaulted ceiling and lead to the master bedroom (18'8"x13'9") and master bath (9'x5'7") upstairs, which boast plenty of closet space.
OakMeadow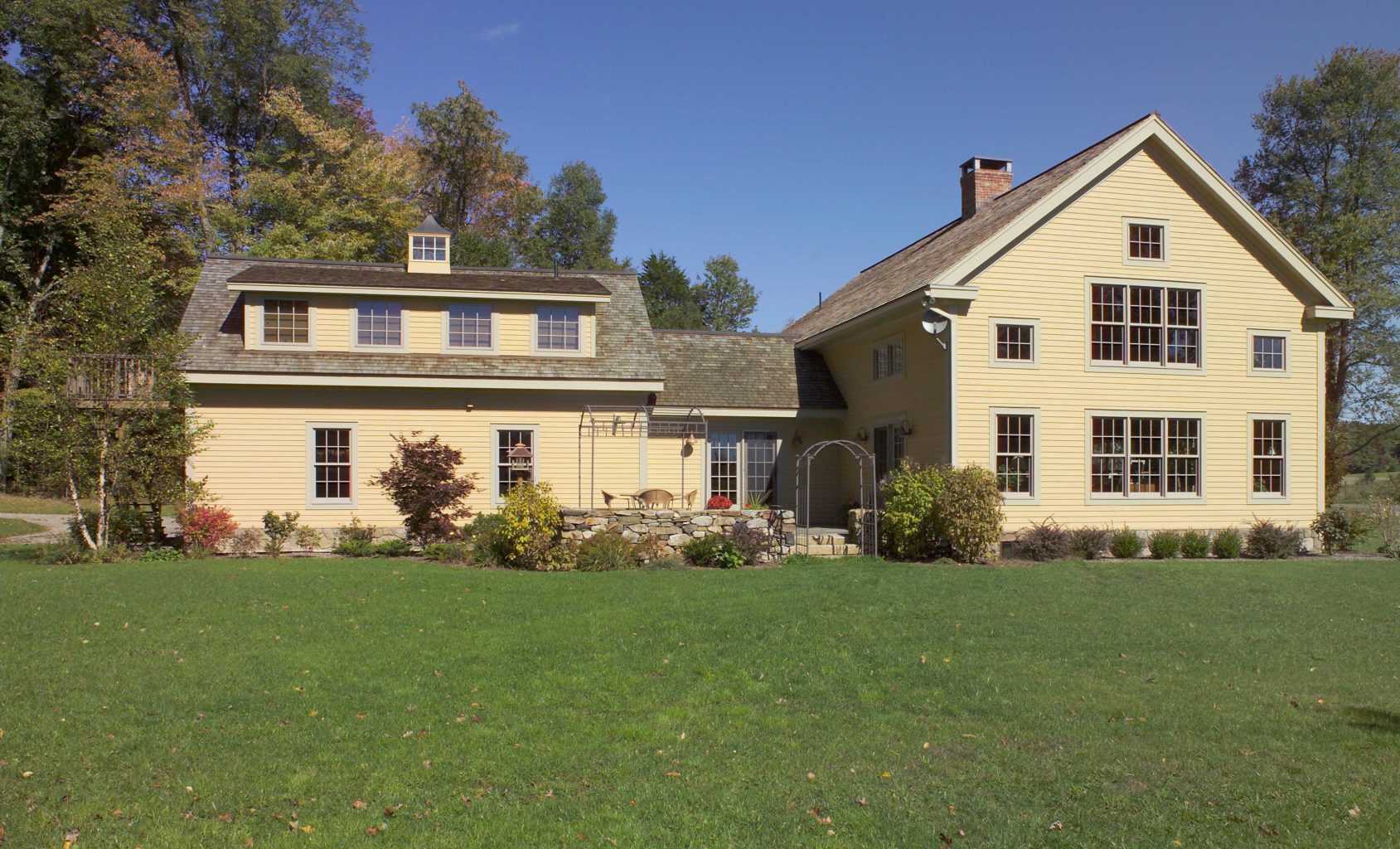 If you'd prefer a stylish barn design with more square footage and an ensuite master on the main level, then the OakMeadow is perfect for your family. The home features three bedrooms and two and a half baths within 2,555 square feet–1,554 on the first floor and 1,011 on the second. You can see a real-life example of this plan by visiting this gallery page. 
"The OakMeadow is a very well-thought-out and elegant design," says Allen. "It's functional with an emphasis on daily living, while still capturing the spirit of country living."
The covered front porch front entry (9'10"x8'11") is flanked to the right by a half bath (3'5"x6'6") and an optional garage. Straight ahead, a door provides access to a deck. To the left is the main entry to the home with conveniently located closets on the left and right.
The laundry room (7'4"x6'10") is conveniently located to the left of the entrance, situated between the main living area and the master ensuite (19'4"x14'9") and master bath (7'4"x8'1").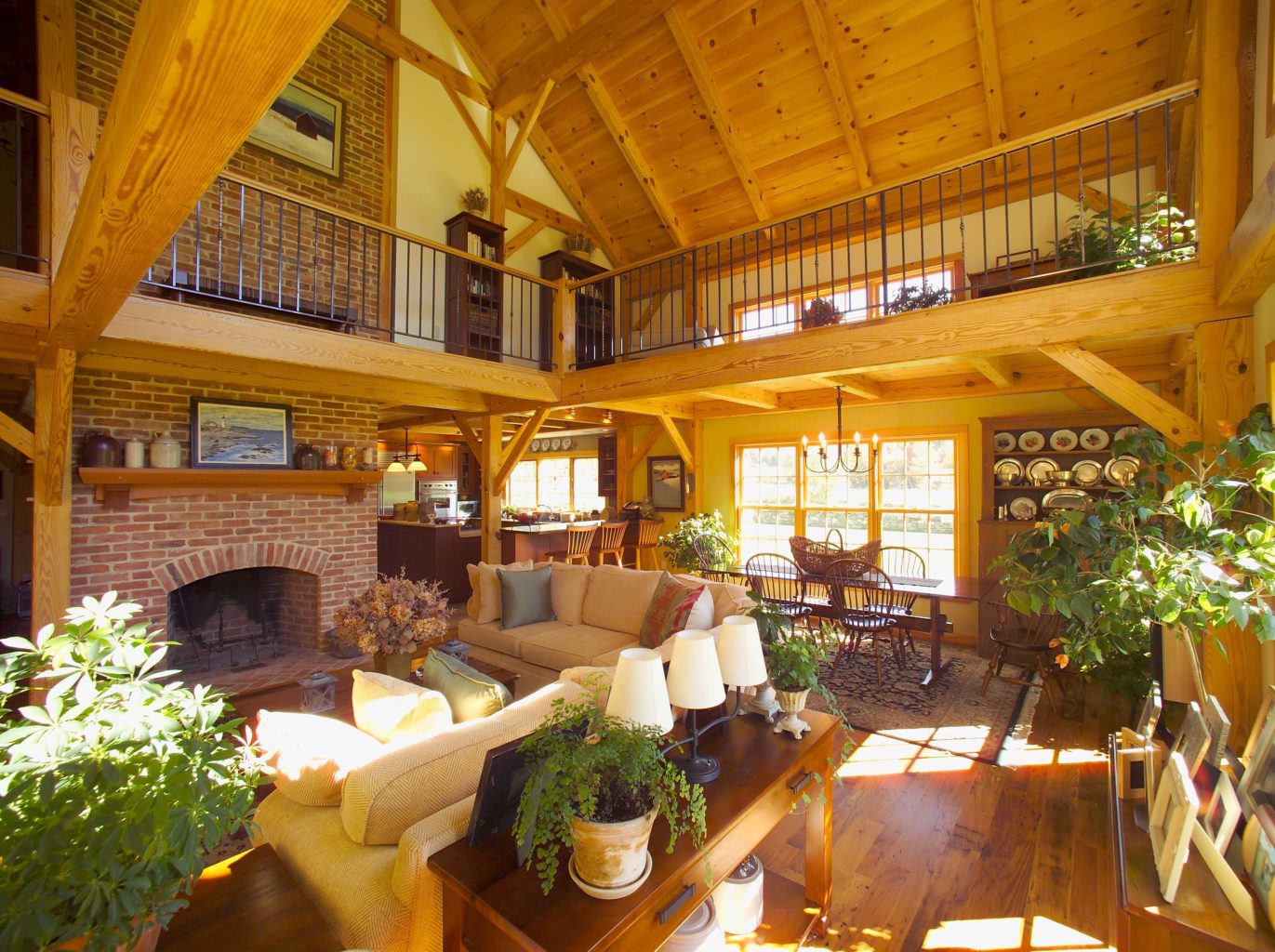 To the right of the entry, the main level's open floor plan is dominated by a soaring great room (27'1"x19'5") and a large, well-appointed kitchen (10'0"x15'0"). "The hewn beams and timber trusses that frame the open space in the great room will have barn home aficionados falling in love with this design," says Allen.
On the second floor is a large landing (8'0"x14'8"), which can be used as a home office, library, or entertainment area. There's also a study (11'7"x14'11"), two bedrooms (13'9"x16'5") (13'4"x16'0"), and a full bath (10'11"x5'3").
Custom Bank Barns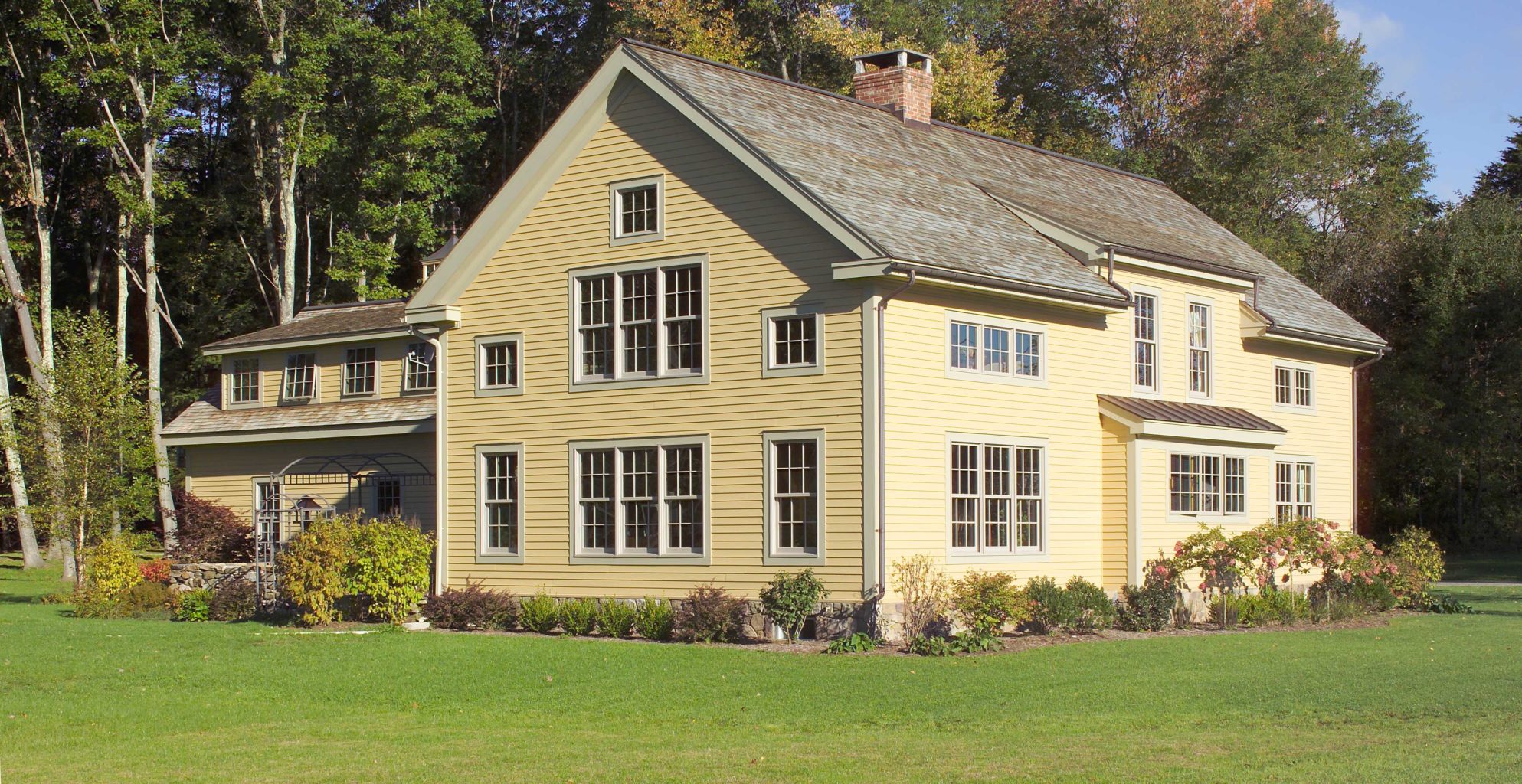 Many homebuyers seeking a customizable approach are intrigued by a design from the 19th century. Called "bank barns" or basement barns, this style was favored by Germans settling Pennsylvania. These two-story structures were often built into a hillside with two entrances: one for livestock in the basement and another on the uphill side for farmers to off-load hay and grain, a labor-saving innovation.

"This bank barn design is both a great connection to history, as well as an easily adaptable modern barn home," Allen says. "It's a great choice, and the upper story loft offers a lot of interesting design opportunities."

Contact Woodhouse To Get Started 
If you and your family want to live in a design steeped in tradition and history, but with all the modern amenities and comforts, then contact Woodhouse. The experts at Woodhouse can help every step of the way so you can achieve your own barn-style home by this time next year.