MagnoliaMeadow
3789 sq ft
Speaking to the recent popularity of timber frame barndominiums, or "barndos" for short, the MagnoliaMeadow is a residential plan based on traditional agricultural timber frame barn design. Starting with space on the ground floor for animals (or more likely cars and a workshop in modern days) and turning the large area above, which used to store grain for the winter, into a full family home featuring 4 bedrooms and 3 bathrooms in a spacious 3,789 sq ft package. Invite guests over to enjoy the great room, which is fine-tuned for entertaining groups. At the end of the night, everyone can retreat to the birds-nest lofts to fully immerse themselves in the relaxing embrace of the timber frame ceiling while enjoying a nightcap. The MagnoliaMeadow design is based on the Winery V2 from the Event Center Series, reimagined for residential use.
Barn Series
If you've ever dreamed of restoring an old barn into a beautifully elegant home retreat, then you'll love the look and feel of Woodhouse Timber Frame Barn Series homes. Equal parts economical and luxurious, these homes look like a barn on the outside but feature an ultra-modern and incredibly spacious interior, making them the perfect retreat for families that require extra space. The indoor lofts and catwalks are optimal both for sleep and storage while ground-floor sliding doors provide easy access to the outside where shed roof lean-tos can easily be added to provide expansive outdoor living space for adjacent rooms.
1st Floor
Bath 1 – 10′-4″ X 11′-1″
Bath 2 – 10′-4″ X 11′-1″
Bed 1 – 12′-4″ X 17′-2″
Bed 2 – 12′-4″ X 17′-2″
Bed 3 – 11′-4″ X 11′-1″
Bed 4 – 12′-4″ X 11′-1″
Deck – 36′-0″ X 14′-0″
Dining – 11′-9″ X 25′-11″
Kit. – 22′-11″ X 11′-6″
L'Dry – 6′-11″ X 6′-1″
Living Area – 24′-1″ X 25′-7″
PDR. – 7′-2″ X 6′-1″
Ground Floor
Garage – 71′-1″ X 37′-1″
Lean-to – 68′-0″ X 11′-11″
PDR. – 3′-1″ X 11′-7″
Stairwell – 12′-7″ X 11′-7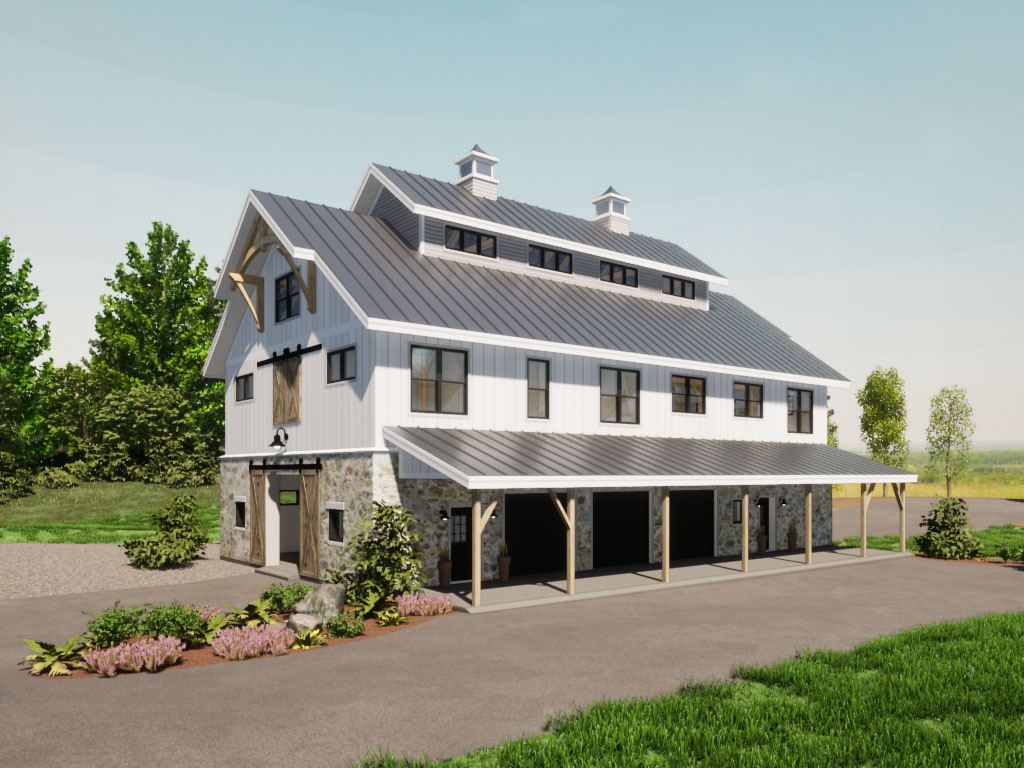 Dream Home Budget Calculator
What does a timber frame home cost in your area? Answer 20 simple questions and we'll help you figure out your budget.