The SageMeadow is a simple timeless design, inspired by traditional agrarian barns. Inside, one finds a modern layout filled with all the latest amenities. A walk-out basement garage/workshop can easily be added to the design to make it a barndominium: a barn home that takes advantage of the walk-out basement space, which traditionally used to be inhabited by animals, to use as a free-form hobby space. This elegant modern home features 4 bedrooms and 3 baths in a convenient 2,617 sq ft package. Enjoy preparing special meals for family and friends in the spacious kitchen, eating in the open naturally-lit dining area, and then heading out to the covered porch to sit back, relax, and watch the sunset.
Barn Series
If you've ever dreamed of restoring an old barn into a beautifully elegant home retreat, then you'll love the look and feel of Woodhouse Timber Frame Barn Series homes. Equal parts economical and luxurious, these homes look like a barn on the outside but feature an ultra-modern and incredibly spacious interior, making them the perfect retreat for families that require extra space. The indoor lofts and catwalks are optimal both for sleep and storage while ground-floor sliding doors provide easy access to the outside where shed roof lean-tos can easily be added to provide expansive outdoor living space for adjacent rooms.
1st Floor – 2016 sq ft
Mud Room – 9′-7″ X 9′-11″
Pantry – 3′-1″ X 6′-0″
Primary Bed – 16′-6 X 14′-6″
Primary Bath – 12′-5″ X 6′-0″
W.I.C – 5′-9″ X 10′-2″
Bath 2 – 8′-8″ X 5′-9″
Bed 2 – 13′-5″ X 12′-2″
Bed 3 – 13′-5″ X 11′-10″
Cov'd Patio – 13′-11″ X 48′-0″
Cov'd Porch – 24′-0″ X 6′-0″
Dining – 13′-6″ X 12′-2″
Great Room – 13′-8″ X 12′-2″
Kit. – 27′-2″ X 13′-5″
L'Dry – 9′-2″ X 5′-11″
2nd Floor – 601 sq ft
Bath 3 – 7′-2″ X 8′-5″
Bed 4 – 11′-4″ X 14′-6″
Loft – 19′-8″ X 23′-10″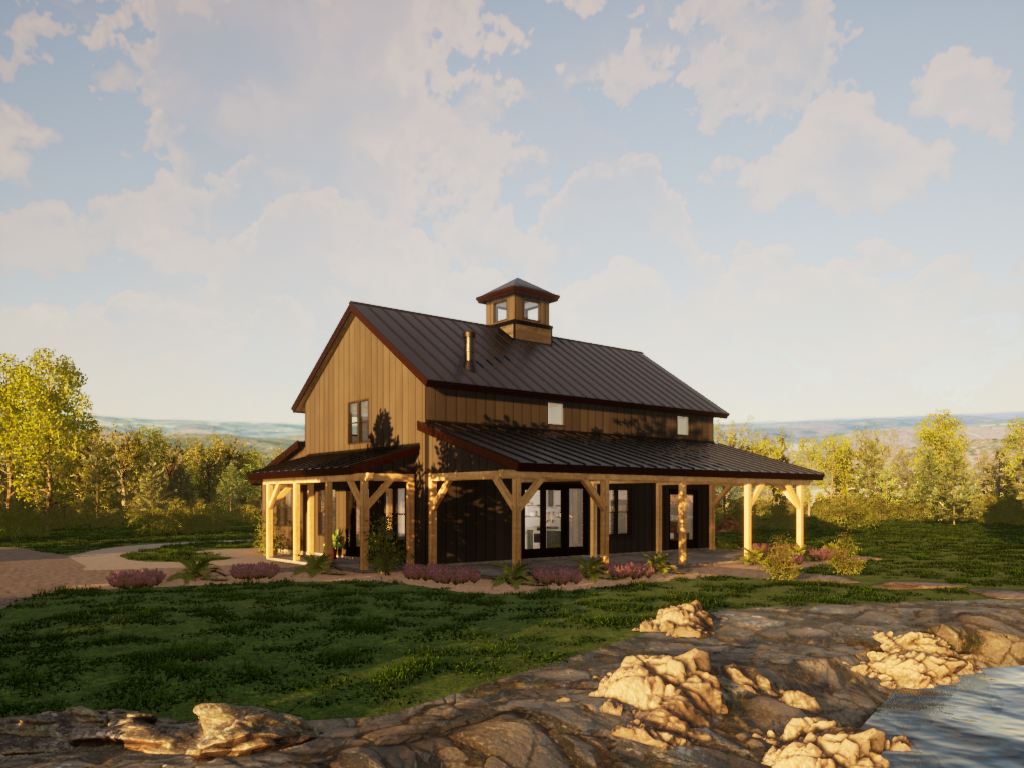 Dream Home Budget Calculator
What does a timber frame home cost in your area? Answer 20 simple questions and we'll help you figure out your budget.