Over 3600 sf spread out over 2 floors that includes a warming kitchen, restrooms, bar area and 2 lofts connected with a gallery and outdoor balconies and cascading steps that are just begging for those wedding pictures make this an undeniable wedding venue like no other.
The V2 of our Winery design brings a sleek modern skin to the original design for businesses who want to make an impression with a stunning blend of traditional building techniques and a contemporary aesthetic. Ideal for a large wedding or corporate gatherings, it is an eye-catching addition to any event space. The 33 foot vaulted ceiling height also allows for large scale fermenting of any kind, making it perfect for use as a winery.
Event Center Series
Wedding and other event venues have been an integral part of our business for years.  Responding to the needs of our customers, our designs have evolved from simple barn-style structures into truly elegant and memorable formal destinations. The Woodhouse Event Center Series is intended to provide a fully customizable starting point and inspiration for the venue that you wish to create – whether to host lavish destination weddings, artistic galleries, or as unique spaces to showcase and purvey your brewing or fermenting craft.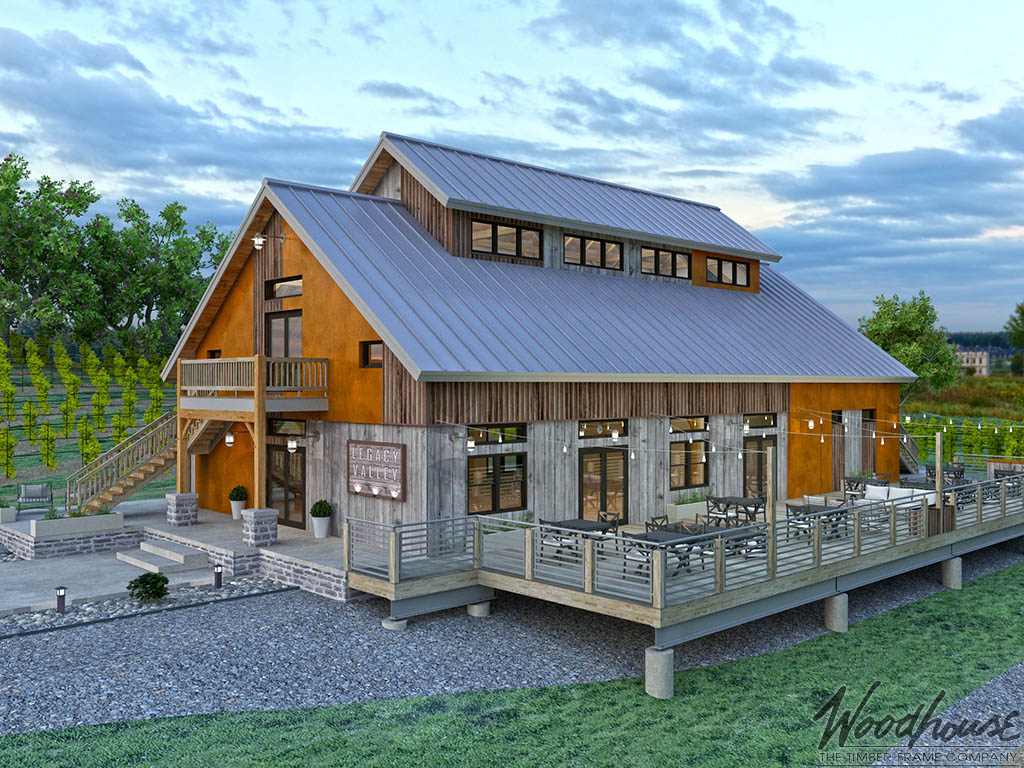 1st Floor
Ballroom – 47′-7″ X 37′-1″
Bar – 11′-9″ X 7′-6″
Kitchen – 22′-11″ X 14′-1″
Men's washroom – 16′-6″ X 11′-1″
Women's washroom – 16′-6″ X 11′-1″
2nd Floor
Balc. – 6′-3″ X 14′-1″
Balc. – 6′-3″ X 14′-1″
Gallery – 34′-7″ X 4′-0″
Loft 1 – 24′-1″ X 27′-9″
Loft 2 – 12′-4″ X 20′-11″
Mech. – 45′-8″ X 3′-0″
Dream Home Budget Calculator
What does a timber frame home cost in your area? Answer 20 simple questions and we'll help you figure out your budget.