Fully tailored to your modern tastes: these contemporary timber homes blend sleek aesthetics with comforting warmth and the strength of wood.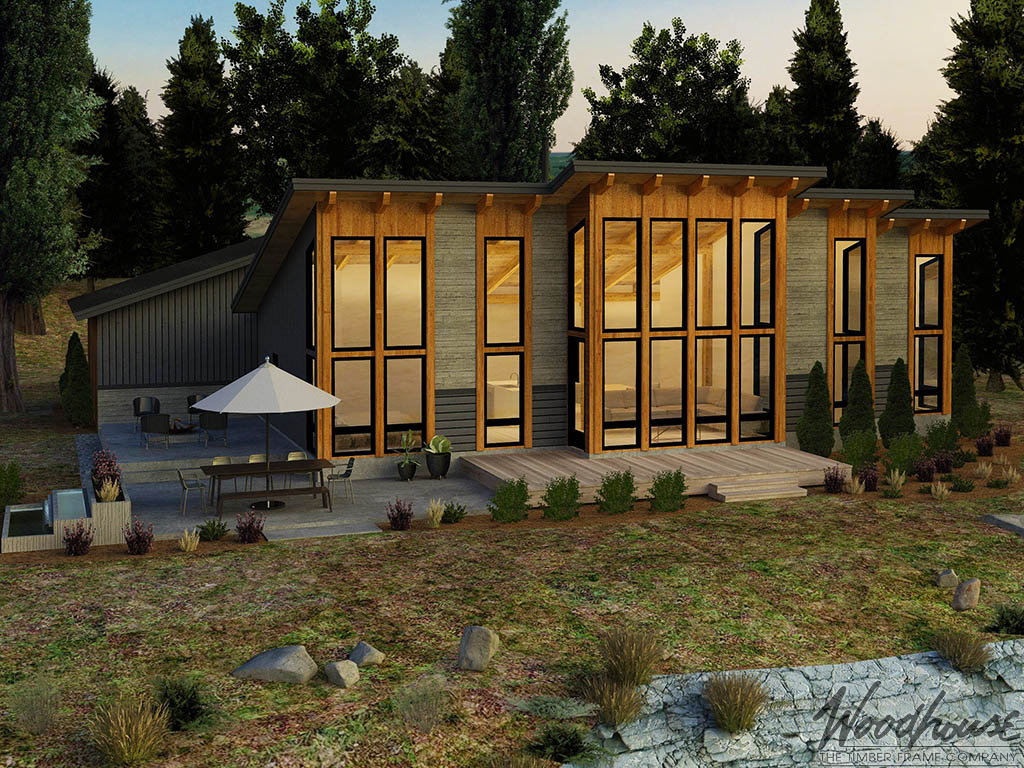 Clean lines and natural tones are two core elements of modern design, so it was logical that timber would become a favorite material in this style. Woodhouse's Modern Mountain Series harmonizes a perfect blend of modern architecture with just the right amount of mountain style, to create contemporary timber homes that are captivating in any setting.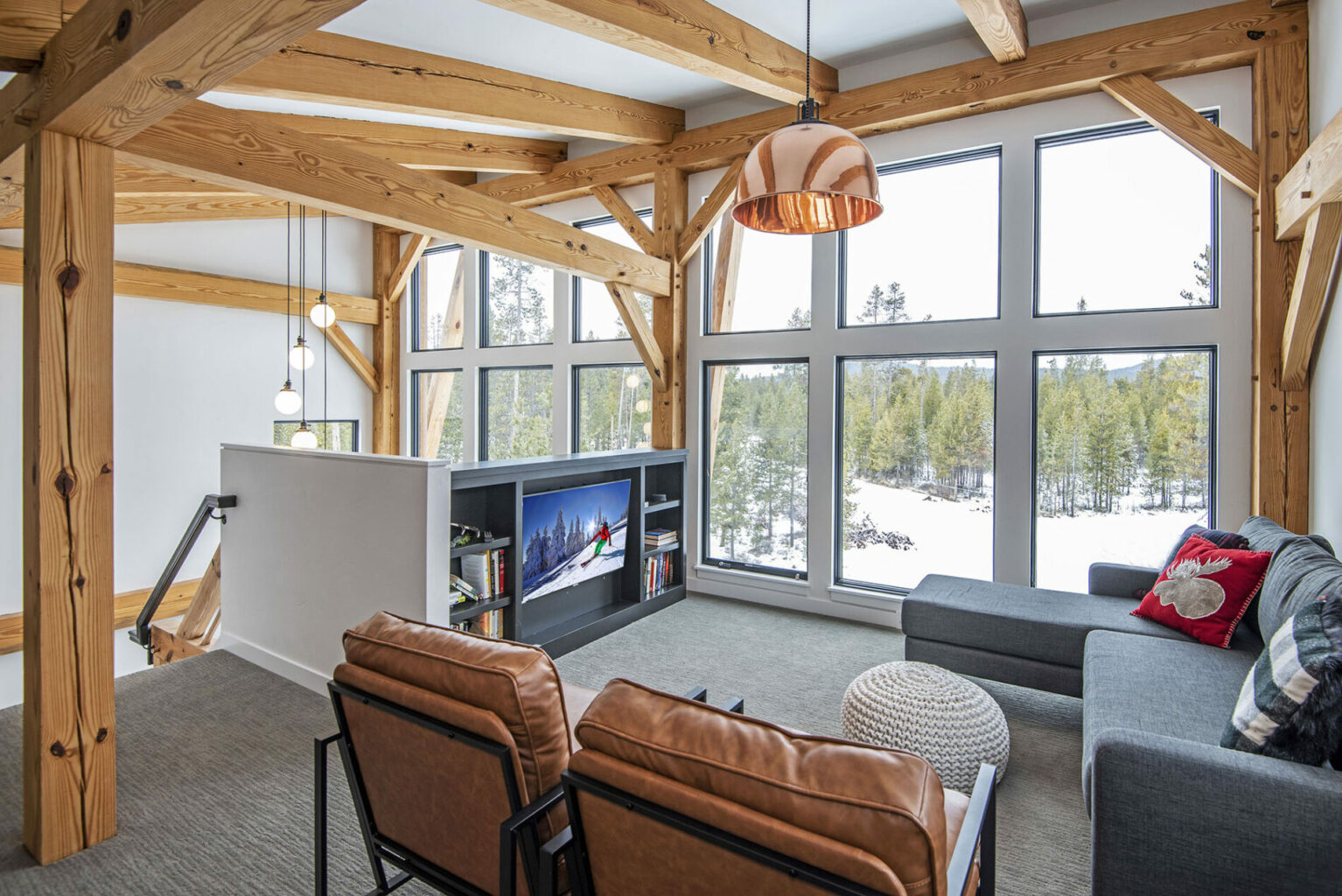 Mountain Inspired. At Home Anywhere.
Inspired by the comfort and strength offered by large timbers, combined with the clean lines and abundant glass of modern architecture, these homes fit any locale, whether it's a ski chalet, suburban neighborhood, lakeside retreat, or even a desert vista. They are designed to look gorgeous, whether tucked into a steep mountainside slope or standing as a proud homestead on flat land. This versatility comes from the fact that all Woodhouse timber frame homes can be completely customized to fit whatever a homeowner wants or needs.
"People are surprised to learn that 95% of our timber frame home kits are modified," says Woodhouse Vice President of Sales and Marketing, Craig Johnson. "These are totally custom modifications. If you come to us with an idea, we can do it. We can also design a modern mountain home plan from scratch if you have a completely unique vision."
While Woodhouse modern mountain timber frame homes are completely adaptable, there are some unique stylistic features that establish the modern genre. There is the simple elegance of a single-sloped roof. The unification of the interior with the exterior is a coveted feature in modern homes and the expansive glass windows let homeowners take in the beauty of their outdoor setting while sitting comfortably by the fire, sipping their drink. The absence of trusswork establishes sleek, clean lines and helps make voluminous great rooms feel clean.
Woodhouse architect, Diana Allen, explains, "A combination of hidden and exposed steel connectors allow the diagonal timber braces to be removed. This allows a person to celebrate the beauty of the timber post supporting the beam."
Allen also emphasizes the simple geometric shapes that are randomly juxtaposed to form the home and capture specific views.
Modern Mountain Home Plans
Each of the Woodhouse modern mountain timber frame home kits shares distinct style elements that give them their contemporary feel. In your search for your dream home, be sure to check out WaterRock and its related family of contemporary timber homes, CreekRock and RiverRock. WaterRock is stunning with its expansive great room anchored with floor-to-ceiling windows and bedrooms that also capture a bounty of natural light. Glass, geometric lines, and aesthetics of the integrated post and beam timbers give these homes a big "wow" factor. These same iconic features can also be found in the Panorama and RockyRidge from the same series.
Custom Built Flexibility
These timber frame home kits are fully customizable to fit your idea of a dream home. Features are adapted to the local environment, individual preferences, and of course, personal budget. Square footage can be reduced or expanded. You can add a wine room, a walkout basement, a flex room, change the number of bedrooms and bathrooms, and more. We will even calculate the home's orientation to the solar path so you can have your idea of the perfect amount of light in the bedrooms and great room.
"These designs are a starting point," Johnson says. "We'll do a mix 'n' match of your favorites. We can work as your architectural firm or work with your architect and turn conventional home drawings into timber frame houses."
Maybe you want two primary bedrooms for an Airbnb. Or perhaps an oversized great room and bedroom bunkhouses to host a ski weekend getaway for lots of friends and family. You can add more glass or less. Woodhouse recognizes that every homeowner is unique, and these homes can give you the flexibility you want for your entertainment style and favorite outdoor setting.
Another detail that establishes the mountain modern aesthetic is siding. Potential homeowners can choose whatever they want, but Woodhouse has options that may be entirely new to you. Shou Sugi Ban siding is a Japanese charred wood that provides natural weatherproofing and insect repellent. Modern timber frame homes also look attractive with metal siding. Both make these stylish homes really pop.
Allen says, "These modern timber frame houses look good with exterior materials that reinforce the clean simple interiors. Nothing elaborate."
What's Next?
Visit our "Where We Build" page to see the diverse Woodhouse projects in your area. Download the WaterRock home plan and its related family of modern mountain home plans, (CreekRock and RiverRock) and start imagining what you would do to make it your dream home. Still unsure? Learn more about the high energy and work efficiency of the Woodhouse Building System or contact us for a more detailed conversation. We are ready and eager to talk to you.