Achieve the custom home of your dreams with the help of a timber frame company that knows what it takes.
Thanks to their unique beauty, timber frame homes have been enchanting people for centuries. But it's not just about good looks. When coupled with SIPs, their outstanding energy efficiency appeals to the most practical of individuals. Best of all, with a reputable timber frame company on your side, these homes can be fully customized to meet your list of needs and dreams.
Here at Woodhouse, more than 95% of our homes are custom-designed. When you work with Woodhouse, you have the opportunity to either design your home completely from scratch with a fully custom design or customize one of our 90+ timber frame home plans. Which option is right for you? Let's take a look at what it means to have a truly custom home and explore some tips for getting exactly what you've always wanted.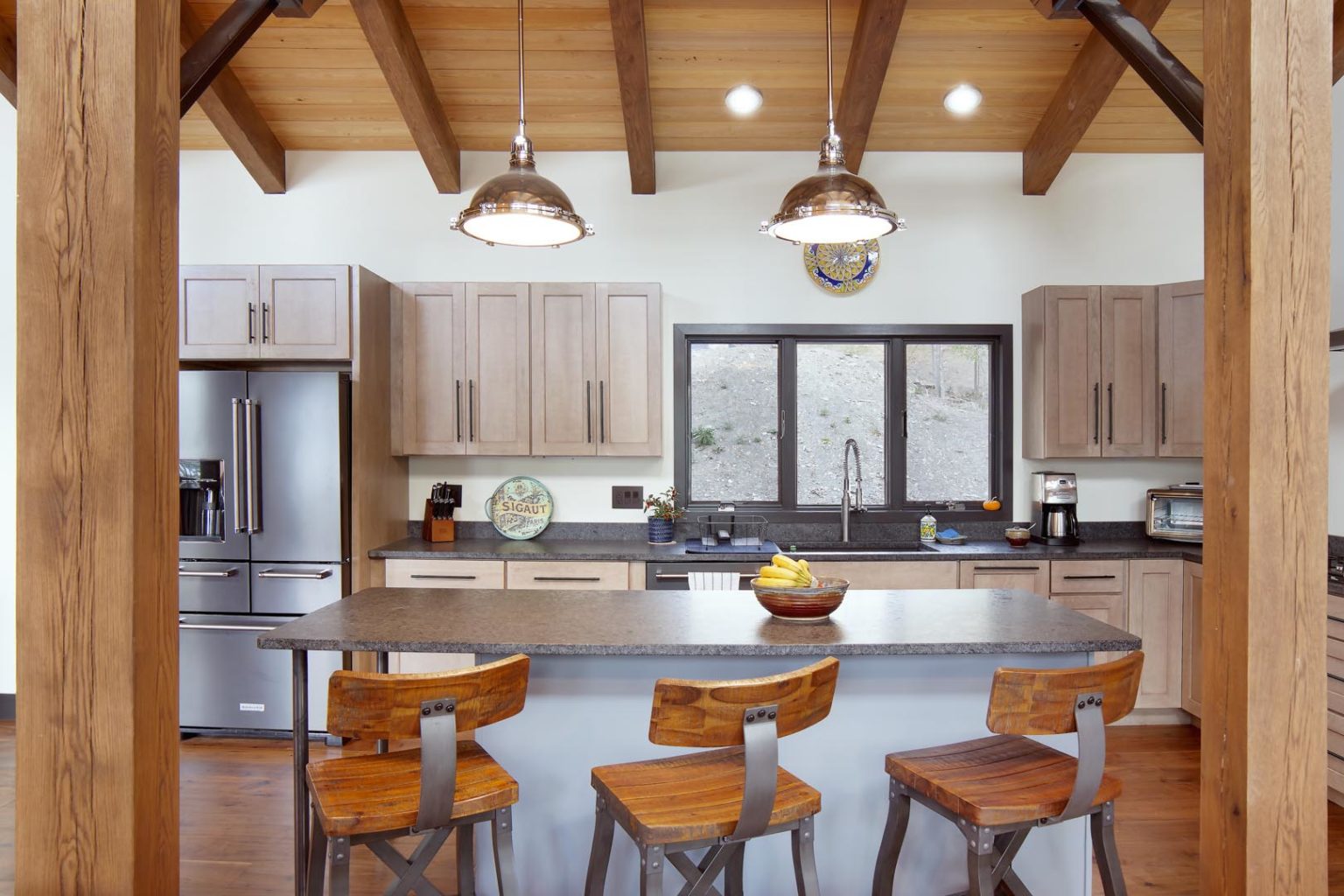 Semi-Custom Vs. Full Custom
It's not uncommon to hear developers describe the homes in their planned communities as being customizable. What they are often describing are semi-custom homes. A semi-custom home is one that lets you modify fixtures or selections. You might select the 8-inch baseboard instead of the standard 4-inch size or choose between a kitchen island or peninsula. You are not going to be able to modify the home's fundamentals. Compare it to purchasing a car: you choose the make and model then select from the limited trim options and colors that appeal to you. When you work with Woodhouse, you are not limited in this way.
In contrast, a full custom timber frame home is a blank canvas. An architect or designer works with you to design your home from scratch around your specifications, style preferences, and budget. At Woodhouse, we have a designated architect who can design your custom timber frame home, or we will work with your architect to turn your conventional home design into a timber frame.
Alternatively, if you would like to use a predesign as a starting point, we offer 90 timber frame home plans and 20 stunning home styles. For many of our clients, our floor plans and home styles provide a starting point. A homeowner selects what appeals to them, then works with our design team to change it to suit their needs. As we design your custom timber frame home, we stay focused on two things: the people who will live in the home and the land. Because we build in unique locations, the home site and orientation must work with the floor plan. We will rotate a home, do a mirror image, and make any necessary adjustments to maximize passive solar heat and your property's views.
"There are endless opportunities to modify the space and layout," says Woodhouse Vice President of Sales and Marketing, Craig Johnson.
Tips for Getting Your Dream Custom Timber Frame Home
Tip #1: Take advantage of the design questionnaire.
The customization opportunities for your Woodhouse timber frame home are endless. Decks, screened-in porches, a dedicated home office, hobby rooms, gear closets, larger or smaller rooms, panoramic windows, lofts, wine rooms, basements, removing walls, adding walls — our design team can do whatever you wish. Our detailed design questionnaire enables the team to create a design that matches your needs, preferences, and budget.
"I wrote the questionnaire to address details I need to know to plan and discuss a client's aspirations," says Woodhouse Architect, Diana Allen. "There are many in-depth questions and I rely on that heavily during the design process."
Tip #2 Don't unknowingly limit your choices of architecture.
Do you love the idea of a timber frame but are attracted specifically to the modern farmhouse genre? We can do that. In fact, we can adapt any plan to become a custom timber frame home. Don't hesitate to gather and share various components of different floor plans, elevations, and styles, even if they are from conventional homes or your architect.
"We can take all these pieces and put it together into a fluid piece of art that is coherent and cohesive," Johnson says.
Tip #3 Use a builder who regularly works with custom homes.
Experienced custom-home builders possess a special skill set. Moreover, they have extensive knowledge and can navigate a vast array of plans and building systems. Woodhouse has developed an exceptional system for supporting builders. When coupled with a builder who understands the nuances of custom homes, the results are phenomenal.
"Embracing the unique dimensions of customer needs is a mindset," Johnson says. "Custom builders enjoy learning and strive to be artistic while respecting the client's desire."
Start Here!
Wondering what Woodhouse custom timber frame homes look like in real life? Visit our gallery page and peruse what we have built for our clients. You can also contact your region's Woodhouse RPM for more information. Discover how our design process ensures transparency, affordability, and the custom timber frame home of your dreams.