If you haven't considered Woodhouse timber frame barndominium plans for your work-from-home or play-from-home lifestyle, don't miss out!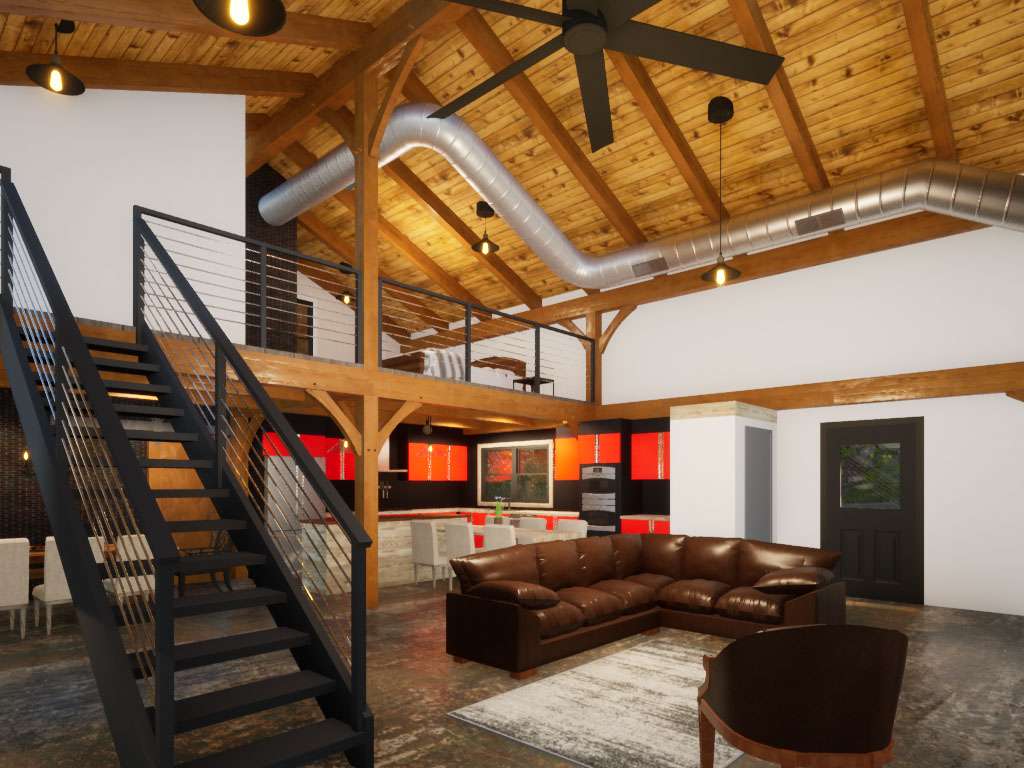 Ever since the pandemic, the way we live in our homes has shifted. Not only have our homes become our sanctuary, but for many, they have become central to our livelihoods. In addition to a place to eat, sleep, relax, and entertain, homeowners need dedicated spaces for work and creative pursuits and an environment that supports their overall well-being. Woodhouse barndominium plans satisfy all the above.
What's a barndominium you ask? A barndominium (or "barndo" for short) is a combination barn and condominium and a hot trend in home design. But out of the many home styles out there, timber frame barndominiums from Woodhouse deliver abundant opportunities for gorgeous aesthetics and customization. Let's explore how these versatile structures can accommodate different stages of life, hobbies, interests, and the work-from-home world for entrepreneurs and conventional professionals alike. A Woodhouse timber frame barndominium home may be the perfect living solution that you haven't yet discovered.
Customizing for Your Work Style 
We can adapt and customize any of our 100+ timber frame home plans to your needs, and we have dedicated barndominium plans to jump-start your ideas and dreams. You can also ask our in-house architect and design team to help you.
With their versatility, barndominium home floor plans flex their combined utility and living space to be exactly what you need, when you need it. Historically, barndominium homes had living quarters adjacent to or above a barn and stable area used for livestock and equipment. Today, many who work with animals and farming are still attracted to this style of home. With a timber frame barndominium, they can blend their practical needs and functionality with exquisite elegance.   
While barndominiums have an agrarian history, today's barndominium plans and customizations can adapt to nearly any imaginable work-from-home or play-from-home setup. It's a natural fit. Timber frames make both desirable and practical residential and commercial structures, and barndominiums combine the best of both these worlds. Consider the diverse ways people are combining their home and work life:
Personal trainers who have a private gym for clients and promotional videos

Musicians or dance teachers with a music room or studio

Artists and craftspeople who desire a dedicated space for glasswork, pottery, painting, sculpture, metalwork, a photography darkroom, and more

Chefs, bakers, and food entrepreneurs needing an optimized kitchen for both cooking and photography 

Professional or hobbyist brewers and vintners wanting their own tasting room for customers or friends

Childcare provider needing room for play and learning 

Mechanics or other tinkerers who could make the most of a professional-grade workshop

Car collectors needing an expansive, temperature-controlled space

Remote work professionals in need of a quiet, functional space to focus  
If any of these sound familiar, a timber frame barndominium from Woodhouse may be a solution for you.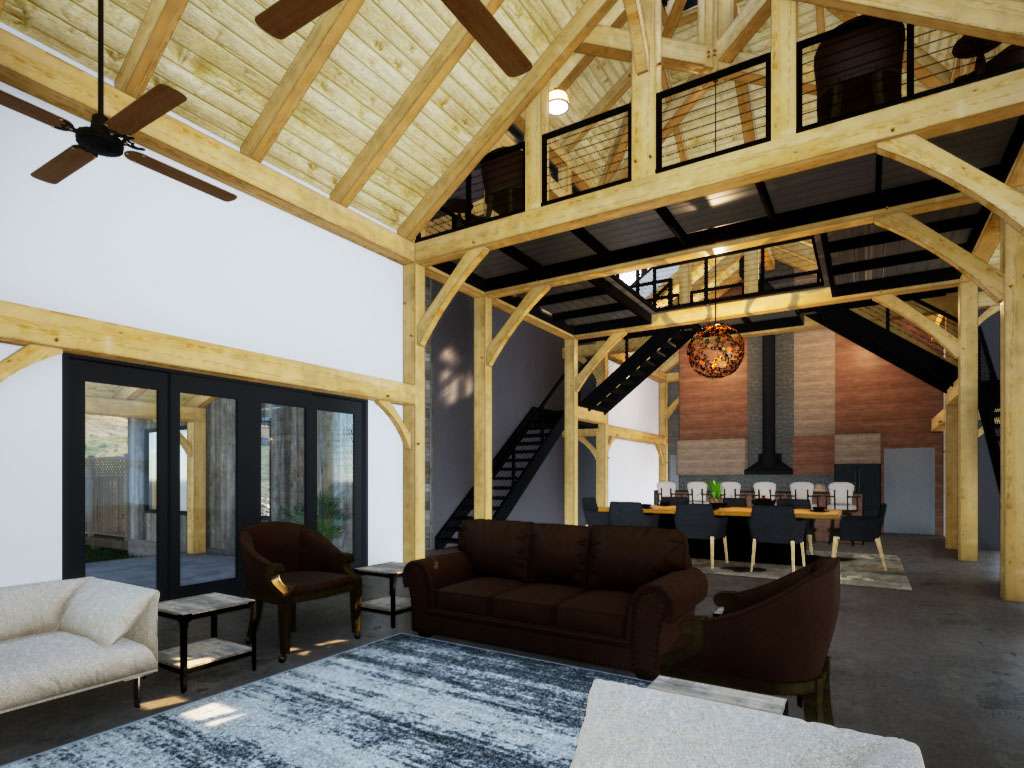 Customizing for Your Lifestyle 
If you're excited about a barndominium's functionality for work, just wait until you discover their beauty. From a regionally specific barn vernacular to a sleek, contemporary aesthetic, barndominiums can be customized to your definition of perfect style.
Hefty timbers can impart refined grace, artistic flourish, rugged strength, or even chic, modern lines. And don't overlook exciting details like a sliding wall and patios that blur indoor/outdoor entertaining and living areas. Because barndominium plans are so adaptable in size and functionality they can be built to fit the needs of an individual or couple, a growing family, or retirees who prioritize their hobbies and want to age in place.
With all styles, a Woodhouse barndominium's stunning good looks are matched by exceptional functionality, energy efficiency, and an economic building system.
Barndominium Plans Ready for Customization
Woodhouse's New Barndominium Series: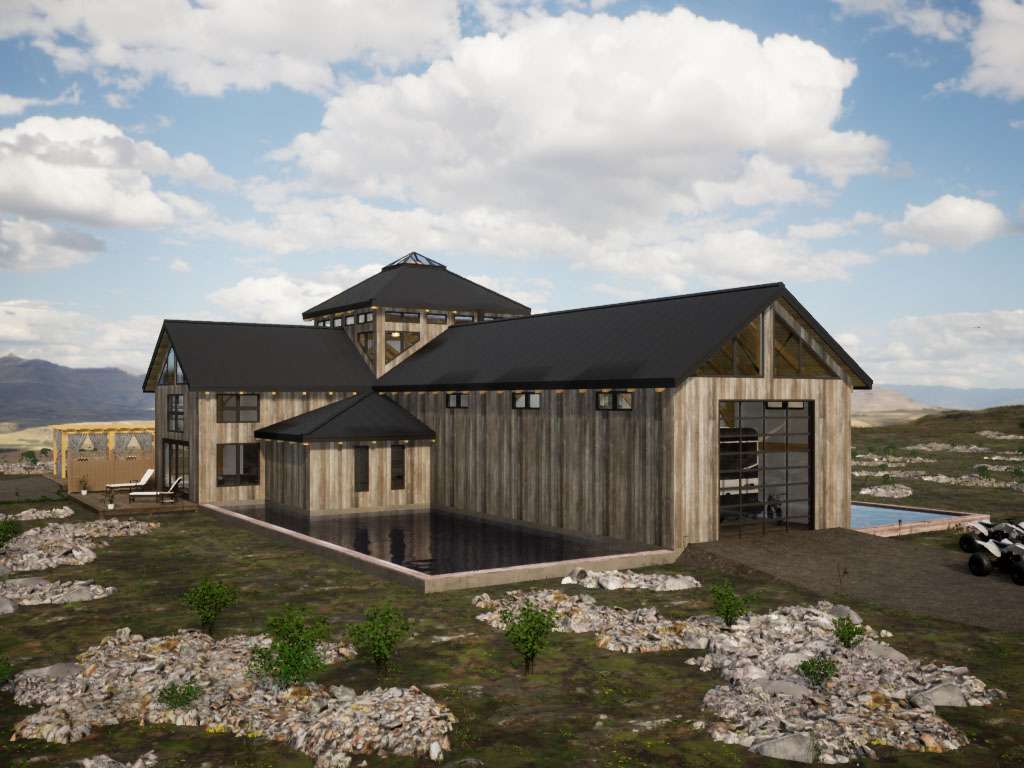 Striking a pleasing balance of industrial and rustic elements, this gorgeous building uses reclaimed barnwood alongside high-end amenities including covered porches and decks, a dramatic and rugged entry, a mezzanine skylight, and an immense great room. It can accommodate all your toys with space for hobbies or work. Or, customize it to be your vacation home and rental.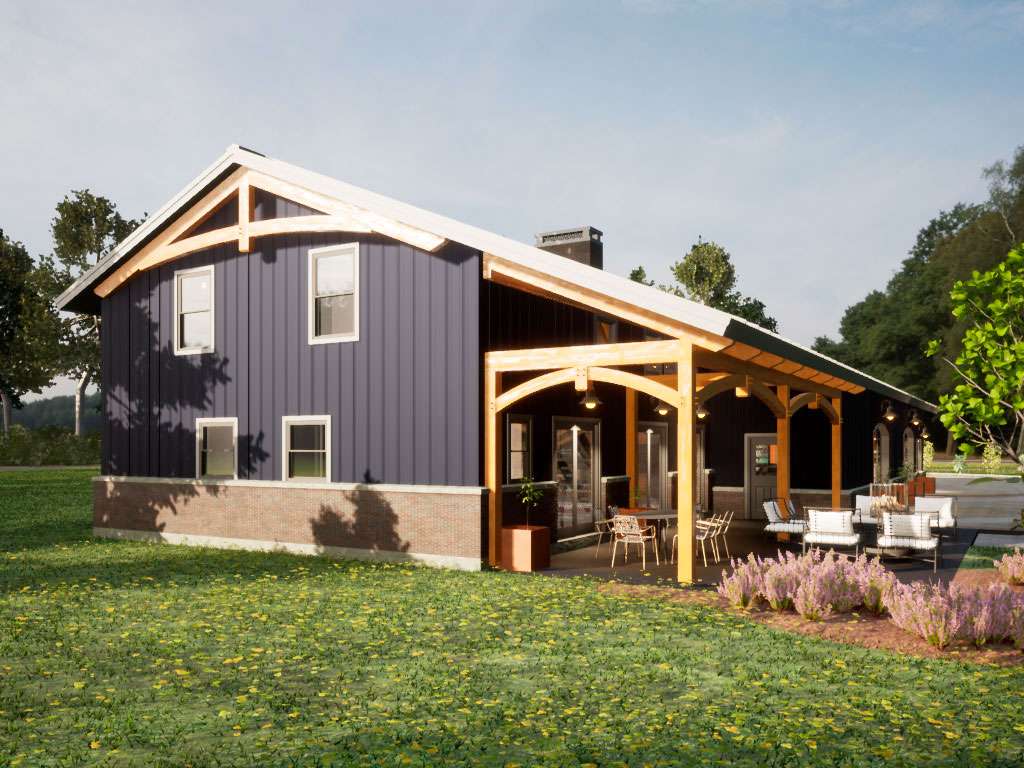 Love the idea of a workhorse barn, but crave upscale luxury? This is your plan. Inspired by urban lofts, the living space comes together with the industrial-yet-welcoming sheen of combined brick, metal, and timbers. While a massive garage offers space for work and storage, a variety of patio spaces elevate your outdoor living and entertaining opportunities. 
Other Barn Homes to Consider 
These dignified residential structures were originally inspired by traditional barns. You may recognize the visual cues in MagnoliaMeadow's stone, lower-level exterior (above) and SageMeadow's lean-to style, post and beam porch (below). Given their roots, these plans are ideal candidates to be converted and expanded into barndominiums.
Customizing a Barndominium for Your Property 
Just like your home, every piece of land has its unique traits. Whether you have a property in mind or are already a property owner, we can assess it for its ability to support a barndominium. This means helping you consider important issues such as zoning, utility hook-ups, access, space, and orientation of the structure. You want a design that maximizes passive solar heating, cooling and will keep you protected from prevailing winds and other potential weather-related issues. Our design team can find solutions that align with your property needs and creative vision. 
Let's Get to Work!
Interested in learning more about the magic and practicality of a barndominium? Explore Woodhouse barndominium floor plans and begin thinking of how your barndominium will fulfill your dreams. Contact your Woodhouse Regional Project Manager to learn more.