Learn more about barndominium plans from Woodhouse, which achieve the ultimate in form and function.
The name "barndominium" may not roll off the tongue the first time, but take one look at these designs, and it'll be love at first sight. A barndominium (or "barndo" for short) is a combination barn and condominium and one of the hottest timber frame home design trends of the decade. Want to know why? The list of reasons to love our barndominium home designs runs long.
Barndominium Homes
It's a romantic vision of rural Americana: an old barn, rustic fences, and pastoral fields stretching for miles against a backdrop of a gentle river valley or rugged mountains. This is the aesthetic inspiration for barndos, which come in the form of restored, converted barns or new timber frame construction. Barndominium homes meld the agrarian, rustic components of their historic roots with modern, upscale touches for a creative, innovative timber frame home.
If you've ever dreamed of building a beautiful retreat that lives up to your timber frame dreams, a barn-style home may be the answer. Barndominium house plans are perfect solutions for:
Giving hobbies, workshops, and livestock their own designated flexible space that is easily accessed from your high-quality, luxury living quarters.
Creating an entertainment or event space that is separate from the primary residence.
Including independent guest accommodations with a fully customizable storage space below.
Establishing a family compound or creating a space that can be rented or used for multi-generational living.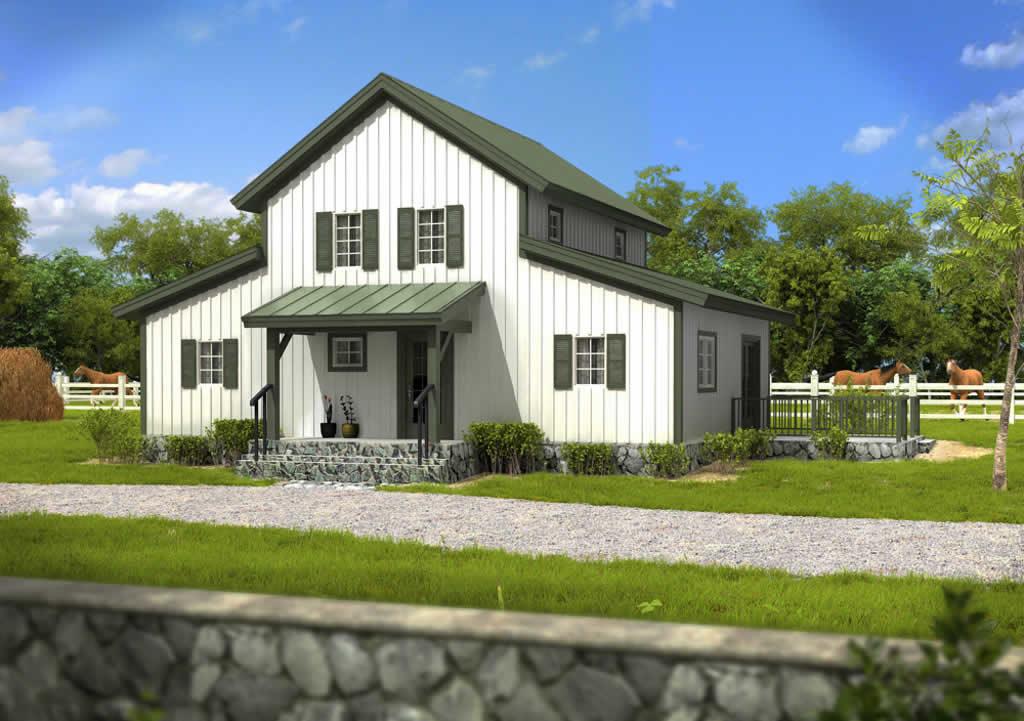 Timeless Design
Traditional agricultural barns keep livestock and farm equipment on the lower level. The loft is used for hay or grain. Barndominium homes are a modern adaption of this conventional design by converting the hay loft into gorgeous, customized living quarters. The ground-floor utility space tends to not be as polished as the upper-level residential home, but your imagination is the limit. After all, because it's a timber frame, both levels are fully customizable.
Although the exterior can wear any outfit, barndominiums carry a traditional barn appearance with ease, complete with the strength and enduring style imparted by large, alluring timbers.
"There are so many things you can do with barndominium plans," says Woodhouse Southeast Regional Project Manager (RPM) Don Downs.
Well-designed barndominium floor plans excel in efficiency. Not only is it less expensive to build up rather than out, they offer a more compact design and are not spread across a property. They leave more space to enjoy views as well as simplify a homeowner's lifestyle.
Don explains, "You don't have to go out in the rain or snow to see the horses or tinker in your workshop. It's all right there!"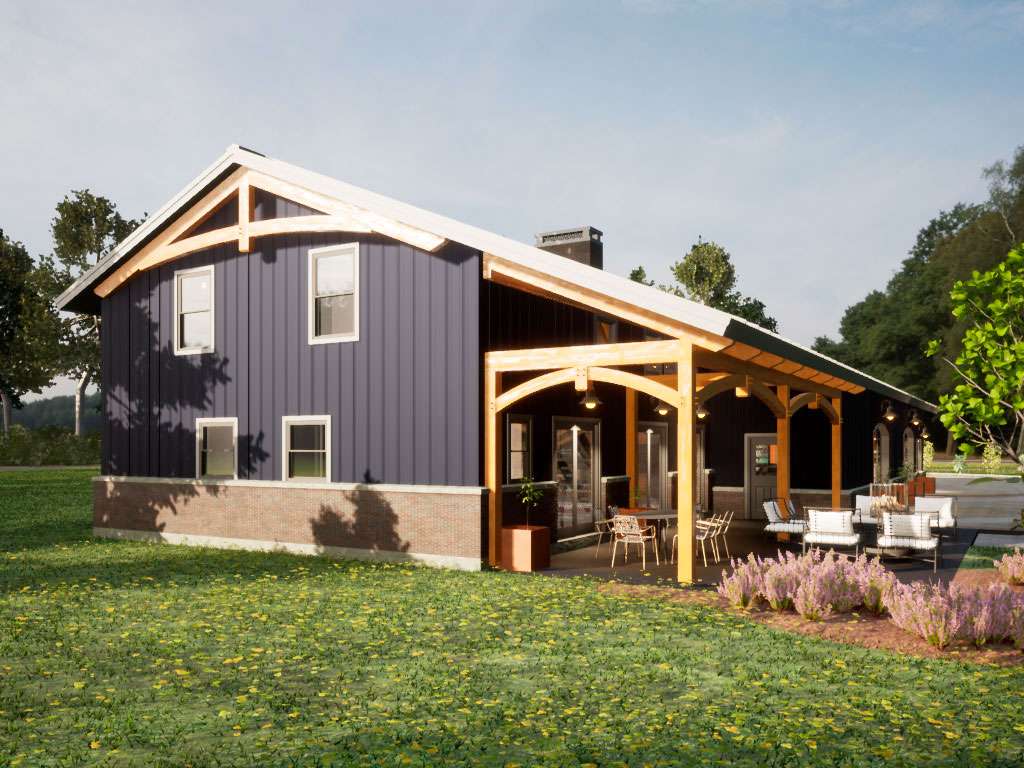 Barndominium Floor Plans
We offer an array of barndominium floor plans. Each offers an opportunity for endless modifications and flexibility for your perfect custom timber frame home. Siding and rooflines can be altered to reflect your region's architectural vernacular. Consider, for starters, the elegant yet simple SageMeadow; a cozy home that can easily become a barndominium conversion.
If you don't see what you're looking for, we can create an entirely new design from scratch. In fact, this is how the barndominium house plans for MagnoliaMeadow were born. This timber frame structure was designed to meet the needs of a family farm on 178 acres of land in Asheville, North Carolina.
The homeowners manage a farm that upholds restorative agricultural practices. As such, they have livestock and host many events — farm-to-table meals and presentations on cooking, growing, and even yoga. Chris Ciocian, Woodhouse Independent Sales Partner and Project Manager with Jade Mountain Builders, says that during discussions with the homeowners, they realized they wanted to separate the events from their primary residence. At the same time, they wanted space for friends and family to visit.
Ciocian collaborated with Woodhouse to see what could be achieved within a timber frame structure. The stunning MagnoliaMeadow evolved from there. The stone lower level gives a rugged, earthy balance to the traditional board-and-batten upper levels. There are two upper levels with catwalks, Jack and Jill bathrooms and an orientation that captures the city skyline below.
The utility barn space is used for processing the farm's produce and eggs and is outfitted with commercial sinks and coolers. The upper levels are stunning, with reclaimed barn floors, tongue and groove ceilings, and steelwork details within the stairs and on the timbers. It's also used as an event space. In addition to the design, our timber frame building process upheld the homeowner's desire for an environmentally-friendly home.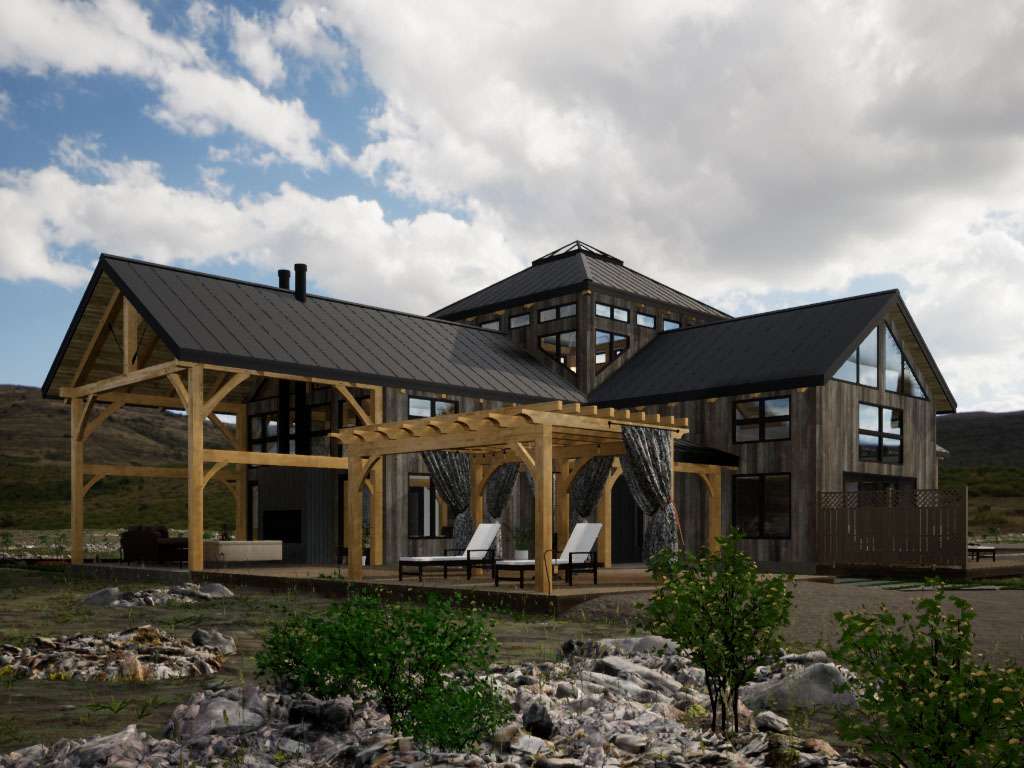 Our newest barndominium floor plan, the Barndominium 4257-2-2.5, combines rustic and industrial style for a contemporary, one-of-a-kind barn home you can then further customize to make truly your own. Open living spaces, the primary bedroom's location on the main level, and expansive storage spaces make this plan prime for a variety of lifestyles and locales.
Find Your Dream Barndominium Design
Check out all our exciting barndominium style homes. Anything catch your eye? Contact your Woodhouse RPM who will walk your property, help you strategize the best possible siting, and connect you to installers, builders, permits, as well as anything else you need to simplify a complex process. Just looking? Your RPM can help you shop for the ideal property that can accommodate your dream design. A barndominium home or even our carriage house series are practical ways to create the legacy family compound you've always wanted!